Sunshine D3
5000 IU
Give yourself a rejuvenating lift with Ashwagandha - Mother Nature's best stress-reducing plant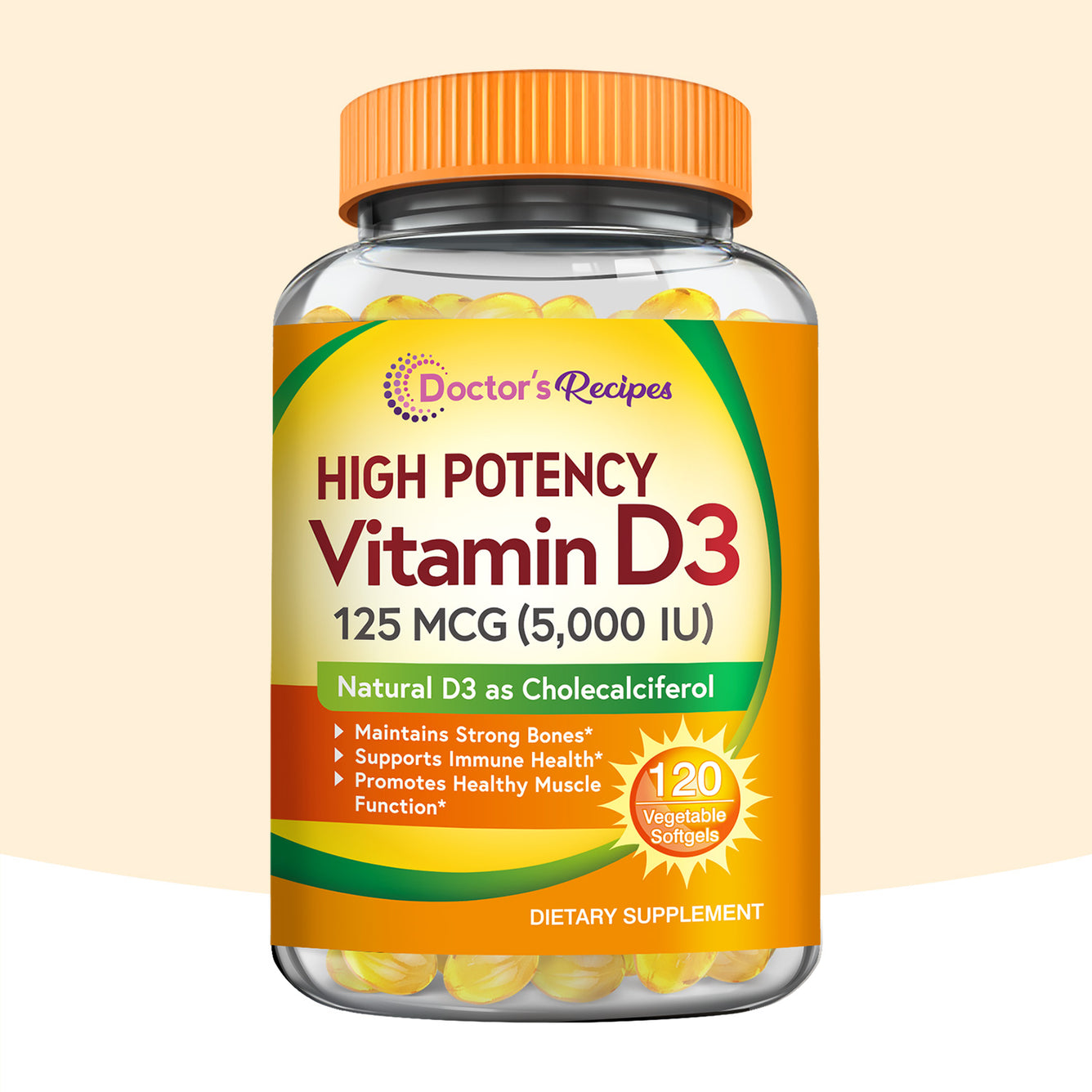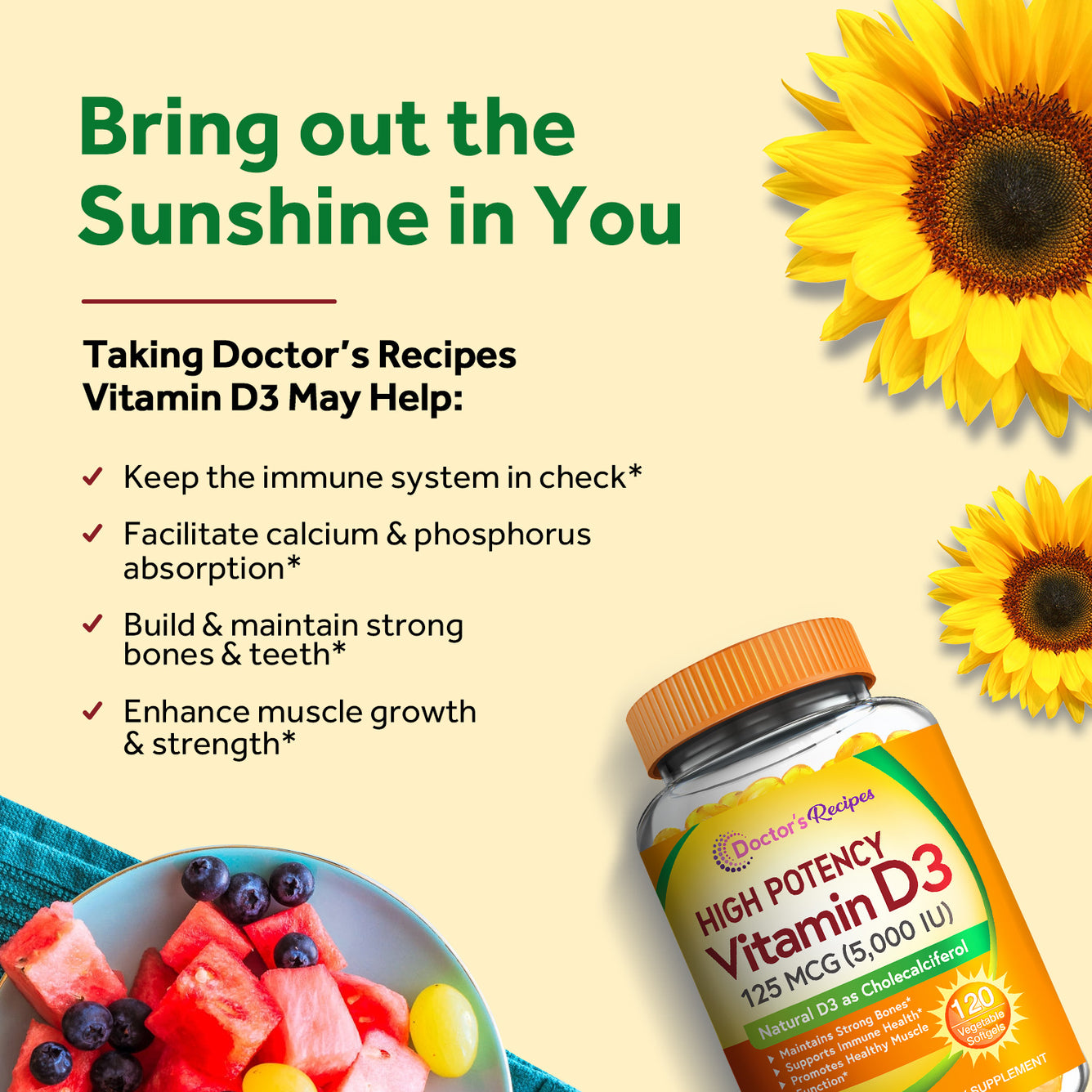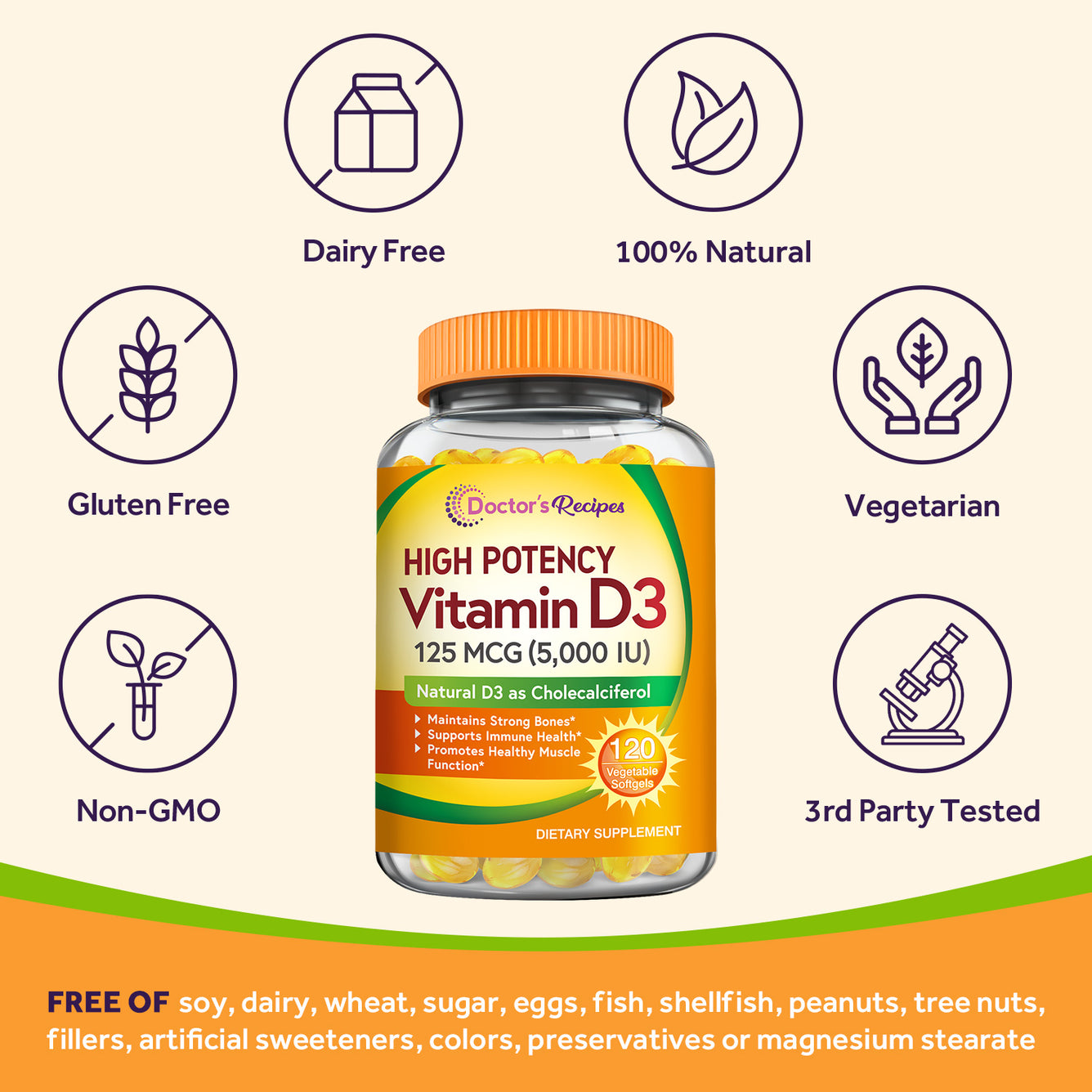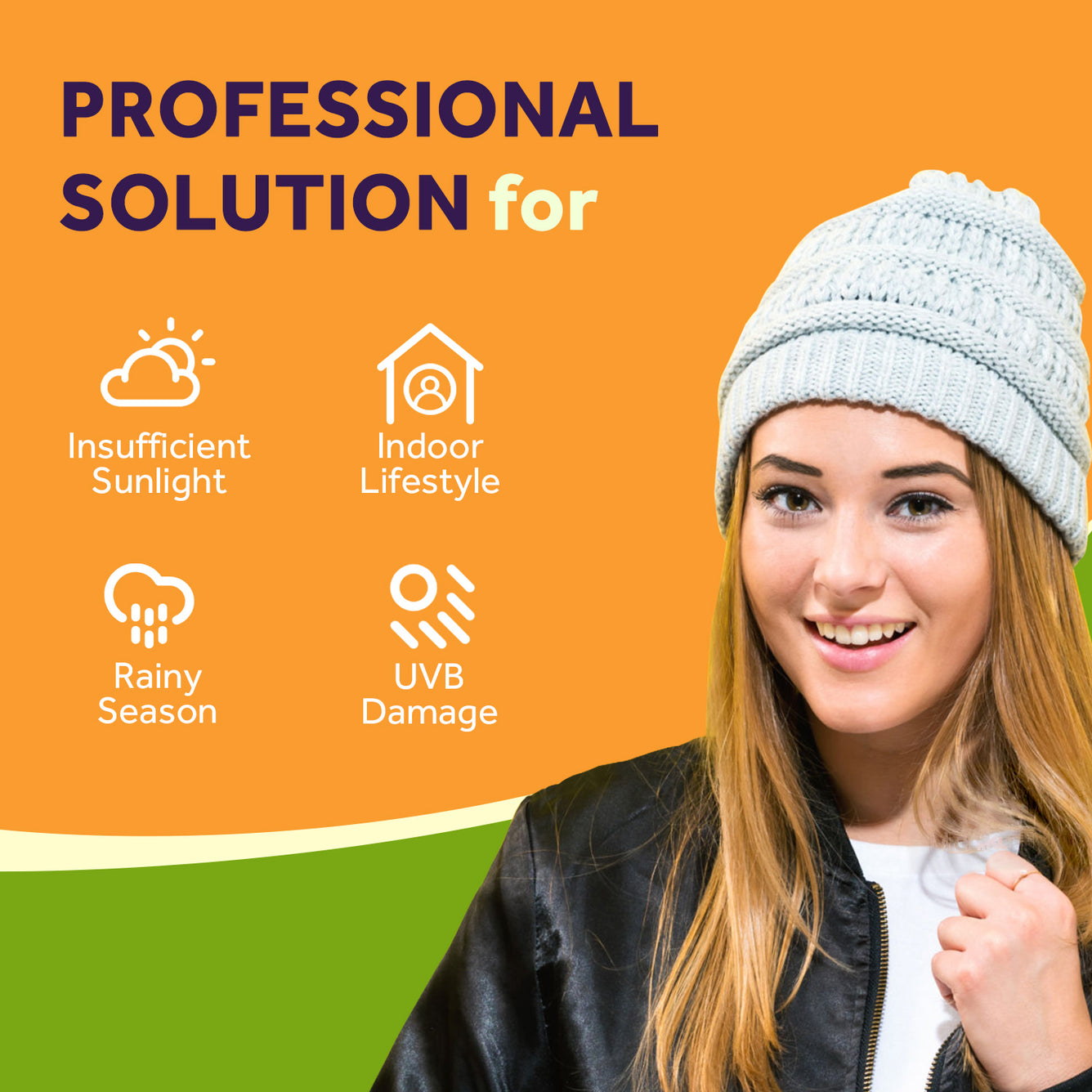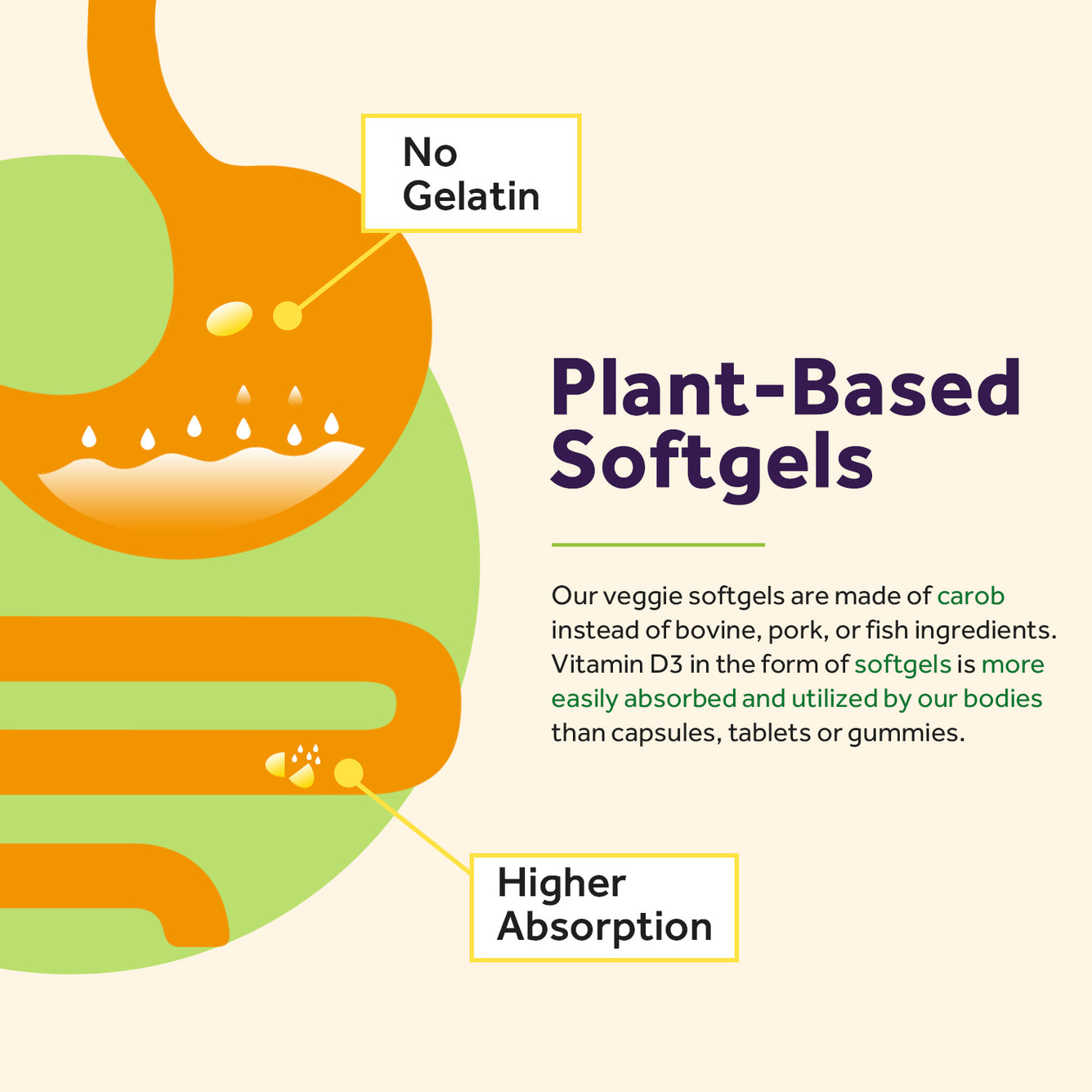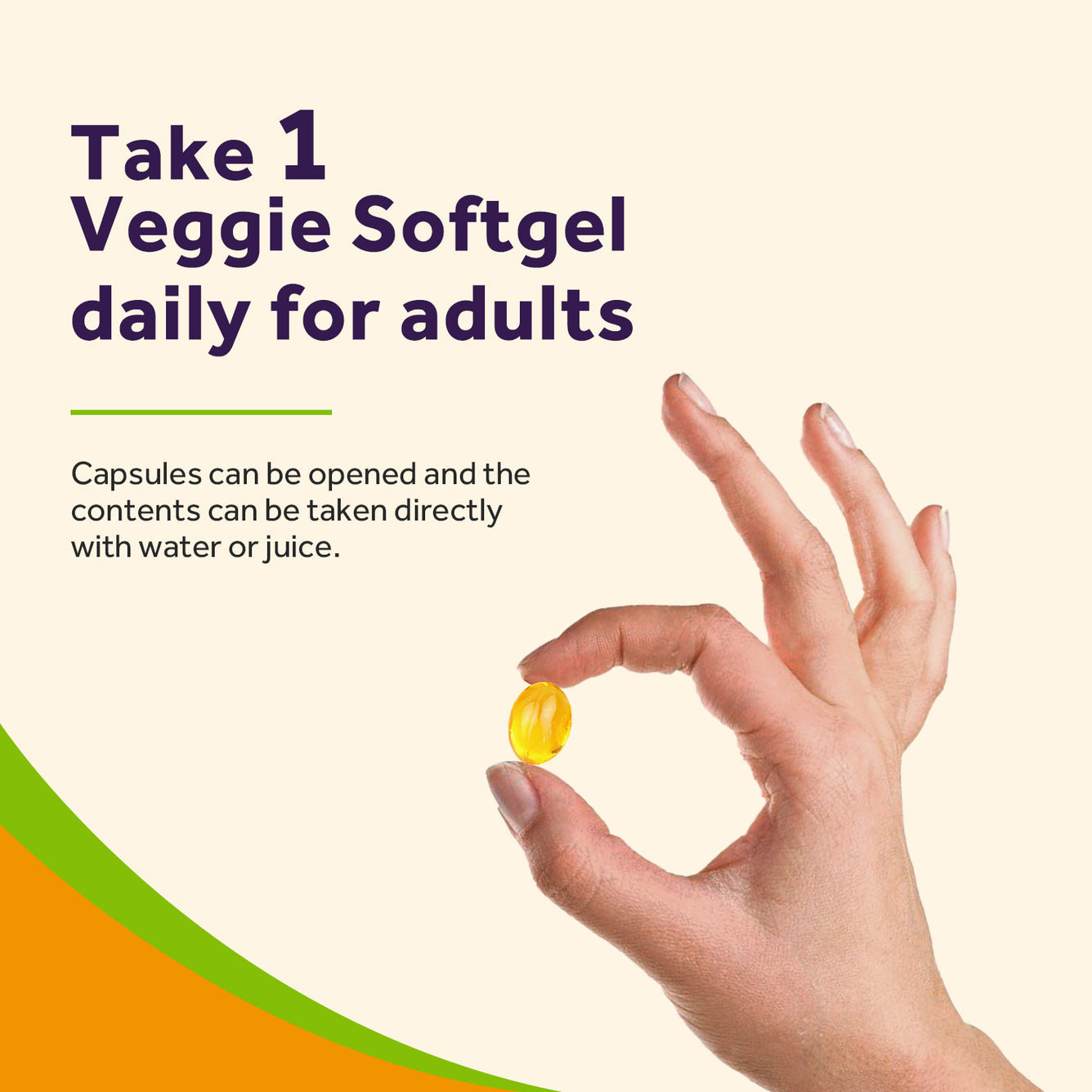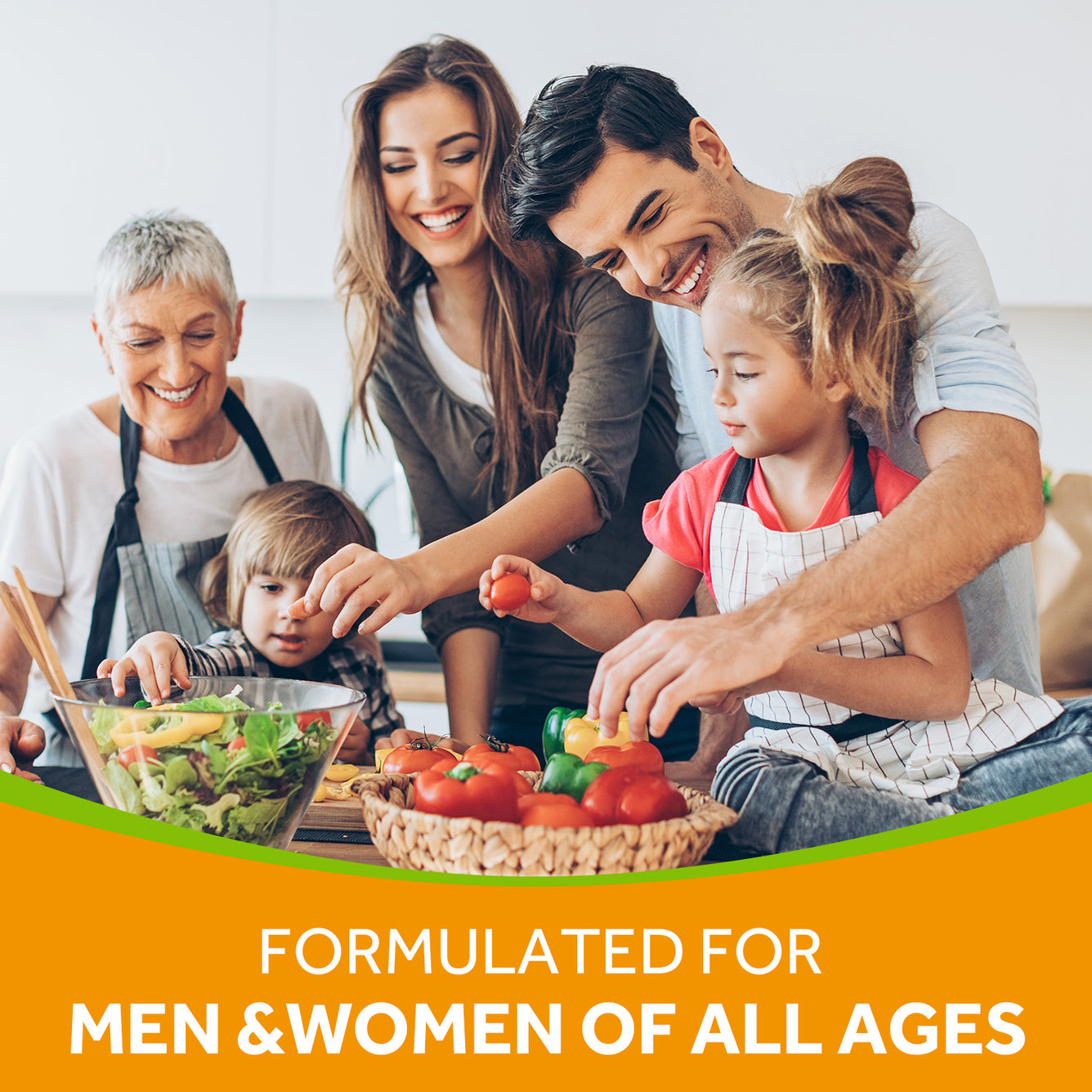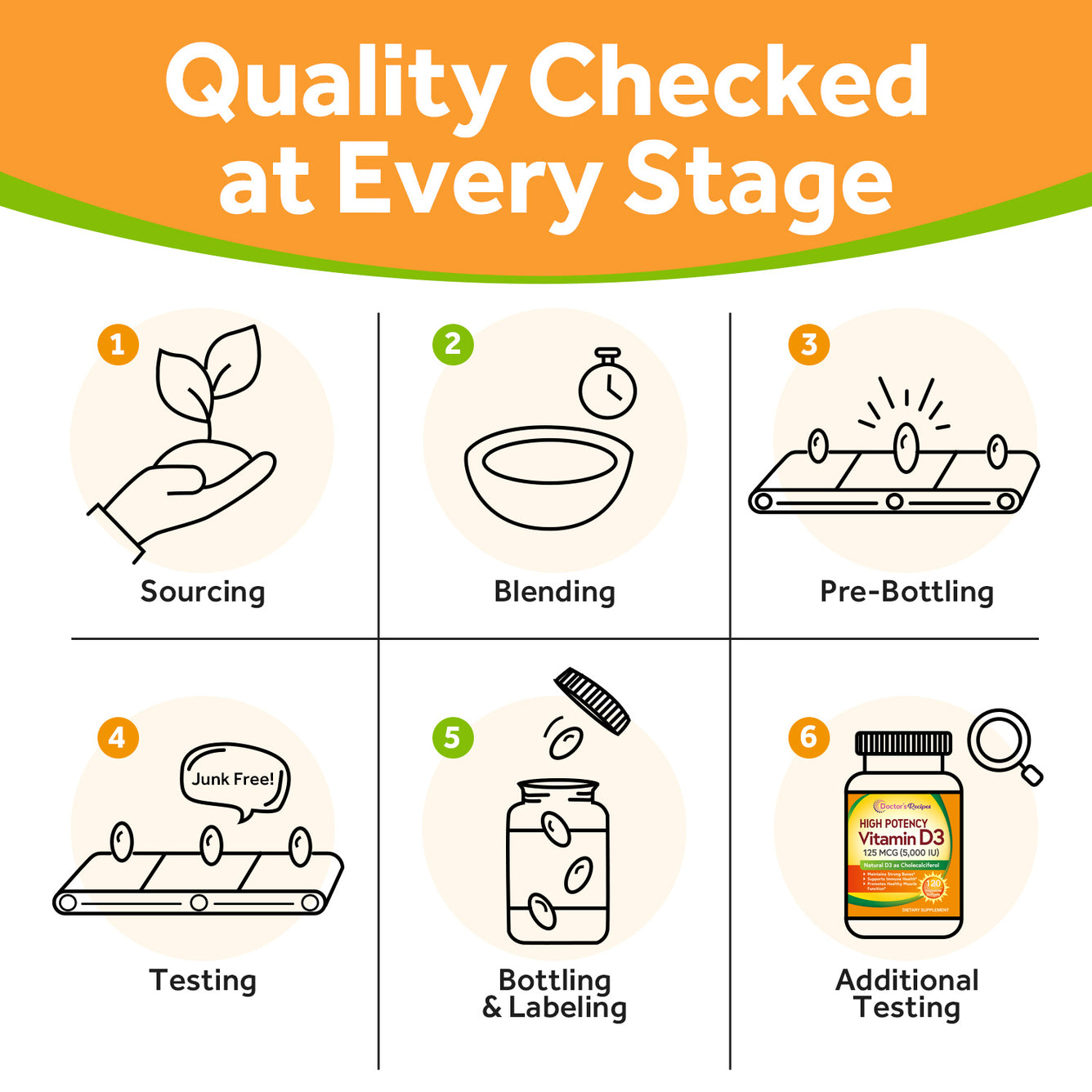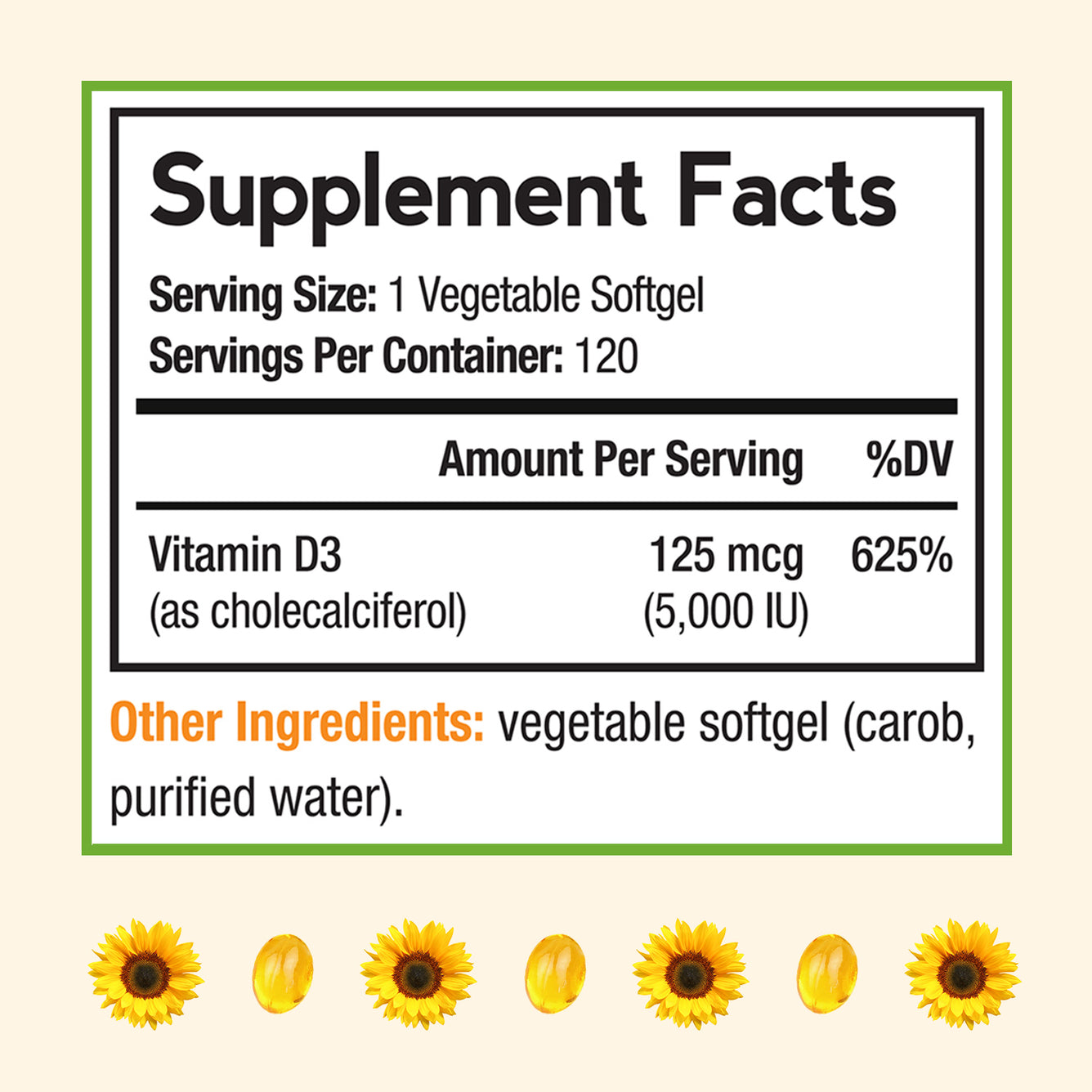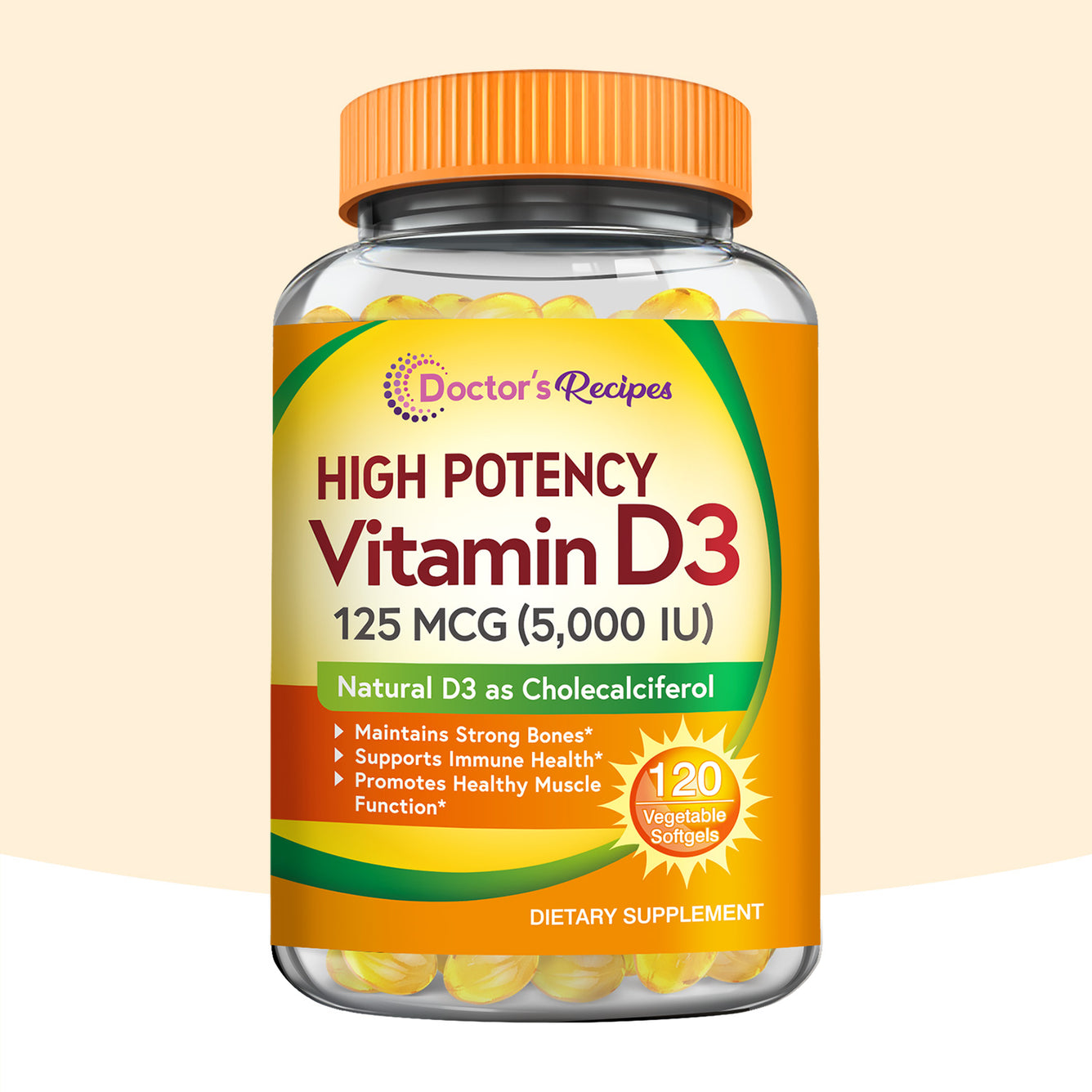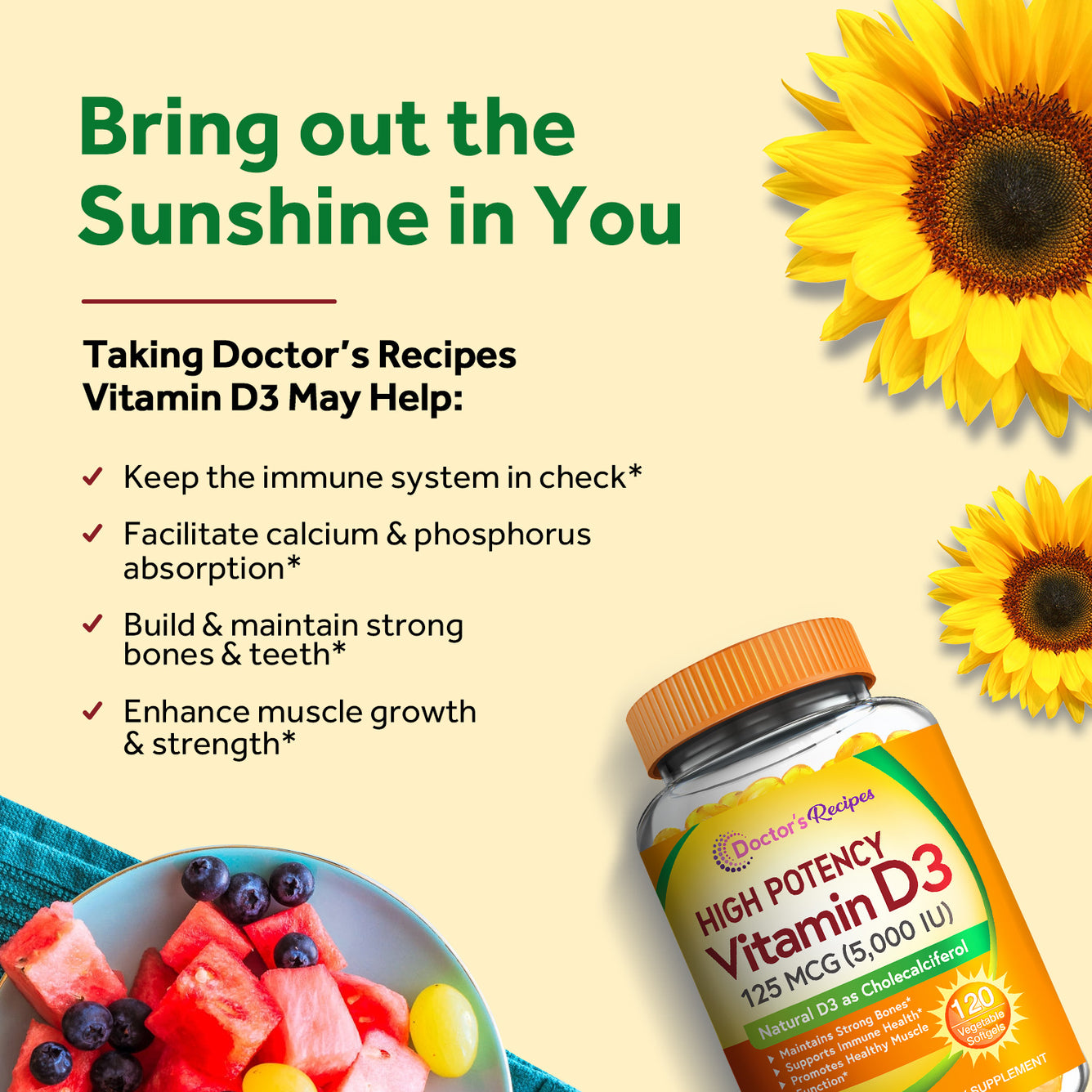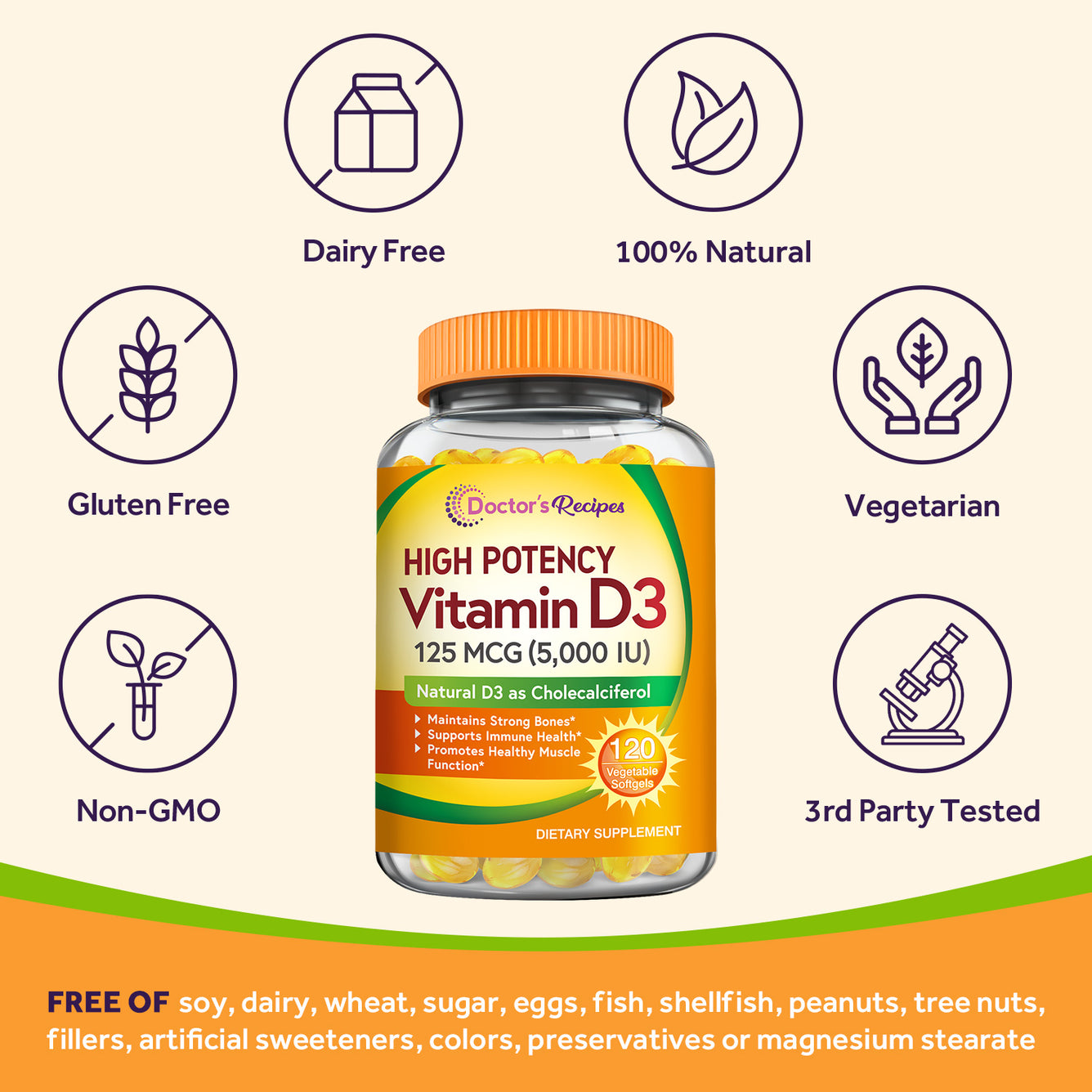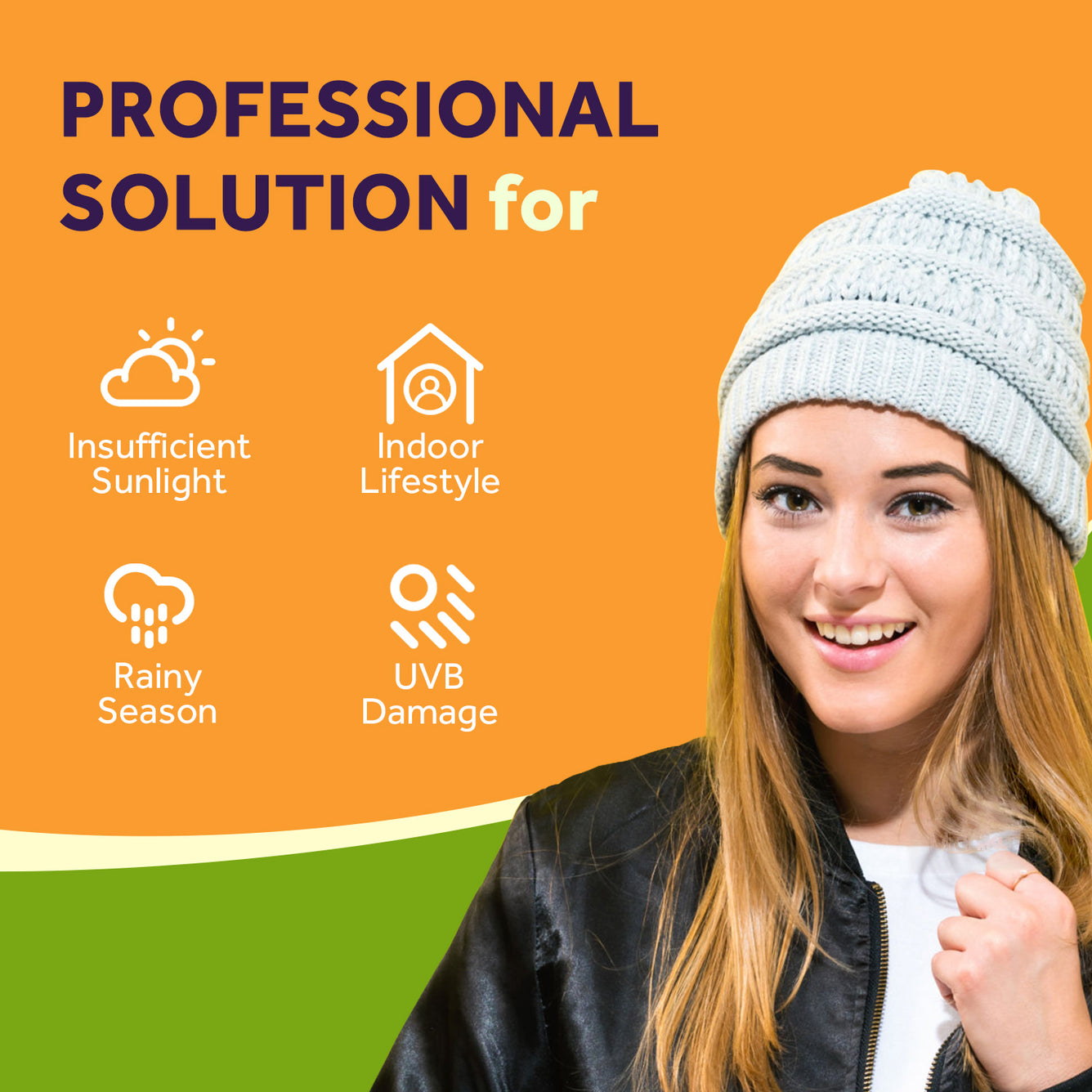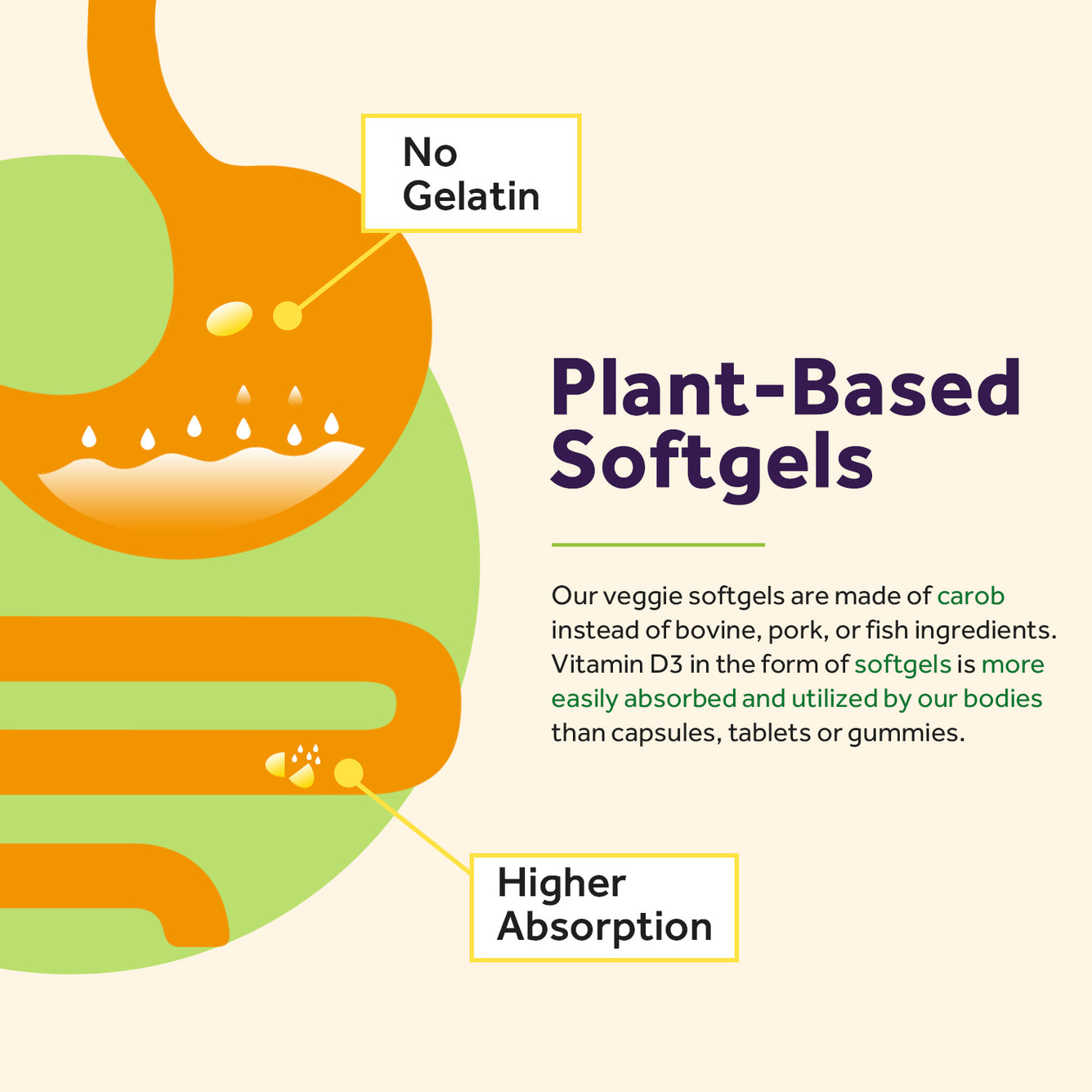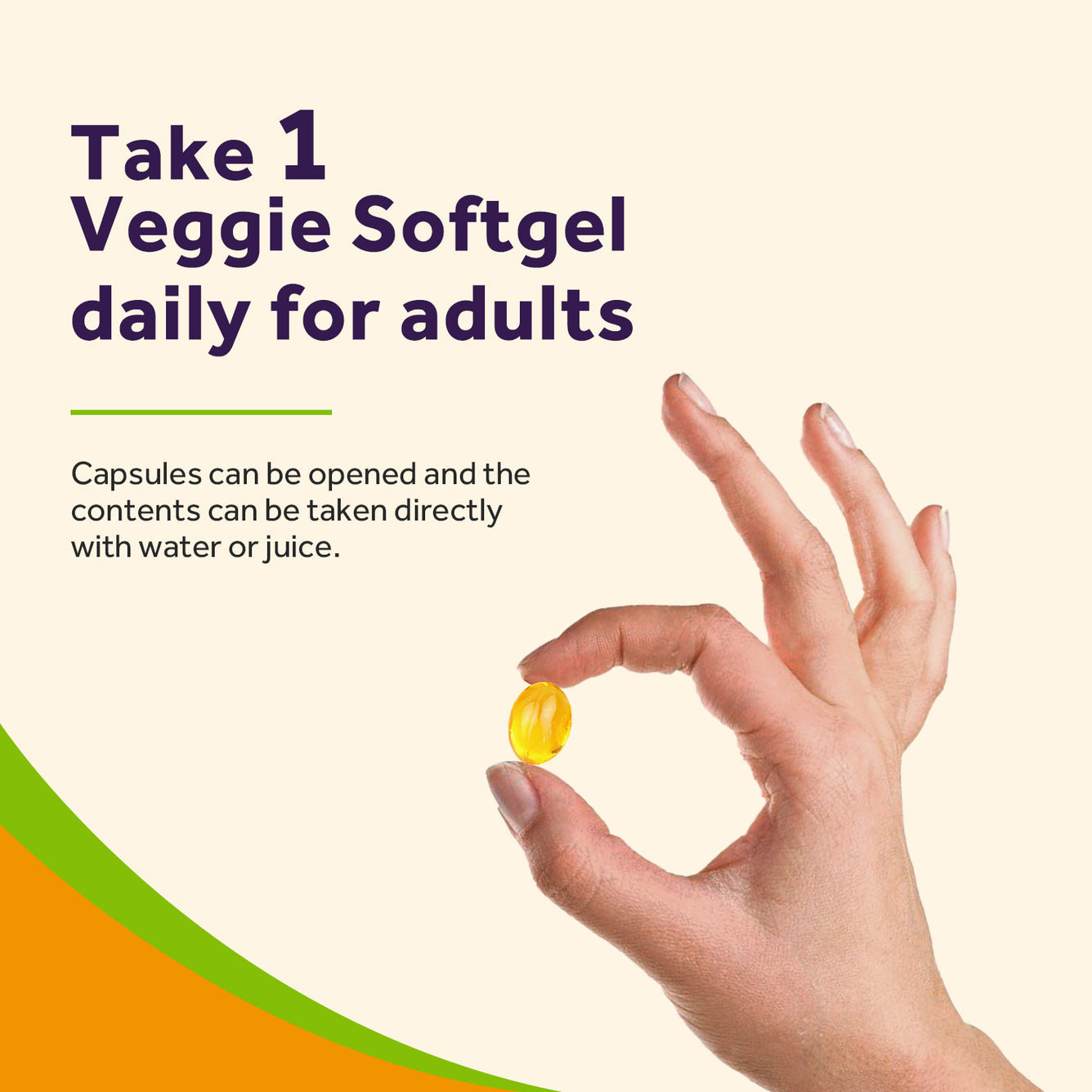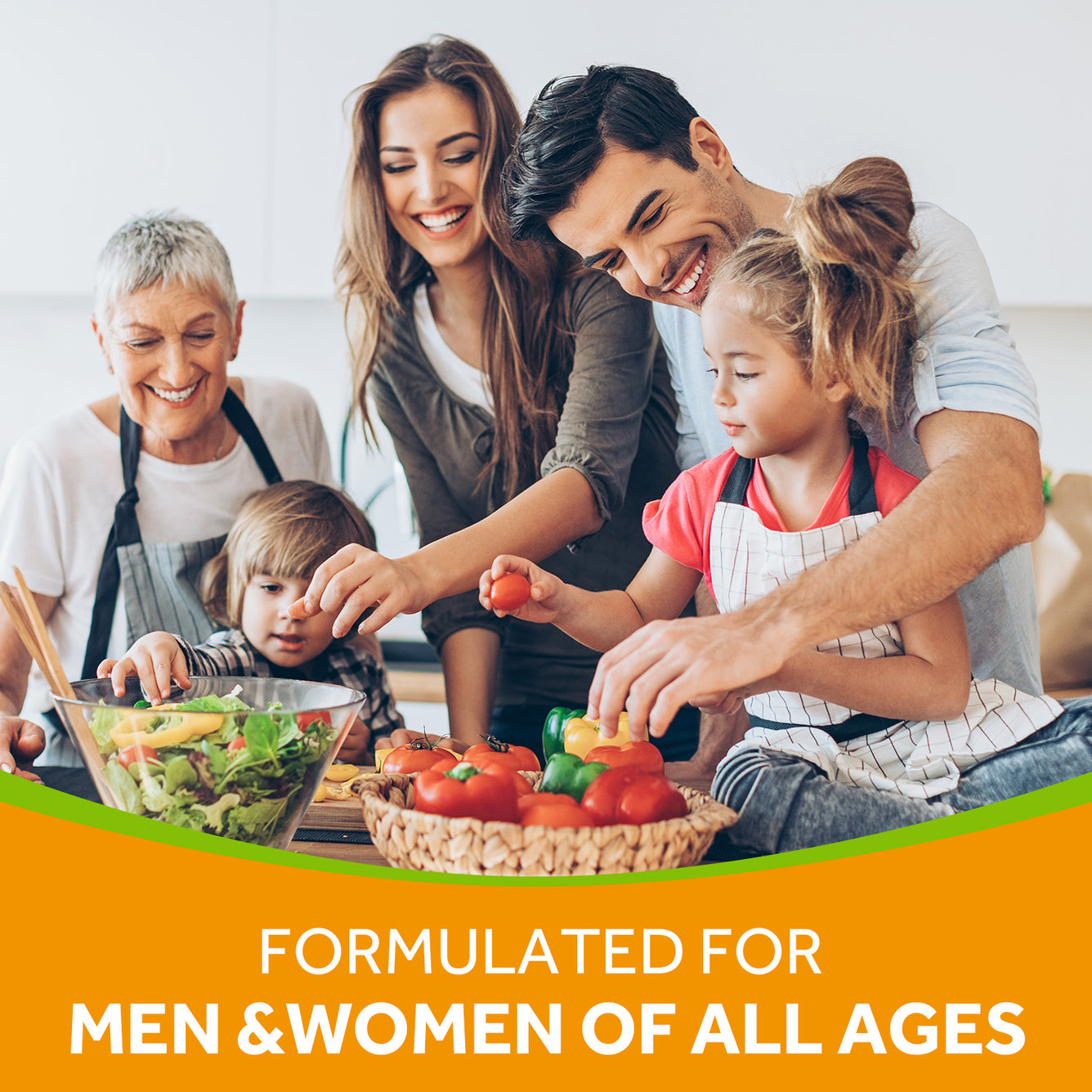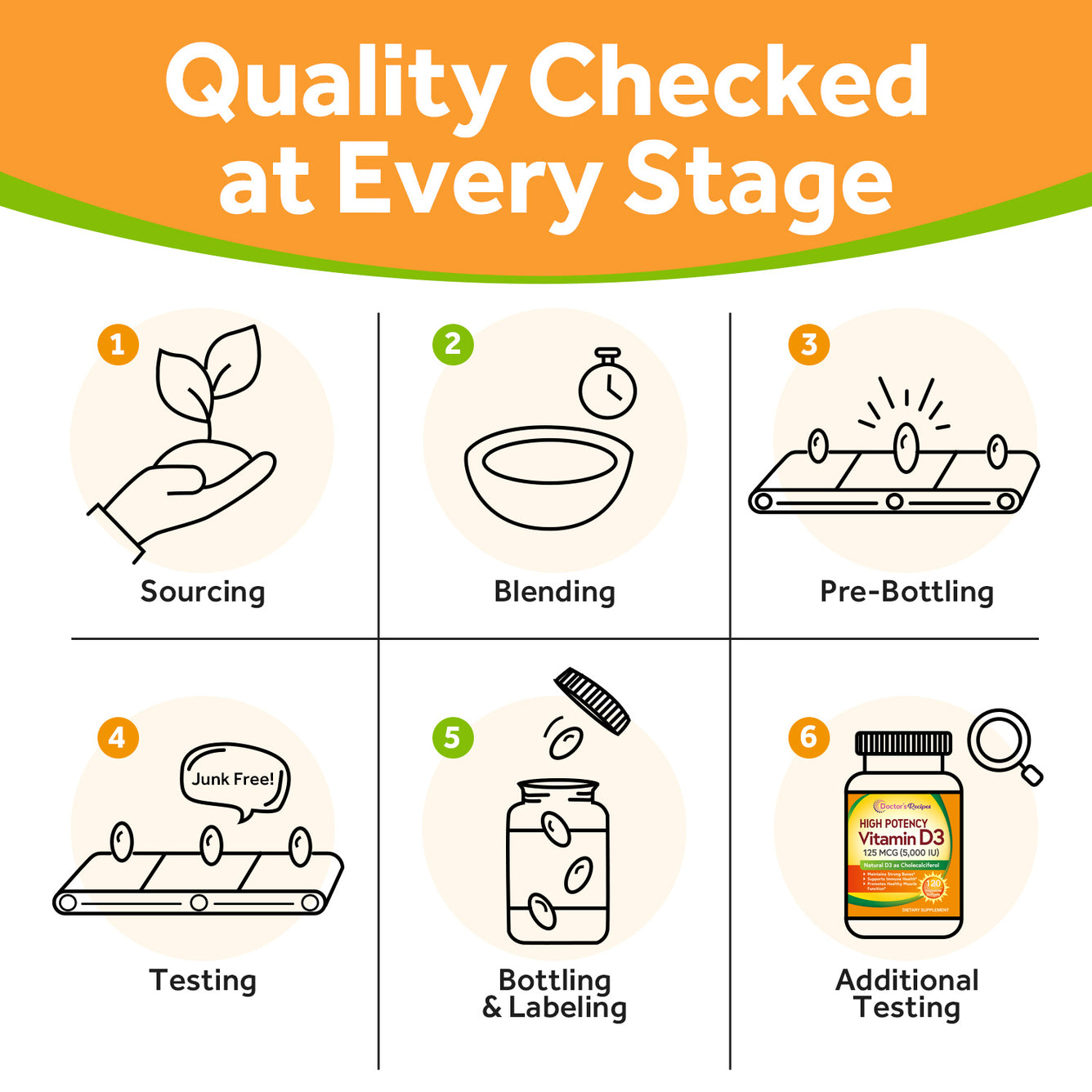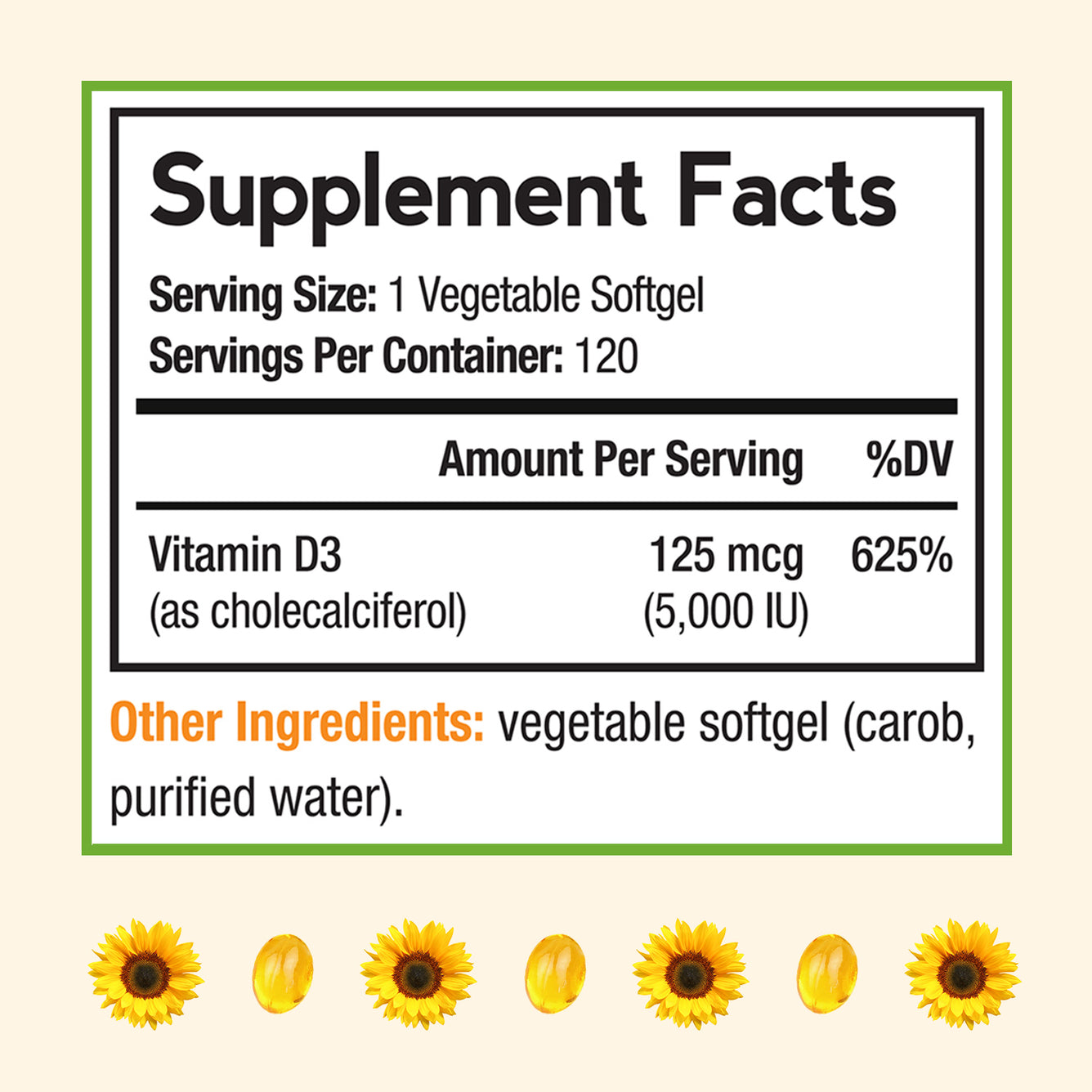 Vitamin D3 5000 IU
Doctor's Recipes Vitamin D3 (Cholecalciferol) 5000IU (125 mcg), High Potency Immunity Support, Maintain Healthy Bones, Teeth & Muscle Function, Non-GMO, No Gelatin Gluten Soy, 120 Vegetarian Softgels
INGREDIENT

AMOUNT

HELPS WITH

Vitamin D3 (as cholecalciferol)

125 mcg
(5,000IU)


Immunity, Strong Bones, Muscles & Teeth, Mood
Environmentally Friendly
Make it a long-term approach to wellness

Fast and Secure Delivery
Free shipping on orders over $50

Superior Service
Accessible, approachable & responsive

Shop with Confidence
Money back guaranteed
A Sunnier You without Harmful UVB Exposure
5,000 IU Vitamin D3
Extra strength of 5000 IU dosage (125 mcg) gives your body a nice healthy blast of Vitamin D, and is perfect for individuals with Vitamin D deficiency.
Natural D3 as Cholecalciferol
Doctor's Recipes delivers 5000 IU of this key vitamin as cholecalciferol - the same form your body naturally produces from sunlight - to help replicate the benefits of natural sunlight.
More Absorbable Softgel
Vitamin D3 in the form of softgels is more easily absorbed and utilized by our bodies than capsules, tablets or gummies.
Sunshine without Sunlight
No worries anymore about insufficient sunlight, rainy season, indoor lifestyle, or potential UBV damage from unprotected sun exposure!
Personal Choices
Aptly named "the sunshine vitamin", vitamin D is manufactured by our body when sunlight hits the skin. However, Indoor lifestyles, long winter months, and potential damage from unprotected UVB rays make it hard to get enough of this key bone builder naturally all the time.
Doctor's Recipes helps replenish your Vitamin D levels regardless of the sun's schedule. With just one easy to take, vegetable softgel, Doctor's Recipes Vitamin D3 help boost the immune system, facilitate calcium & phosphorus absorption, strengthen bone & teeth, maintain muscle health and support a balanced mood without the risk of unprotected UVB exposure!
Professional Solutions
Our Difference
Extra Strength D3
Extra strength

5,000 IU (125 mcg)

of Vitamin D3

Naturally Occurring Form as

Cholecalciferol

A Sunnier You

Without Harmful UVB Rays

Plant-Based Softgel

No Gelatin &

Easier Absorption
Rachel D.
Verified Purchase
Absolutely Incredible Gelatin Free Softgel!
It's pretty easy to find a good vitamin that's gluten free. It's not as easy, however to find one that is GELATIN free! This product really does increase D3 levels in blood and helped with fatigue and immune system. Very reasonable price as well. I'm very much of an indoor person and a proud VEGAN, so I'm taking vitamin D supplement regularly to fill the nutritional gap. Do yourself a favor and order these if you need Vitamin D. Most Americans do. This company just made themselves a customer for life.
Harper W.
Verified Purchase
5000 IU is NOT too much!
You may think 5000 IU is insanely high for Vitamin D supplement as it way exceed the recommended dosage in the US. The truth is that the majority of people are deficient, especially in the northern parts of the US, and getting adequate Vitamin D from the sun and diet is highly unlikely for most US lifestyles, you kinda need a high dosage supplement to boost your vitamin D level. These pills are affordable, very easy to take, and with 5000 IU dosage, it is still very tolerable for my system. Will continue taking my everyday sunshine!

Noah N.
Verified Purchase
It worked! Great product!
In June, my Dr. advised that my Vit. D levels were at low and required that I seek supplementation. Wasn't happy with the results but I followed Dr' s order and purchased some D from this brand. On my last blood test, my Vit D was almost to the top number where I wanted it to be, upon that I feel more energetic and less depressed. This product works. Thank you!