Methyl Vitamin B12
Fast dissolve tablets to give you an energy boost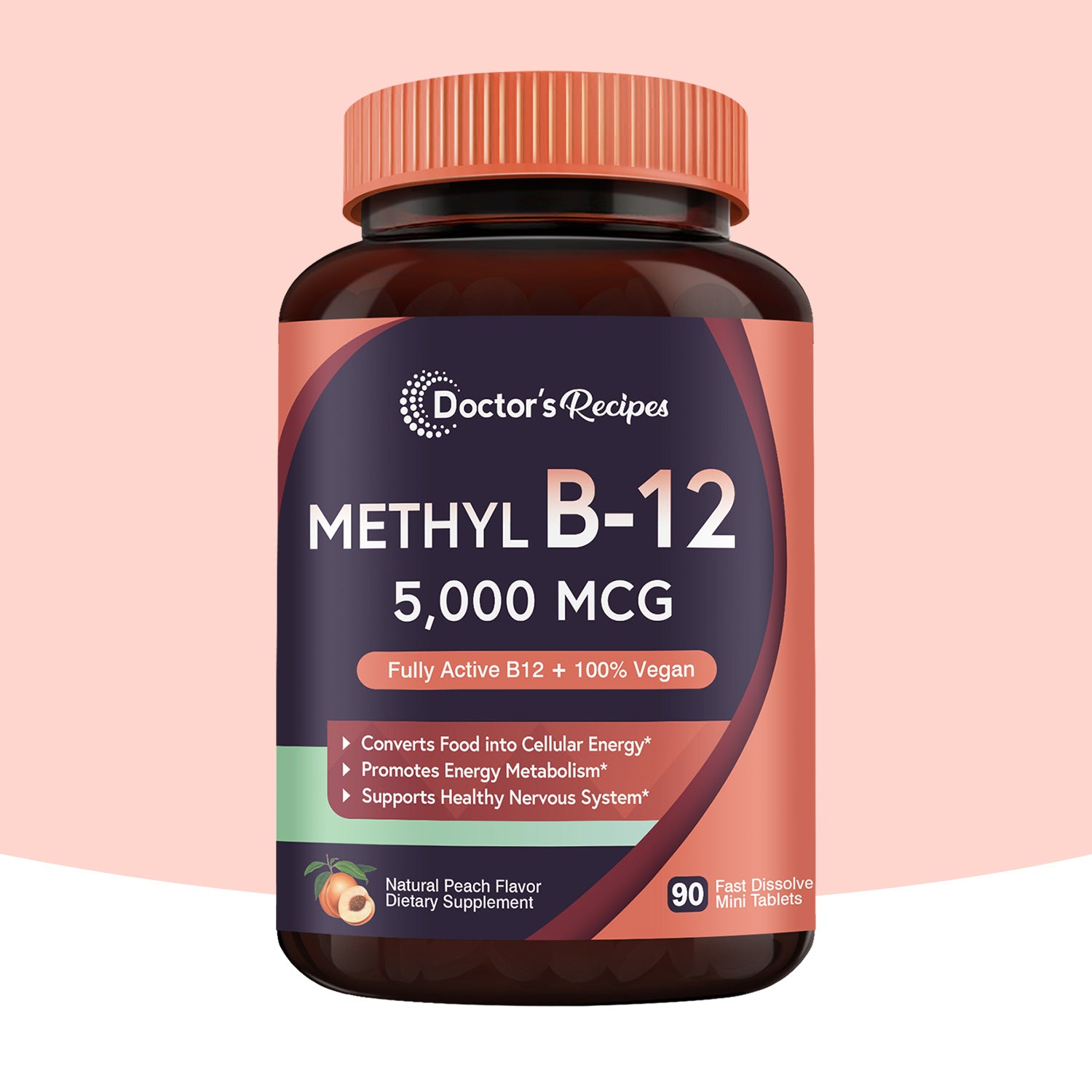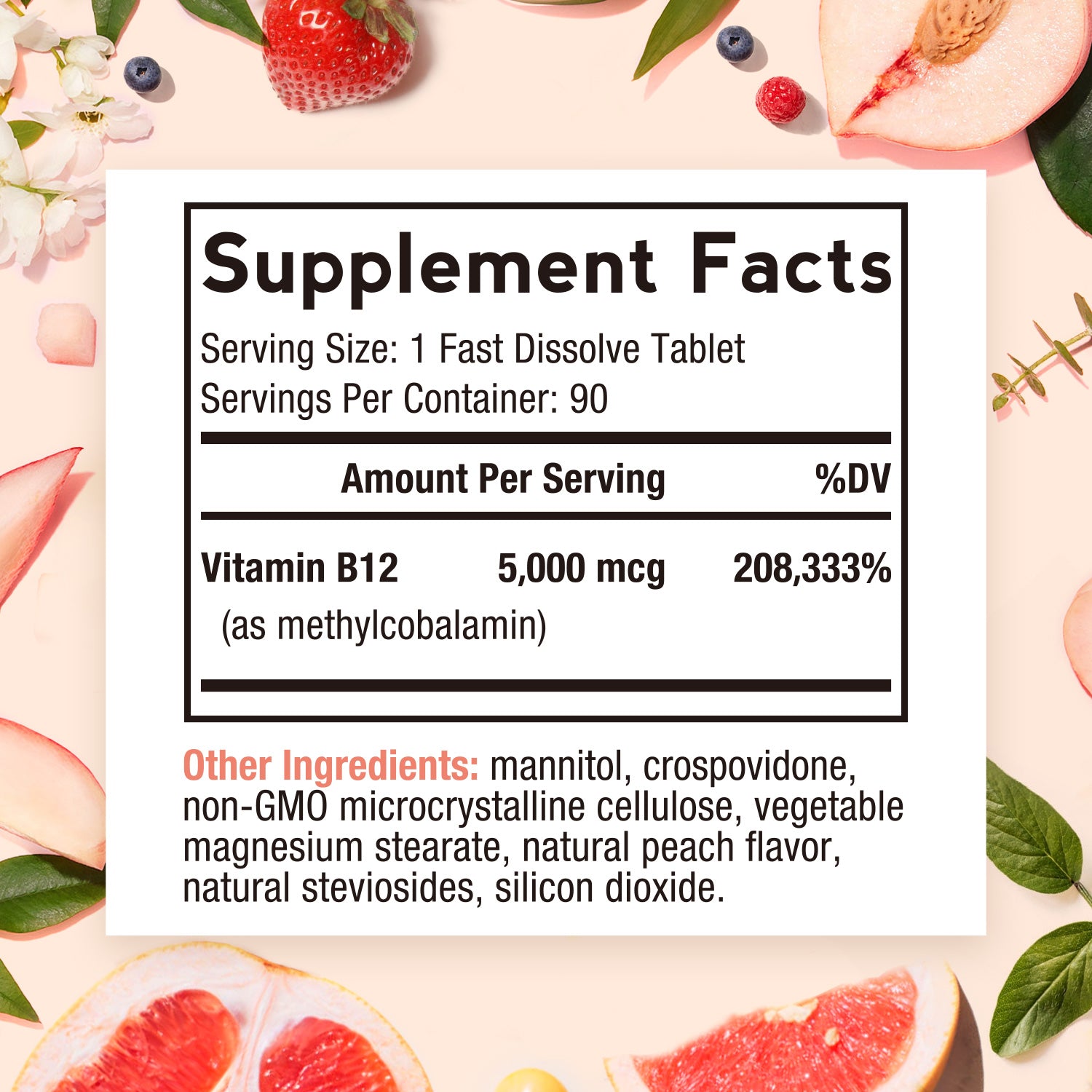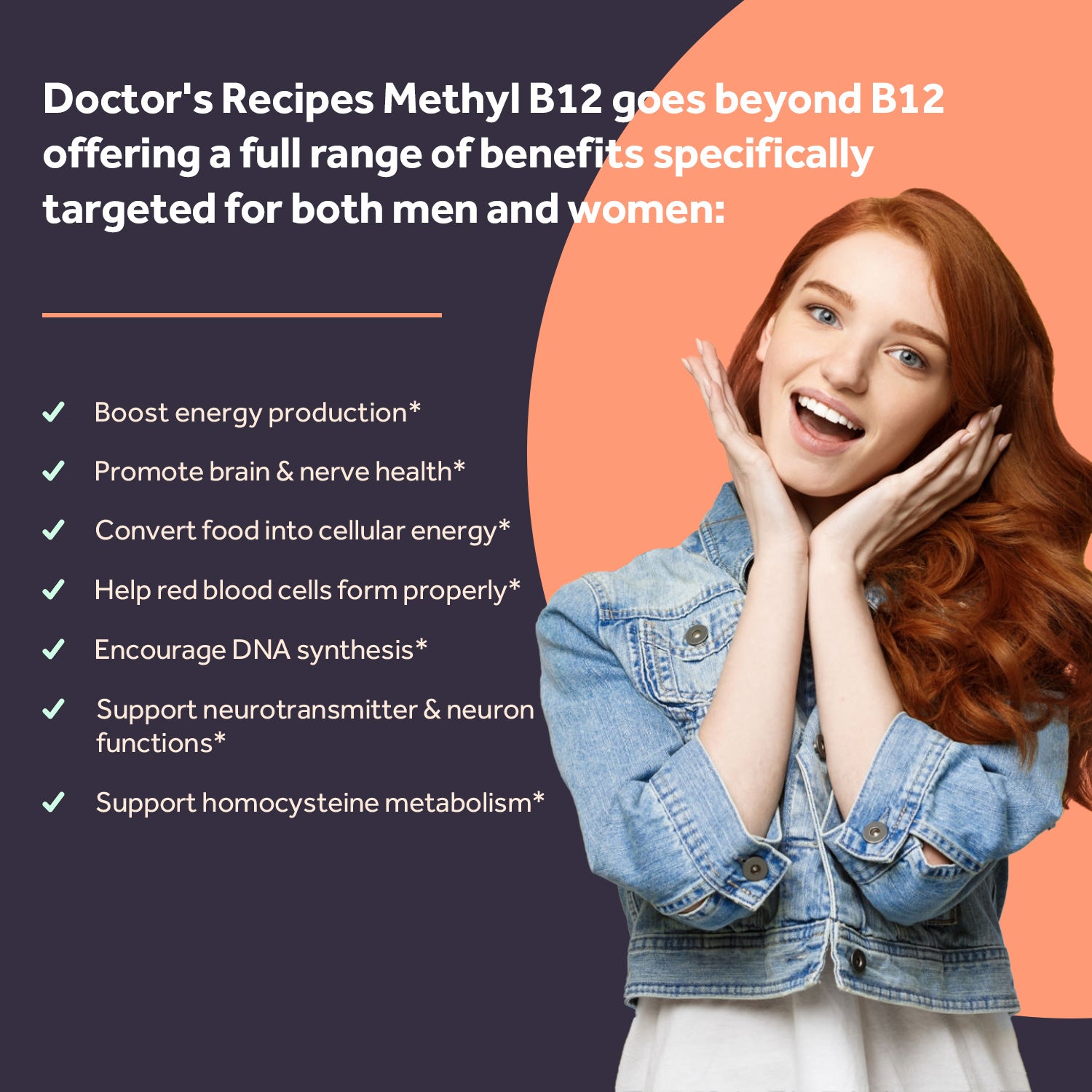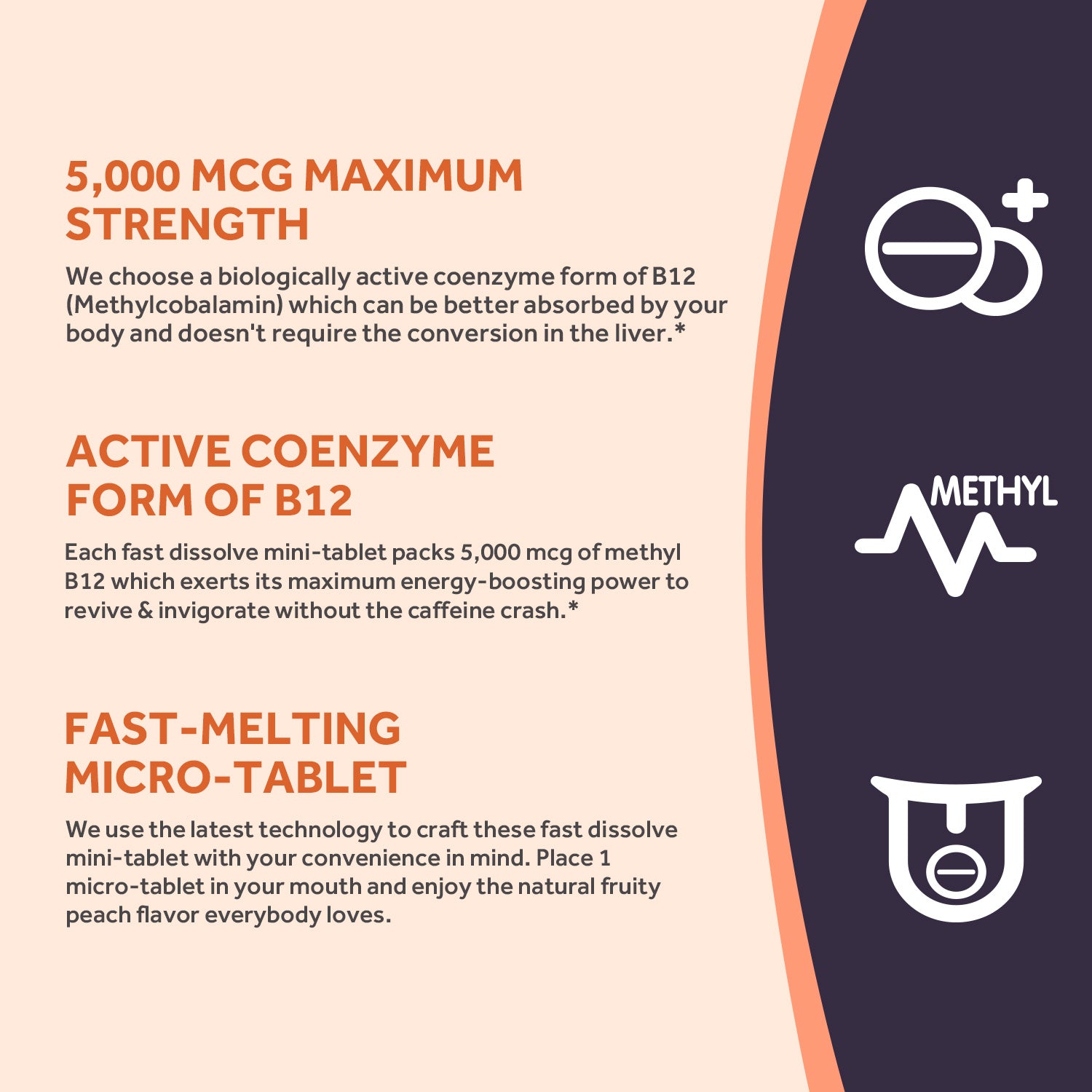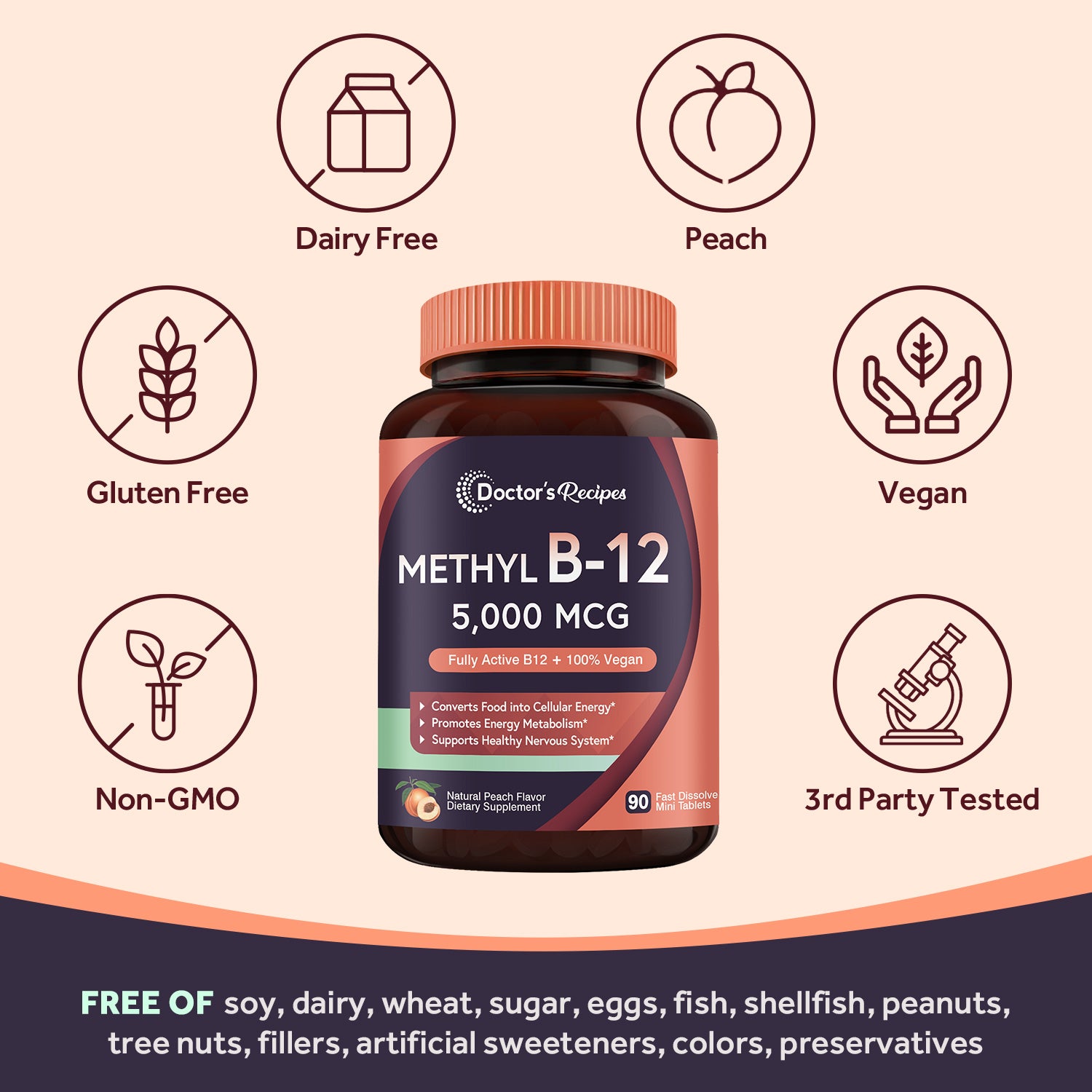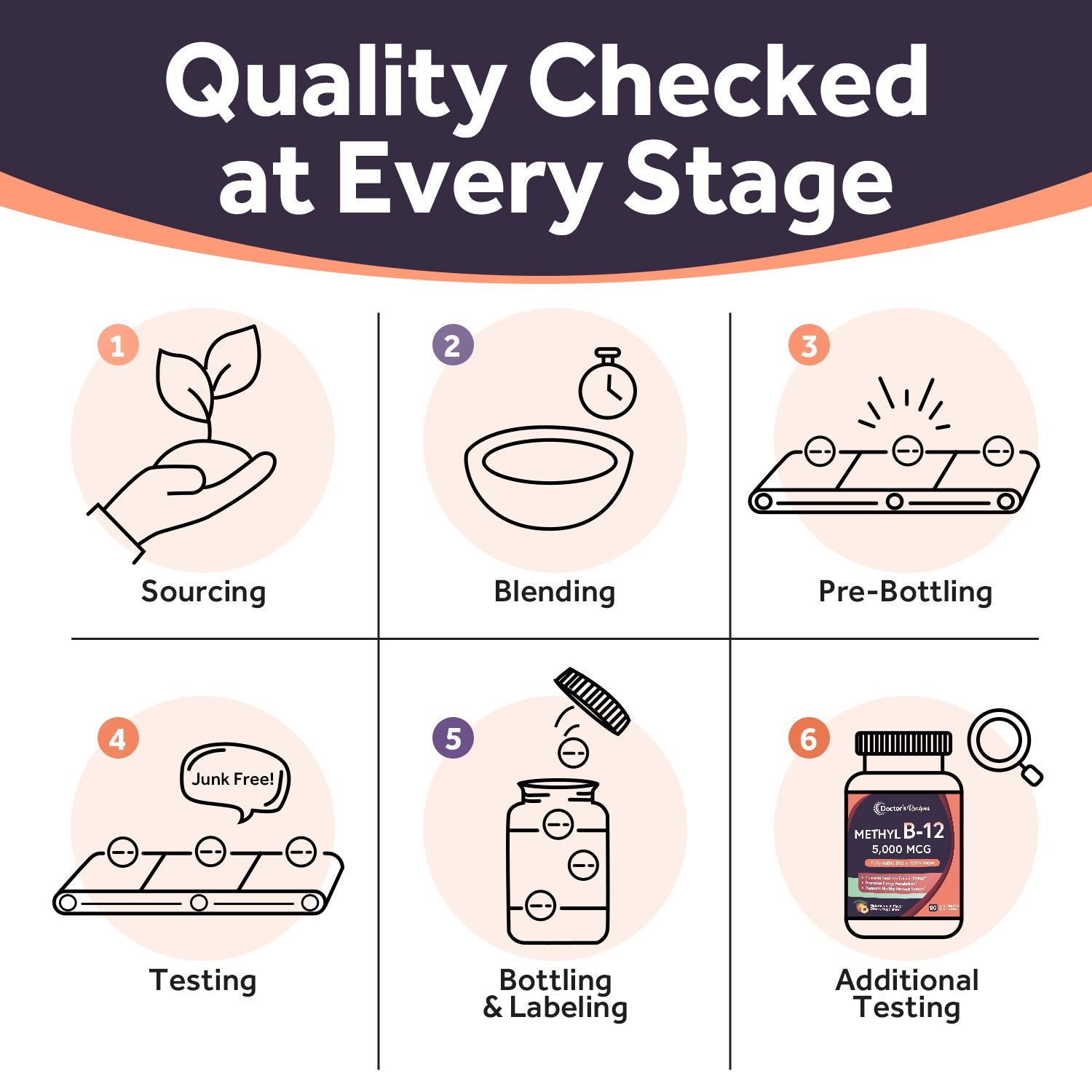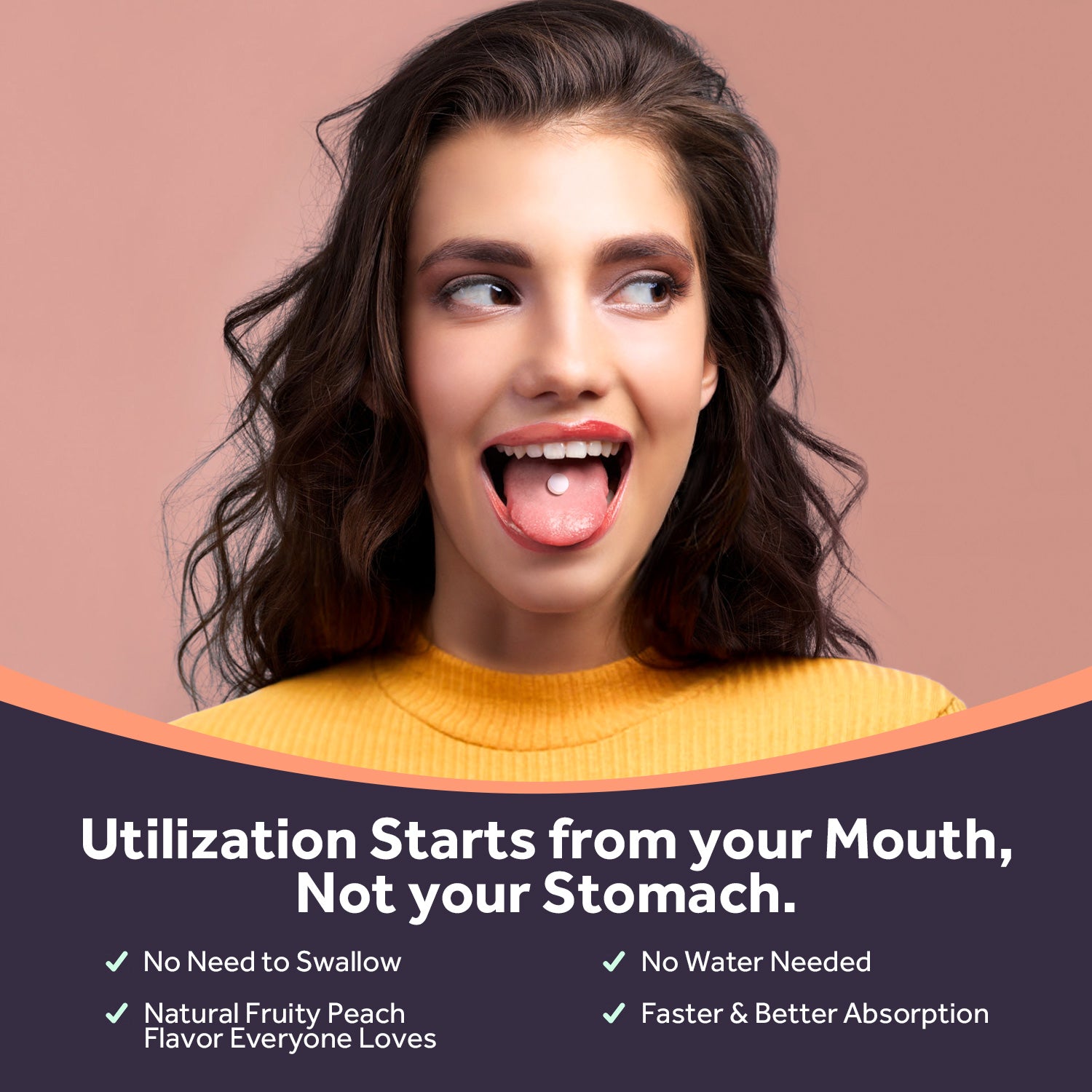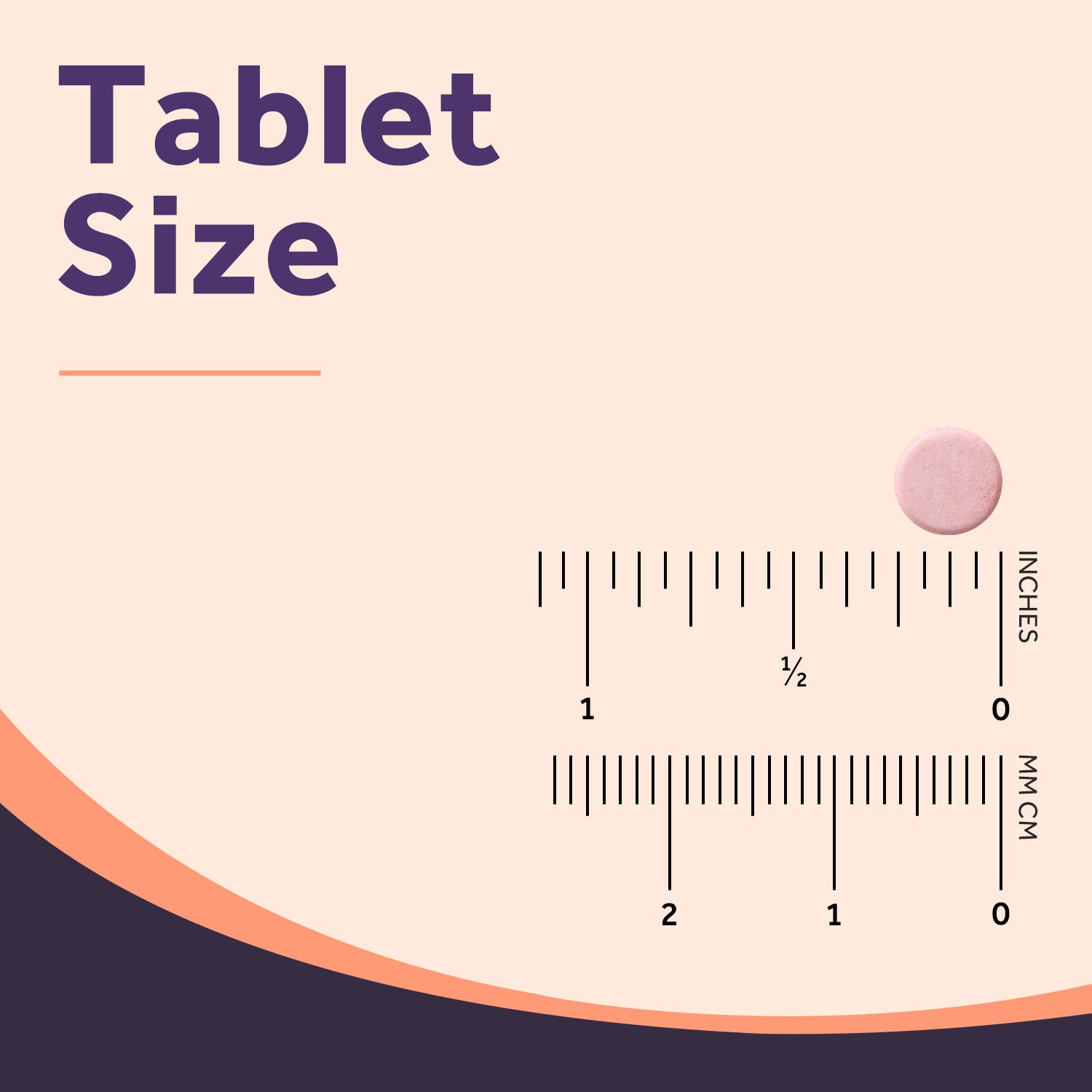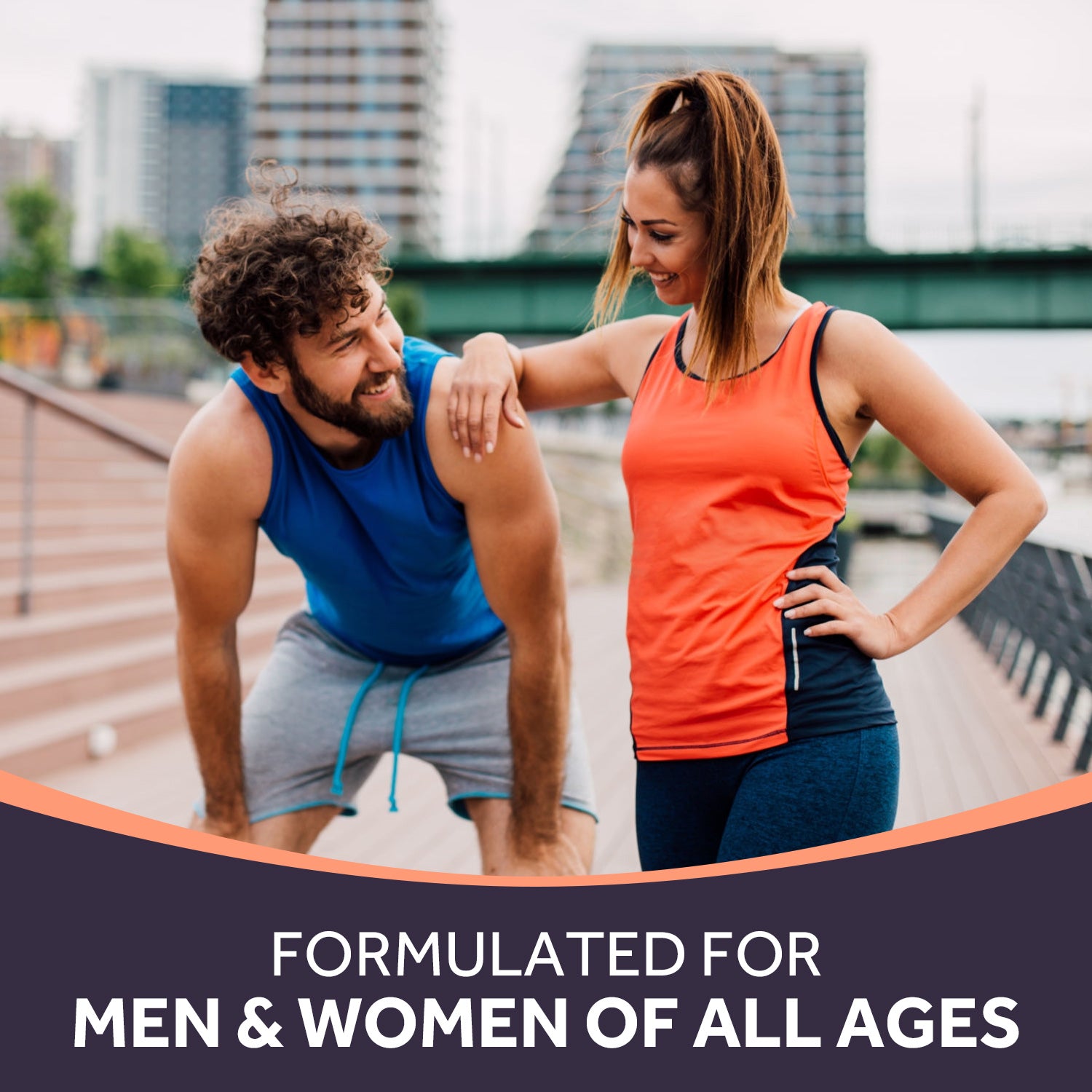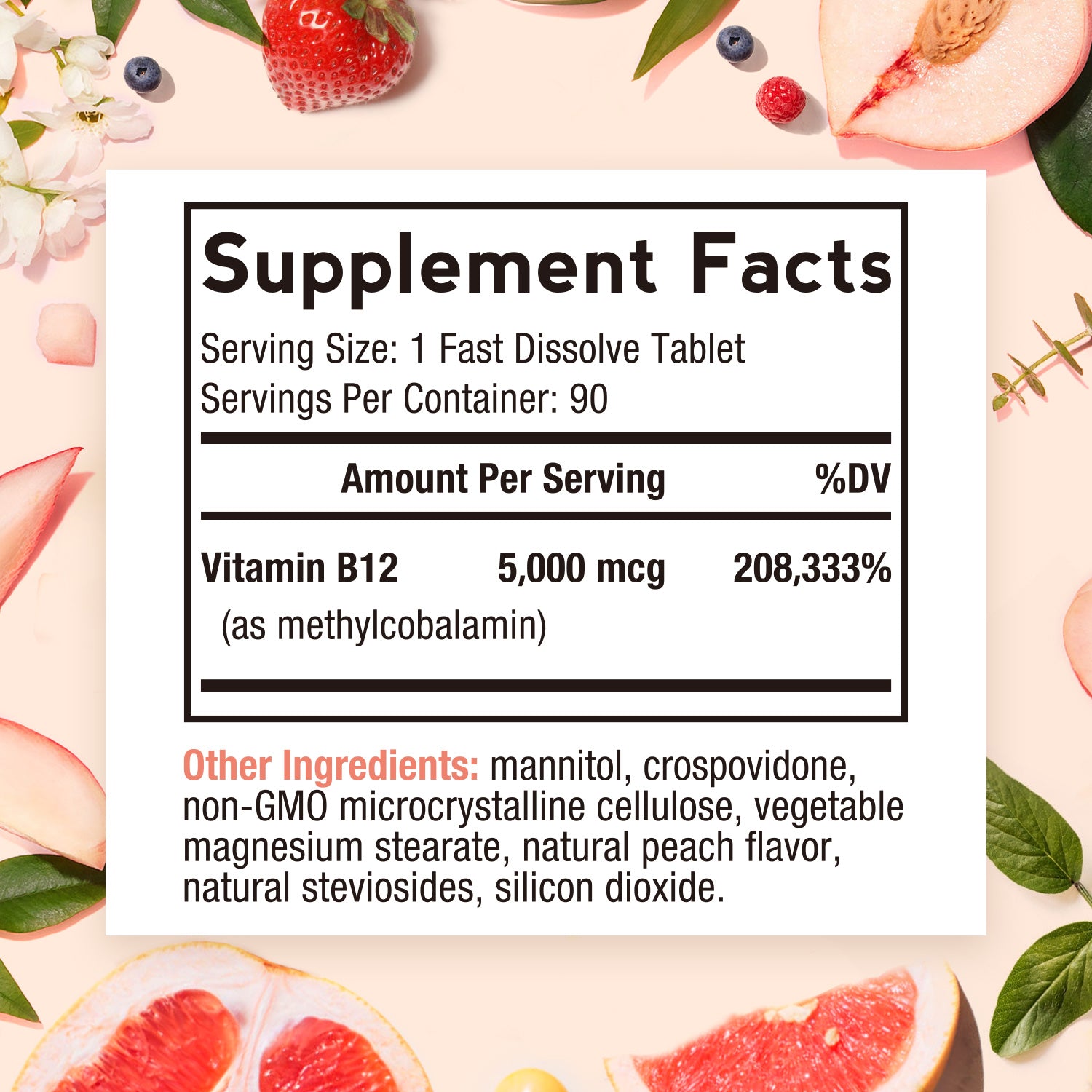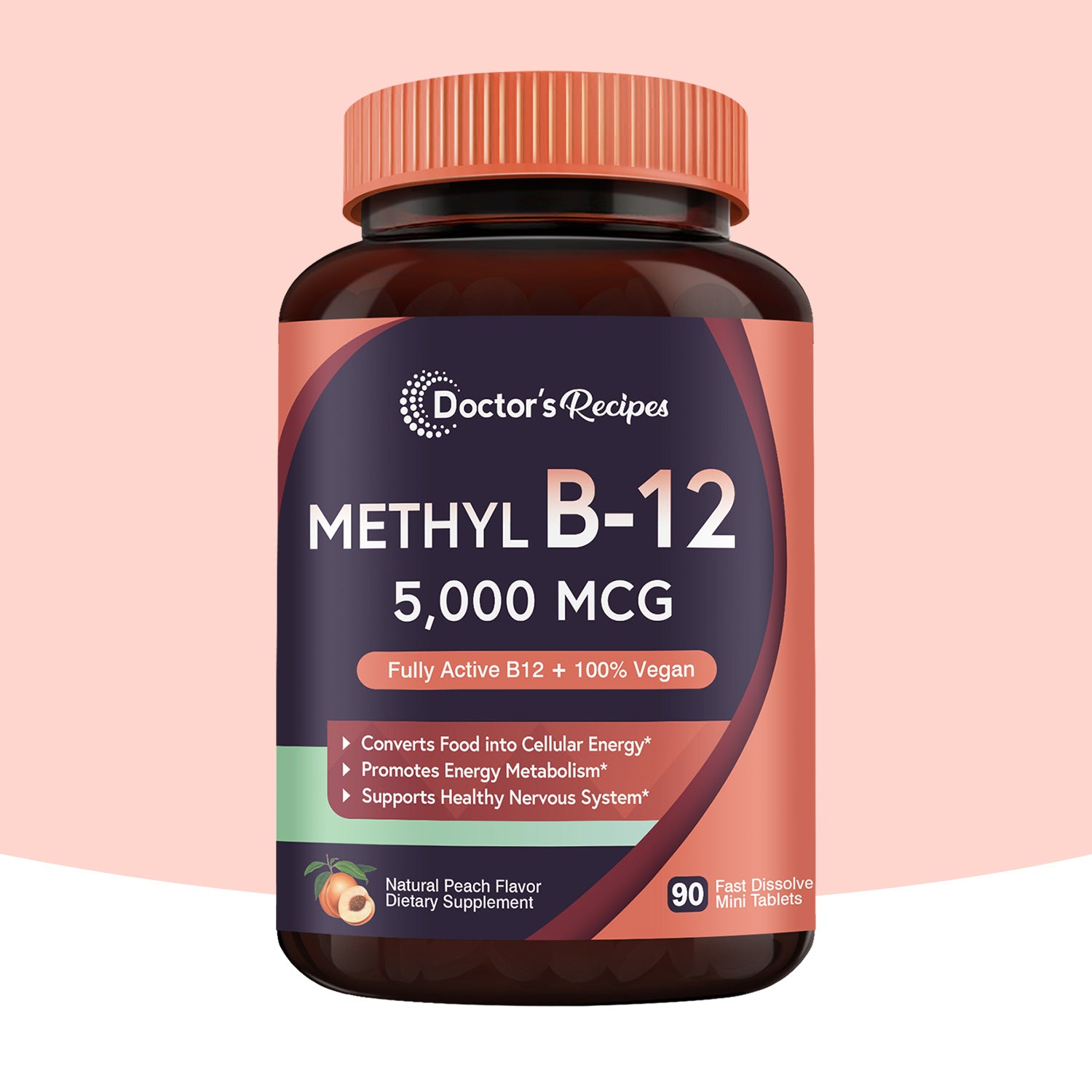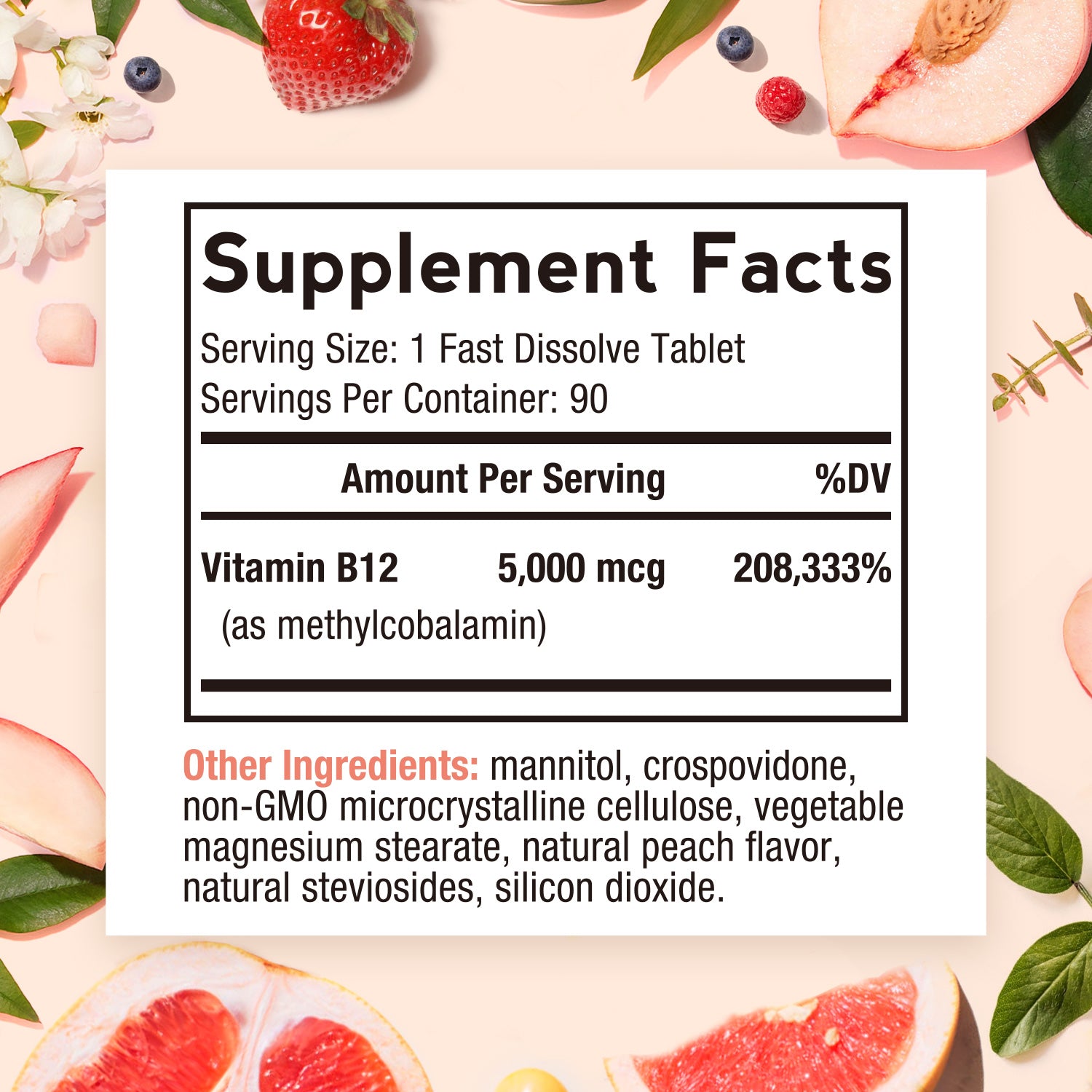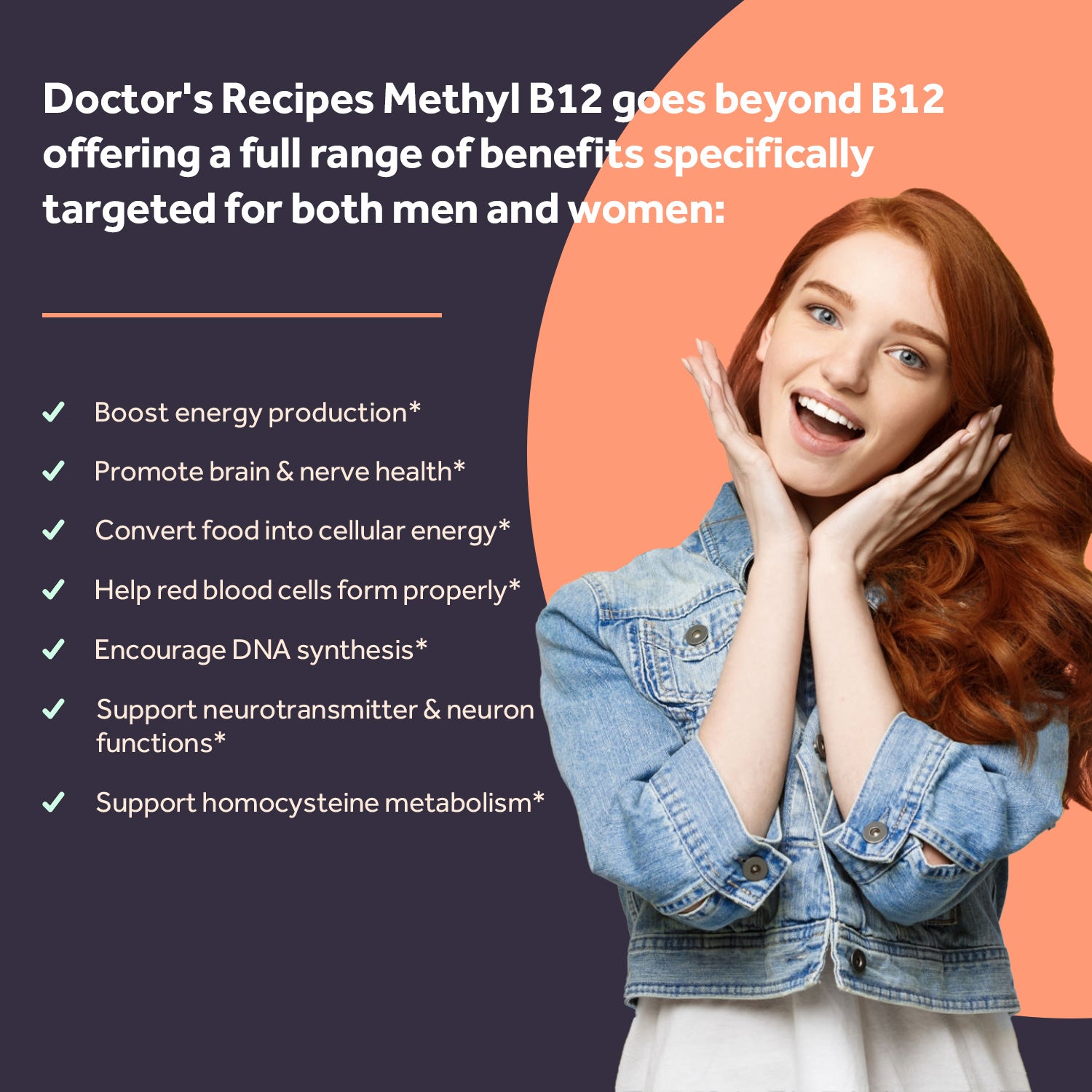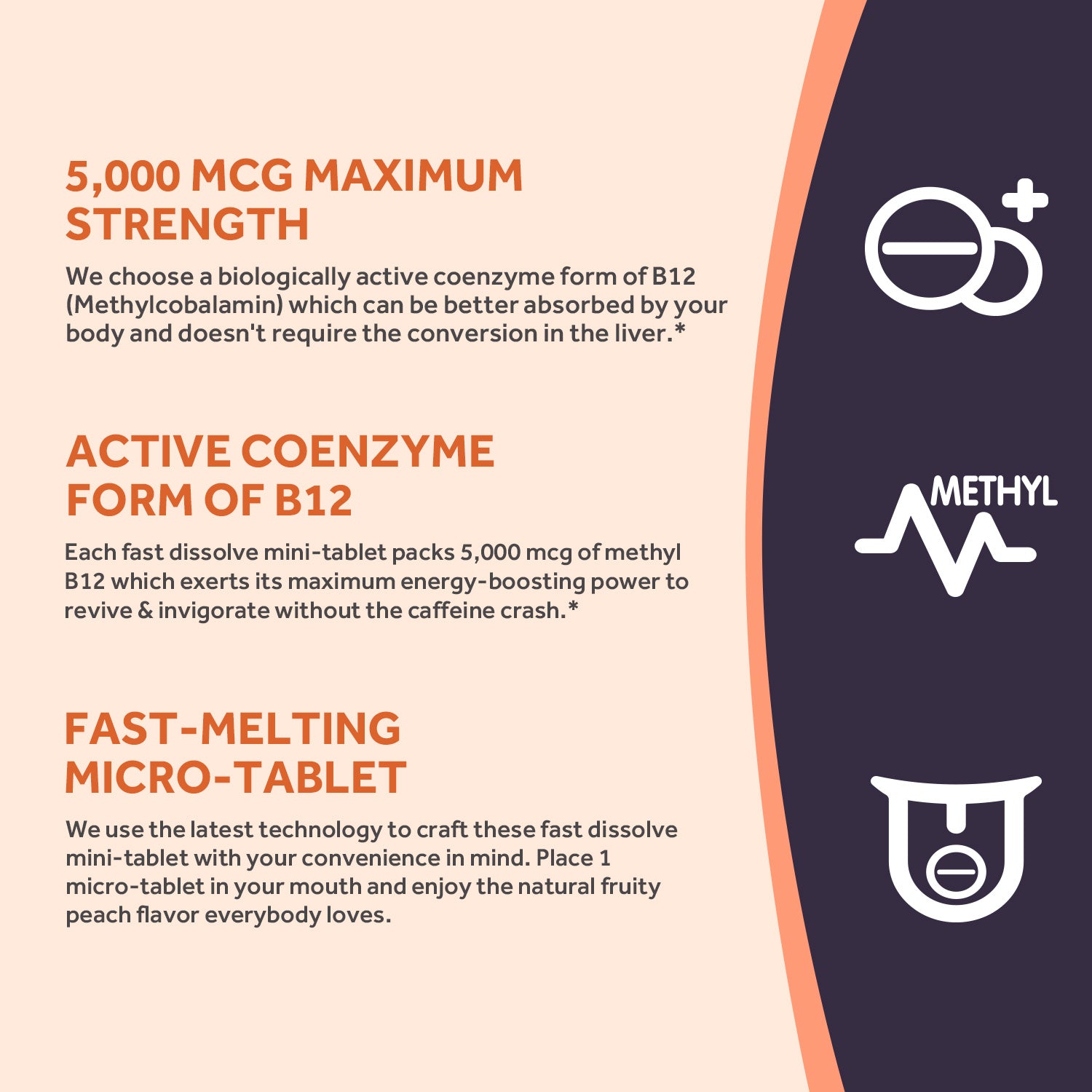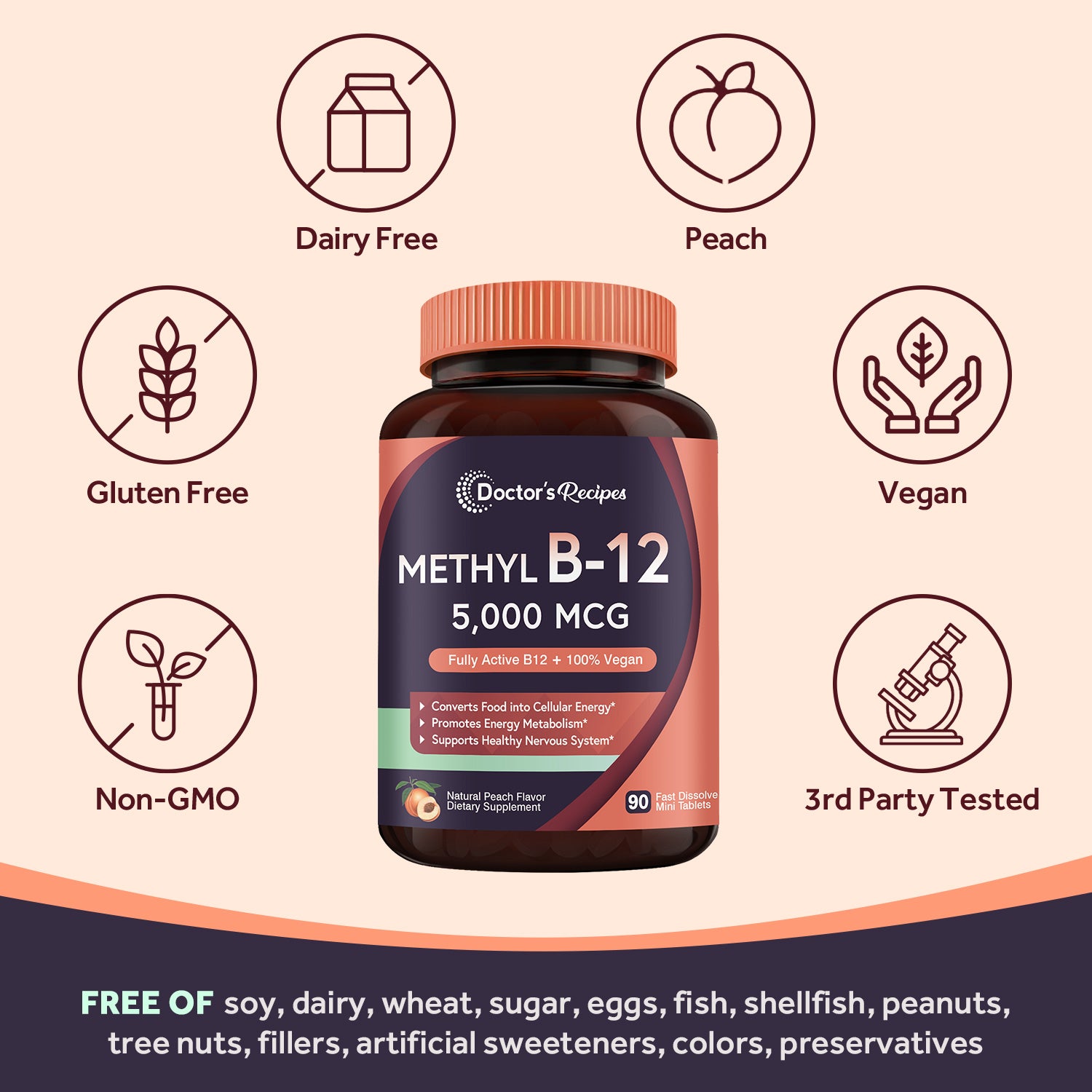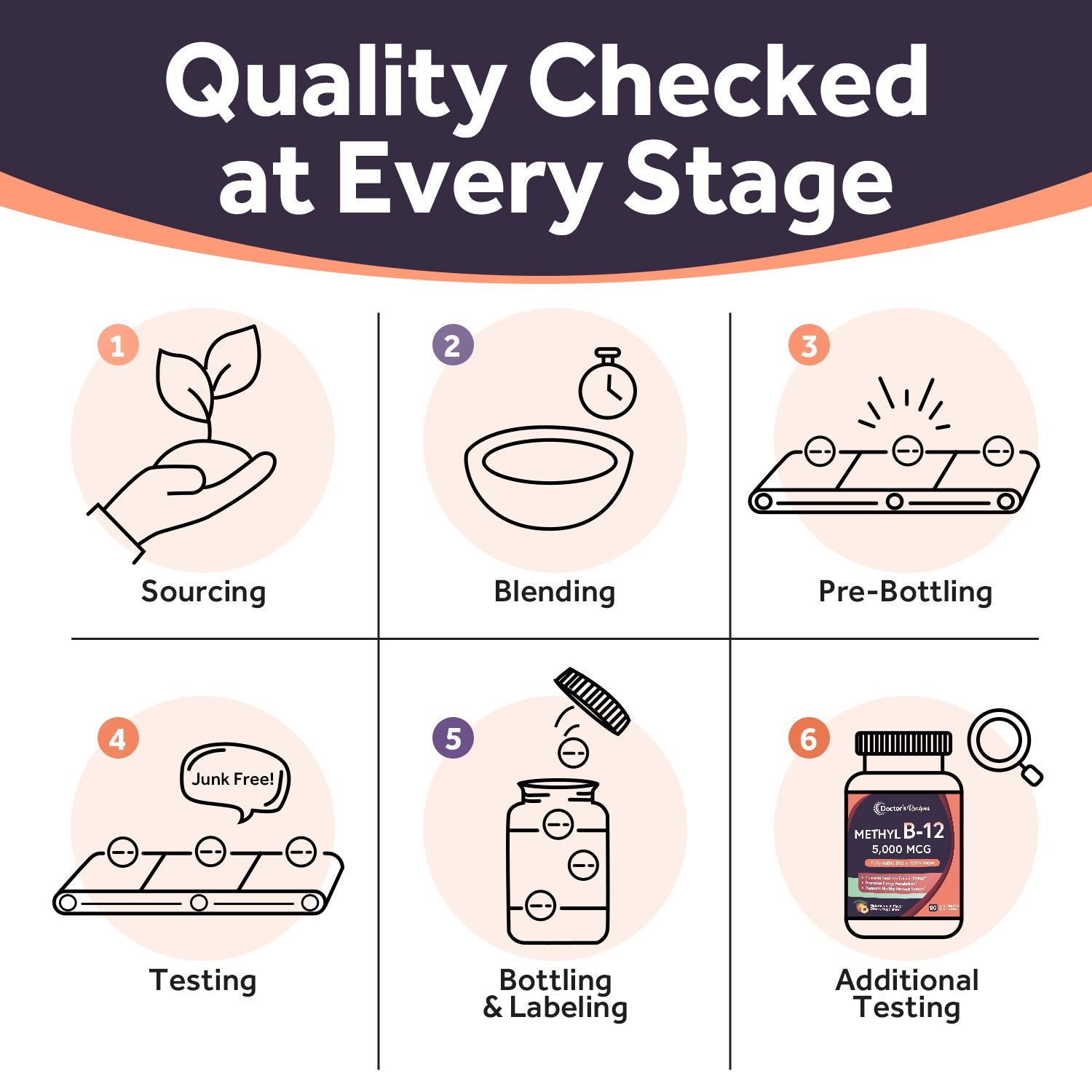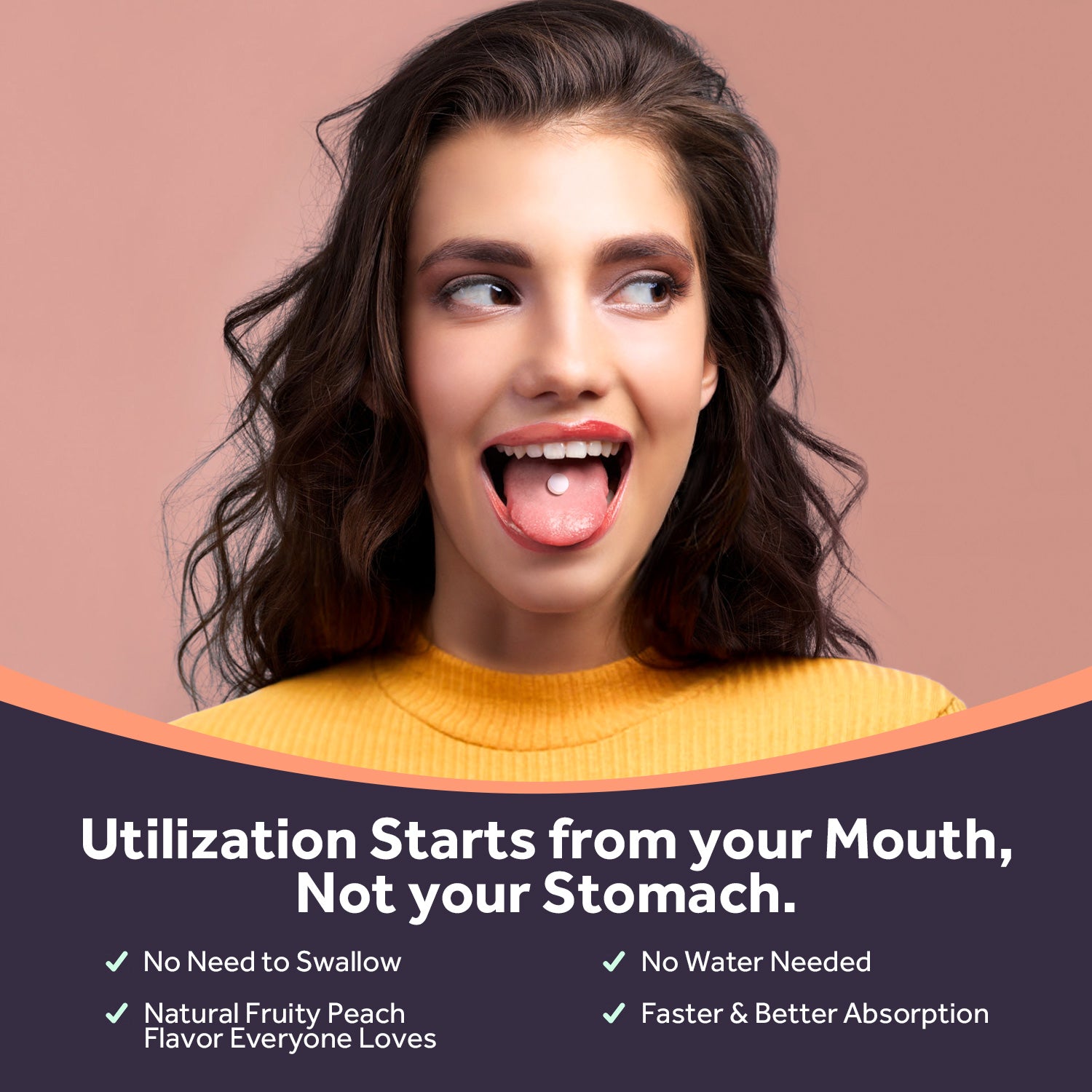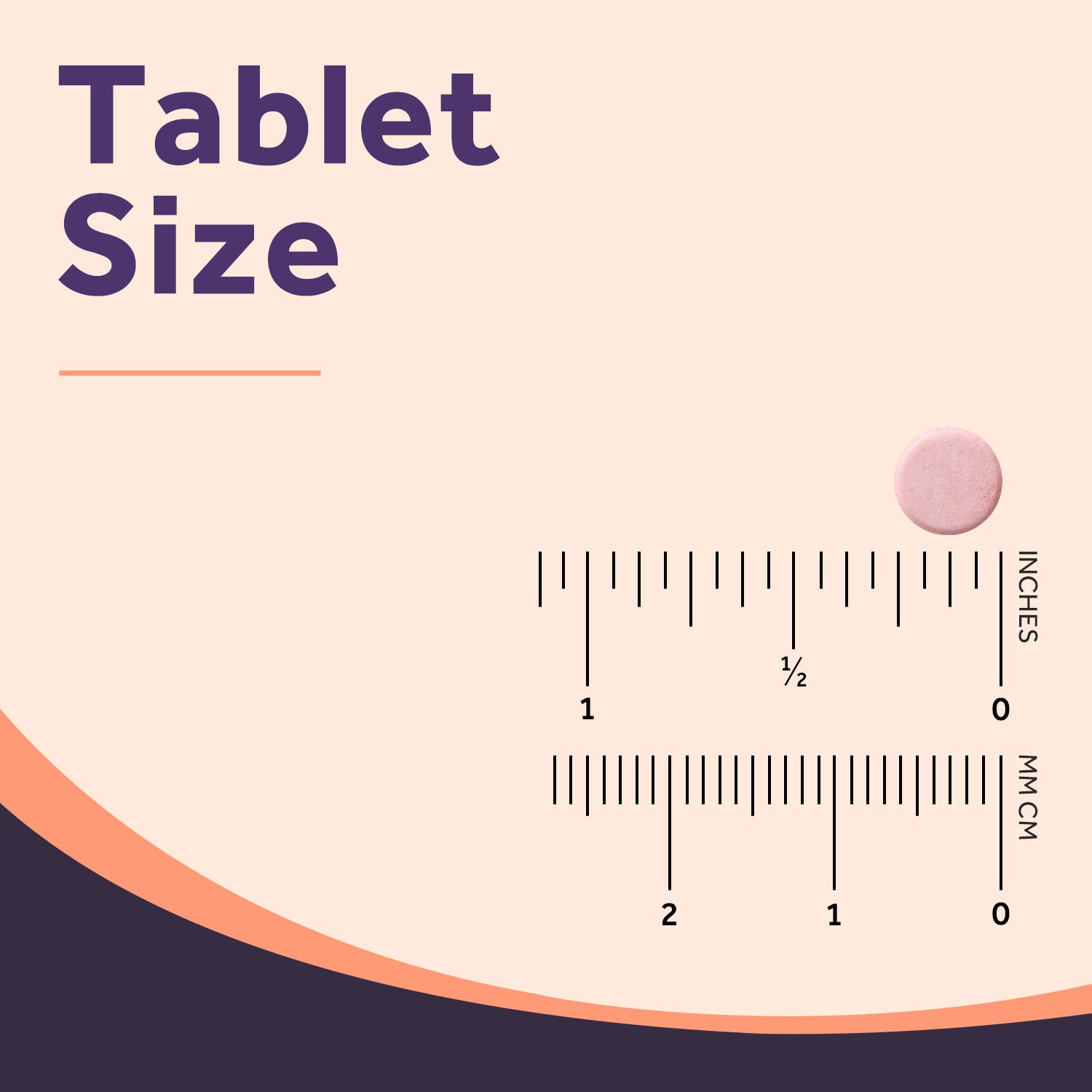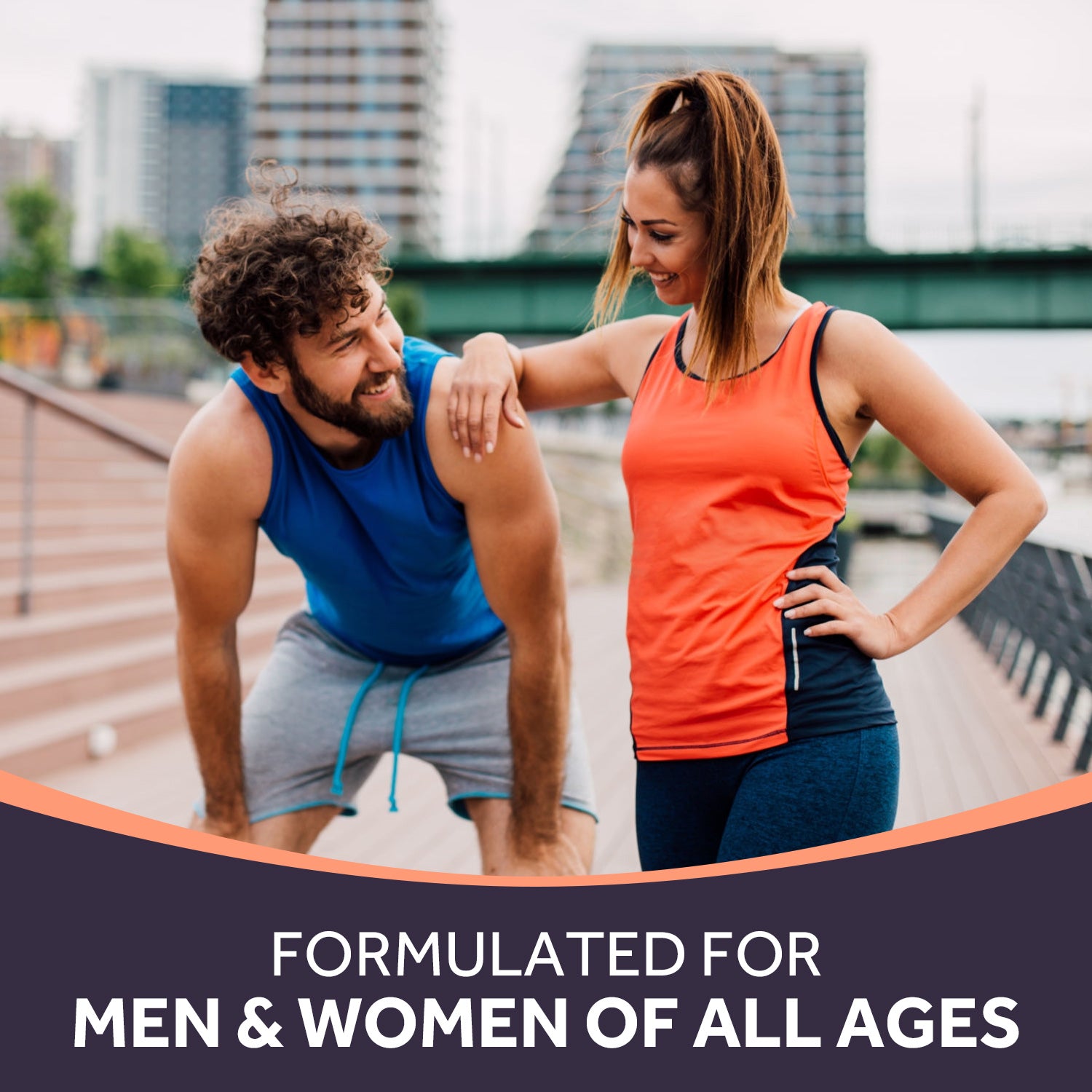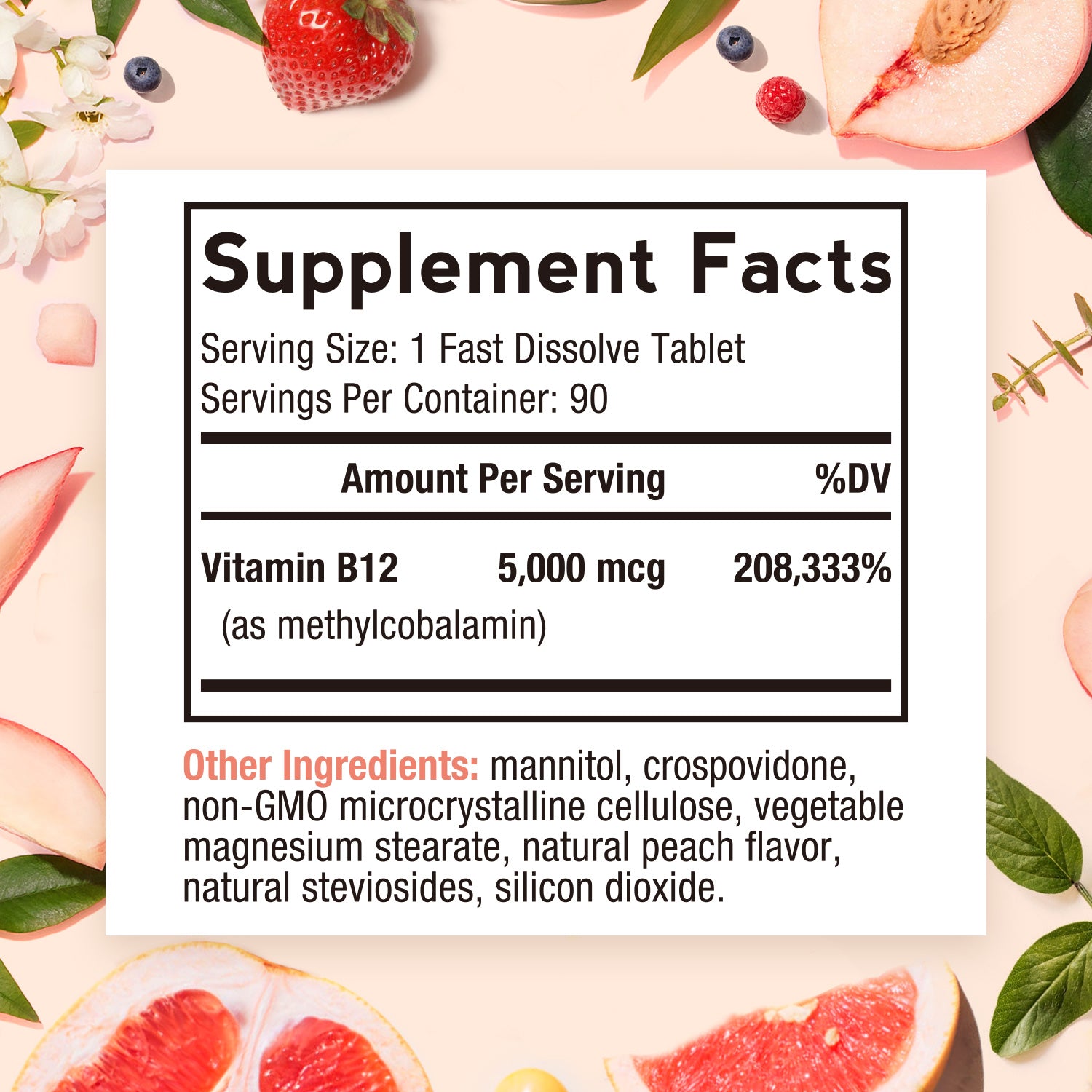 Vitamin B12
Doctor's Recipes Vitamin B12, Methylcobalamin 5000 mcg 90 Fast Dissolve Tablets, Natural Peach Flavor, Vegan Methyl, Most Active Form of B-12, Energy Metabolism & Nervous System, Non GMO, No Gluten
| INGREDIENT | AMOUNT | HELPS WITH |
| --- | --- | --- |
| Vitamin B12 (as methylcobalamin) | 5000 mcg | Energy Metabolism & Nervous System |
Environmentally Friendly
Make it a long-term approach to wellness

Fast and Secure Delivery
Free shipping on orders over $50

Superior Service
Accessible, approachable & responsive

Shop with Confidence
Money back guaranteed
A Giant Boost of B12 5000 mcg
Each fast dissolve mini-tablet packs 5,000 mcg of methyl B12 which exerts its maximum energy-boosting power to revive & invigorate without the caffeine crash.* Doctor's Recipes Vitamin B12 (Methylcobalamin) makes it easy to get your daily recommended value of vitamin B12.
Utilization Starts from your Mouth, Not your Stomach.
We use the latest technology to craft these fast dissolve mini-tablet with your convenience in mind. Place 1 micro-tablet in your mouth and enjoy the natural fruity peach flavor everybody loves. Faster & Better Absorption than capsules or gummies.
Especially Important for Vegans or those Aged 50+
Low intake & Mala-absorption are 2 main reasons for vitamin B12 deficiency. That's why vegans or vegetarians are more likely to be deficient in B12, and many older adults, who do not have enough hydrochloric acid in their stomach to absorb the vitamin B12, tend to have trouble absorbing it. These micro-tablets are perfect gifts for your vegan friends or parents.
Body-Ready Methyl B12 (Methylcobalamin)
We choose a biologically active coenzyme form of B12 (Methylcobalamin), which can be better absorbed by your body and doesn't require the conversion in the liver.*
Personal Choices
As a water-soluble vitamin, B12 needs to be replenished daily. Taking methyl B12 regularly is essential for maintaining your reserves and making sure it never runs low. Staying on top of your vegan B12 helps support energy metabolism, DNA formation, red blood cell production, and nerve & heart functions via cleansing toxin homocysteine, encouraging the synthesis of folate, and helping the maintenance of myelin.*
Doctor's Recipes fast dissolve B12 tablet is loaded with 5,000 mcg metabolically active, body-ready B12 in methyl form (Methylcobalamin) rather than cheap, potentially-harmful Cyanocobalamin. Simply let one tiny peach-favored tablet melt in your mouth and help you avoid all sorts of snoozy disasters with a giant boost of B12.*
Professional Solutions
Our Difference
5,000 mcg Energy Vitamin B-12 Methylcobalamin
Body-Ready Methyl B12 5000 mcg (Methylcobalamin)
Instant Absorption & No Water Needed
Melts Easily & No Need To Swallow
Natural Fruity Peach Flavor Everybody Loves
Especially Important for Vegans or those Aged 50+
Support Energy, Heart & Nerve Health*

Section
Drop element here!
Alonso T.
Verified Purchase
Great for b12 Deficient

I take this daily supplement for a vitamin B12 deficiency. I had my levels checked at the doctor's office and they have risen. I feel natural energy, less hungry, a clearer mind and overall upbeat.
Stacey E.
Verified Purchase
Absorbs Well and Works Fast!

My B12 was low and this is helping. I can honestly say I got instant gratification when I started taking these! I certainly did feel a little boost of energy after my first dissolving tablet - and it tastes great!
Jade. G
Verified Purchase
Tastes Great, Very Convenient

These have a great peachy flavor. I take one per day in the morning. I feel, these vitamins seem to work well for my system. My levels have gone from 150 to 1700!