Gut-Friendly Magnesium Glycinate
Relax your muscle and have a good quality sleep.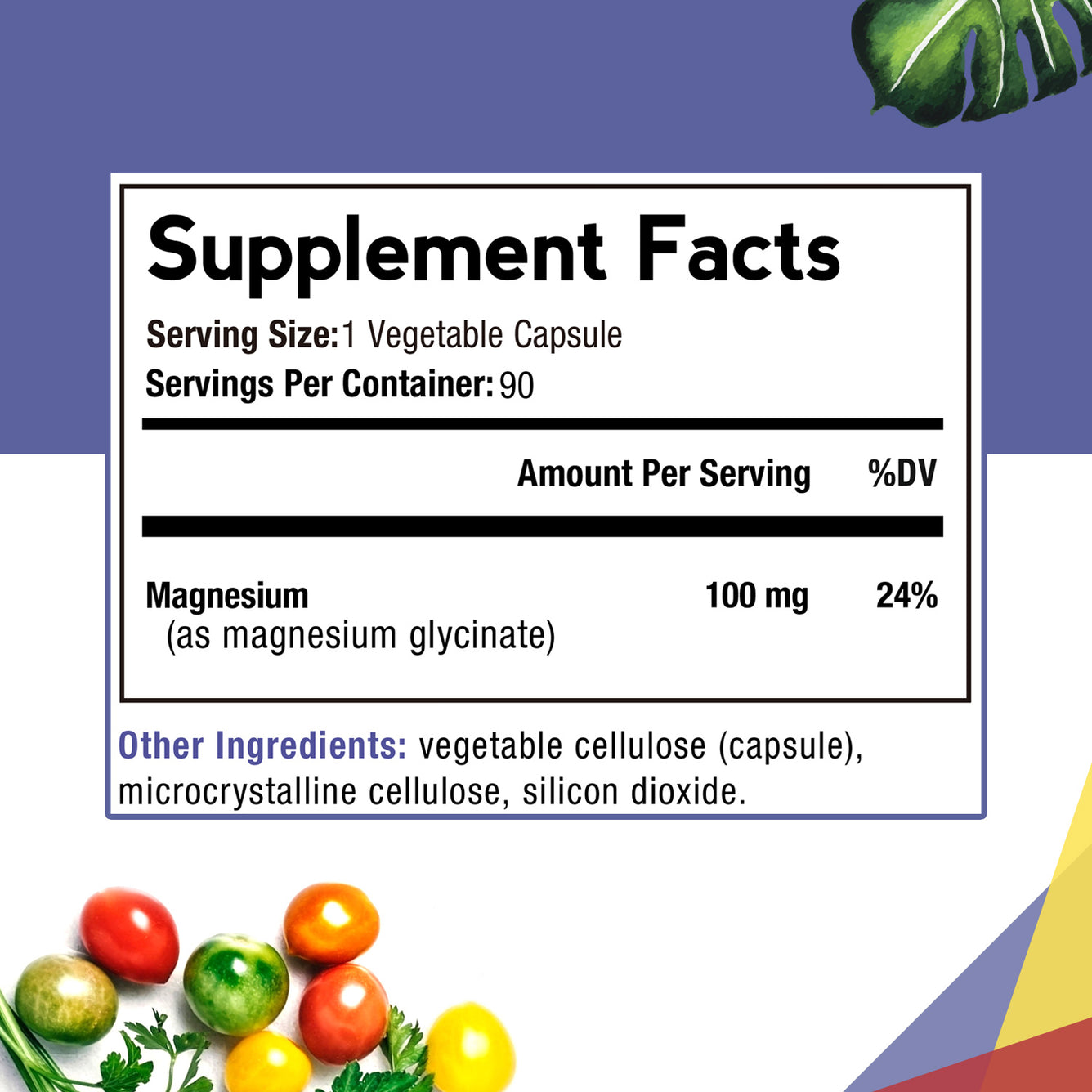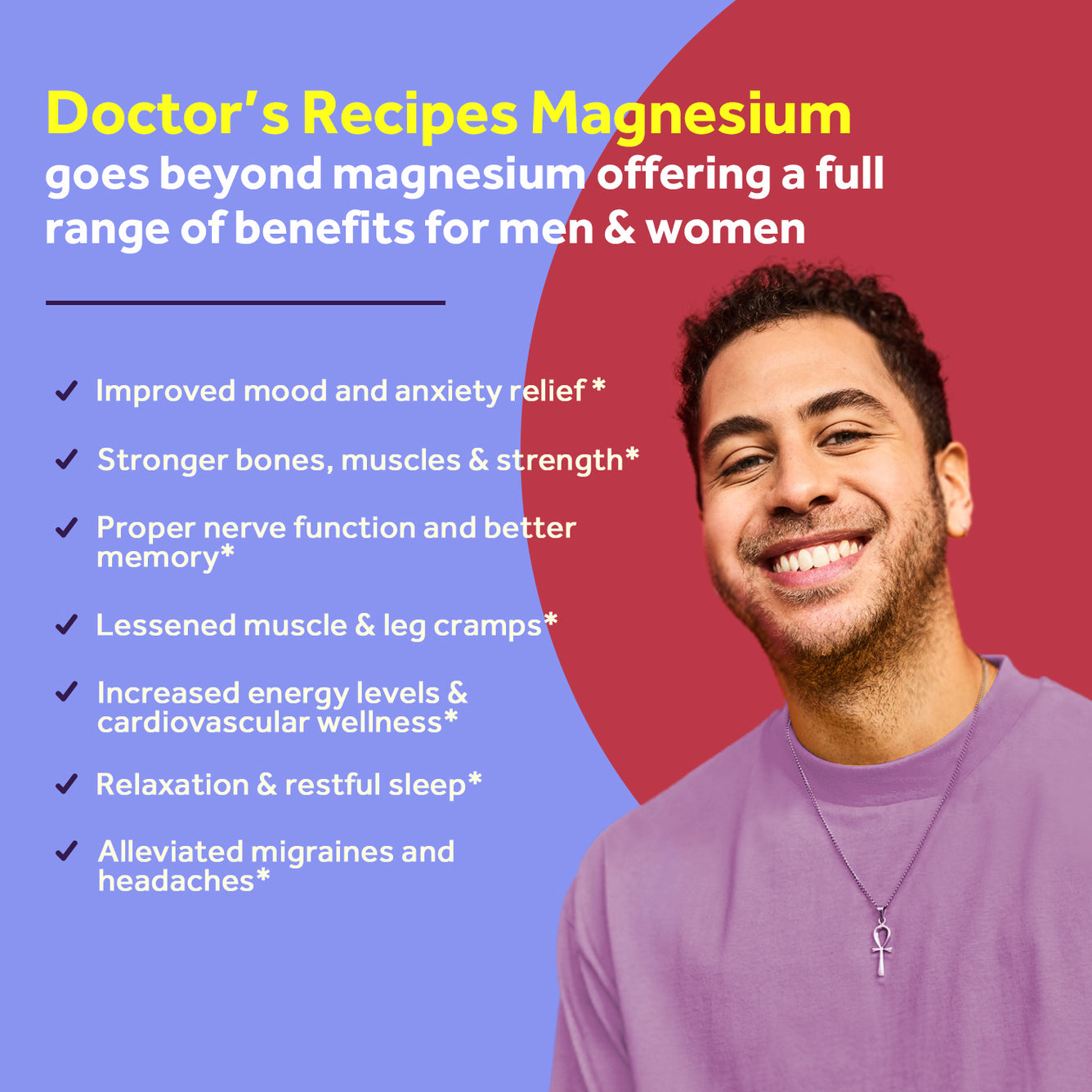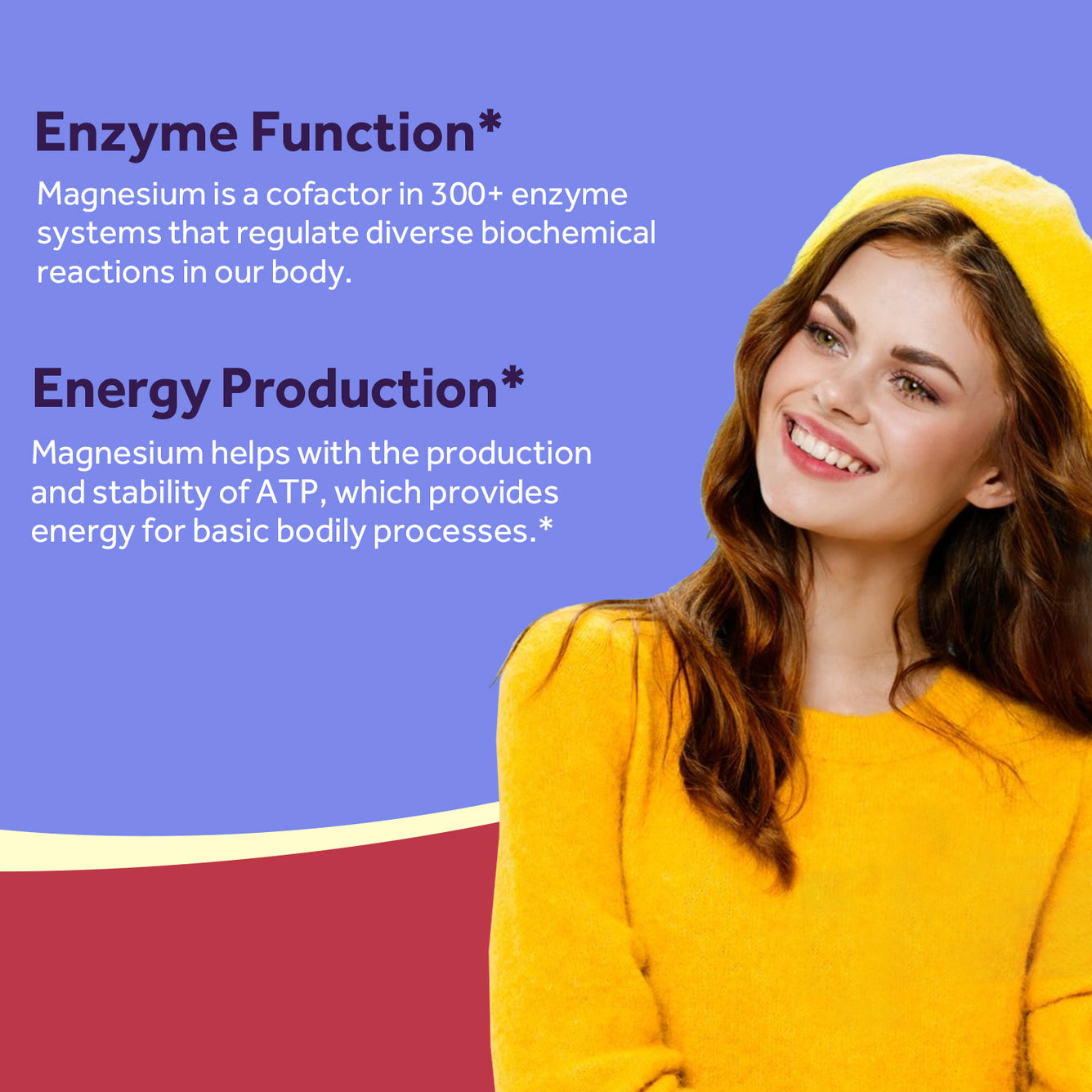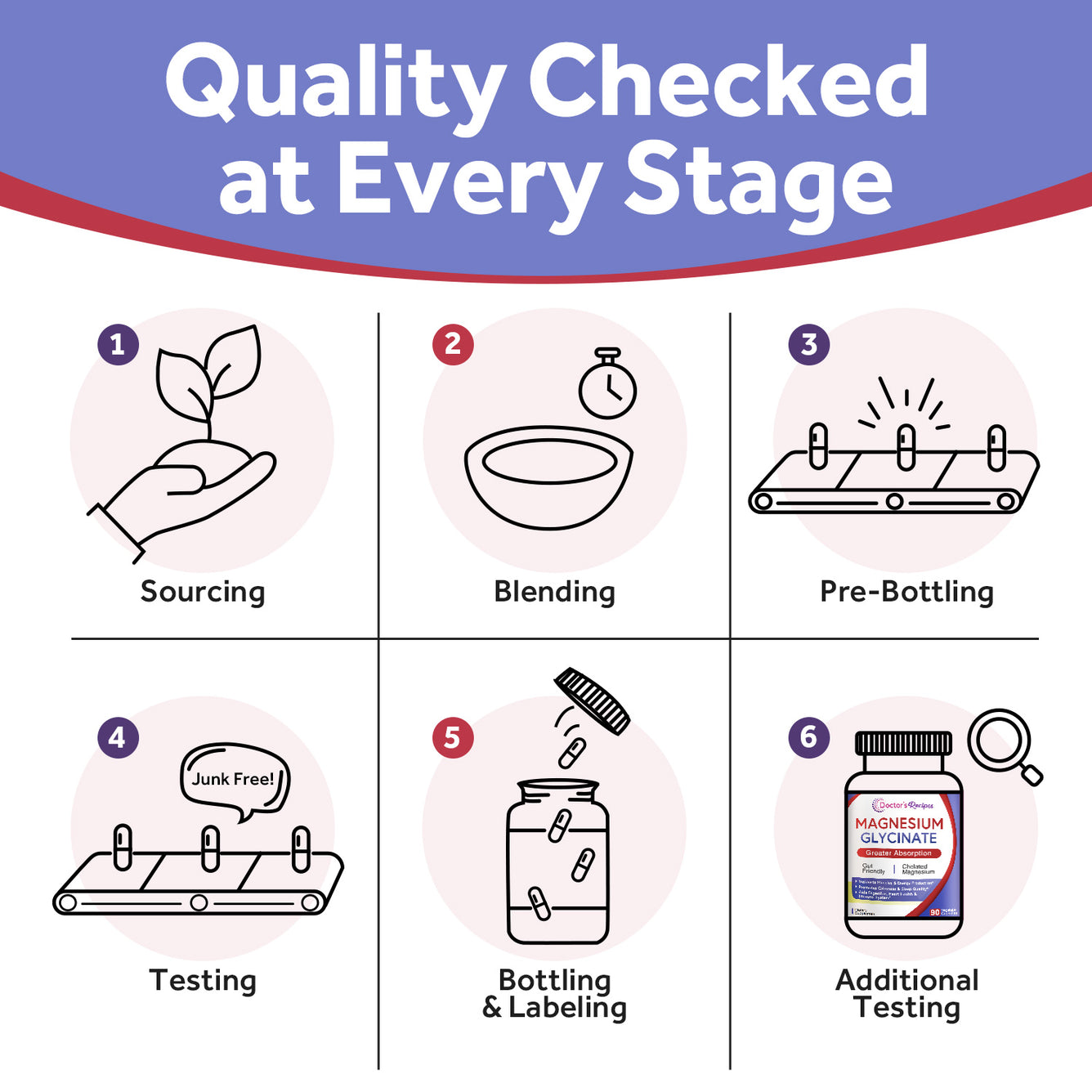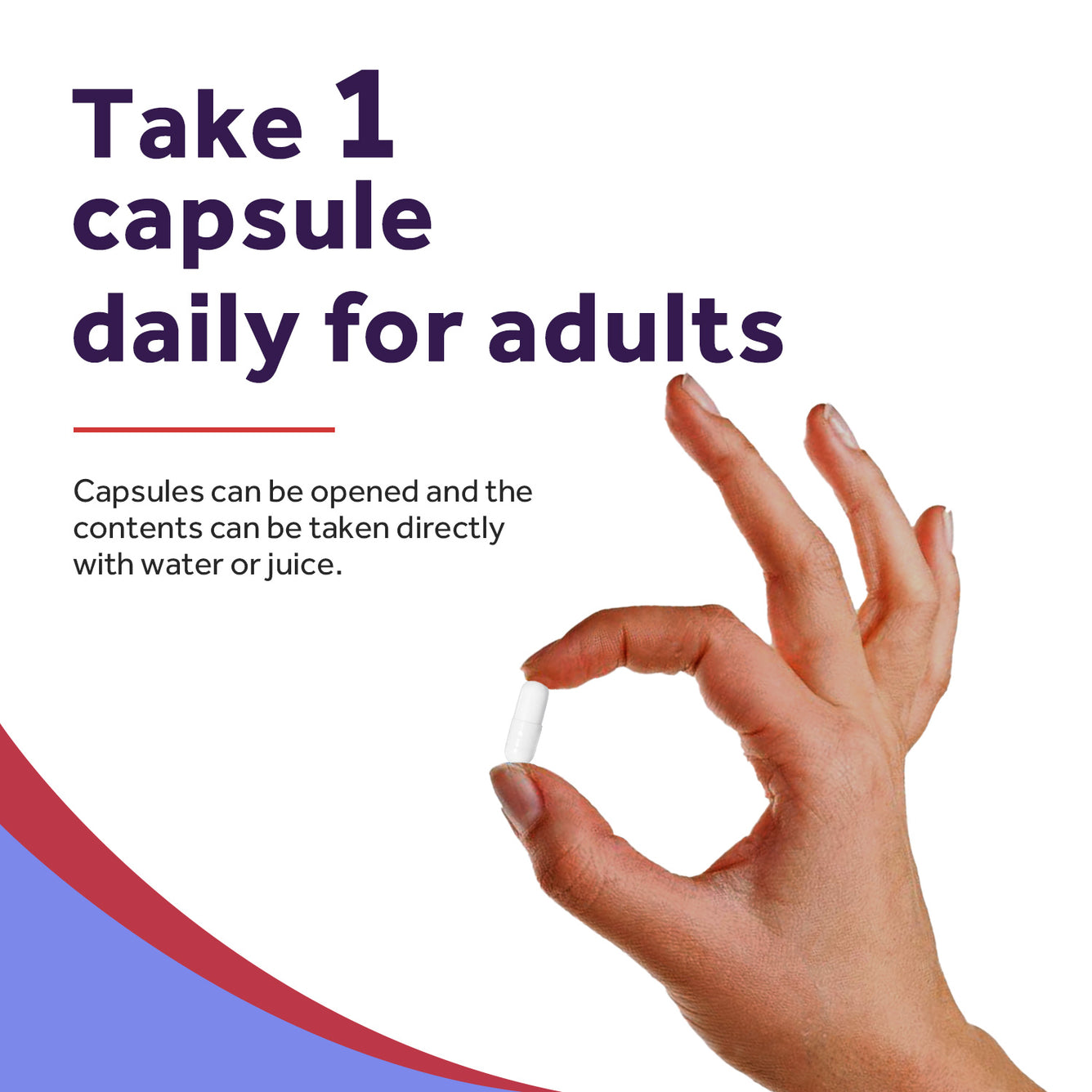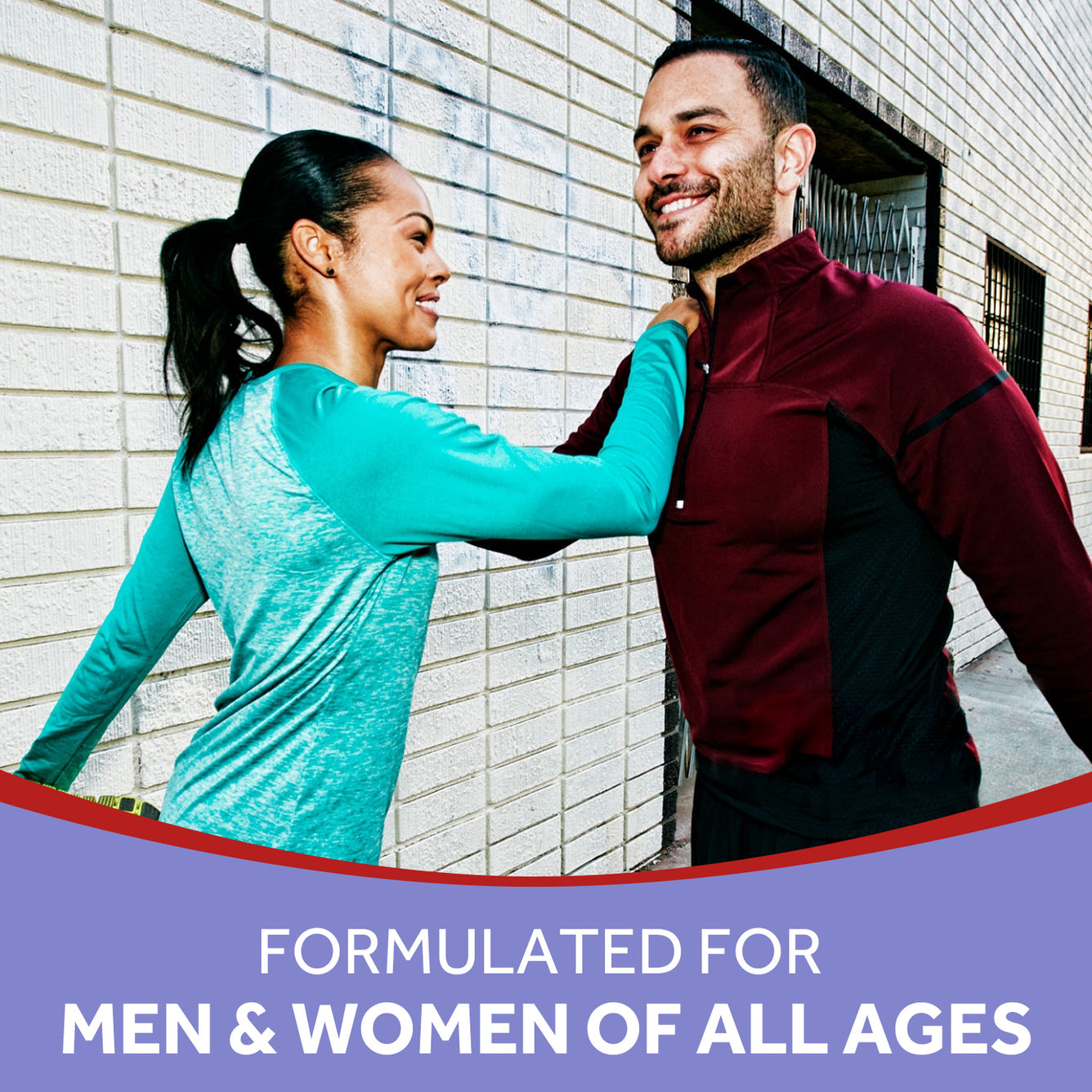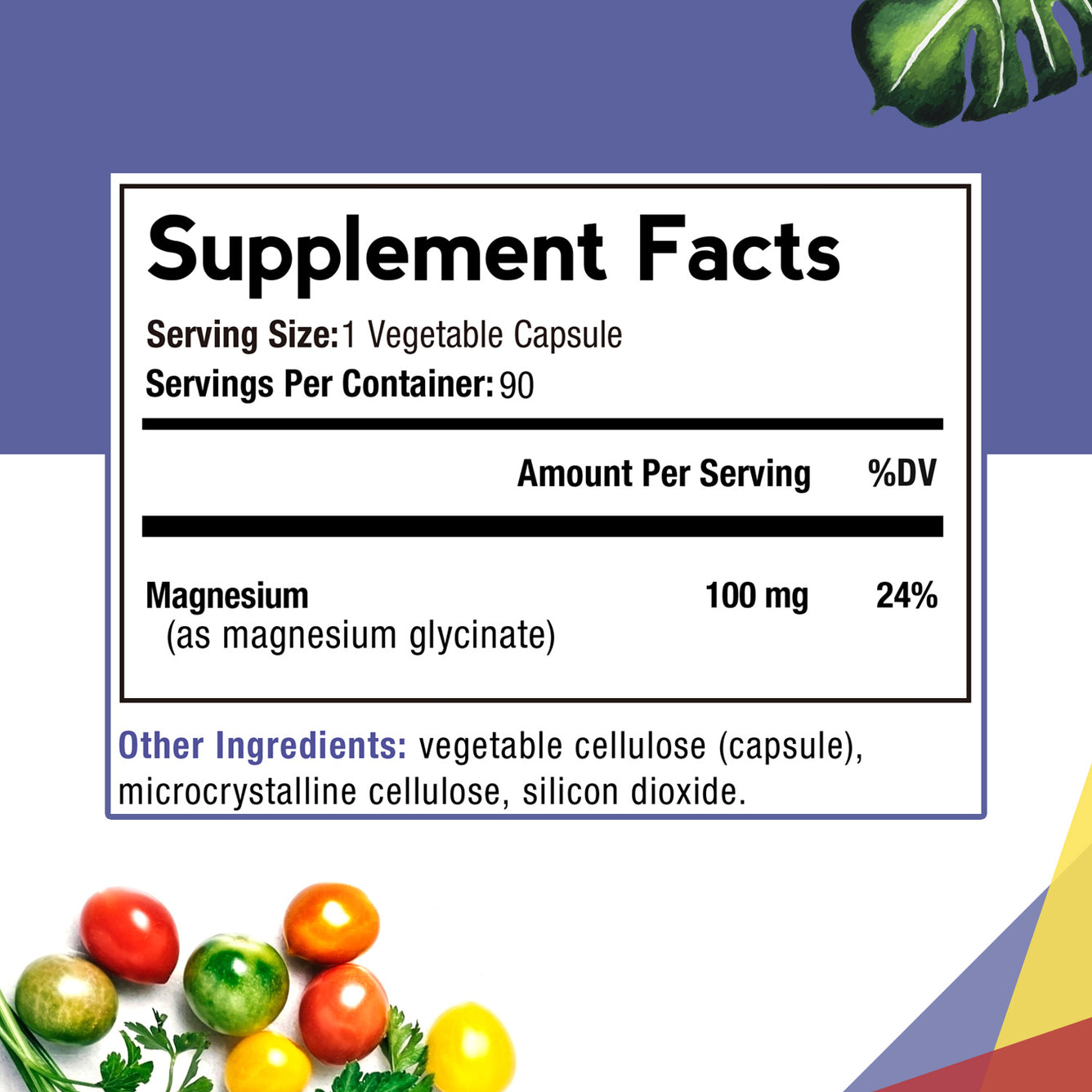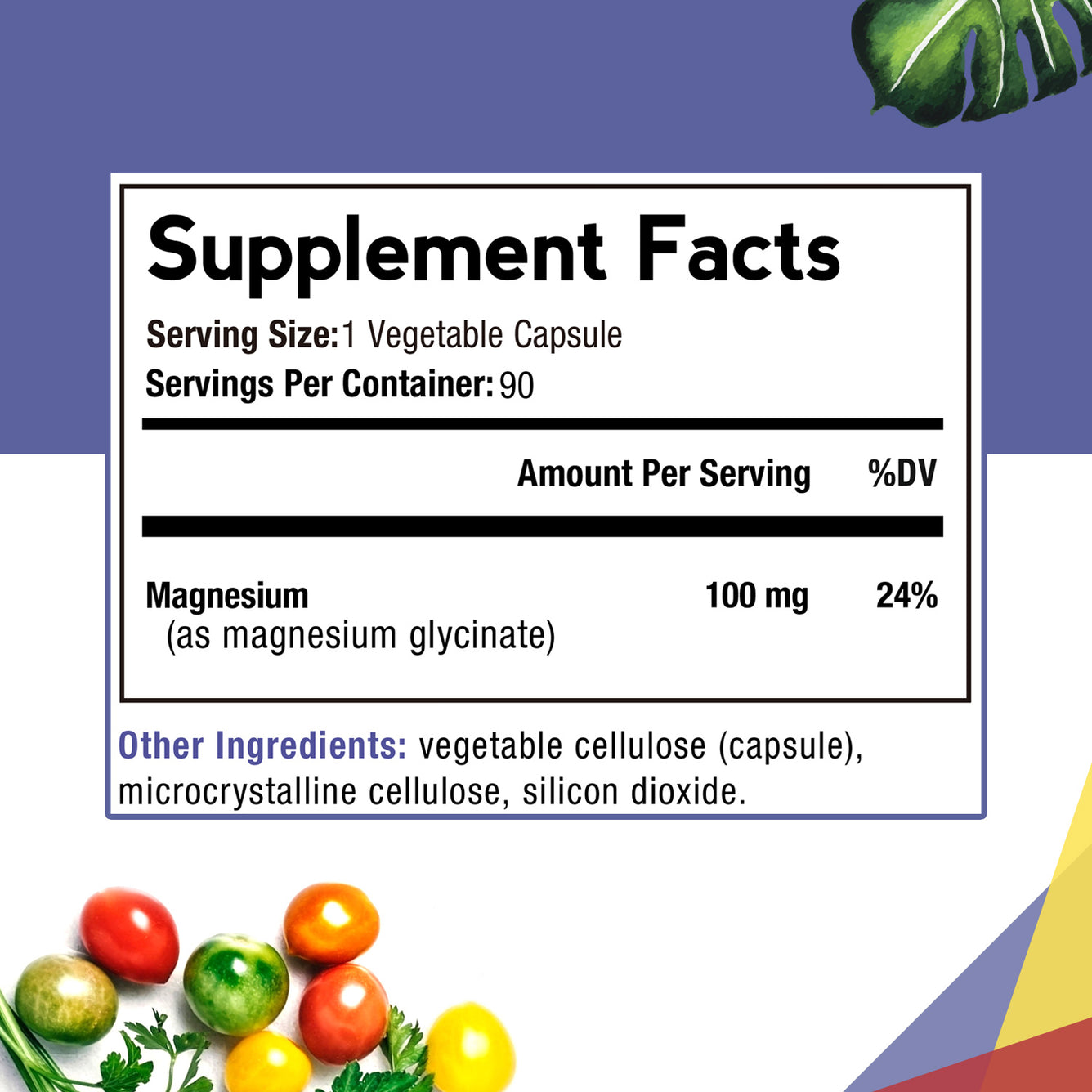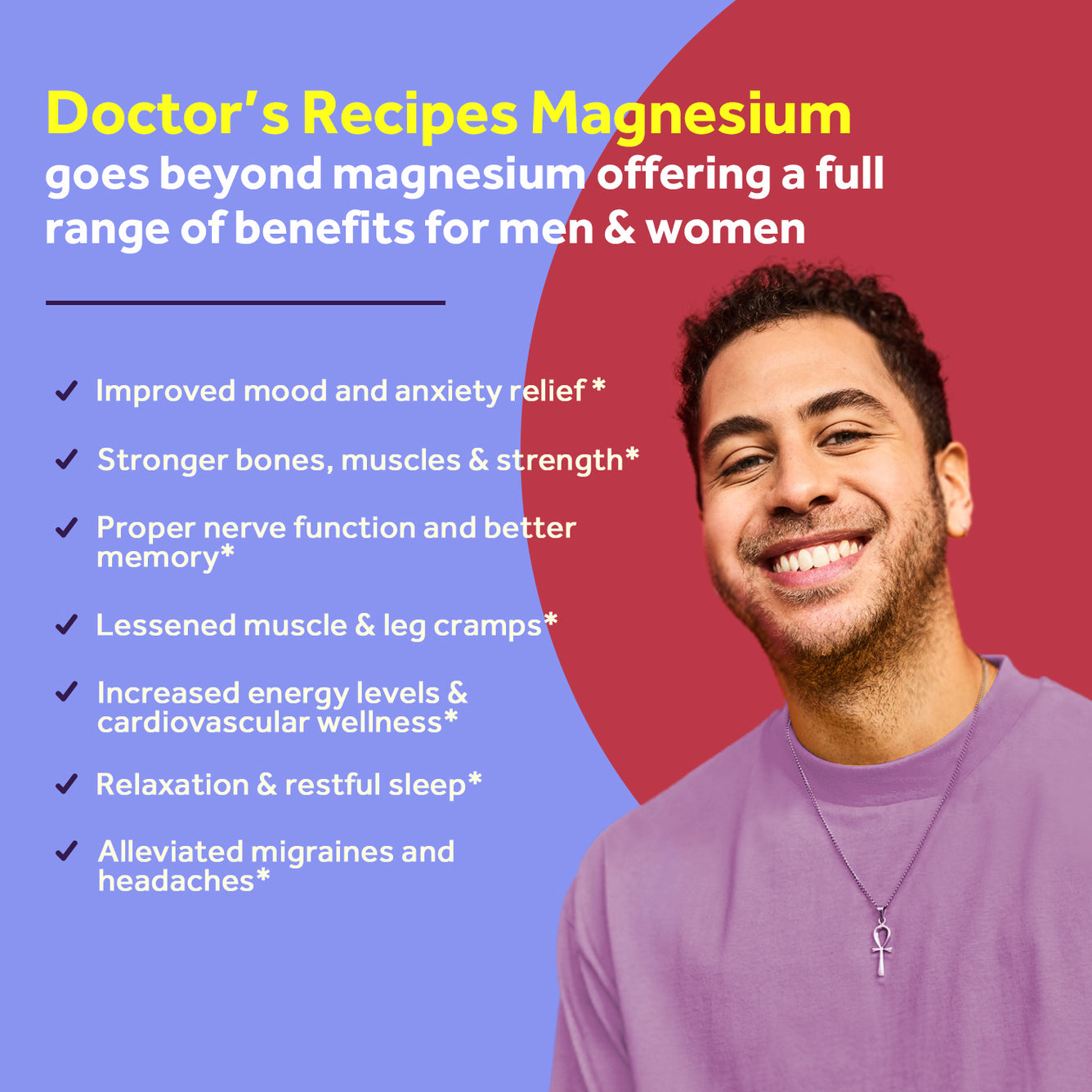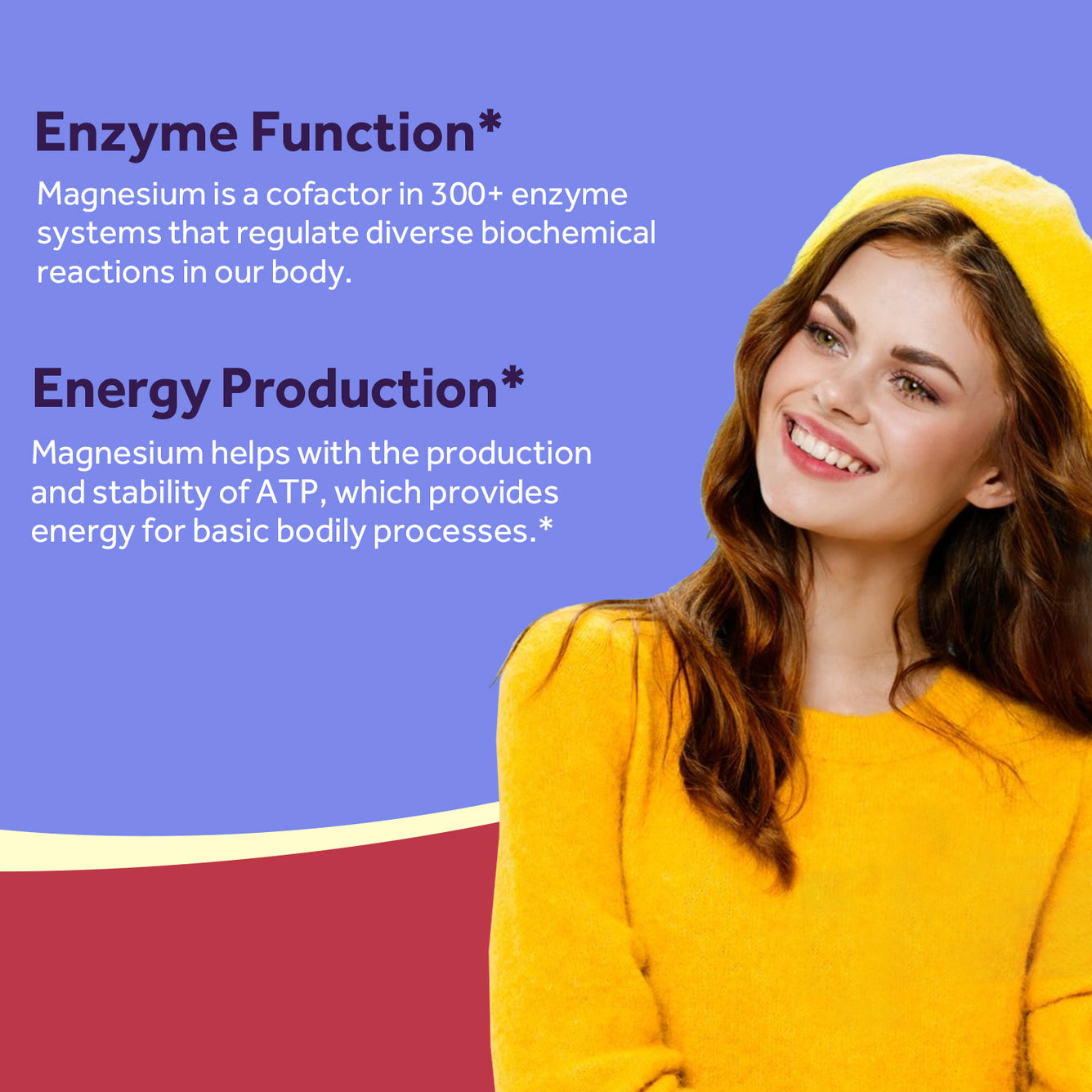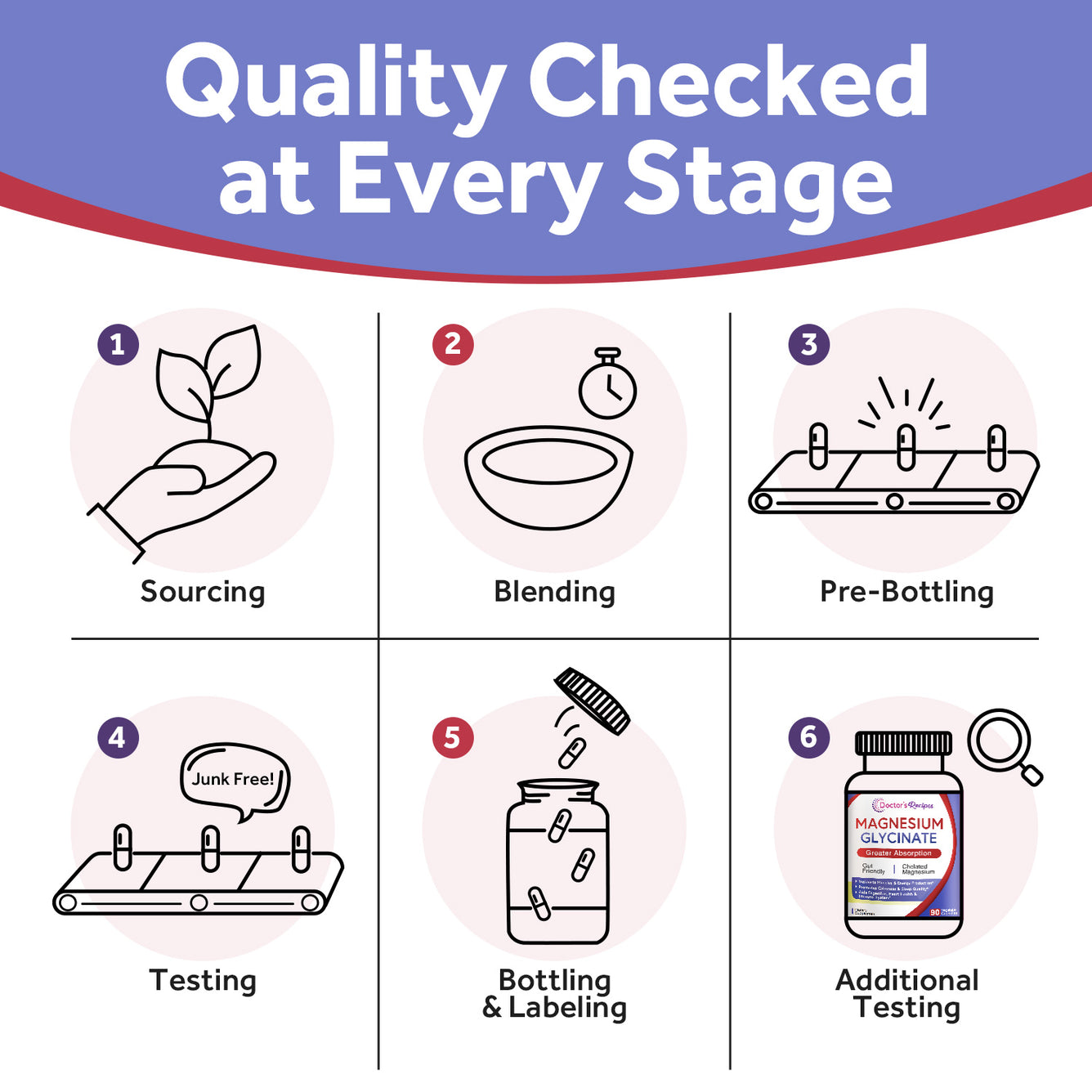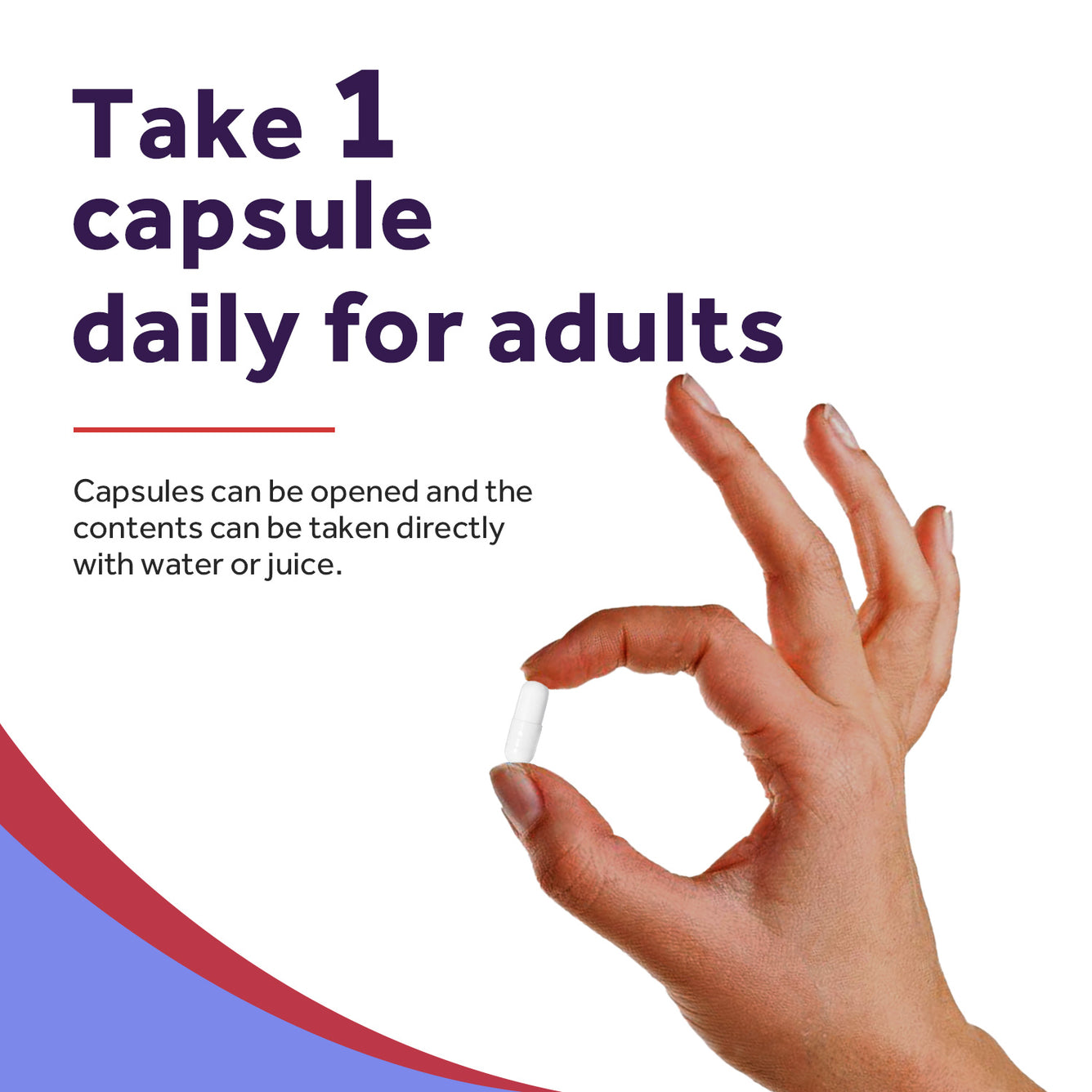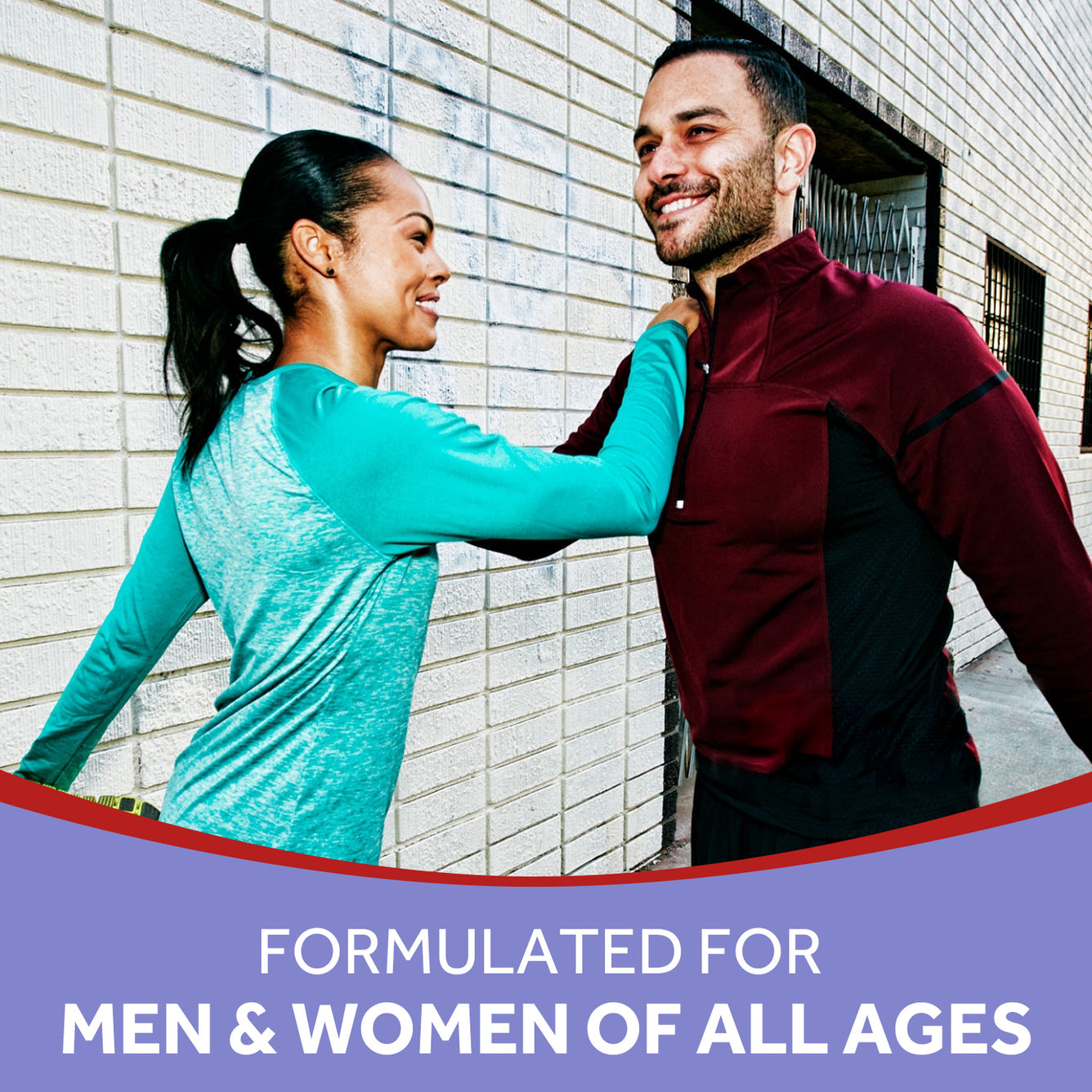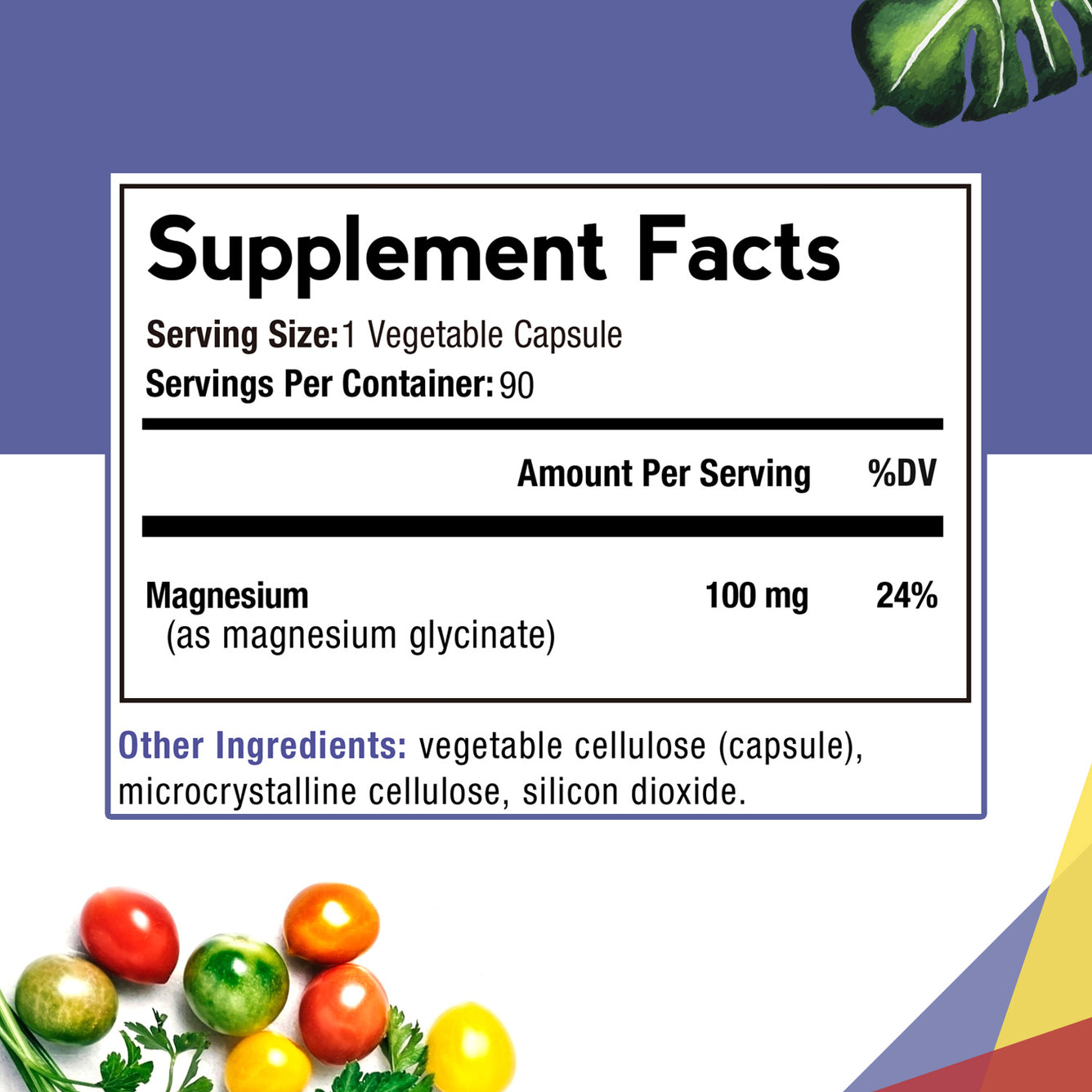 Magnesium Glycinate
Doctor's Recipes Magnesium Glycinate for Men & Women, 90 Caps, Amino Acid Chelated, High Absorption, Easy on Stomach, Calm, Bone, Muscle, Heart, Energy, Nerve, Sleep, Cramp Defense, No Soy Gluten
| INGREDIENT | AMOUNT | HELPS SUPPORT |
| --- | --- | --- |
| Magnesium (as magnesium glycinate) | 100 mg | Bone + Muscle + Sleep + Migraine Relief + Mood + Energy Levels |
Environmentally Friendly
Make it a long-term approach to wellness

Fast and Secure Delivery
Free shipping on orders over $50

Superior Service
Accessible, approachable & responsive

Shop with Confidence
Money back guaranteed
Replenish Your Magnesium Levels
Bone & Muscle
Strengthens bone density and relieve muscle cramps.
Mood & Anxiety Relief
Chelated, our magnesium glycinate features increased stability, and optimal bioavailability and GI tolerance.
Relaxation & Sound Sleep
Facilitates proper nerve function, enhances memory and promotes restorative sleep.
Energy Levels
Encourages increased energy levels & cardiovascular wellness.
Personal Choices
Magnesium is a heavy hitter for its critical role in energy production and the metabolism of carbohydrates, amino acids and fats, as well as muscle contraction, electrolyte balance, cell signaling, nerve impulse transmission, and bone mineralization, etc.
As a required cofactor for an estimated 300 enzymes, magnesium aids a broad range of physiological functions including neuromuscular contraction, cardiac function, and hydration. It regulates day-to-day metabolic reactions to benefit cell division, fatty acid synthesis, protein synthesis, and glucose metabolism.
Professional Solutions
Our Difference
Non-Buffered Magnesium
100 mg

of

Elemental Magnesium

PER Veggie Capsule


Most Absorbable

&

Well-Tolerated

Form of Magnesium

Amino Acid Chelated

Form for

Improved Stability

&

Greater Absorption




Gentle on the Stomach

with Minimum Laxative Effects

Easy-to-Swallow

Veggie Capsules
Daniel P.
Verified Purchase
Magnesium levels back to normal
My doctor recommended that I take magnesium glycinate, because my magnesium levels are always less than they should be, due to my medical conditions. I ordered a bottle of Doctor's Recipes and the results have been positive. My blood work shows that my magnesium levels are back to normal. The capsules are easy to swallow and don't have any taste. I have not had any problems with diarrhea as with plan magnesium which is a big plus for me. Effective and inexpensive is always a winner.
Hailey W.
Verified Purchase
Works superbly for my migraines!
I love that this type of magnesium is best for migraineurs such as myself. I have been taking this for almost 3 months and have noticed that the frequency and intensity have reduced somewhat. I cannot wait to keep trying this for a longer period of time to reap the full benefits of this. I also love the dosage, easiness of swallowing and the affordability of it! Thanks Doc!
Jolene B.
Verified Purchase
Helps eliminate my night cramps
I was skeptical that anything could help with my night cramps and spasms in my legs. They are painful and last for several minutes with no relief. Then I read an article on how magnesium glycinate might help. After searching for a product that seemed to be well tolerated and not overly expensive, I found Doctor's Recipe Magnesium Glycinate. After 2 days my cramps and spasms are pretty much non-existent. I'm sleeping better and there was no stomach upset for me with these. Fantastic product for any who might suffer as I do.