Healthier days with Women's Probiotic 100 Billion

Urinary + Vaginal Support with the right supplement.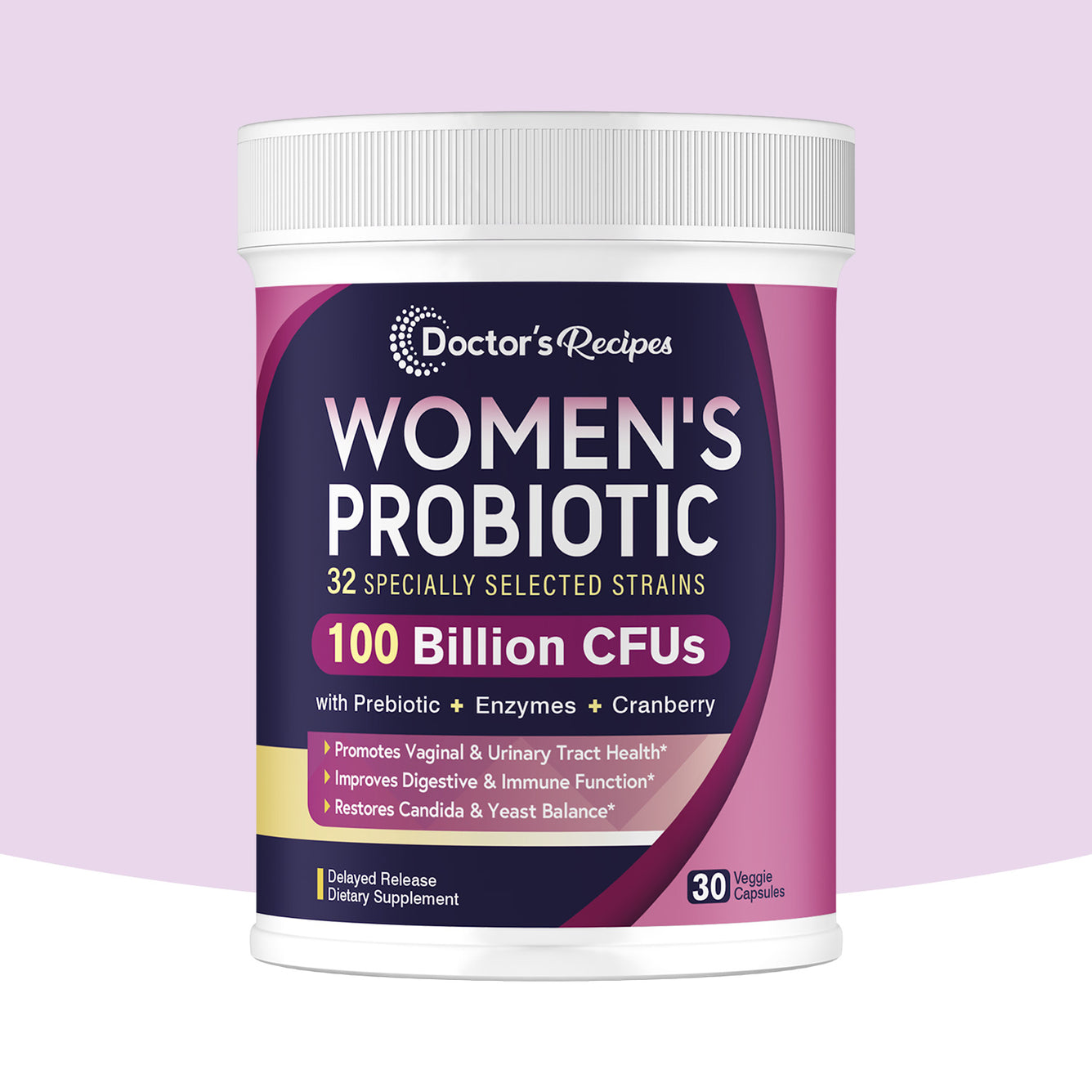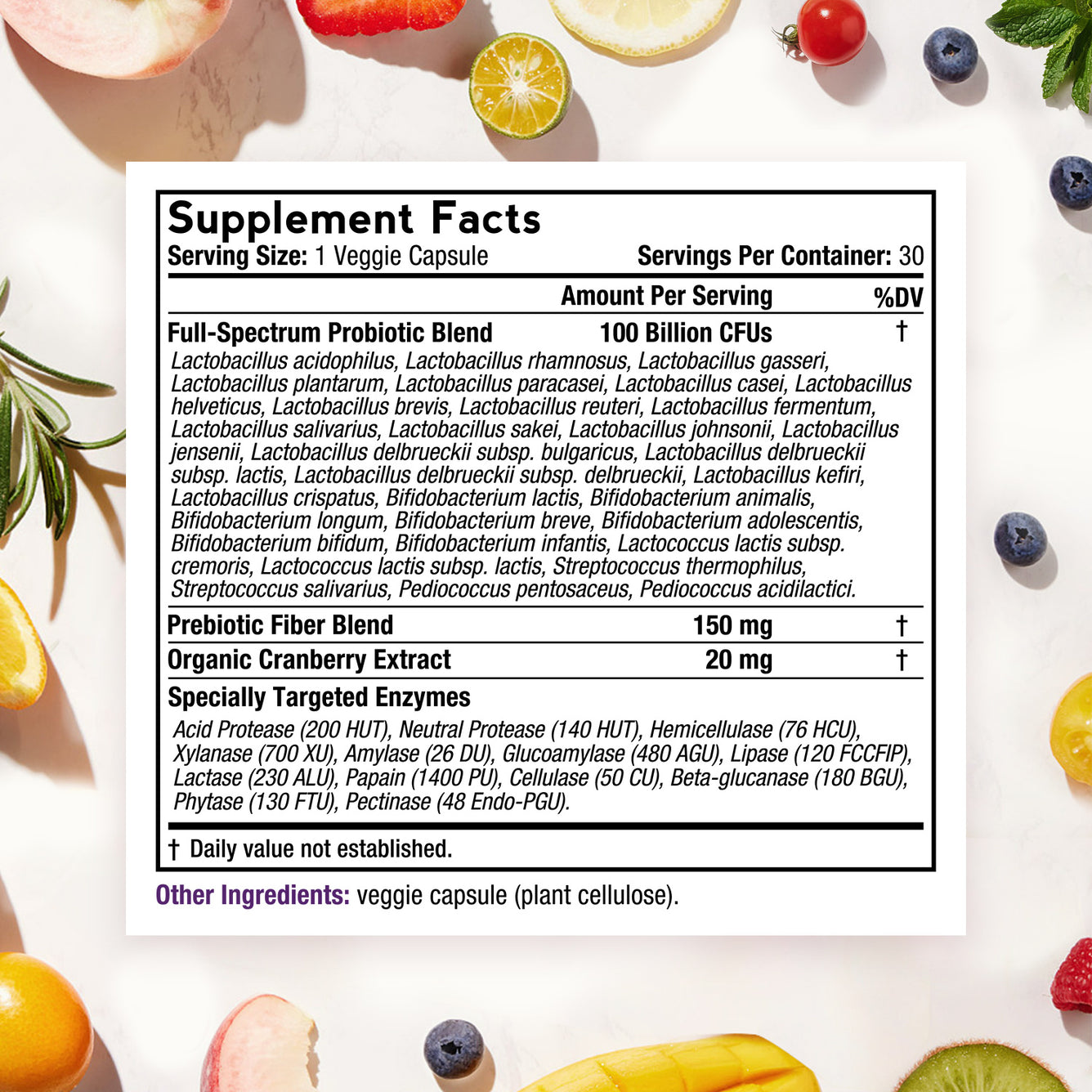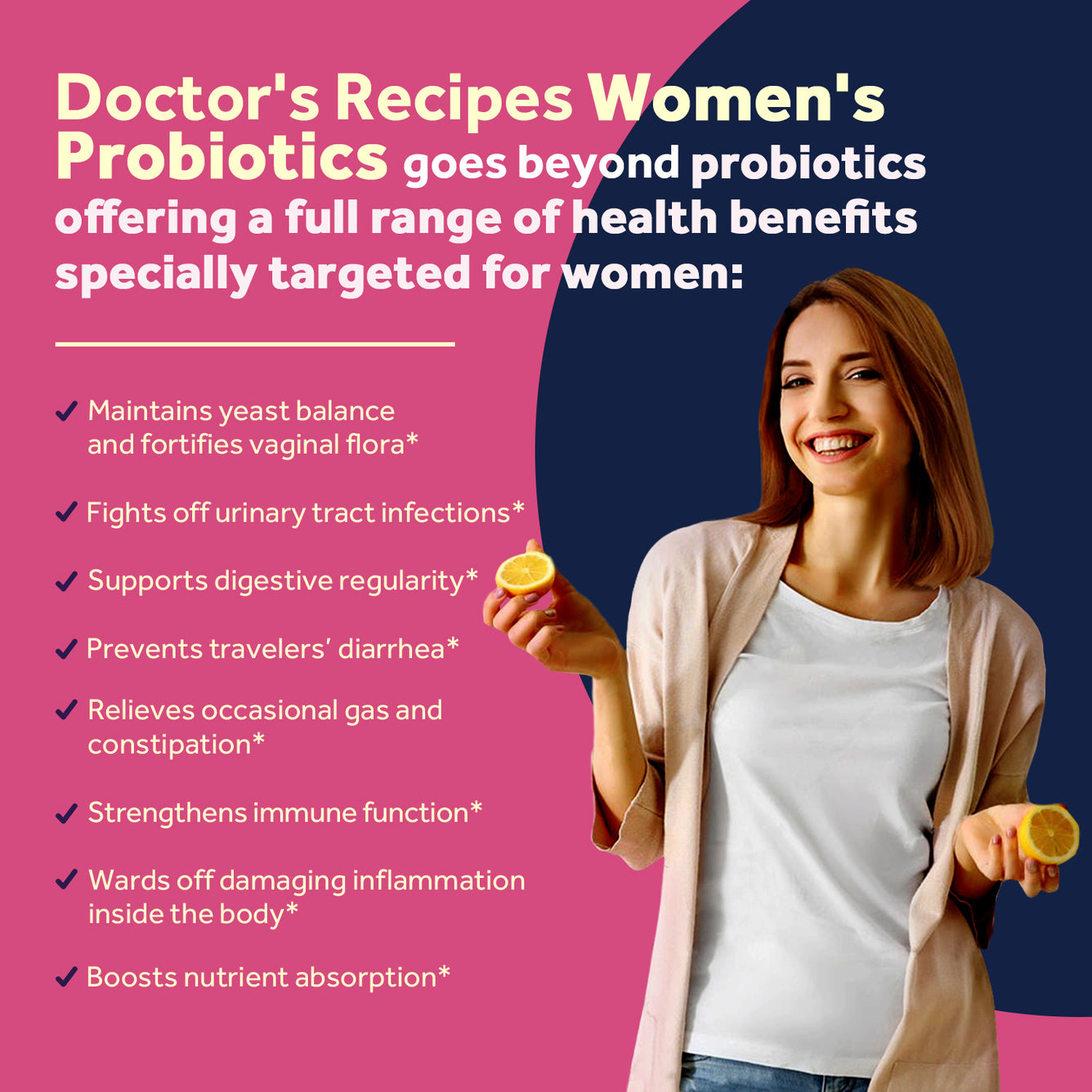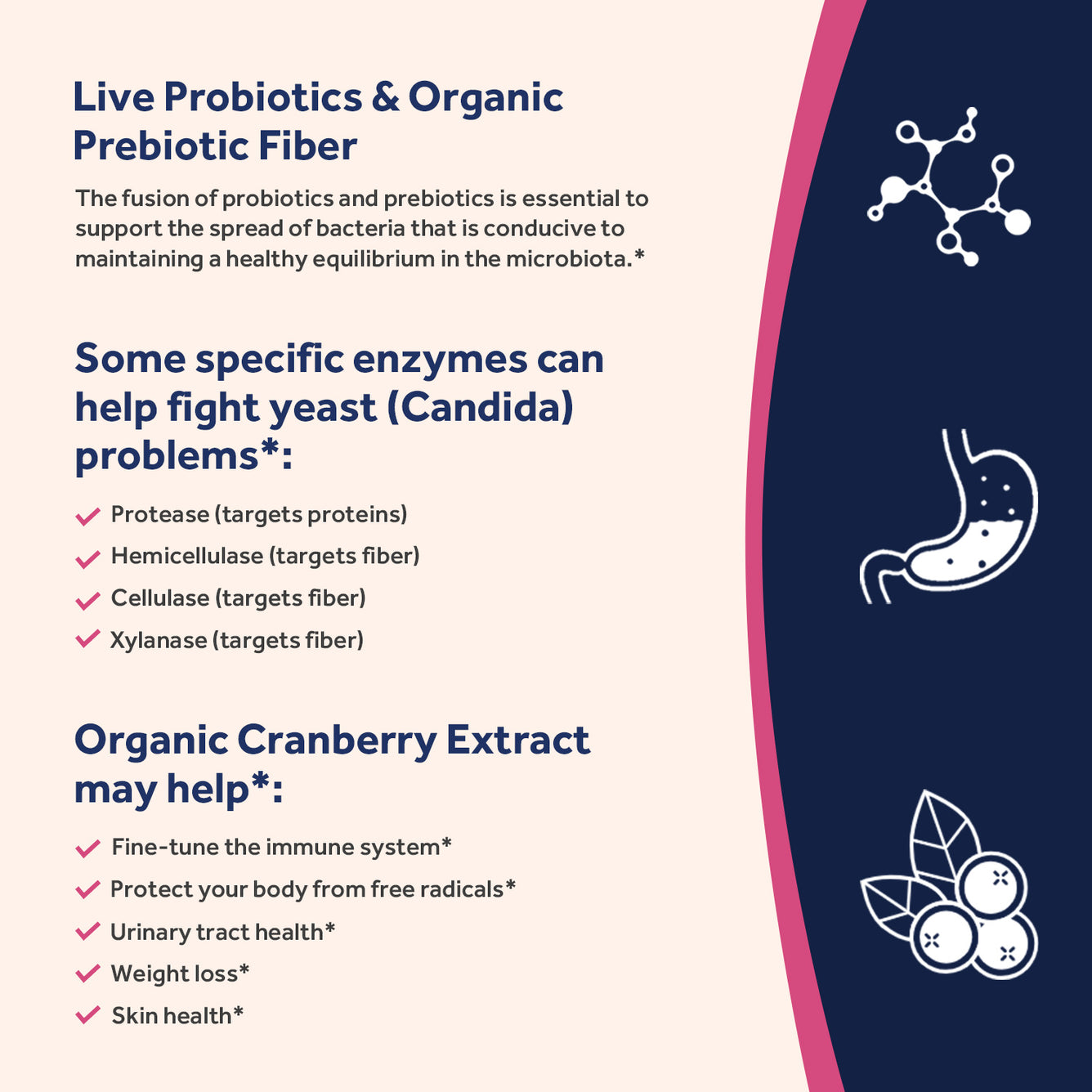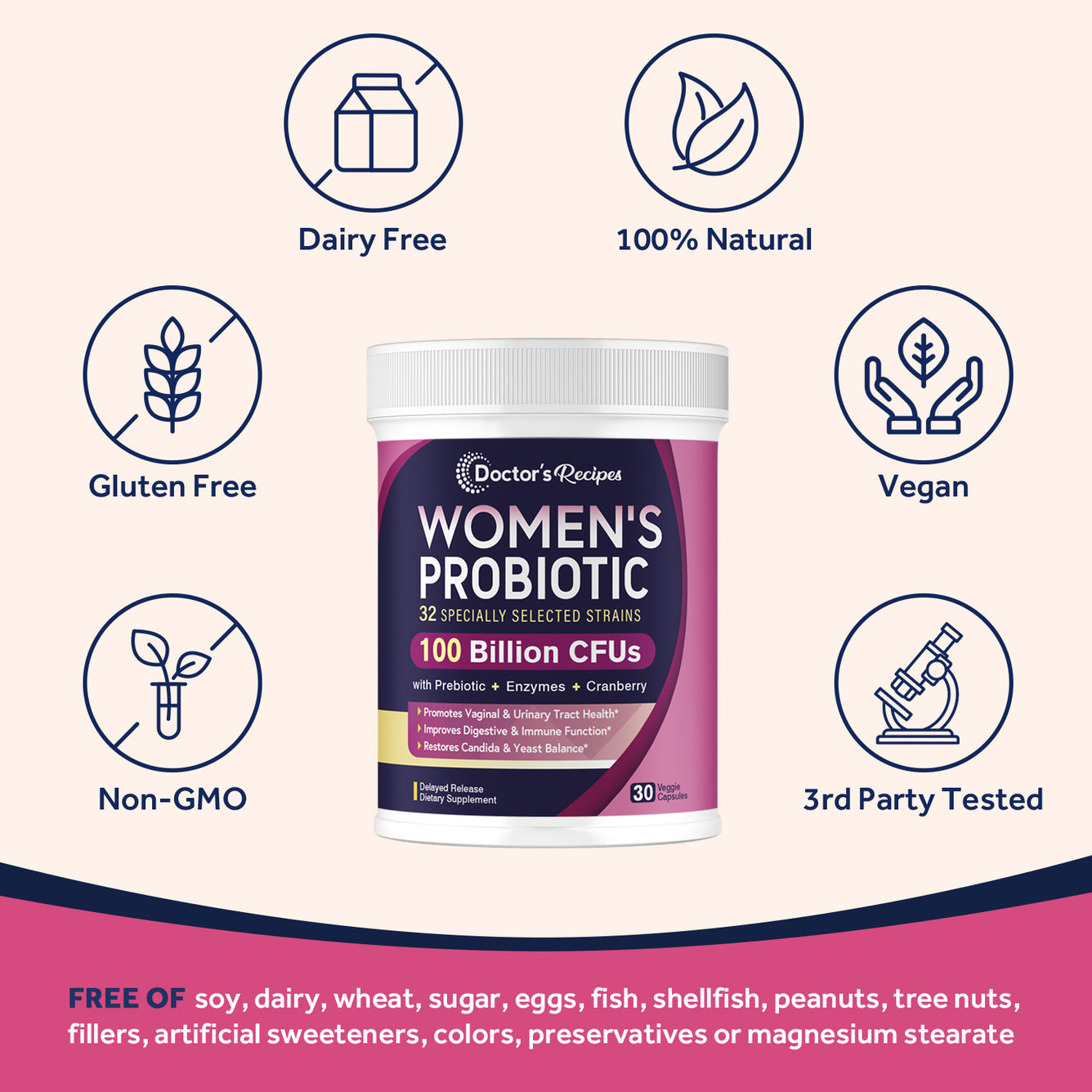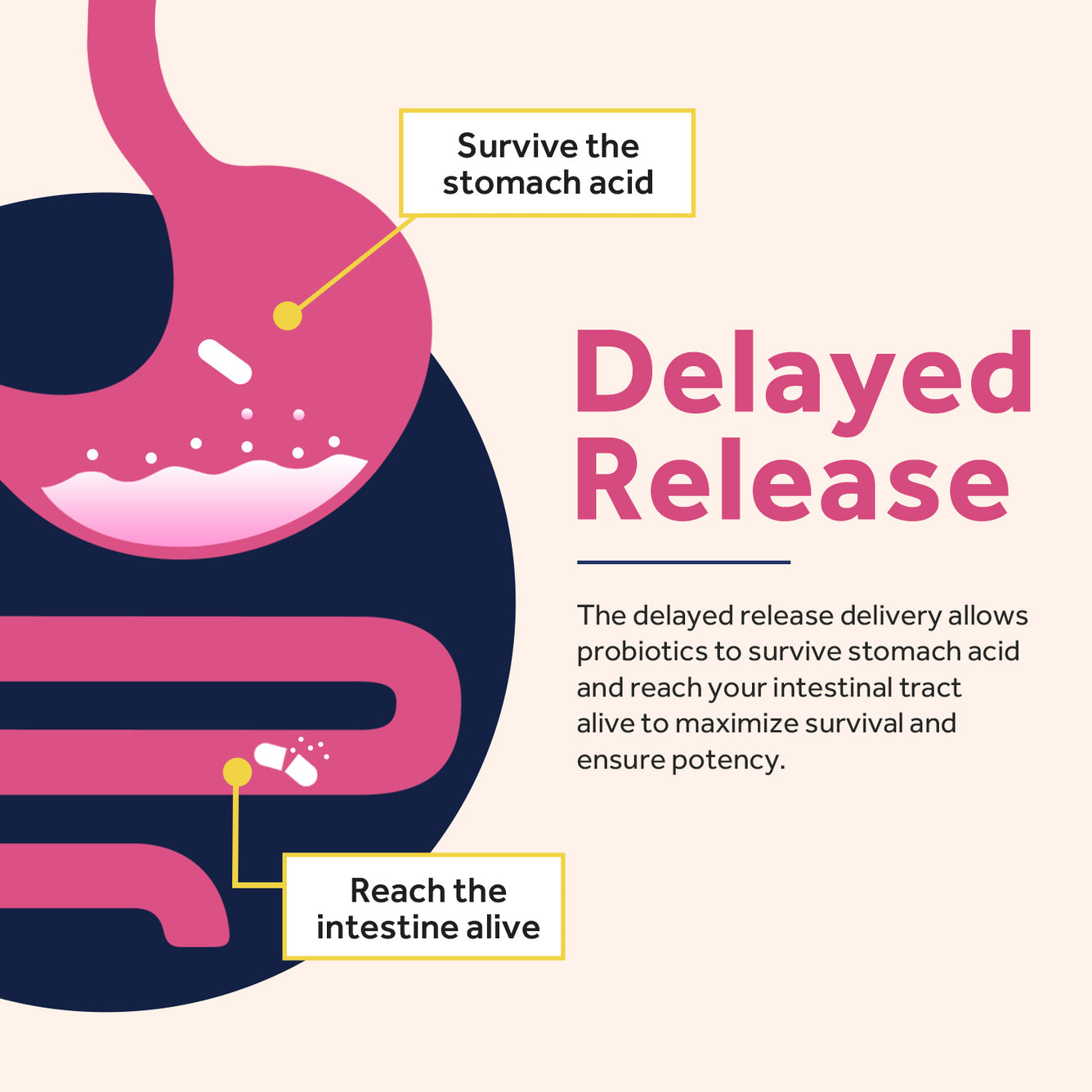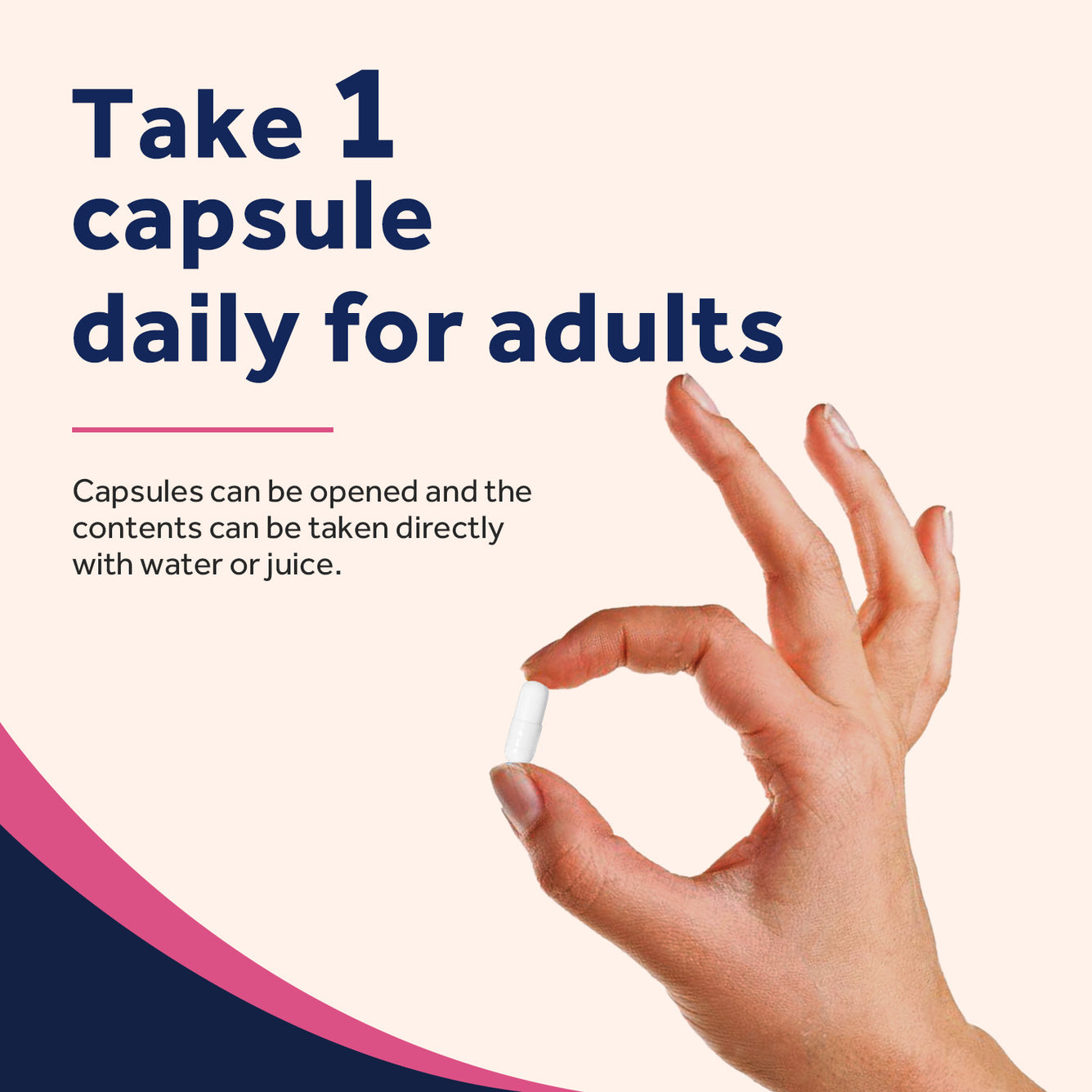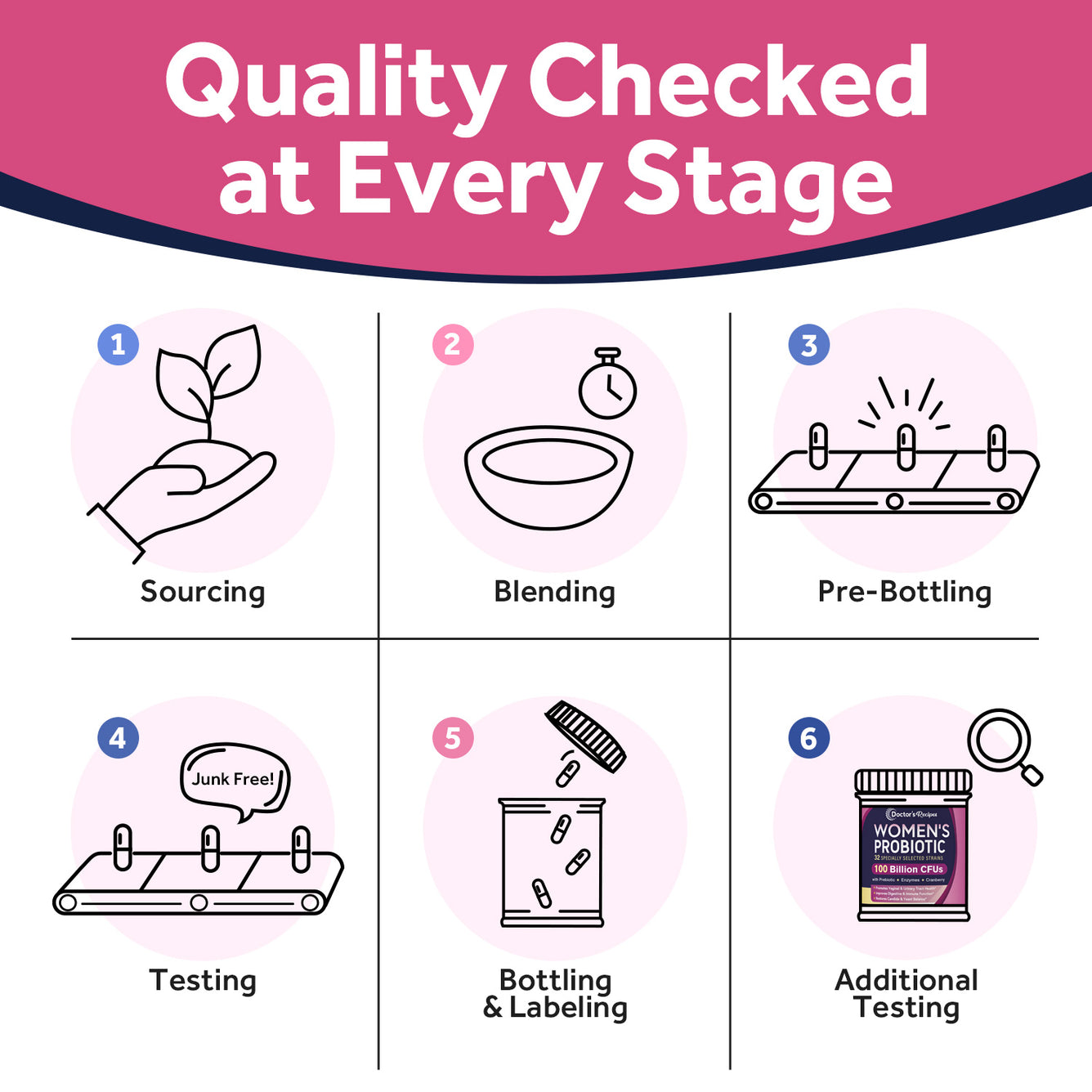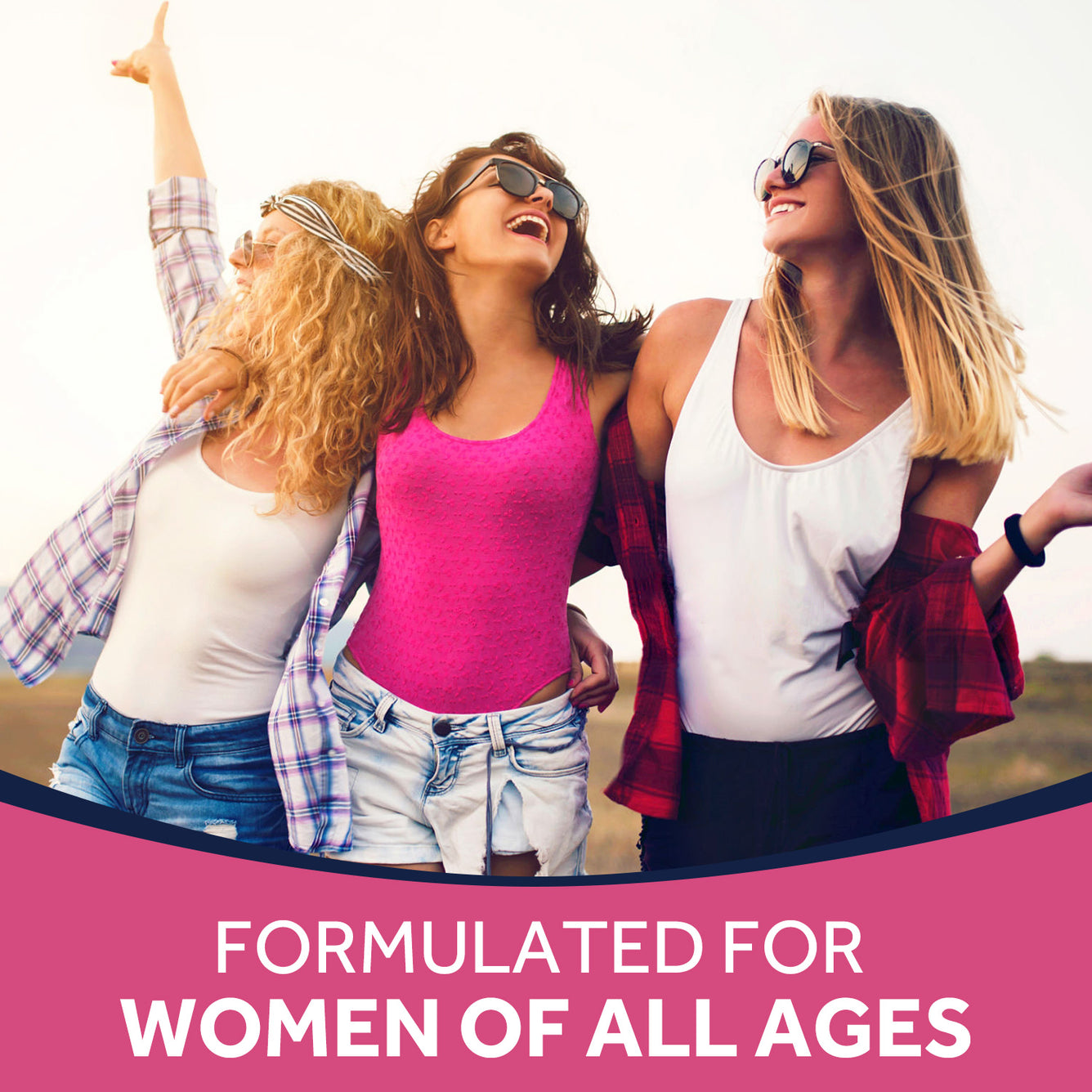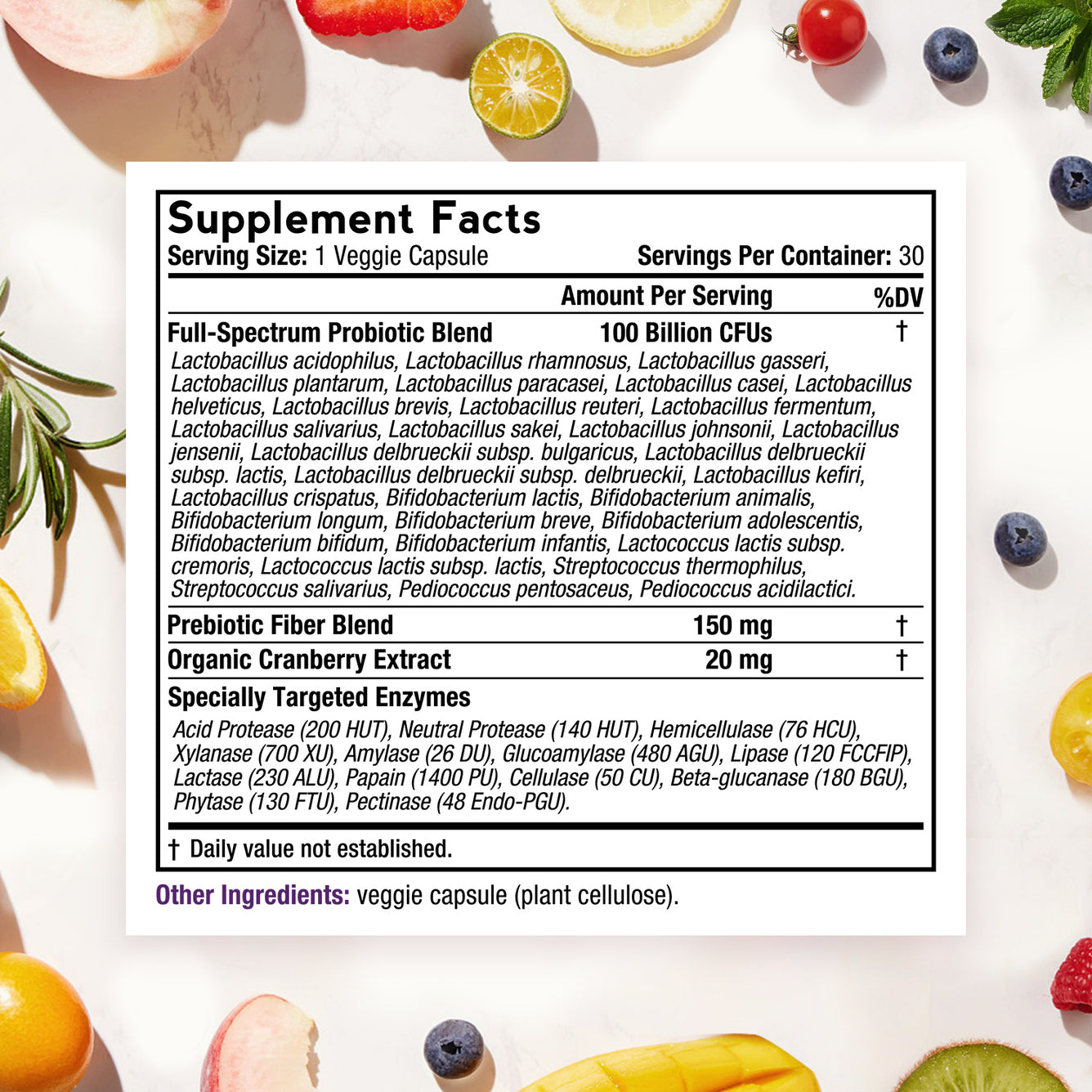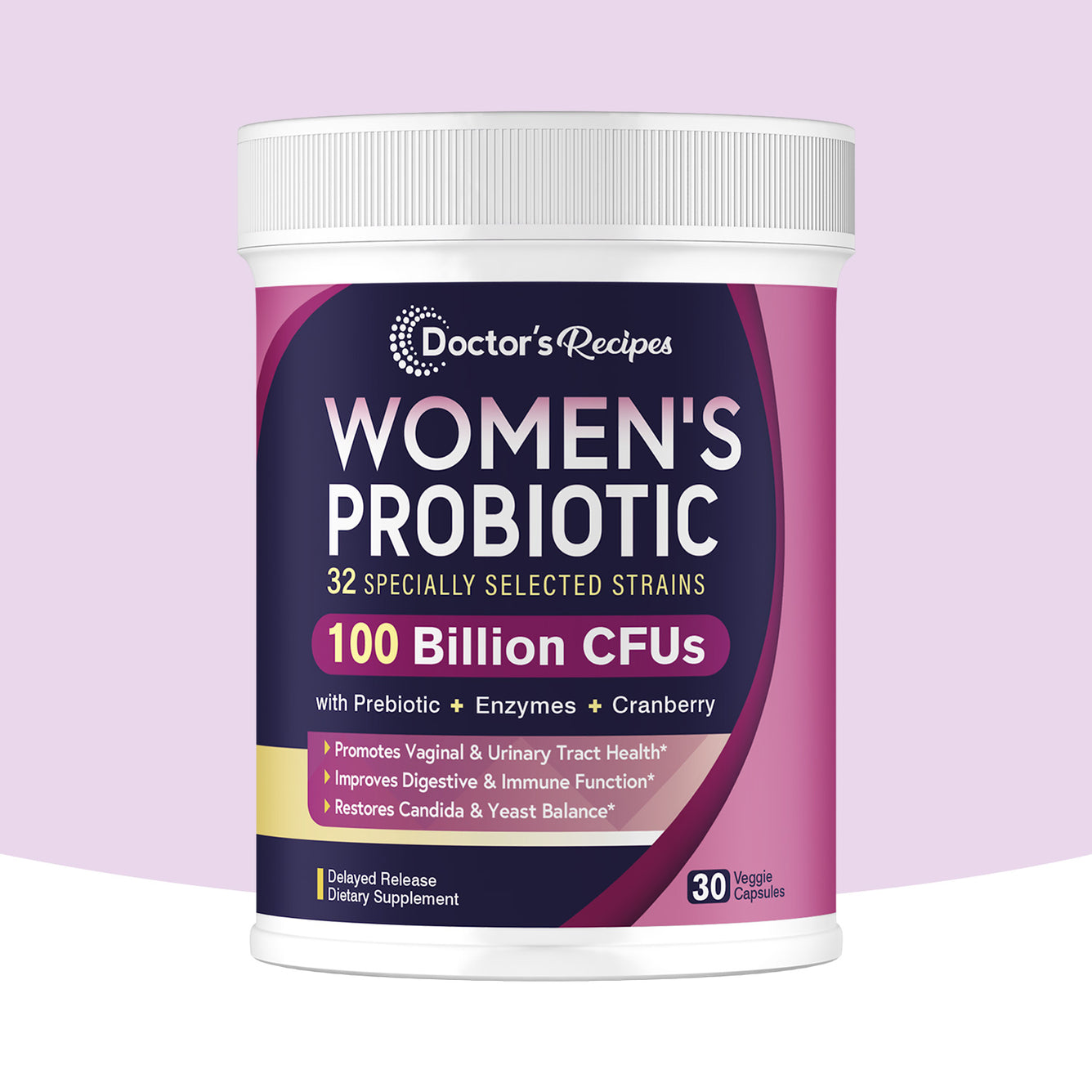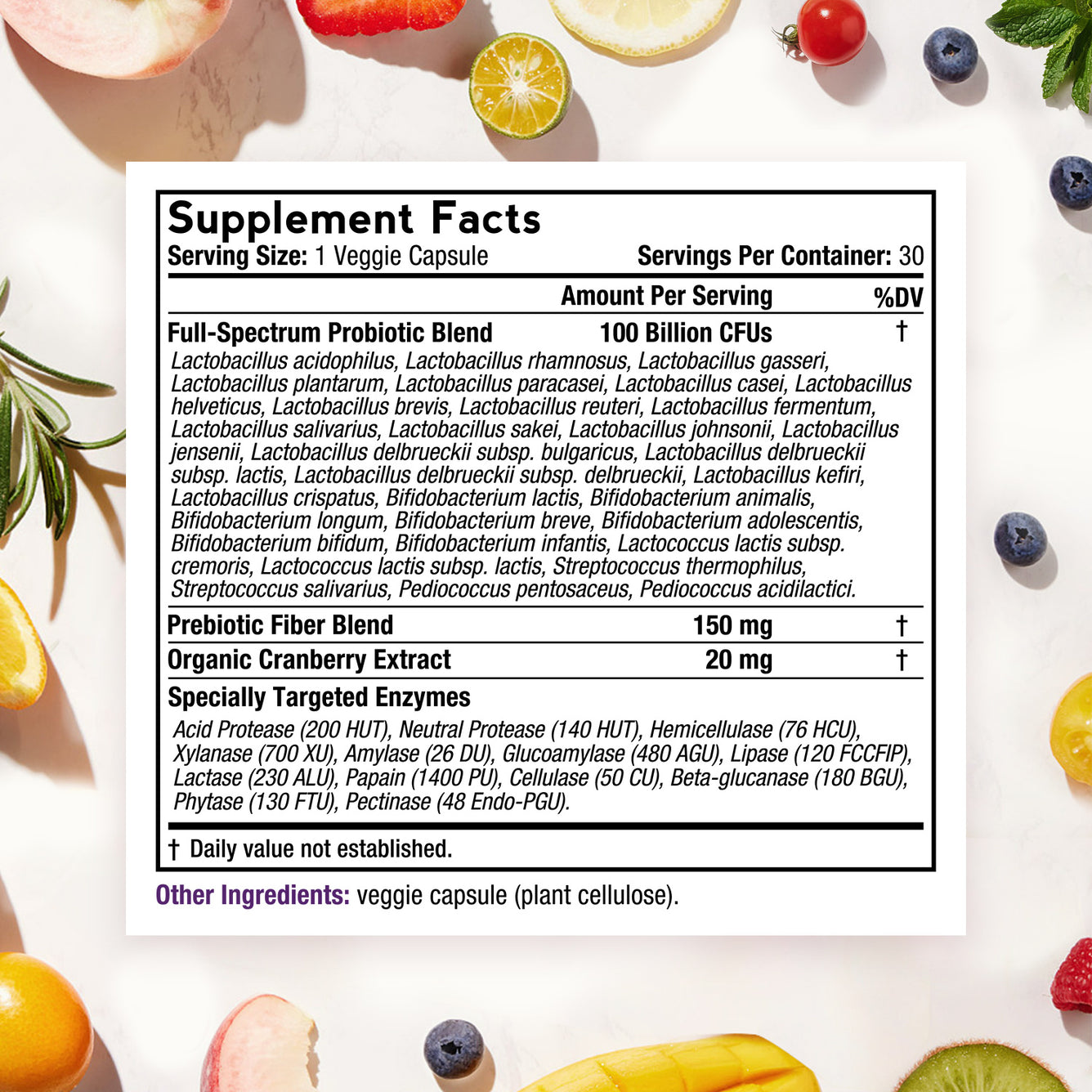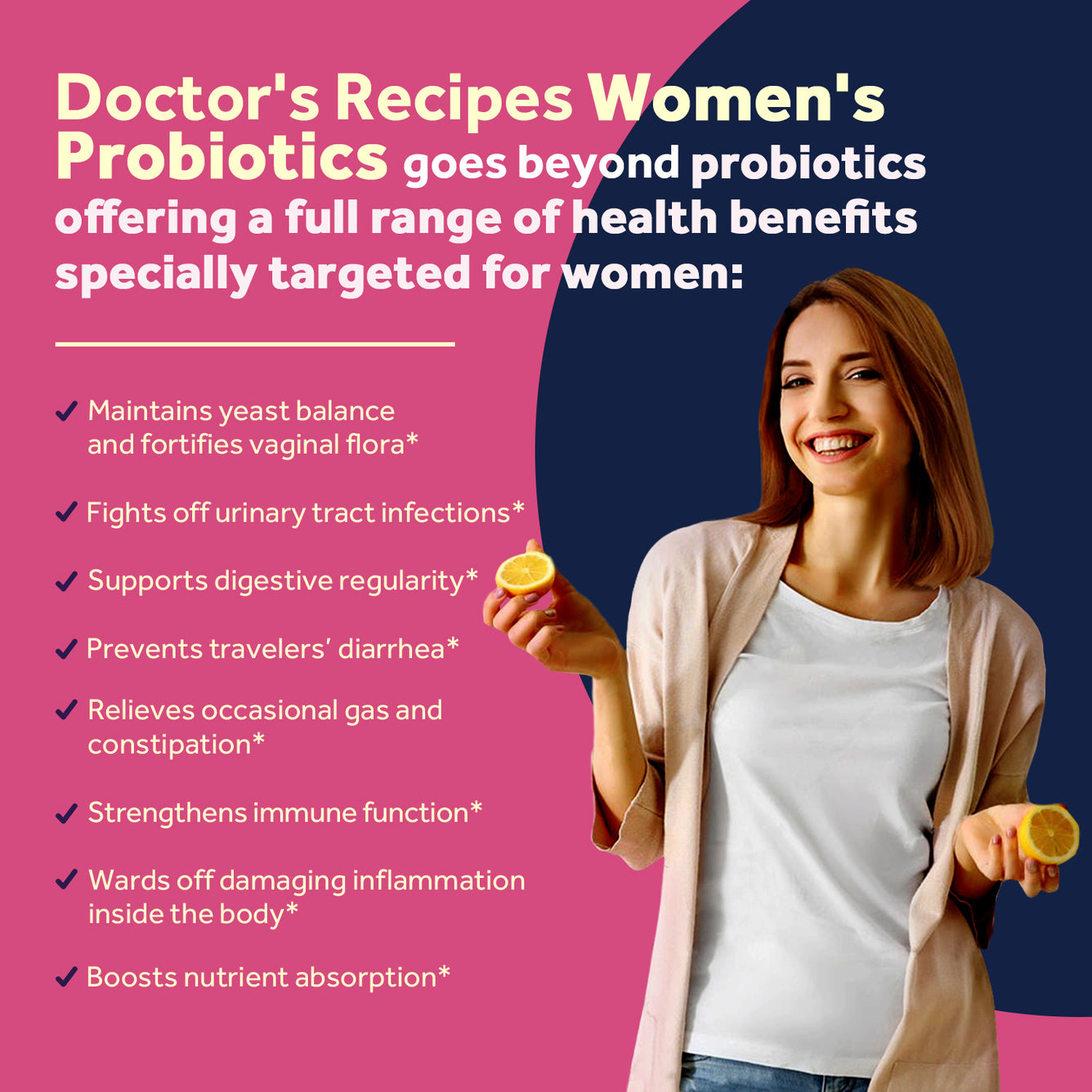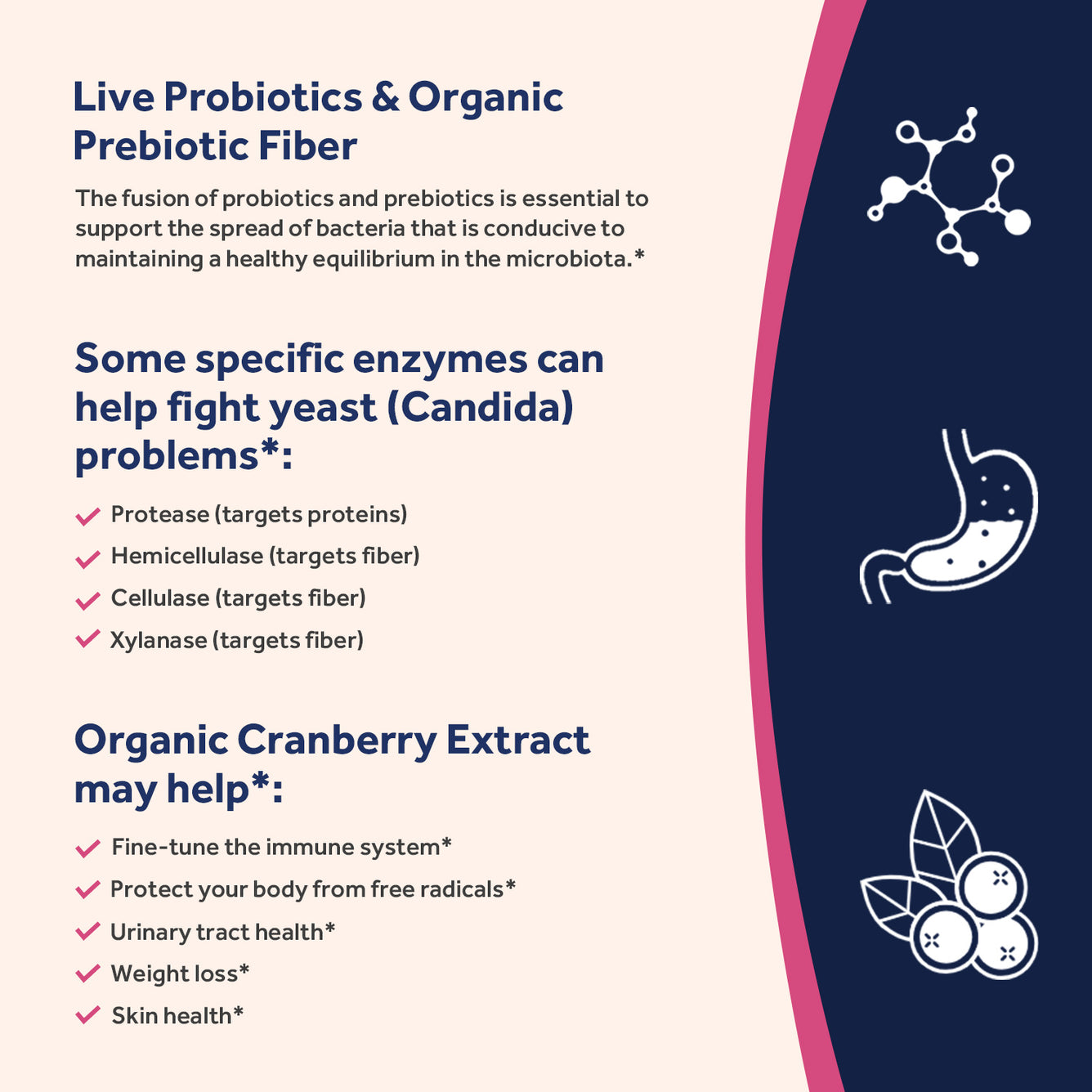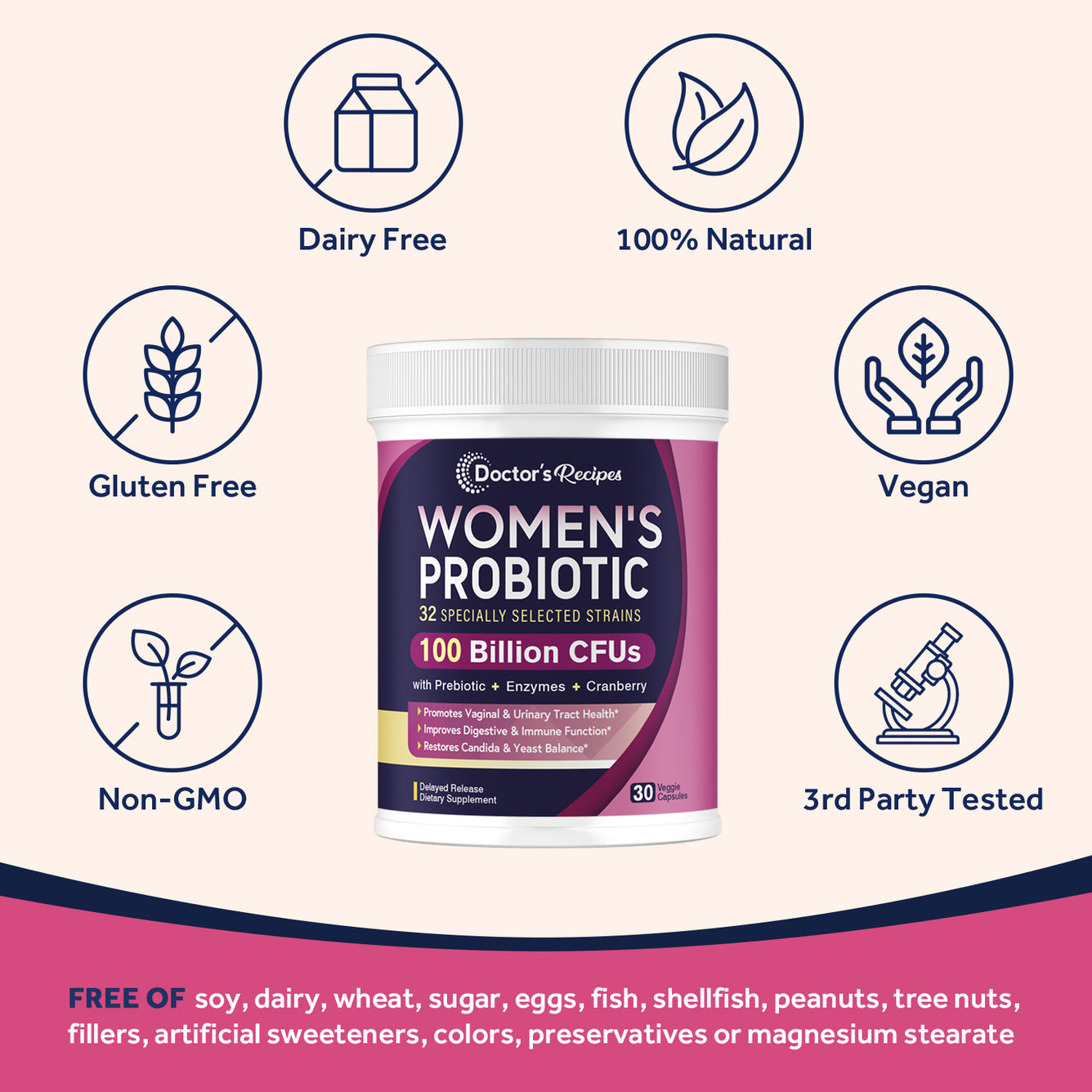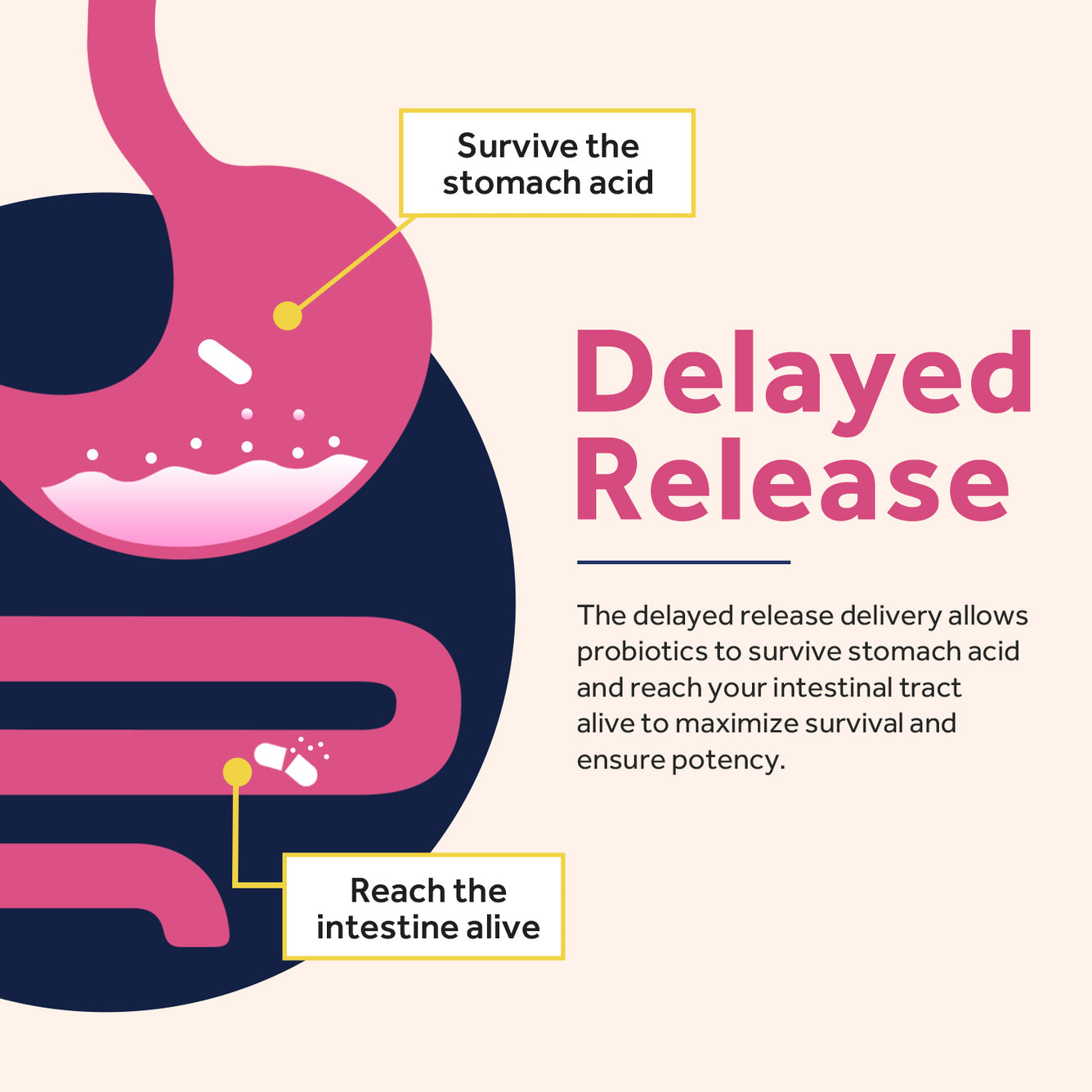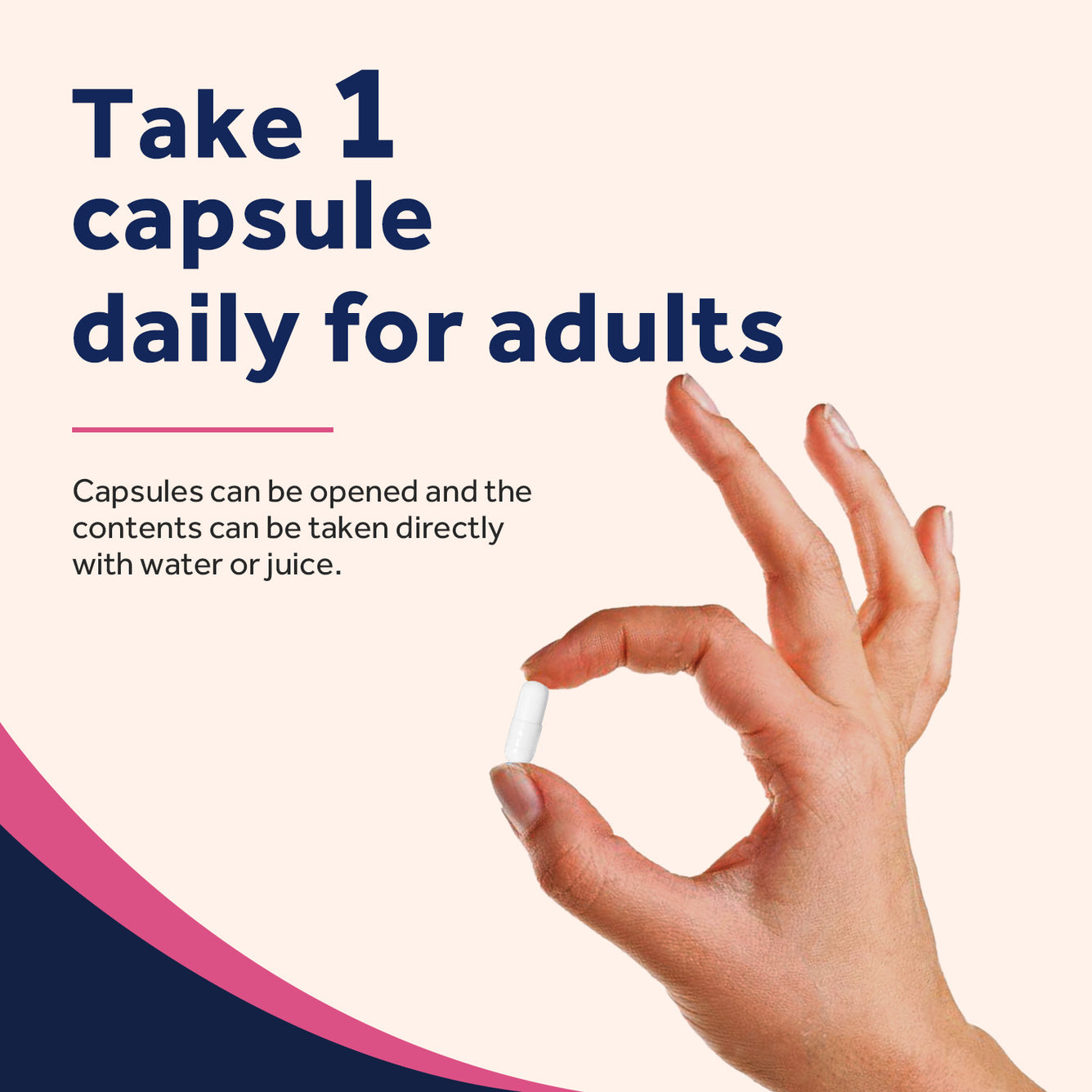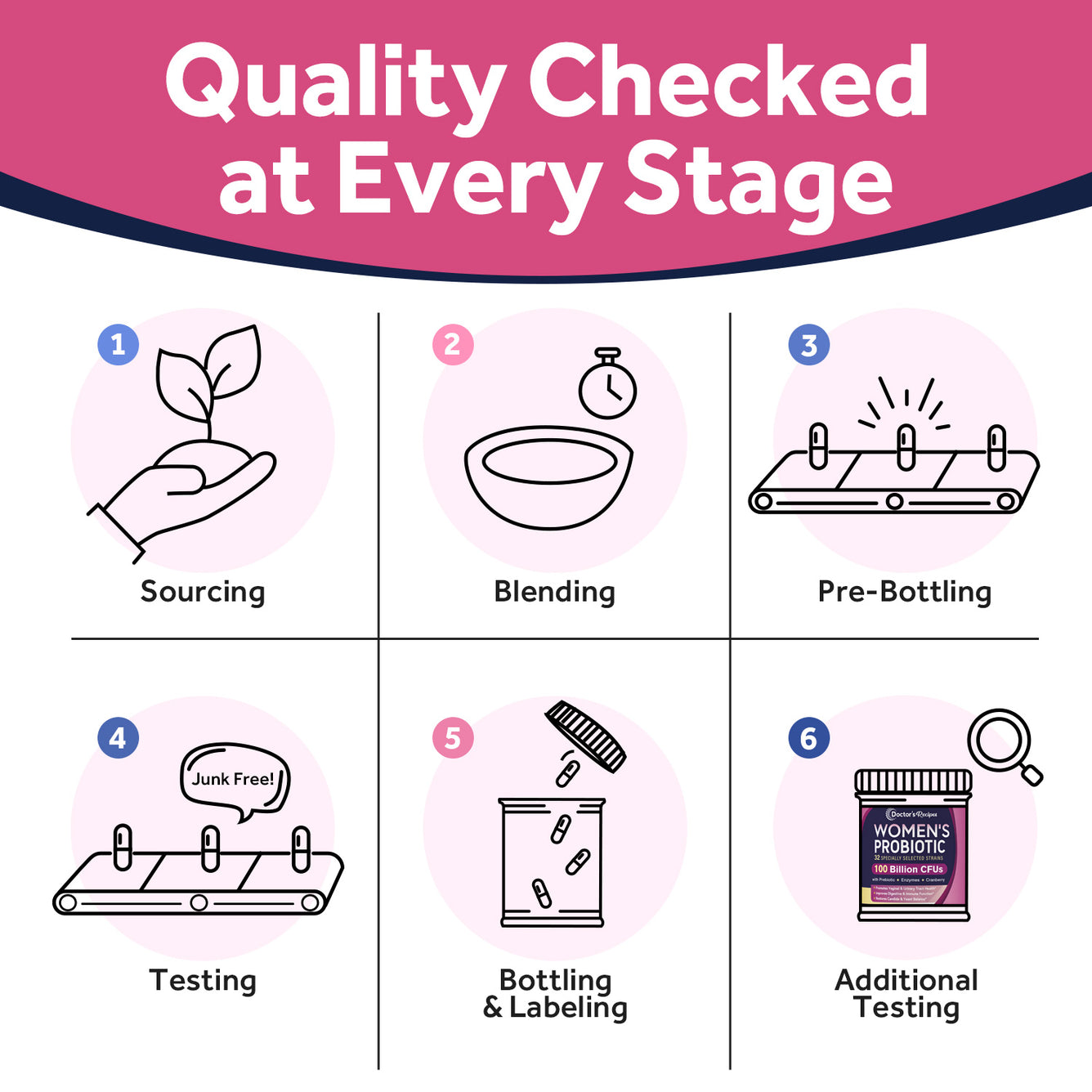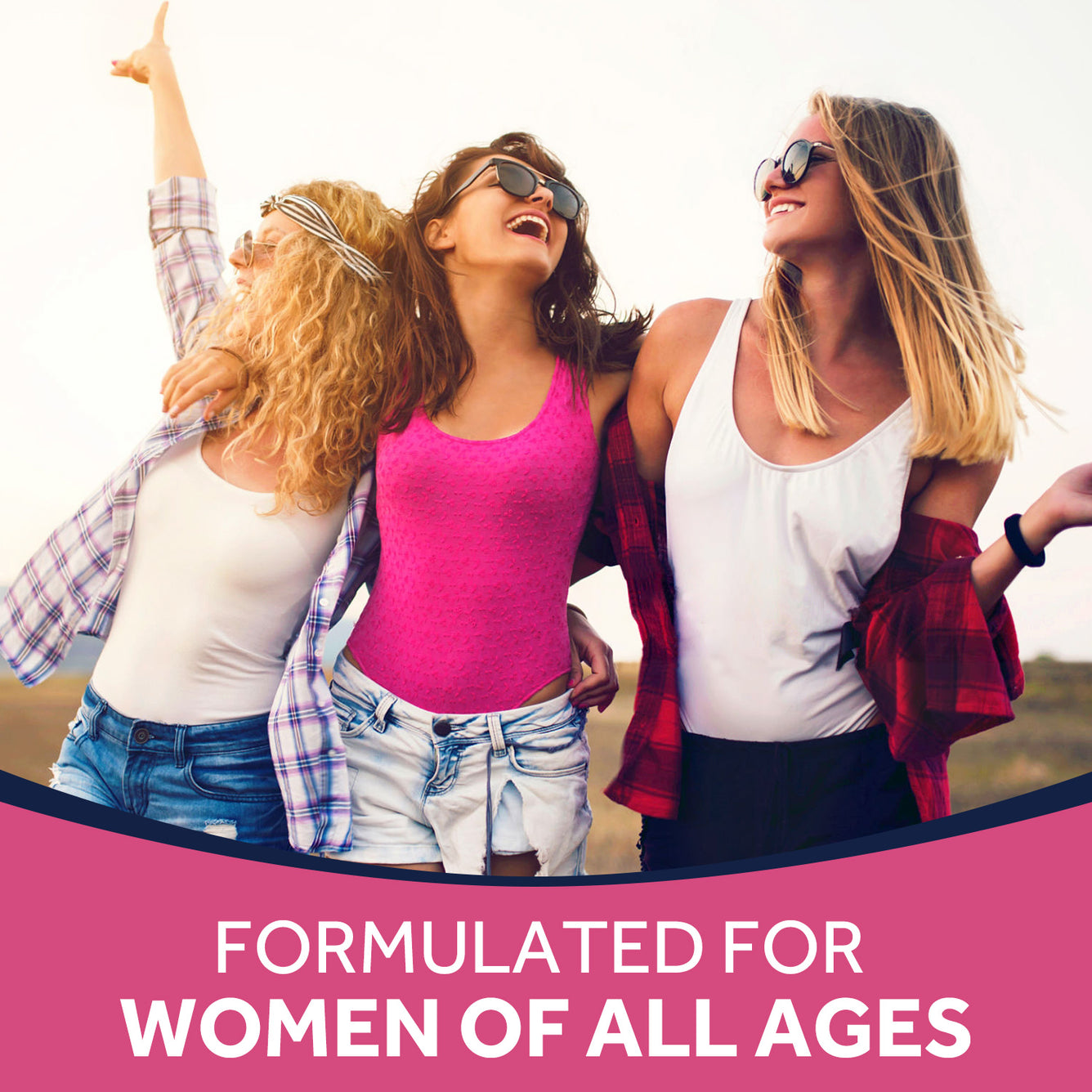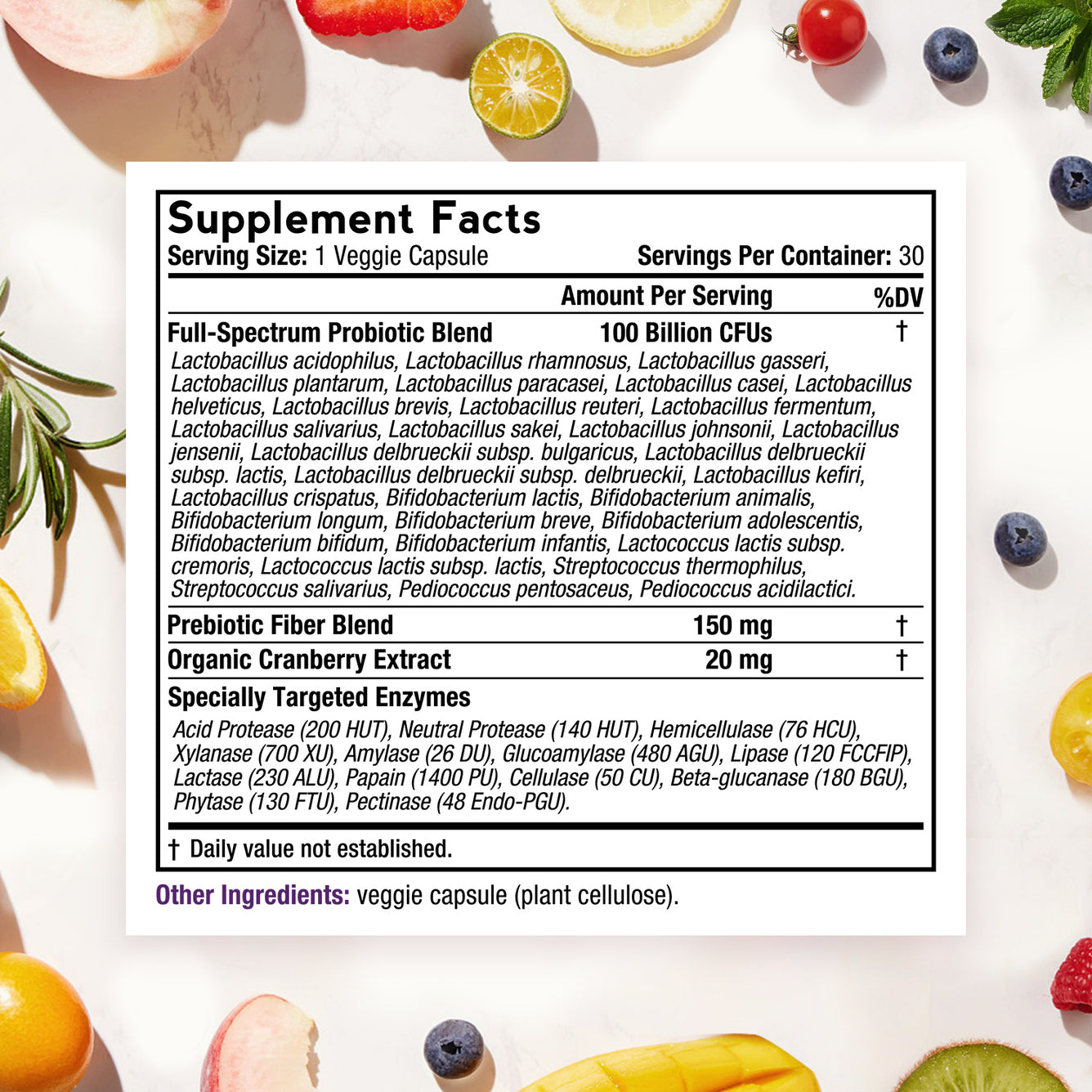 100 Billion Women's Probiotic
Doctor's Recipes Women's Probiotics, 30 Caps 100 Billion CFU 32 Strains, with Organic Prebiotic Fiber, Enzymes & Cranberry, Vaginal Urinary Digestive & Immune, Shelf Stable, Delayed Release, No Yeast
| INGREDIENT | AMOUNT | HELPS SUPPORT |
| --- | --- | --- |
| Probiotic Blend | 100 Billion CFU | Vaginal + Immunity + Digestion  |
| Prebiotic Fiber Blend | 150 mg | Feed the Good Bacteria in Your Gut |
| Digestive Enzymes | 20 mg | Promote Nutrient Uptake  |
| Organic Cranberry Extract | 20 mg | Fight off UTIs |
Environmentally Friendly
Make it a long-term approach to wellness

Fast and Secure Delivery
Free shipping on orders over $50

Superior Service
Accessible, approachable & responsive

Shop with Confidence
Money back guaranteed
100 Billion CFU & 32 Strains
Our superior probiotics deliver 100 billion CFUs and 32 strains to restore your bacterial balance by optimizing your vaginal flora and pH, supporting digestive regularity and healthy immune system response.
Organic Prebiotic Fiber
Prebiotics are compounds in food that selectively stimulate the growth or activity of desirable colon microorganisms. They are non-digestible dietary fibers that feed the beneficial bacteria in your gut.
Natural Digestive Enzymes
This carefully formulated blend is enforced with digestive enzymes, which target common digestion issues found in women, i.e. food intolerance, indigestion, irregularity, malabsorption, too-full feeling after meals, and more.
Organic Cranberry Extract
A-type proanthocyanidins (PACs) naturally occurring in cranberries is effective in fighting off urinary tract infections (UTIs) by inhibiting the adhesion of type I and P-fimbriated uropathogens (e.g. uropathogenic E. coli) to the bladder wall.


Personal Choices
The need and concern of customers steer everything we do. It is estimated that most women from age 15 to 44 experience symptoms of bacterial vaginosis (BV) or urinary tract infections (UTI) at least once in their life.
If this bothers you, this carefully crafted blend with diverse probiotic strains help fight yeast & candida growth and supports a healthy pH. Organic cranberry extract interfere with the bacteria's ability to the bladder wall, reducing the likelihood of infection. Doctor's Recipes 100 Billion Probiotic is designed to help you regain your balance and embrace every moment with confidence!
Professional Solutions
32 UNIQUELY FORMULATED STRAINS
Lactobacillus Strains
Lactobacillus acidophilus, Lactobacillus rhamnosus, Lactobacillus gasseri, Lactobacillus plantarum, Lactobacillus paracasei, Lactobacillus casei,
Lactobacillus helveticus, Lactobacillus brevis, Lactobacillus reuteri,
Lactobacillus fermentum, Lactobacillus salivarius, Lactobacillus sakei, Lactobacillus johnsonii, Lactobacillus jensenii, Lactobacillus delbrueckii subsp. Bulgaricus, Lactobacillus delbrueckii subsp. Lactis, Lactobacillus delbrueckii subsp. Delbrueckii, Lactobacillus kefiri, Lactobacillus crispatus
Bifidobacterium Strains
Bifidobacterium lactis, Bifidobacterium animalis, Bifidobacterium longum, Bifidobacterium breve, Bifidobacterium adolescentis, Bifidobacterium bifidum, Bifidobacterium infantis
Lactococcus Strains
Lactococcus lactis subsp. cremoris, Lactococcus lactis subsp. lactis
Pediococcus Strains
Pediococcus pentosaceus, Pediococcus acidilactici
Streptococcus Strains
Streptococcus thermophilus, Streptococcus salivarius
Cathy L.
Verified Purchase
I'm prone to BV and I thought it was my sex partners but it's actually because I didn't have enough good bacteria in my body to keep my vagina flora happy! The Boric Acid would temporarily help but you need to swallow good bacteria instead of just place it vaginally. I love this product because it has Cranberry and prebiotics! I take one every few days because I have 100 Billion and don't need to take it every day. This has improved my vagina health tremendously! The pills are easy to take, I experience a bit of diarrhea but that's because the enzymes in this product really help clear the digestive tract. I will never stop taking these! 🥺❤️ Thank you Dr Recipes!
Betty K.
Verified Purchase
This is ESSENTIAL if you struggle with yeast or UTIs!
I absolutely love these probiotics! The value is incredible and they have worked so well to keep the UTIs away. As someone who is super prone to getting UTIs, I noticed a substantial improvement only about a week after taking these probiotics daily. I will continue with these as theyve also improved my digestion!

Michelle R.
Verified Purchase
It's def a probiotic I would continue to order. My skin is clear again, for the most part (I've come to terms with the fact that even prescription retinoids & regular facials can't keep my skin completely clear), my stomach feels great, my period cramps were even fewer this month. I also believe when I am taking a good probiotic, it can help my allergies to be less severe. Dec & Jan tend to be the worst months for me every year, & this last month has absolutely been less severe. The probiotics help to prevent an overrun of histamine based inflammation in your system. I find the capsules are easy to take as well. I always look for a probiotic with billions, not millions, of cultures, & this 1 fits the bill as well. If you are looking for a good probiotic to try, this 1 should def be an option. It doesn't cost $40 a month, as some others do as well.