Extra Strength Magnesium Glycinate
Helps boost healthy magnesium levels and support bone, muscle and nerve health.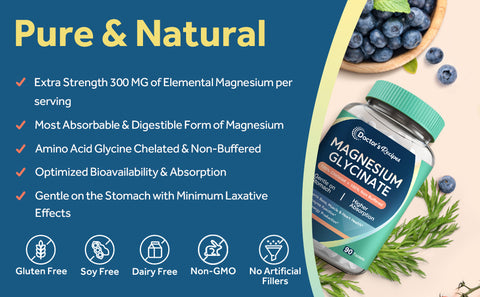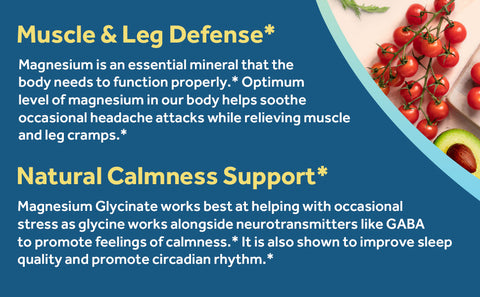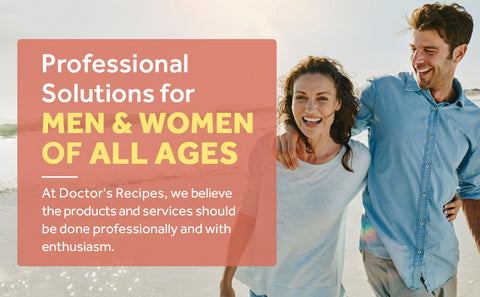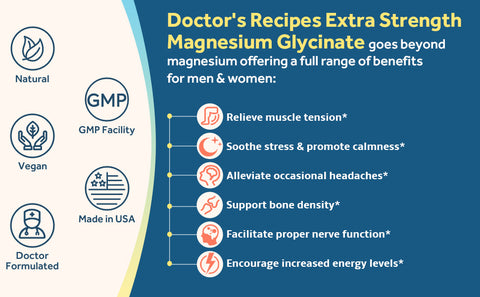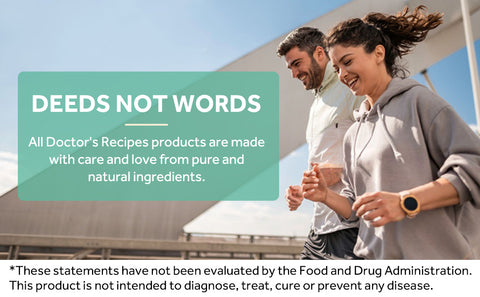 POWERFUL DIGESTIVE & IMMUNE SUPPLEMENT: Our daily probiotic for women, containing 50 billion CFUs from 16 clinically proven strains, helps support digestive and immune health*.

VAGINAL & URINARY BOOST FOR FEMININE HEALTH*: Our industry leading probiotics with specially selected Lactobacillus rhamnosus and Lactobacillus reuteri may help boost a healthier vaginal flora and urinary tract*.

CAREFULLY FORMULATED WITH PREBIOTICS & CRANBERRIES: Prebiotics provide necessary nutrition for probiotics to thrive. Probiotics and prebiotics work together to deliver digestive health benefits*. This carefully formulated blend is also enforced with organic cranberry extract to help maintain vaginal health and relieve urinary tract infections*.

DELAYED RELEASE & SHELF STABLE: The delayed release delivery allows probiotics to remain intact in stomach acid and reach your intestinal tract alive for optimized potency. Doctor's Recipes Women Probiotics is shelf stable and is your best choice at home or on the go.

PROUDLY MADE IN THE USA: Our advanced strength formula is loaded with the highest grade & naturally sourced ingredients in a GMP certified facility in the USA. Doctor's Recipes Women Probiotics is 100% pure, natural, vegan friendly & NON-GMO with no soy, gluten and dairy.
Extra Strength Magnesium Glycinate
Doctor's Recipes Magnesium Glycinate, 300mg Elemental Magnesium, Extra Strength, High Absorption, Non-Buffered, Easy On Stomach, Bone, Muscle, Nerve & Energy Support, Non-GMO, No Gluten, 90 Tablets
| INGREDIENT | AMOUNT | HELPS SUPPORT |
| --- | --- | --- |
| Magnesium Glycinate | 300 mg | Bone, Muscle, Nerve, Heart & Overall Health |
Environmentally Friendly
Make it a long-term approach to wellness

Fast and Secure Delivery
Free shipping on orders over $50

Superior Service
Accessible, approachable & responsive

Shop with Confidence
Money back guaranteed
Replenish Your Magnesium Levels
Bone & Muscle
Strengthens bone density and relieve muscle cramps.
Most Gentle Magnesium
Chelated delivery of magnesium with the amino acid glycine optimizes the bioavailability and absorption of magnesium.
Relaxation & Sound Sleep
Facilitates proper nerve function, enhances memory and promotes restorative sleep.
Energy Levels
Encourages increased energy levels & cardiovascular wellness.
Personal Choices
Magnesium is a heavy hitter for its critical role in energy production and the metabolism of carbohydrates, amino acids and fats, as well as muscle contraction, electrolyte balance, cell signaling, nerve impulse transmission, and bone mineralization, etc.
As a required cofactor for an estimated 300 enzymes, magnesium aids a broad range of physiological functions including neuromuscular contraction, cardiac function, and hydration. It regulates day-to-day metabolic reactions to benefit cell division, fatty acid synthesis, protein synthesis, and glucose metabolism.
Professional Solutions
Our Difference
100% Chelated & Non-Buffered Magnesium
Extra Strength 300 mg Elemental Magnesium

per Serving


Most Absorbable

&

Digestible

Form of Magnesium

Amino Acid Glycine Chelated

&

Non-Buffered




Optimized Bioavailability

Gentle on the Stomach

with Minimum Laxative Effects
Daniel P.
Verified Purchase
Exactly what I have been looking for!
My doctor recommended this for me to help with muscle cramping. After one week of taking it and I have no muscle cramping in my leg. I had tried several other kinds of magnesium without relief. I'm on my 2nd bottle now, so glad I gave this a try! If you are thinking about this product, try it!

Hailey W.
Verified Purchase
Reduces stress in an amazing way!
Love this! Totally helps with my anxiety! Took about a week to really feel the difference and see how truly well it worked. I've been under a lot of stress and feeling anxious with chest pain etc... I can literally feel the difference if I skip a day or two. My anxiety and chest pain come back. This keeps me pretty even keel. Even my husband noticed! Lol
Jolene B.
Verified Purchase
Sleeping Much Better Now
I take 2 at night right before bed and get a wonderful night's sleep. I don't feel drugged and wake up feeling good. Works well for me. I have a sensitive stomach and this product does not cause GI issues. Highly recommend!