Healthier days with Women's Probiotics
Improve your gut health and fortify your immune defense with the right supplement.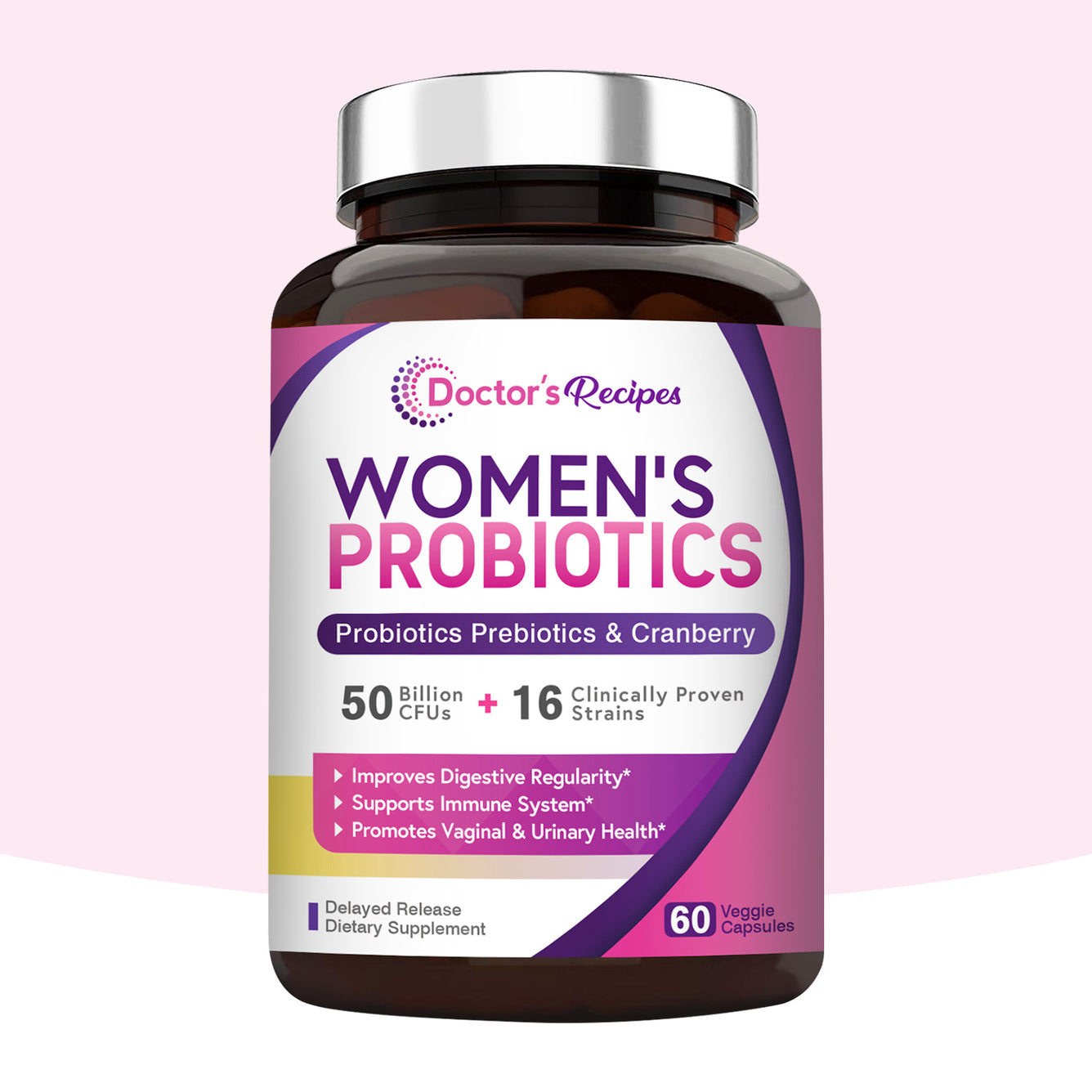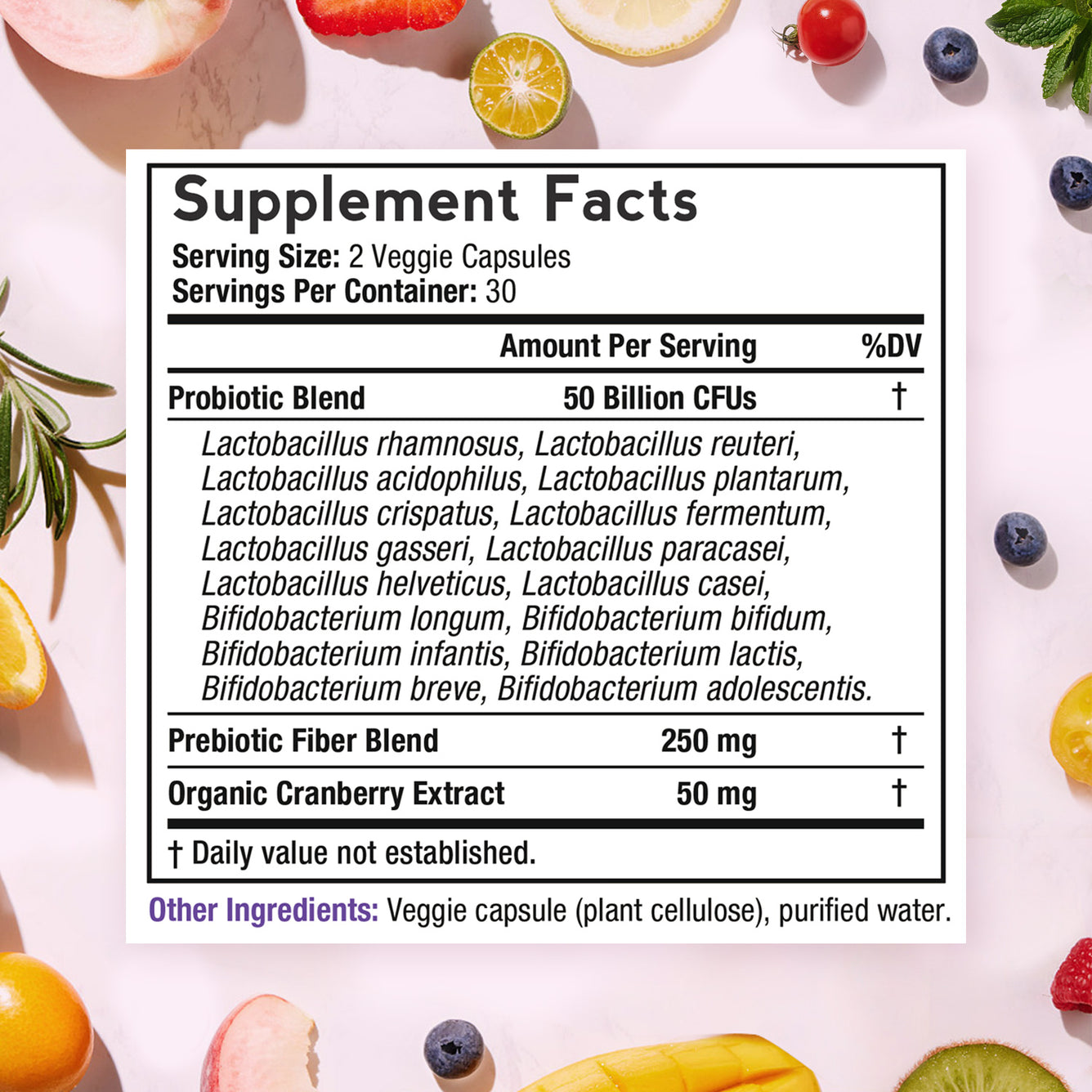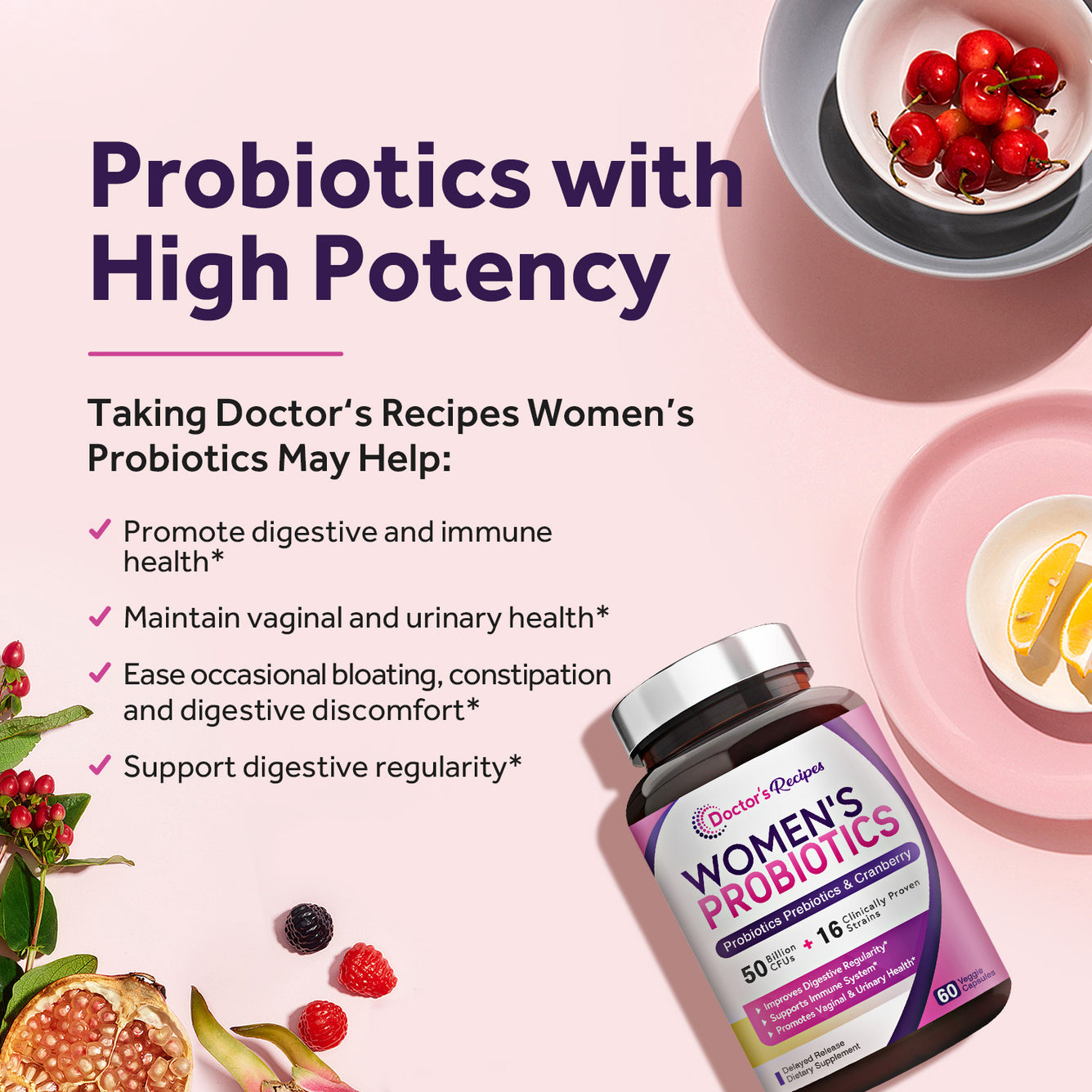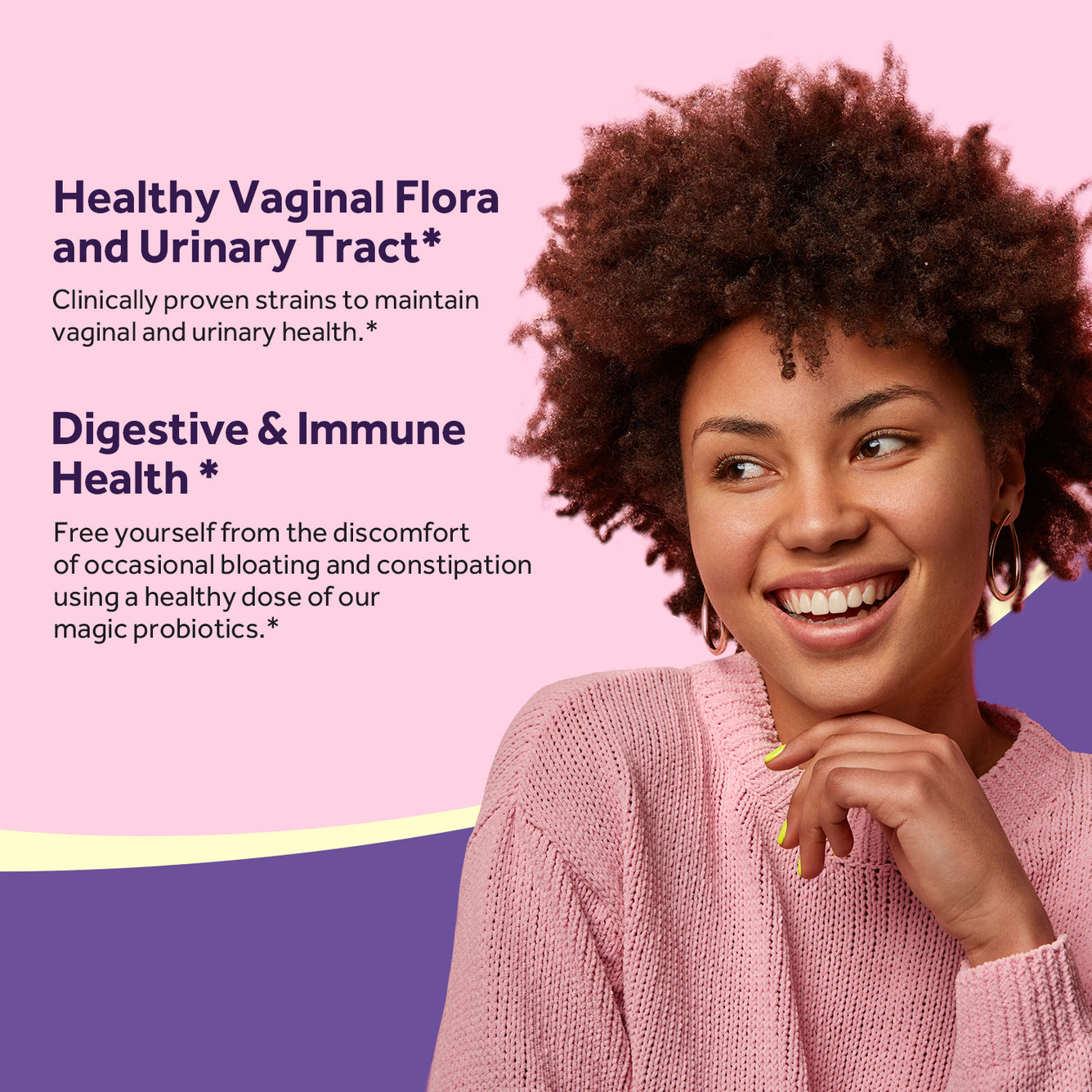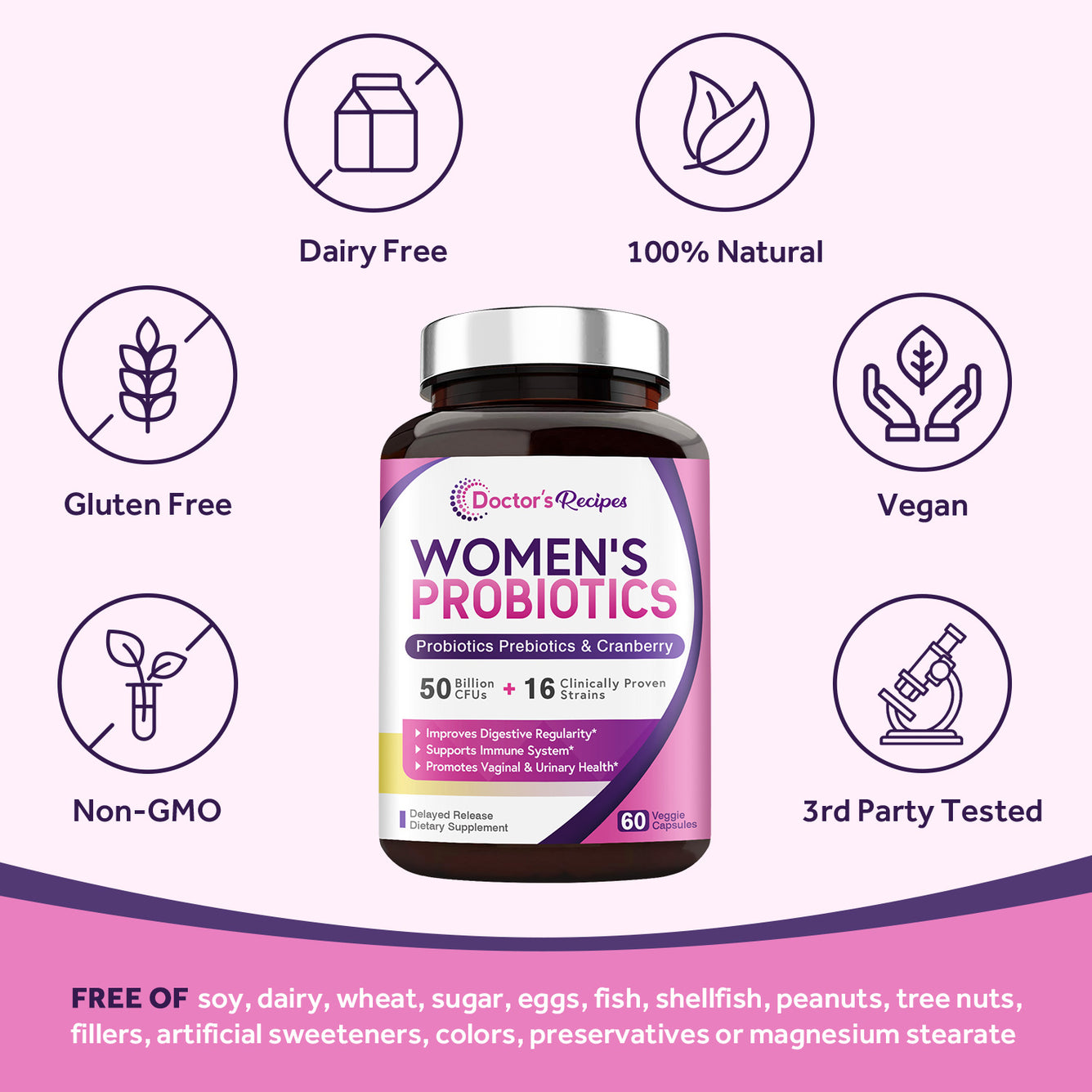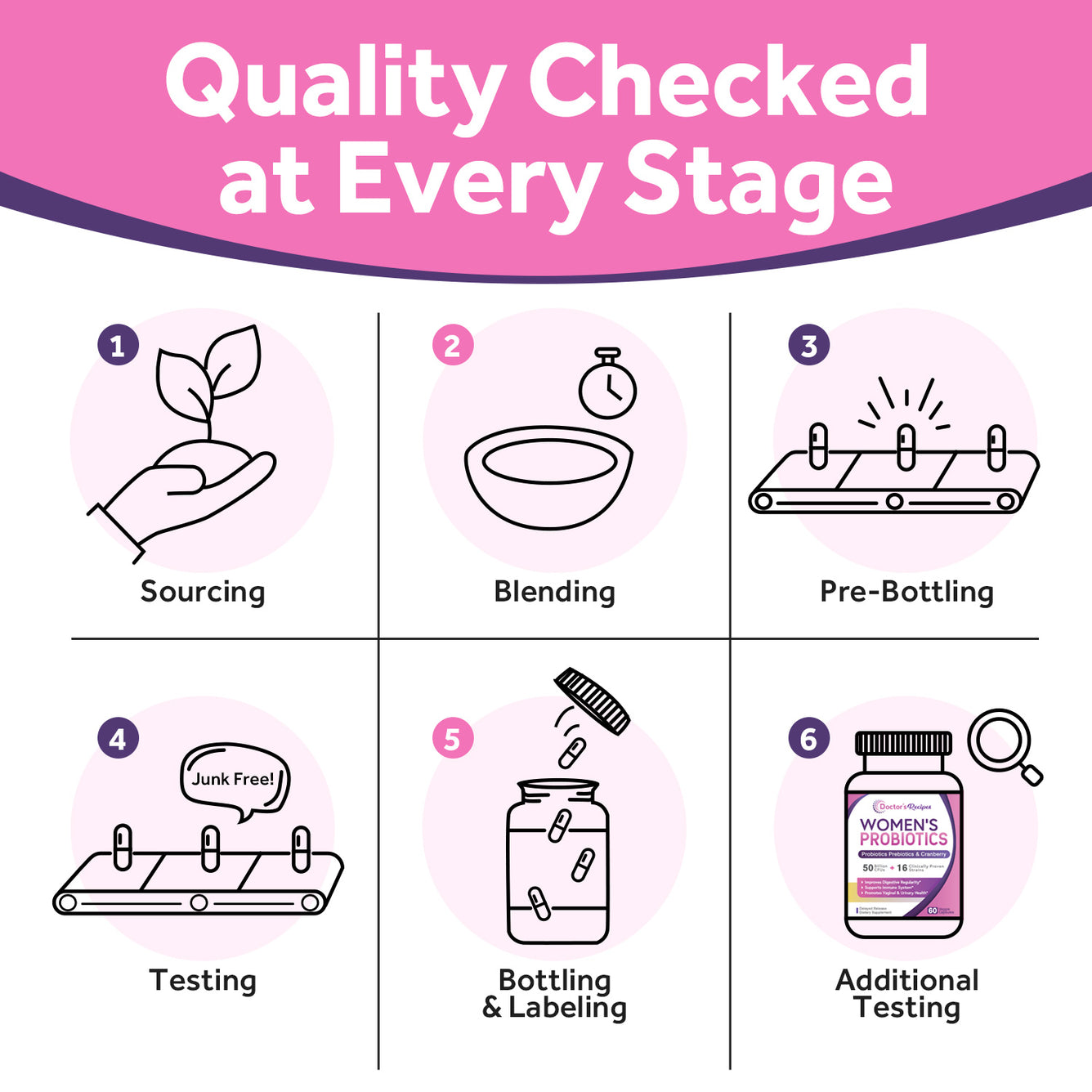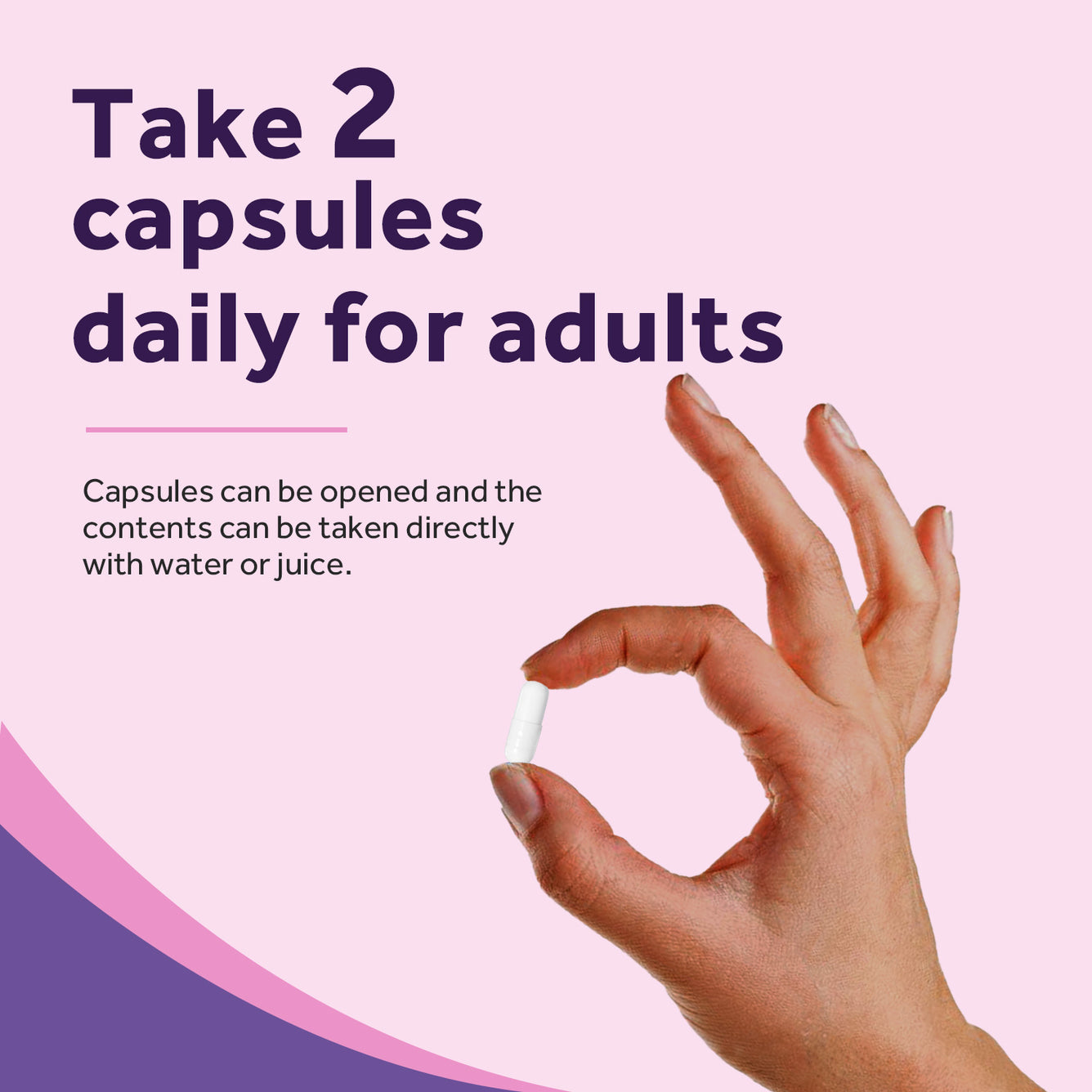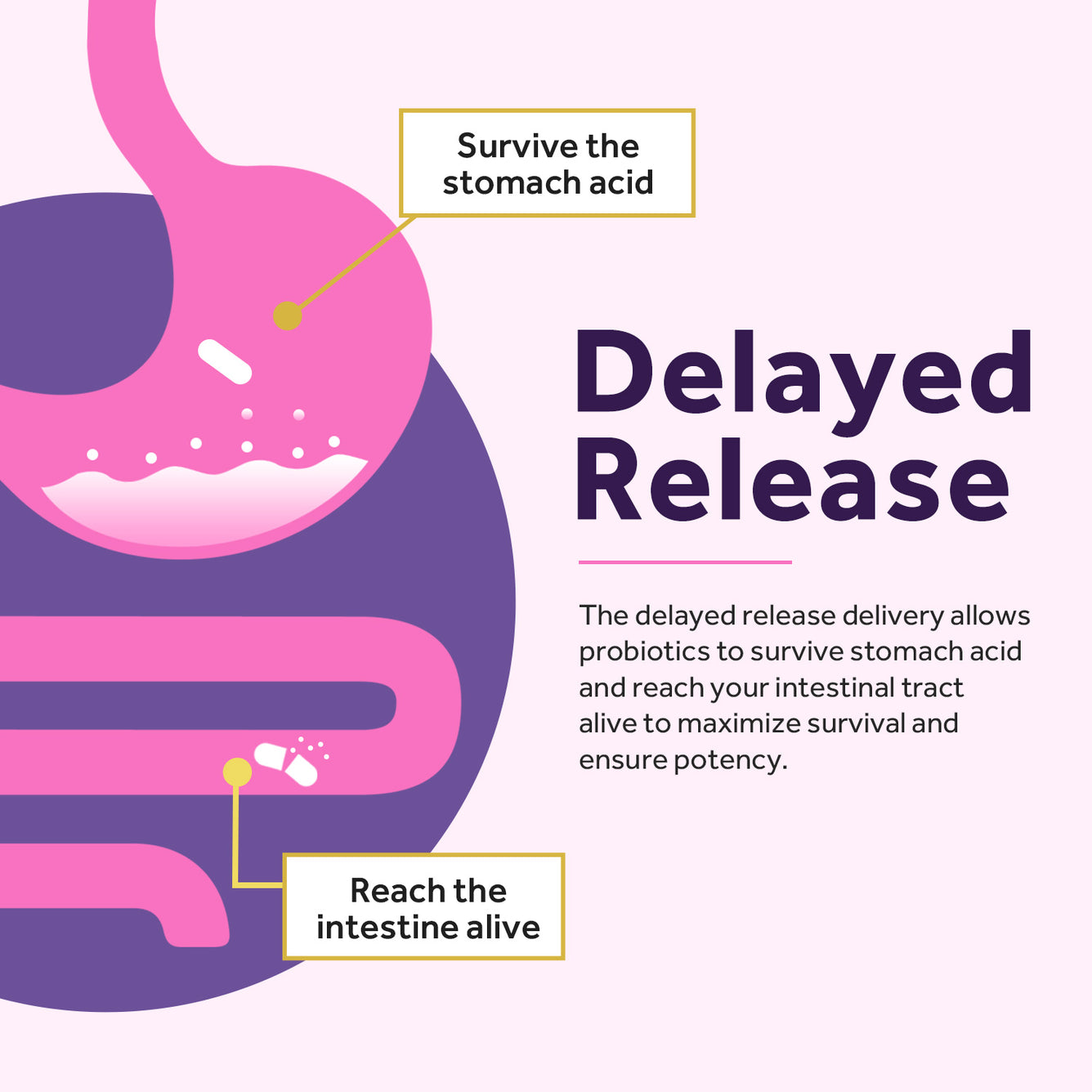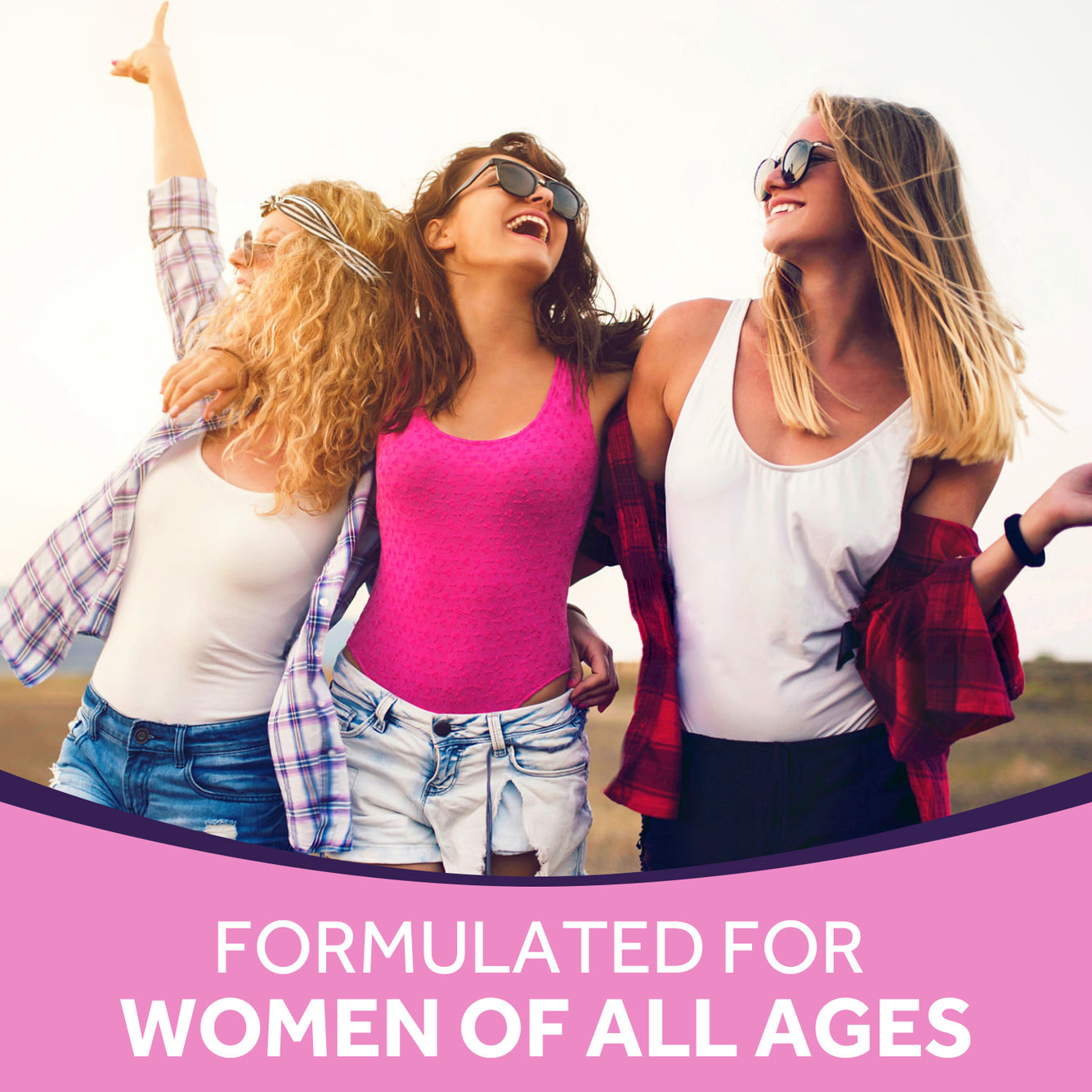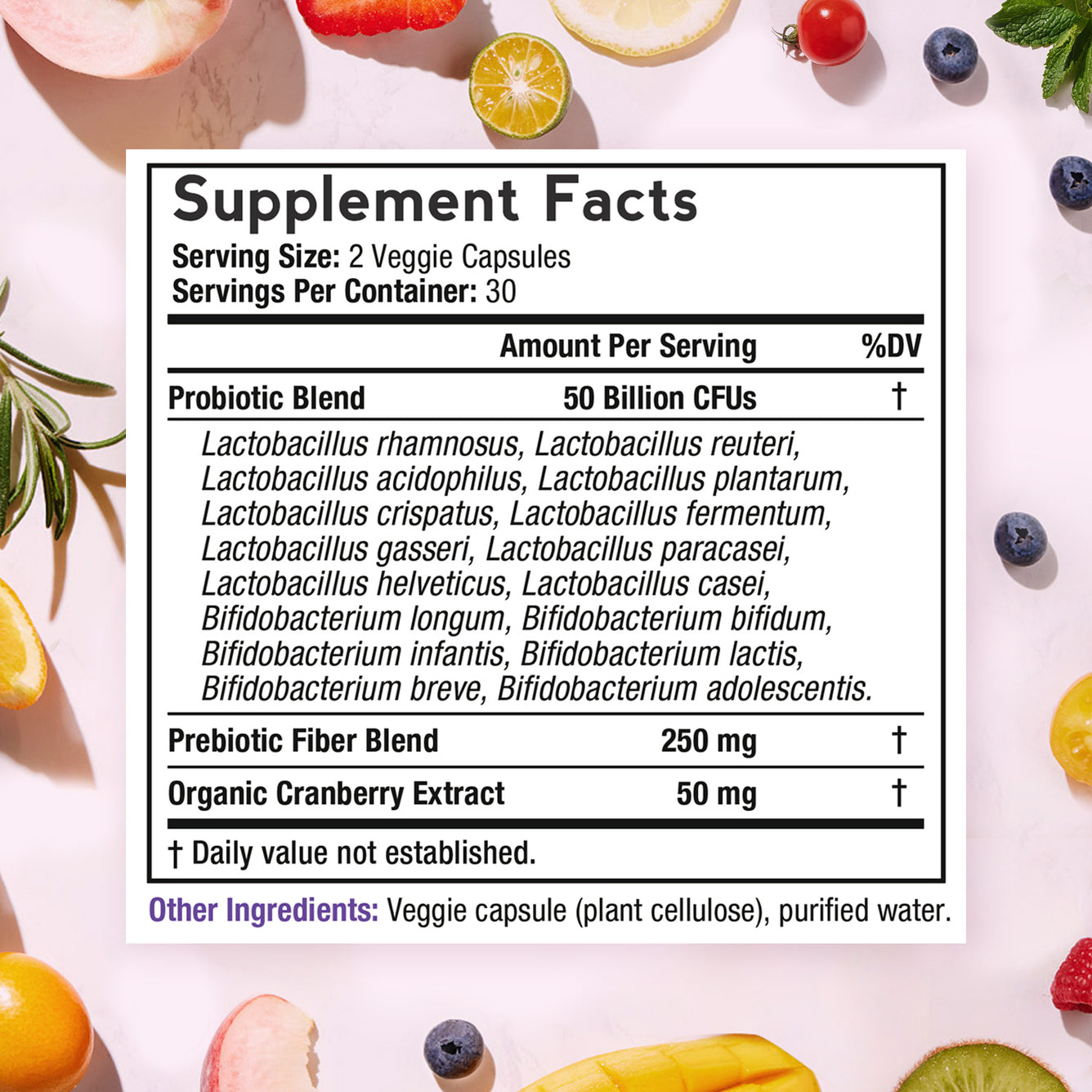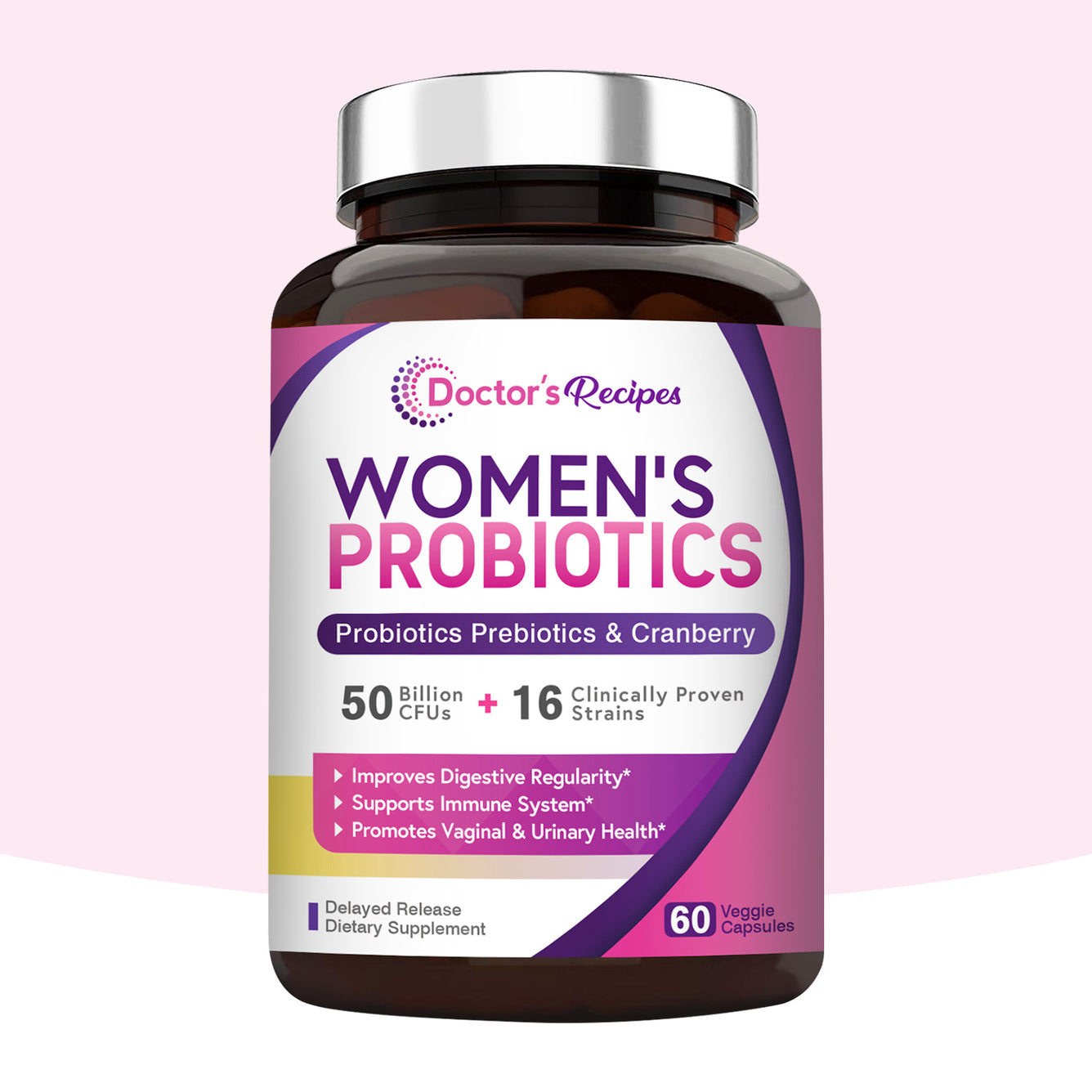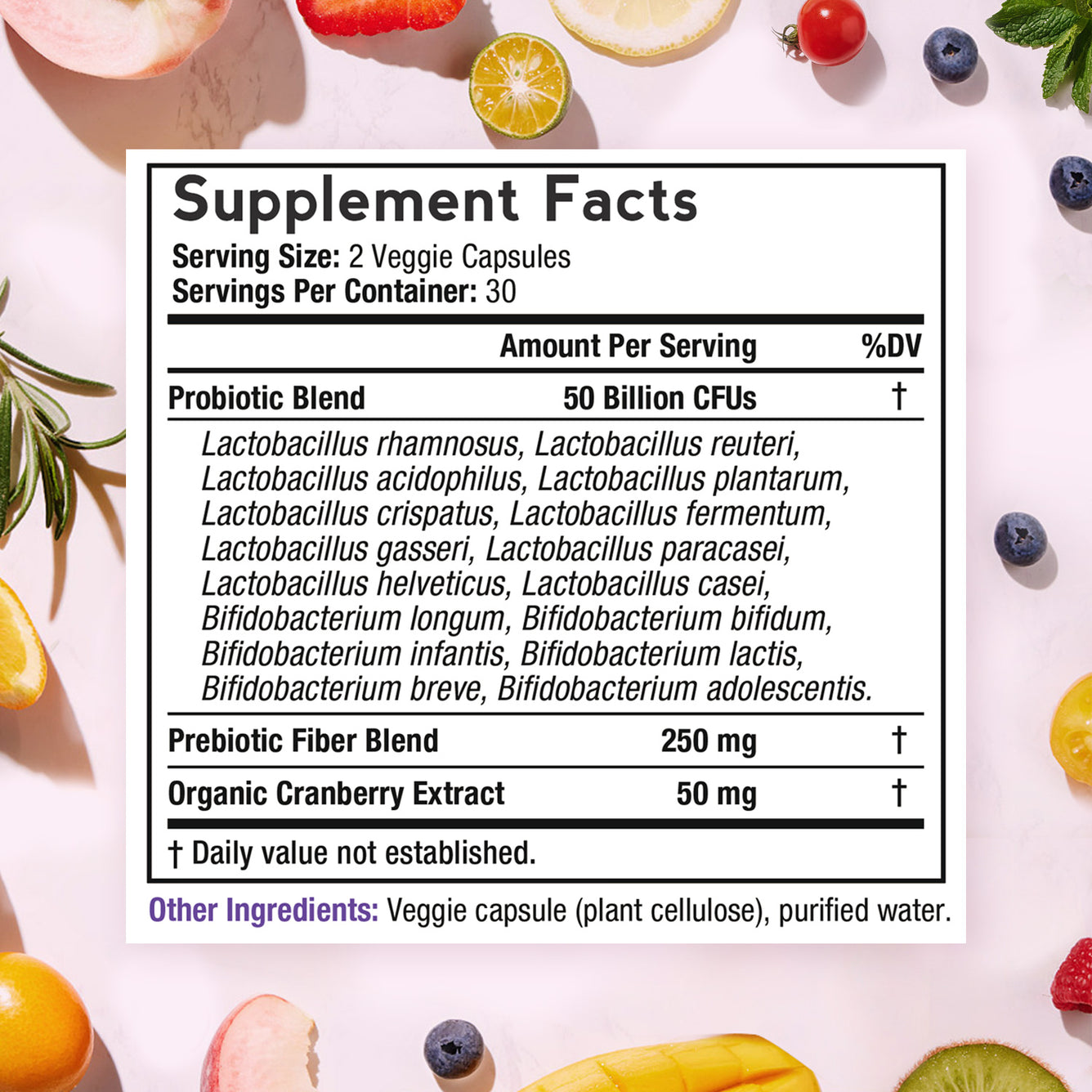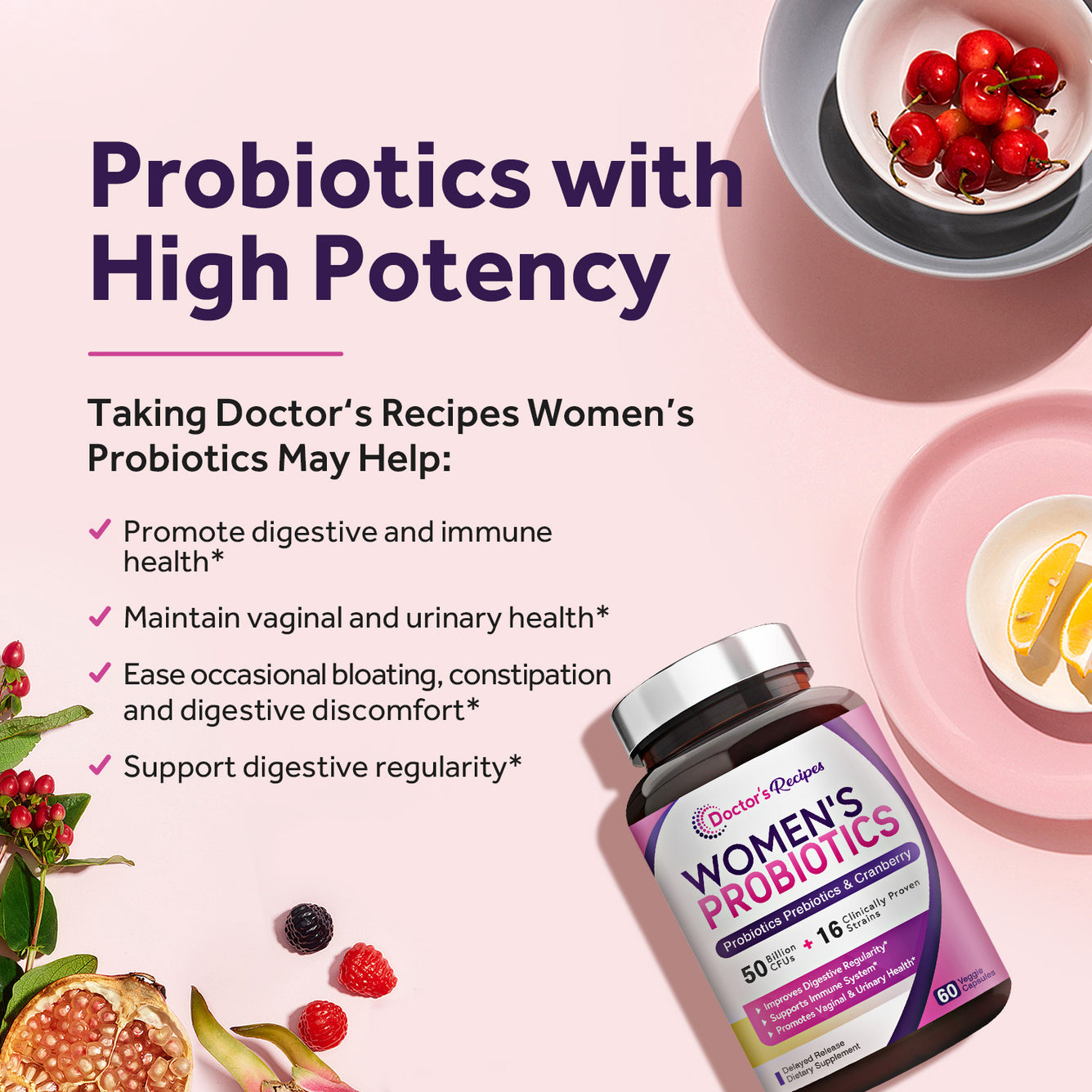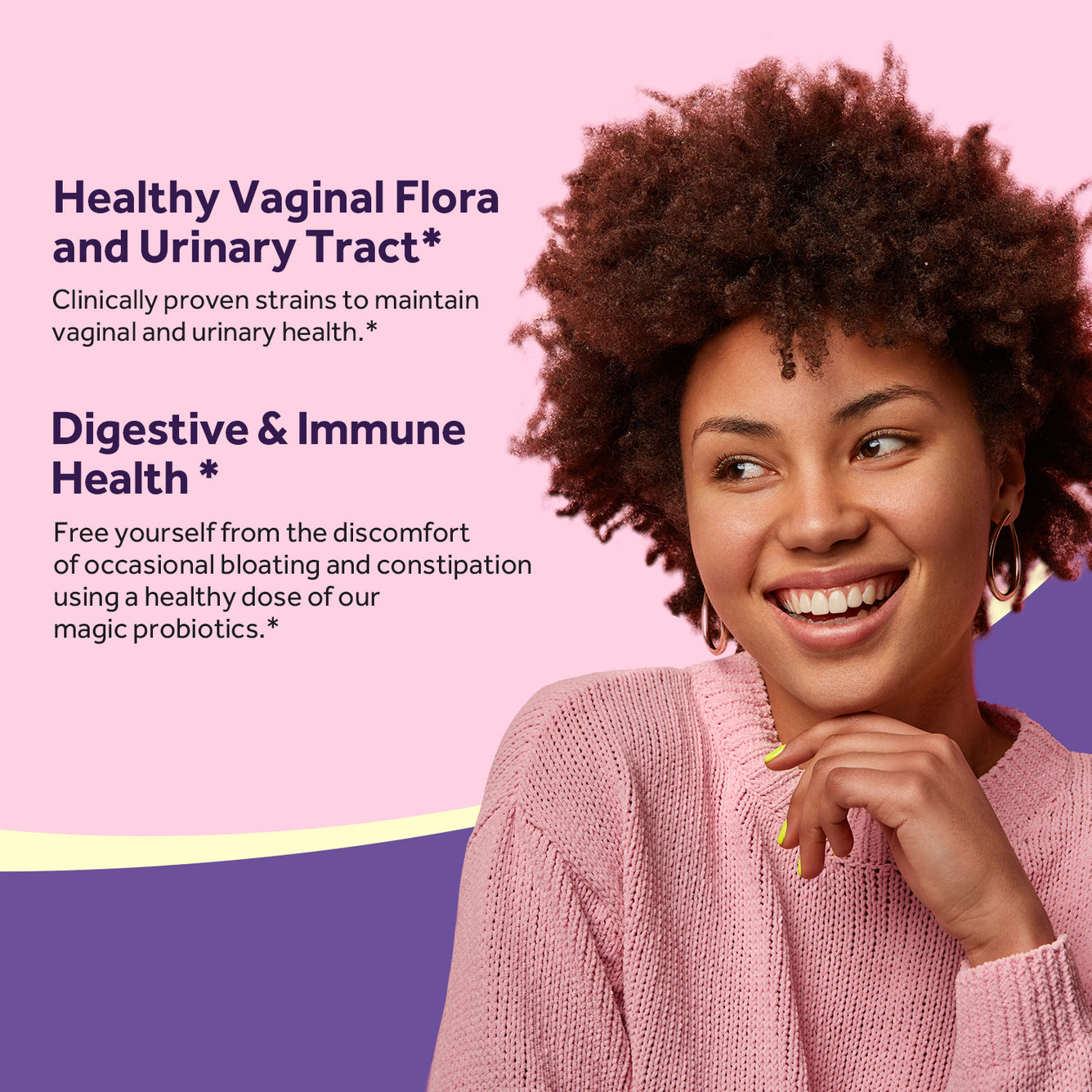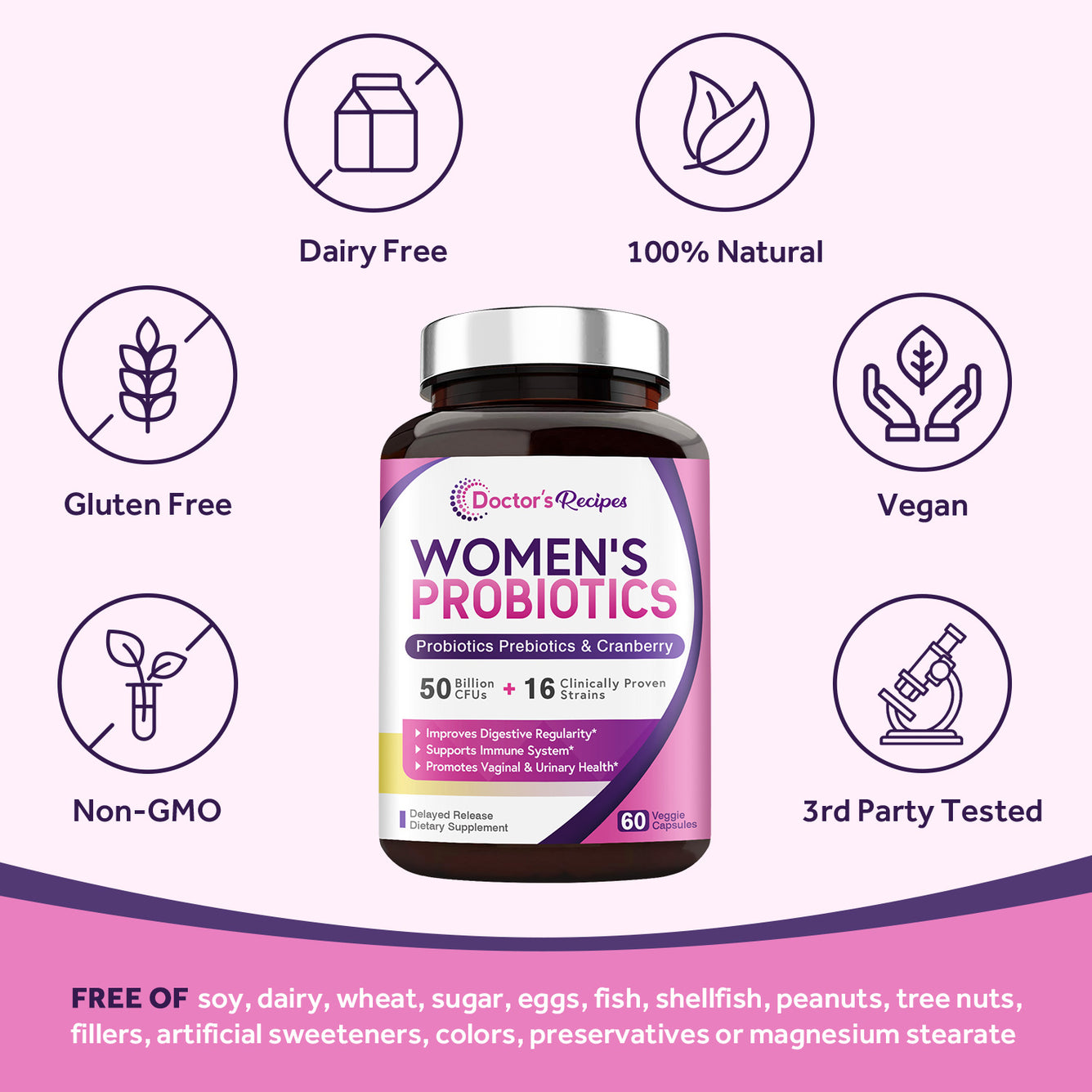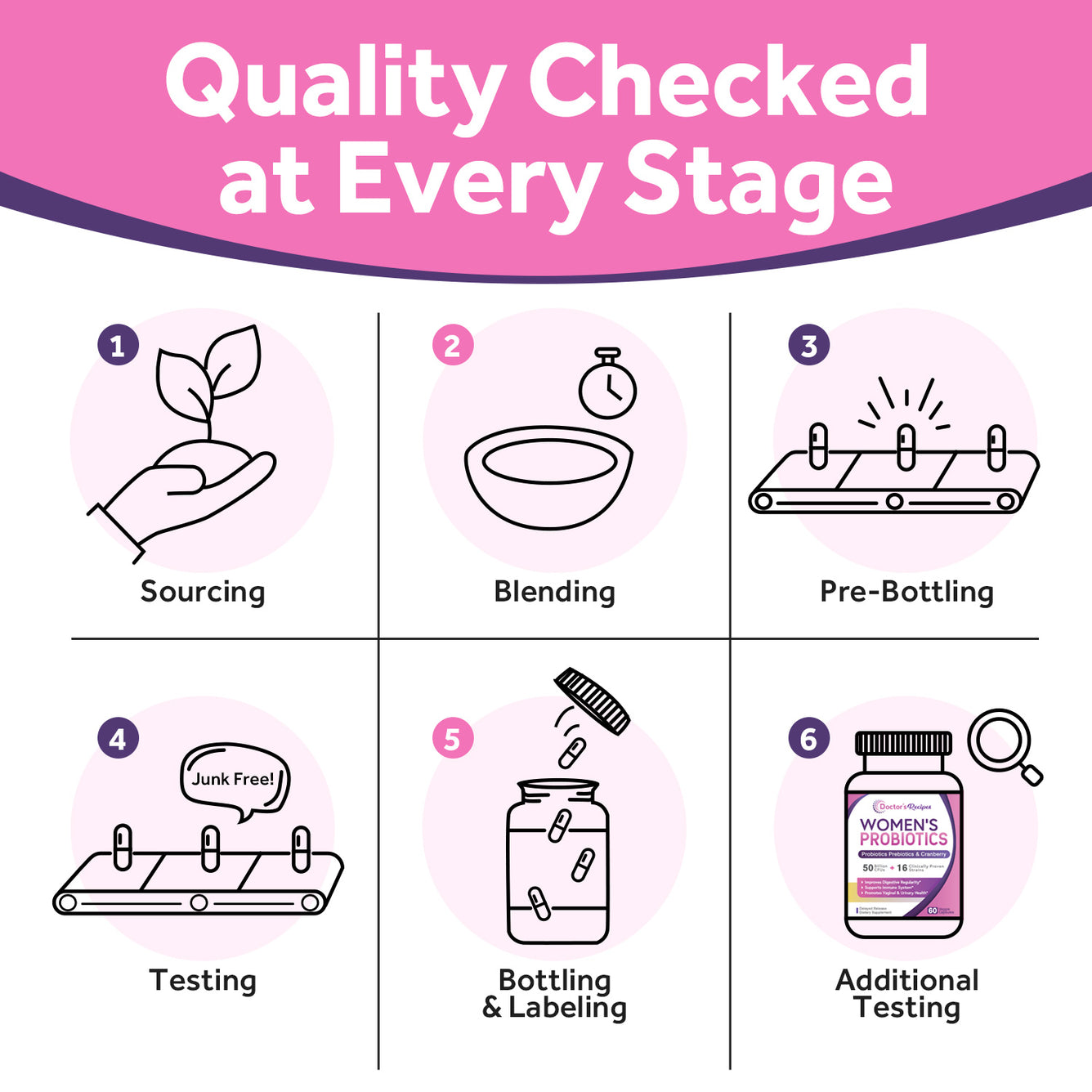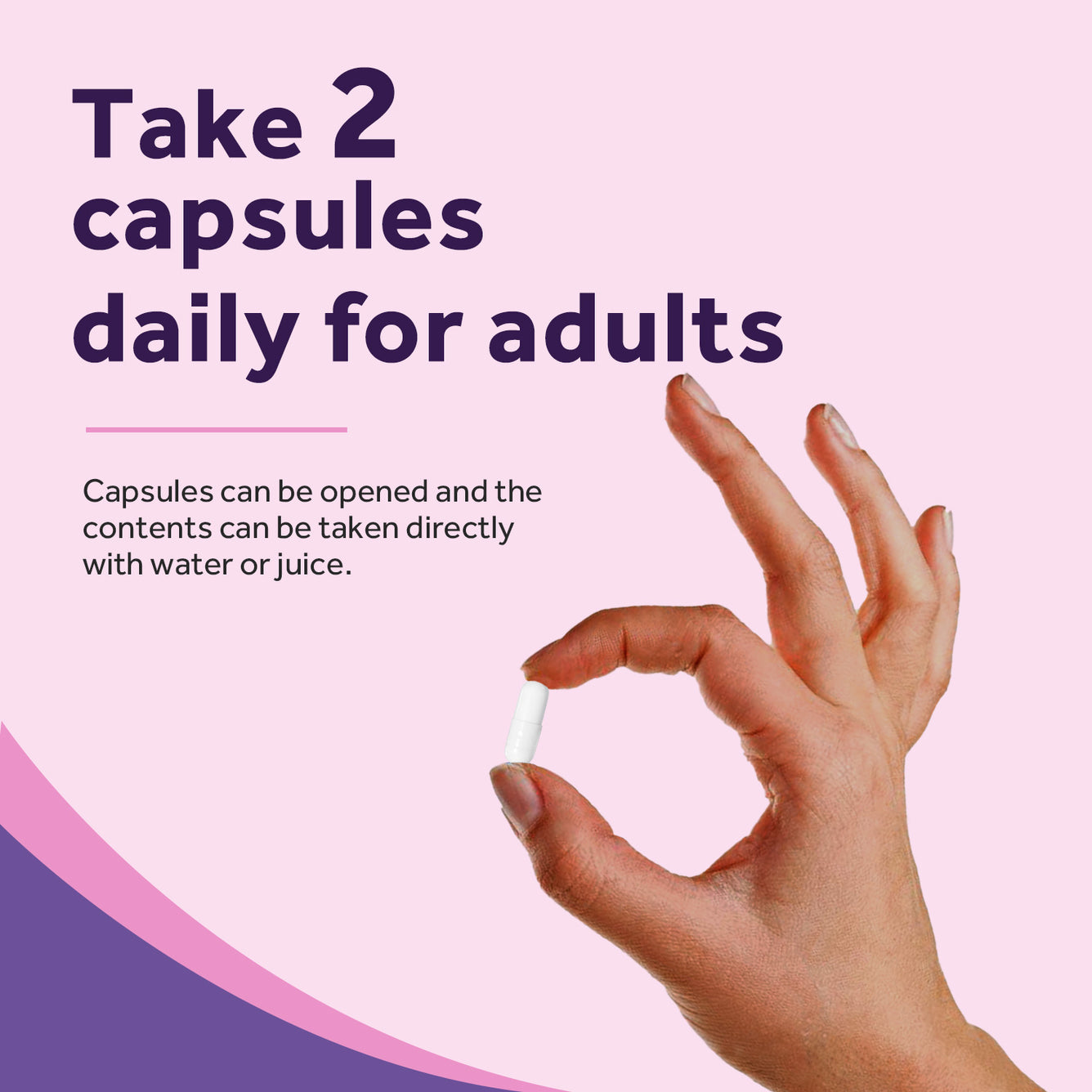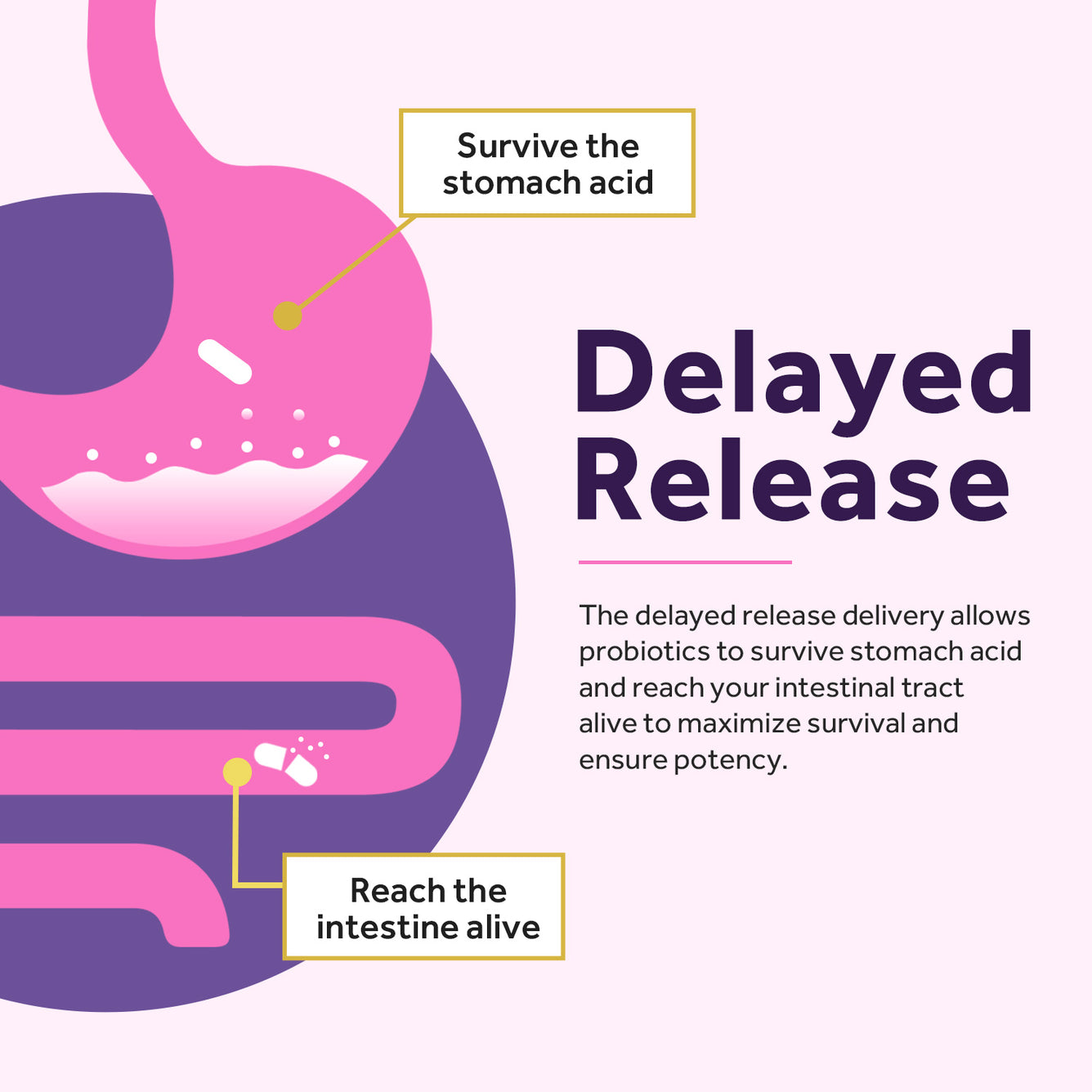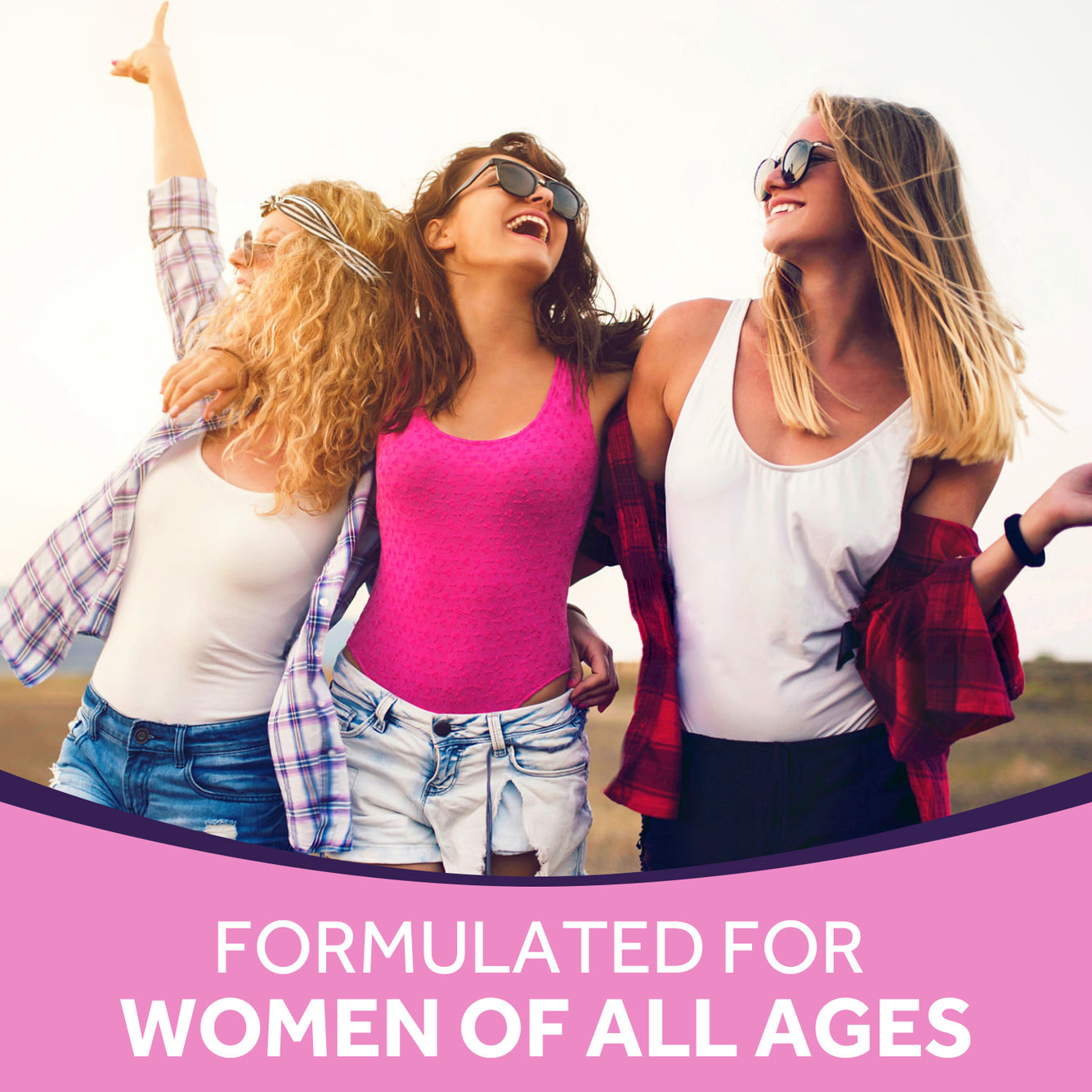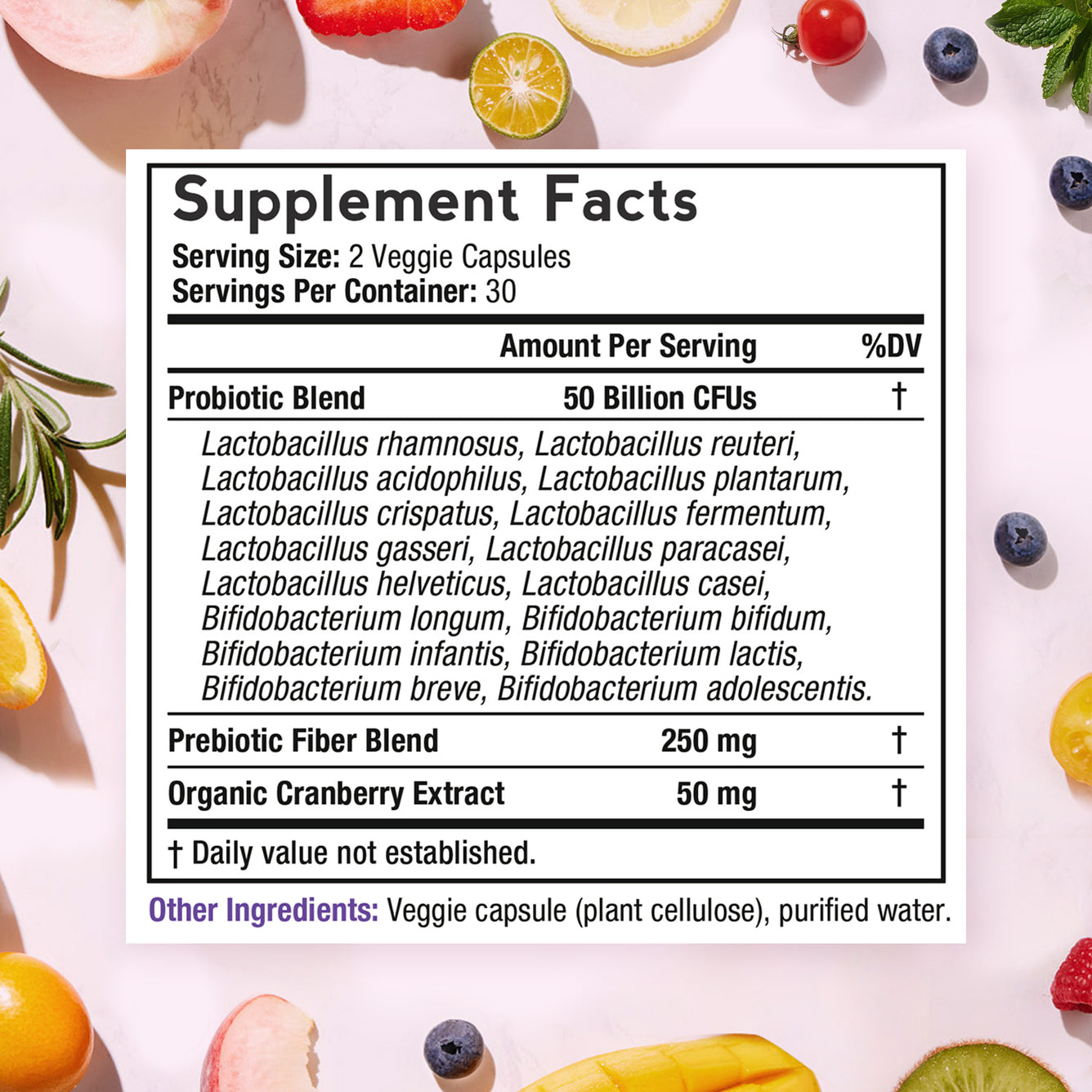 50 Billion Women's Probiotics
Doctor's Recipes Women's Probiotic, 60 Caps 50 Billion CFU 16 Strains, with Organic Prebiotics Cranberry, Digestive Immune Vaginal & Urinary Health, Shelf Stable, Delayed Release, No Soy Gluten Dairy
| INGREDIENT | AMOUNT | HELPS SUPPORT |
| --- | --- | --- |
| Probiotic Blend | 50 Billion CFU | Digestion + Immunity + Vaginal Health + Urinary Tract |
| Prebiotic Fiber Blend | 250 mg | Feed the Good Bacteria in Your Gut |
| Cranberry | 50 mg | Urinary Tract Health |
Amazon Top 1 Women's Probiotics
Environmentally Friendly
Make it a long-term approach to wellness

Fast and Secure Delivery
Free shipping on orders over $50

Superior Service
Accessible, approachable & responsive

Shop with Confidence
Money back guaranteed
50 Billion CFUs & 16 Strains
Our superior probiotics deliver 50 billion CFUs and 16 strains, greatly reflecting your gut diversity and aiding gut activity, which may help your digestive and immune system work better.
Organic Prebiotic Fiber
Prebiotics are compounds in food that selectively stimulate the growth or activity of desirable colon microorganisms. They are non-digestible dietary fibers that feed the beneficial bacteria in your gut.
US-Grown Cranberry
This carefully formulated blend is enforced with organic cranberry extract, which are packed full of beneficial nutrients, to help maintain vaginal health and relieve urinary tract infections.
Advanced Technology
We use the latest shelf stable technology to keep the bacteria alive for maximum efficacy before expiration. The delayed release delivery allows strains to survive stomach acid and reach your intestinal tract alive to maximize survival and ensure potency.
Personal Choices
The need and concern of customers steer everything we do. Some women may find themselves more vulnerable to feminine problems at certain points in their menstrual cycle because of the unstable hormone levels.
If this bothers you, this carefully crafted blend with clinically studied Lactobacillus rhamnosus and Lactobacillus reuteri strains would be your best choice to maintain vaginal and urinary health since they are clinically studied to be effective at fighting off recurrent bacterial vaginosis (BV) and urinary tract infection (UTI).
Professional Solutions
16 Clinically Proven Strains
Lactobacillus Strains
Lactobacillus rhamnosus, Lactobacillus reuteri,
Lactobacillus acidophilus, Lactobacillus plantarum, Lactobacillus crispatus, Lactobacillus fermentum, Lactobacillus gasseri, Lactobacillus paracasei,
Lactobacillus helveticus, Lactobacillus casei
Bifidobacterium Strains
Bifidobacterium longum Bifidobacterium bifidum Bifidobacterium infantis Bifidobacterium lactis Bifidobacterium breve Bifidobacterium adolescentis
Jenny W.
Verified Purchase
Great Value for Probiotics 50 Billion CFU etc.
For the last three years I have had to take per my urogynecologist between 50-100 Billion CFU daily. Swam in a dirty pool years ago and got a pelvic infection in every organ in that area. One of the things I had to do then and still have to do is take between 50-100 Billion CFU daily. This can get expensive, so I take the 50. This is a good product, and I like that it has cranberry in it. I also have to take cranberry capsules daily. So this adds a little extra to my body. Since I have been on this routine, I have had no more infections in my pelvic area. his one is very fair priced. Capsules are easy to swallow. No taste. Take your probiotics daily! This is the best priced one and that is why I purchase it now.
Nikii T.
Verified Purchase
Let me say I'm very impressed with the product! I've been dealing with severe bloating and gas pains for years and this product's truly a game changer! Even when I'm consistently eating healthy and working out I still will get bloated whatever I eat. It was to the point where it was extremely uncomfortable. I never took a probiotic before because I'm vegan and never new they had options without gelatin. I saw this had prebiotic as well as cranberry which is great for women's vaginal health and I was gonna buy a cranberry supplement prior and this was very inexpensive. I took only one 'cause it's best to start off with a small dose. Guys let me just say that the next morning I woke up feeling so light and a flat stomach!
Maria H.
Verified Purchase
I was recommended by my OBGYN, after suffering from multiple yeast infections for quite some time, to start using a "Women's Probiotics" with more than 25 CFUs. Regular probiotics will improve your digestive system, but this product has 50 CFU which also serves your immune system, vaginal and urinary health, which is why it's important to choose a "Women's Probiotics" as oppose to a regular one. When comparing this product to those I'd previously purchased, I realized I was paying more for the same product; you have to take 2 pills instead of 1 a day but the size of the pills a much thinner one, making it easier to swallow. I really don't mind 2 pills with my breakfast as long as it has everything I need, which I repeat, it does.