Healthier days with doctor preferred krill oil

Boost your Omega-3s, comfort your joints, sharpen your mind with the right supplement.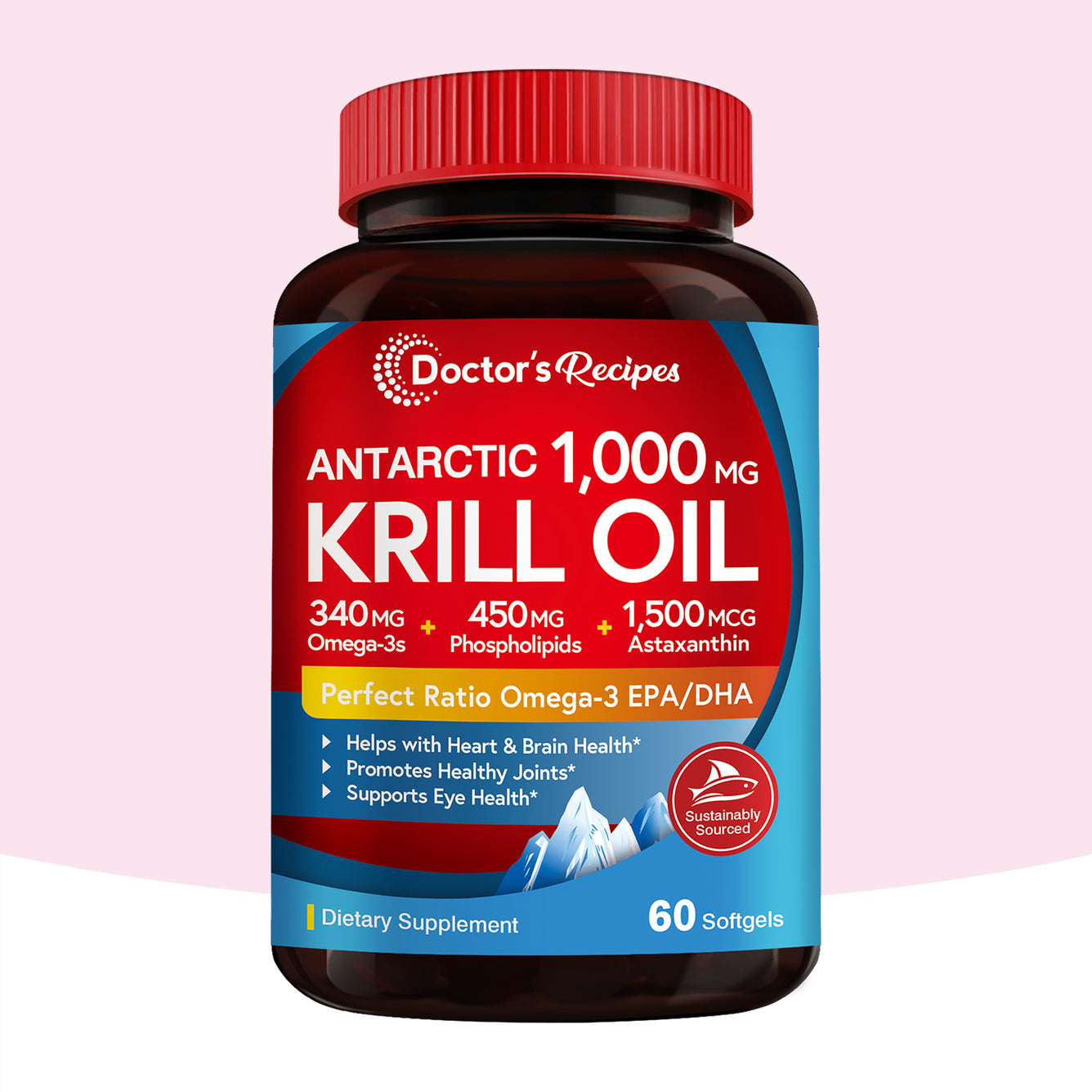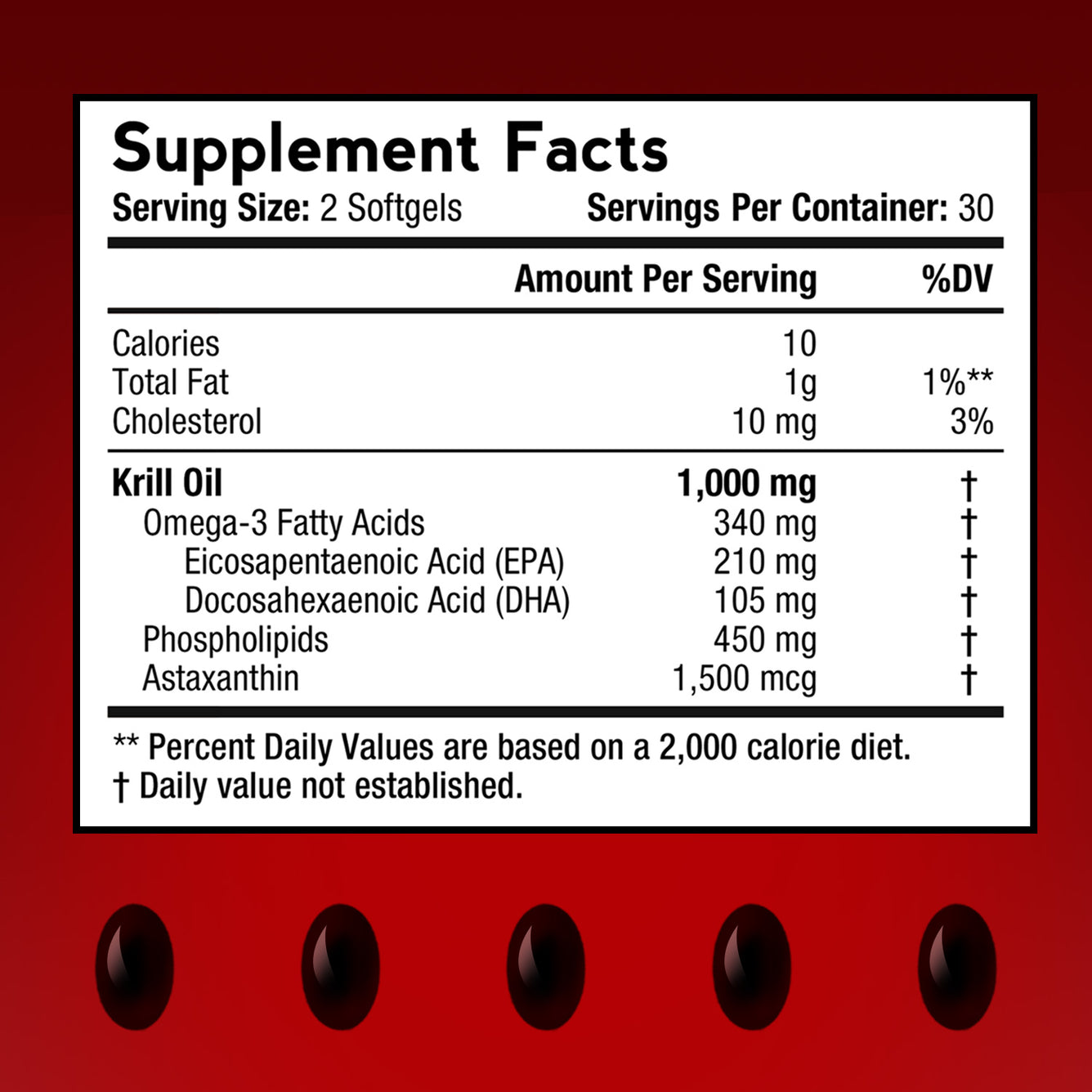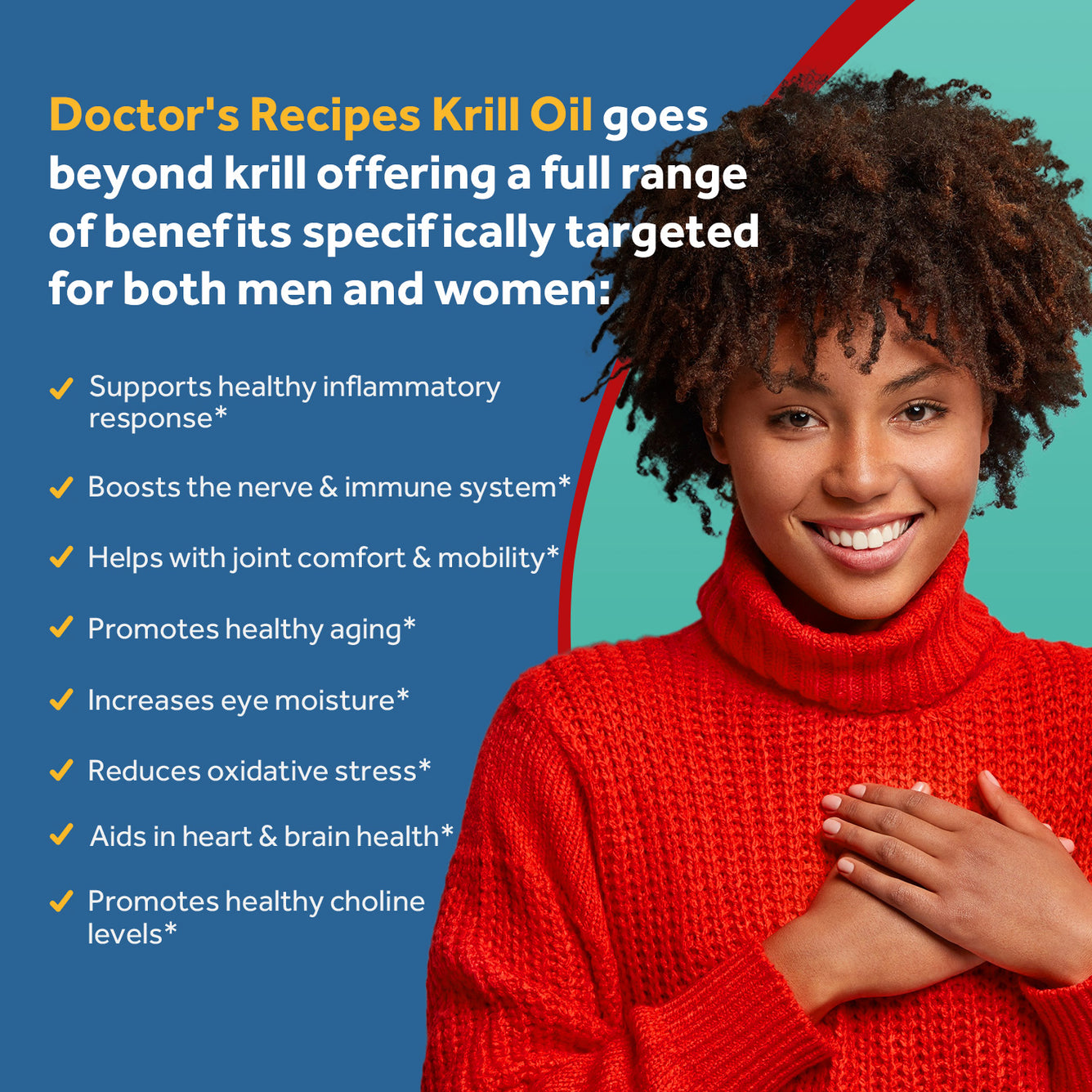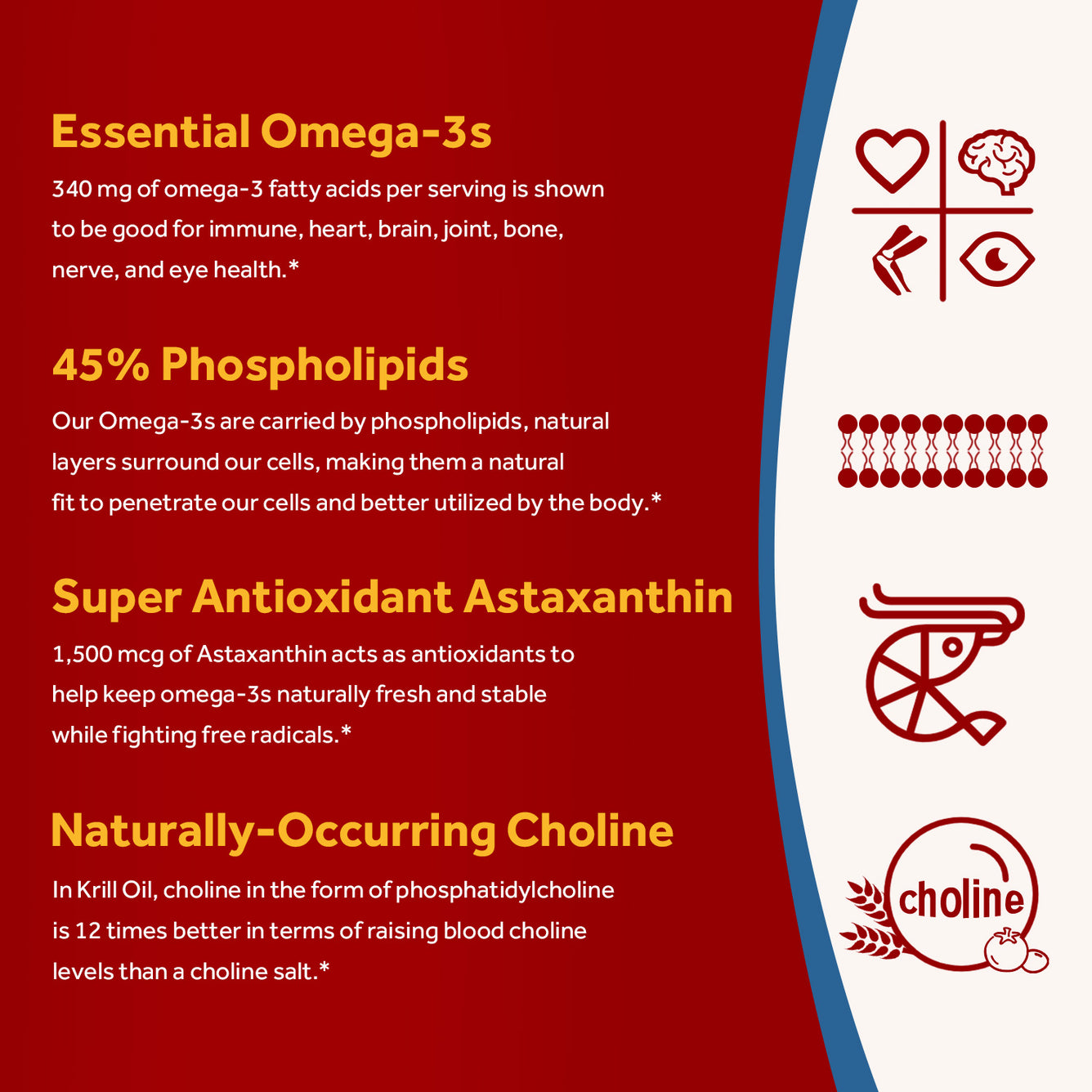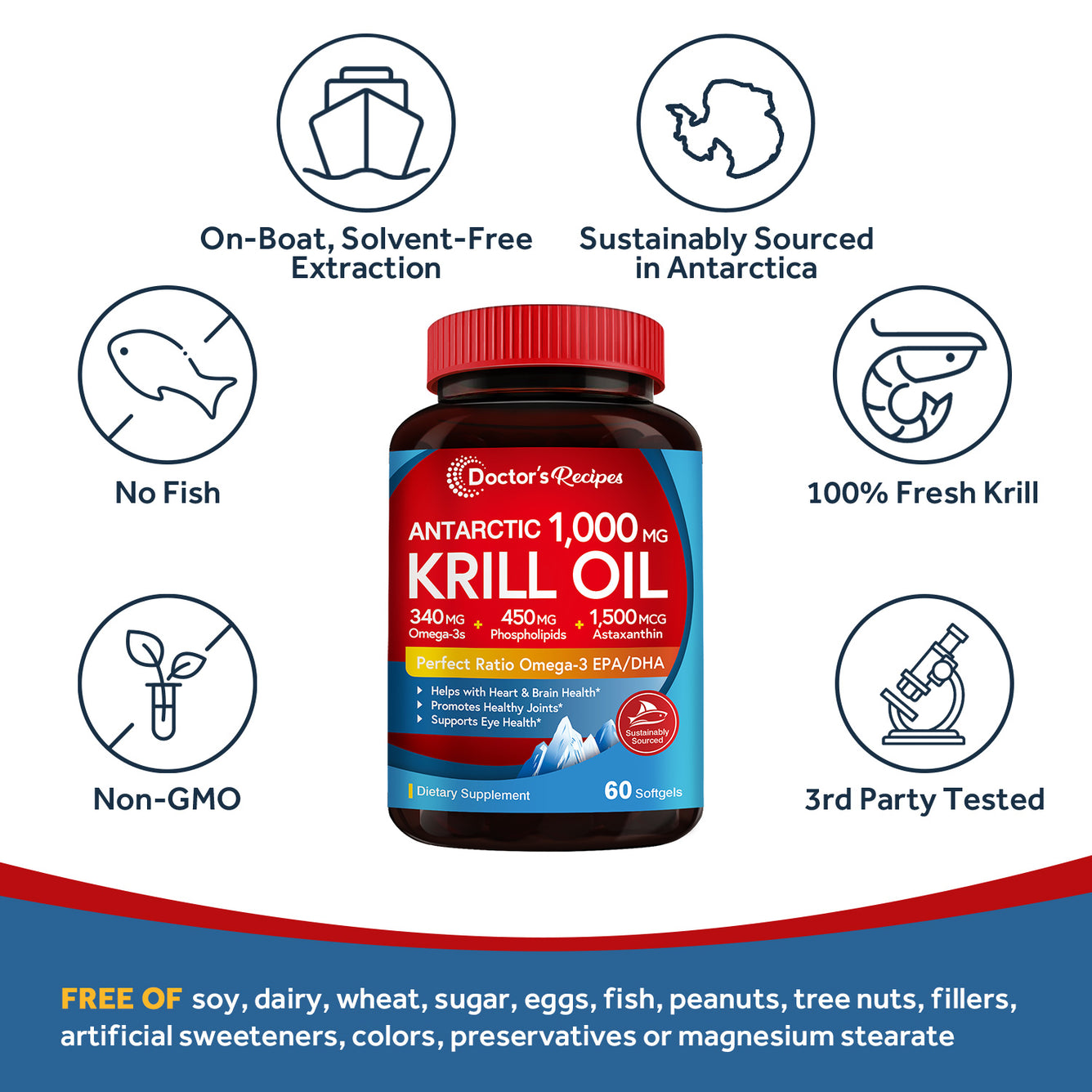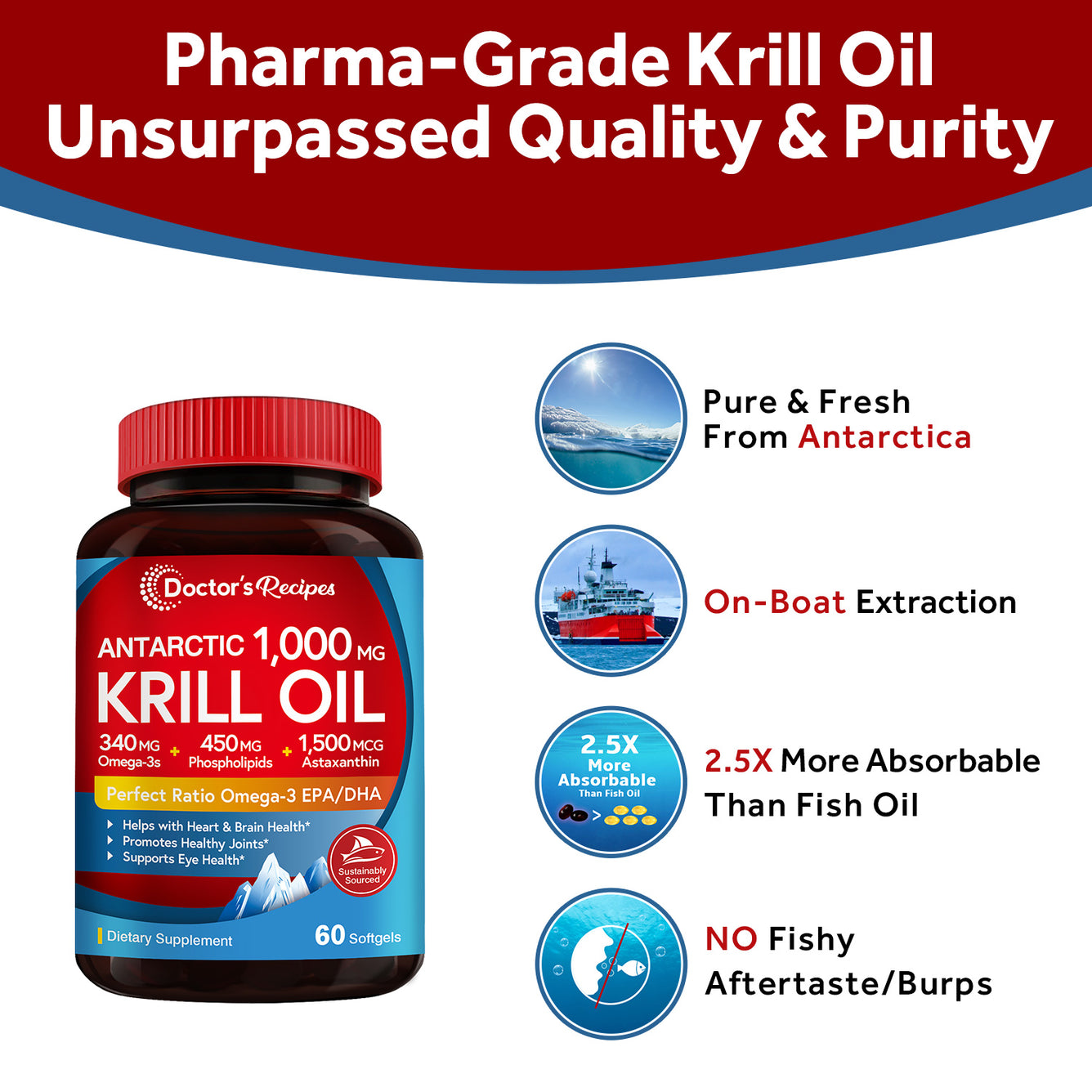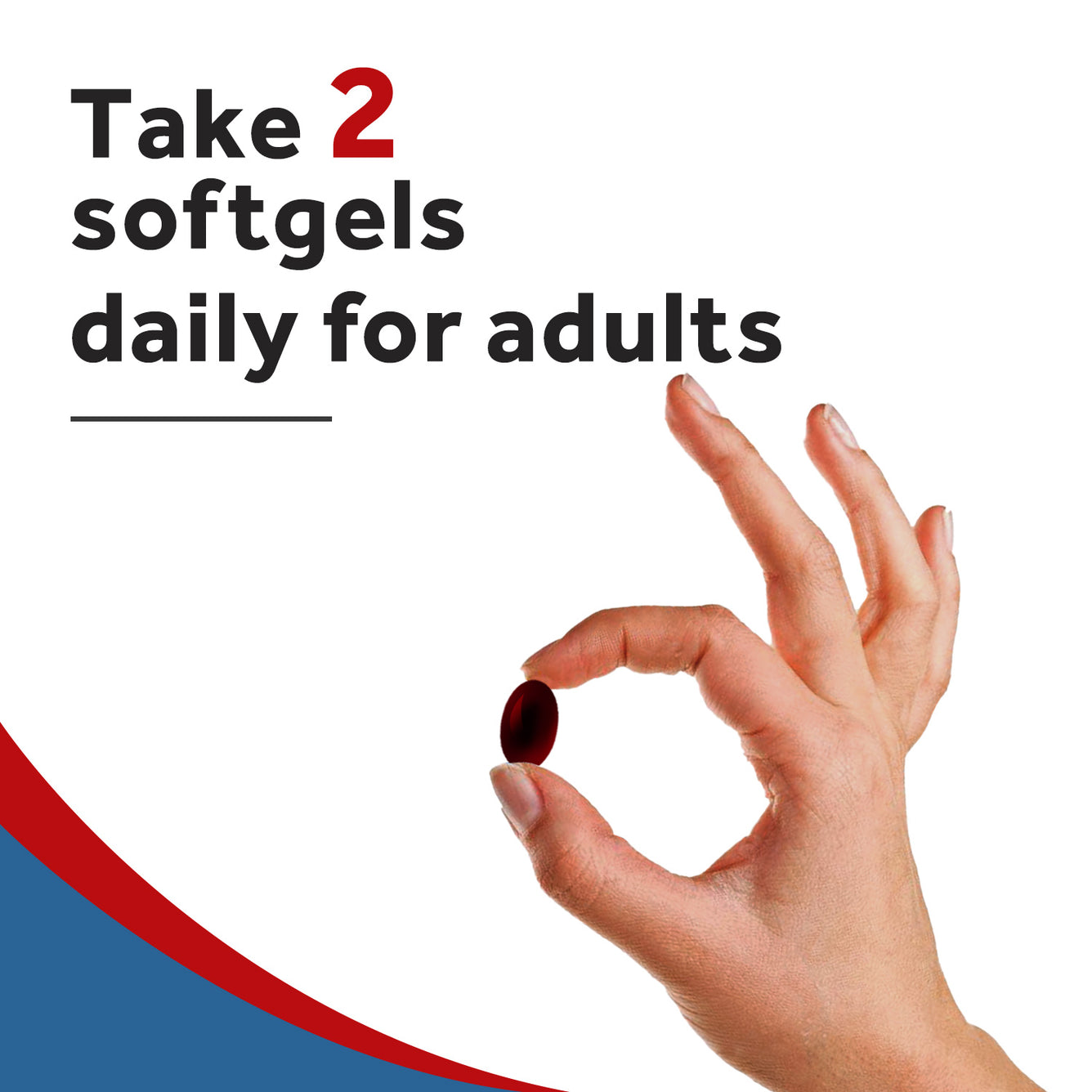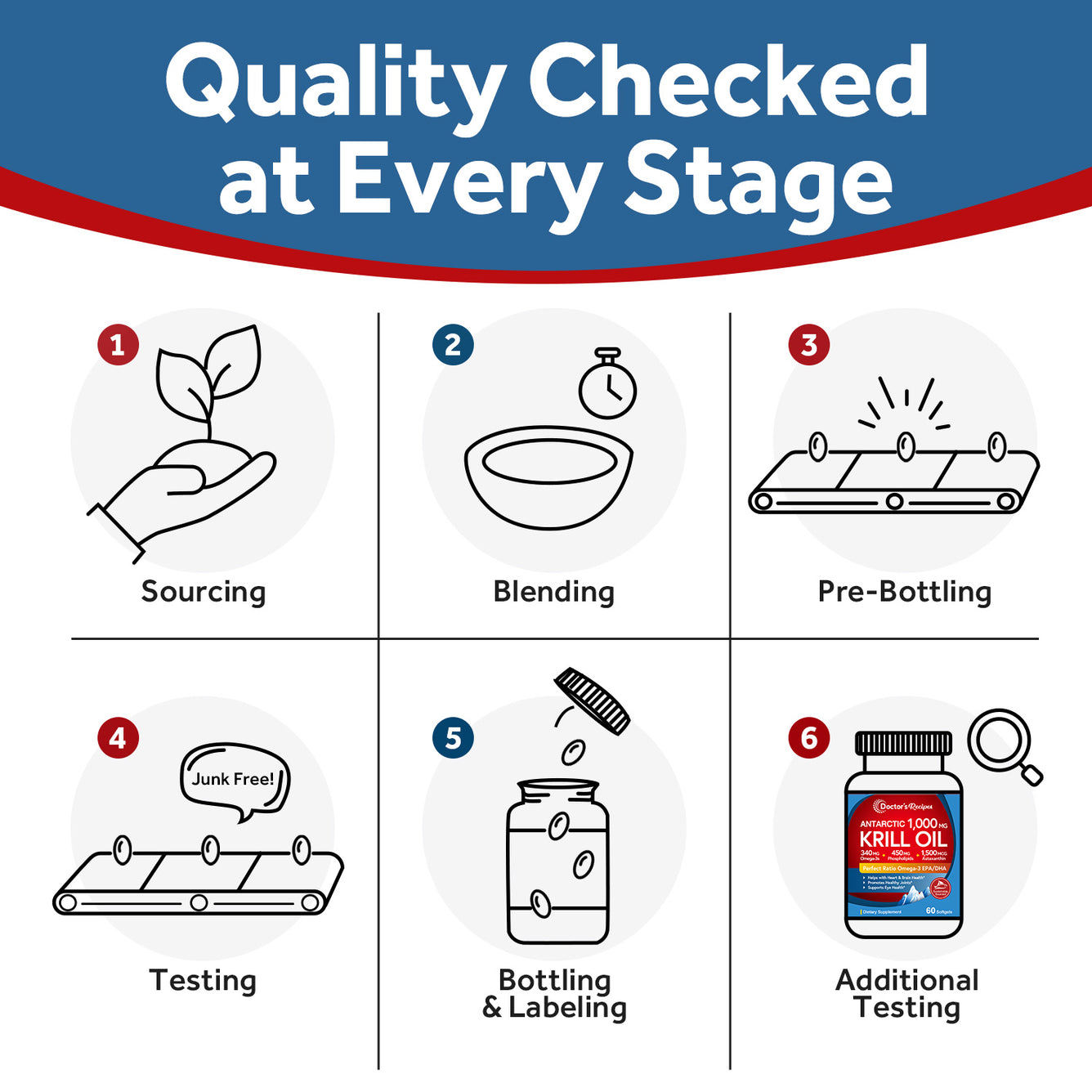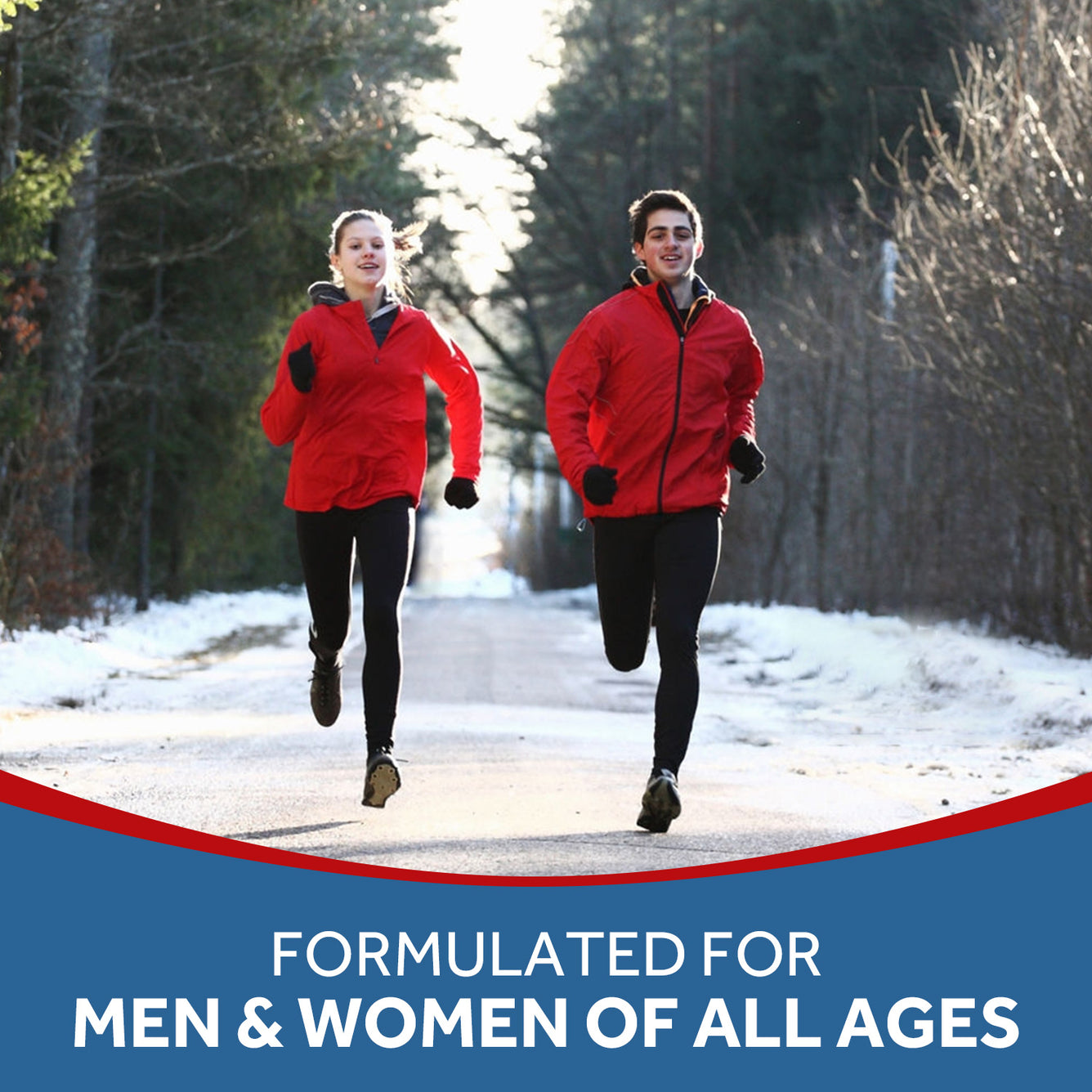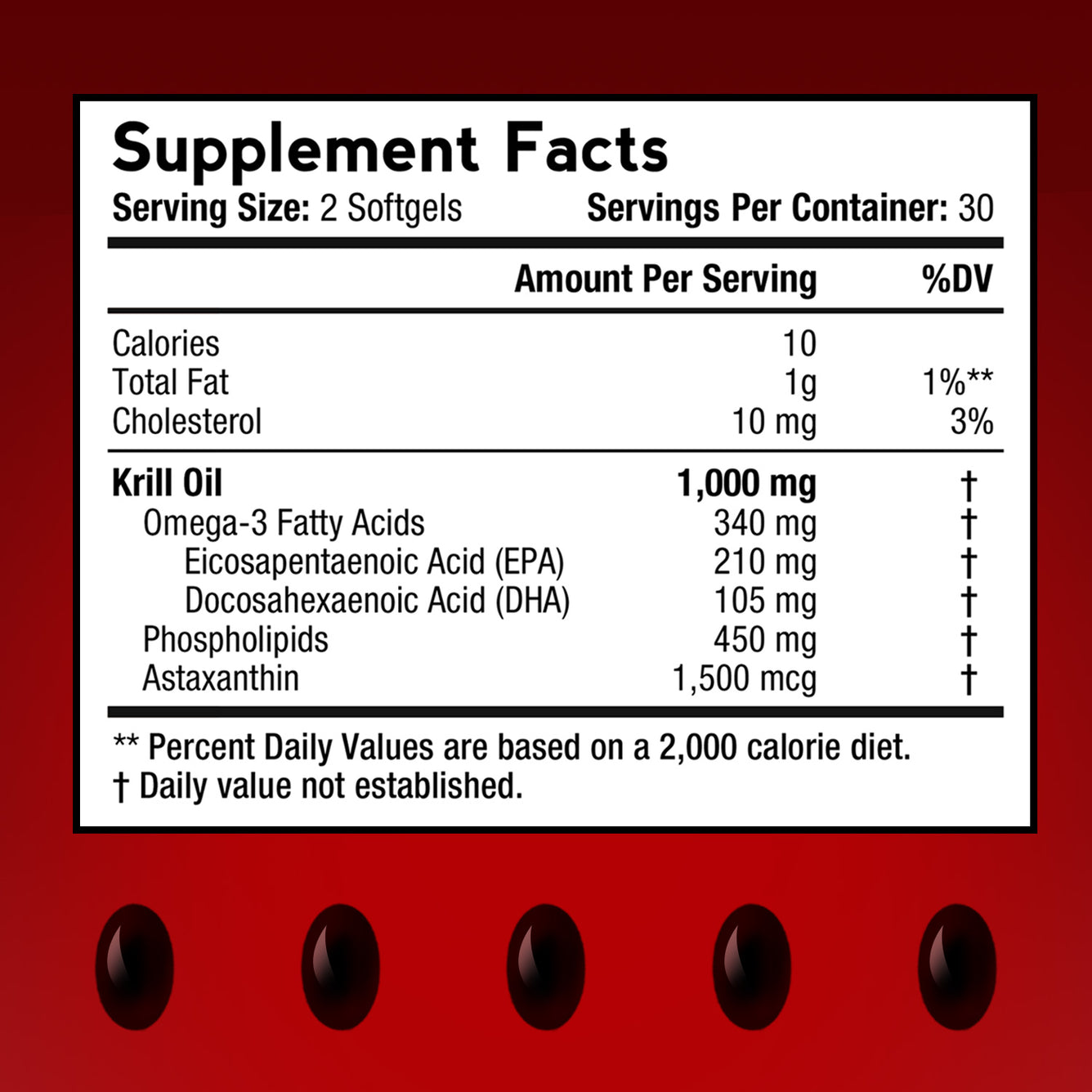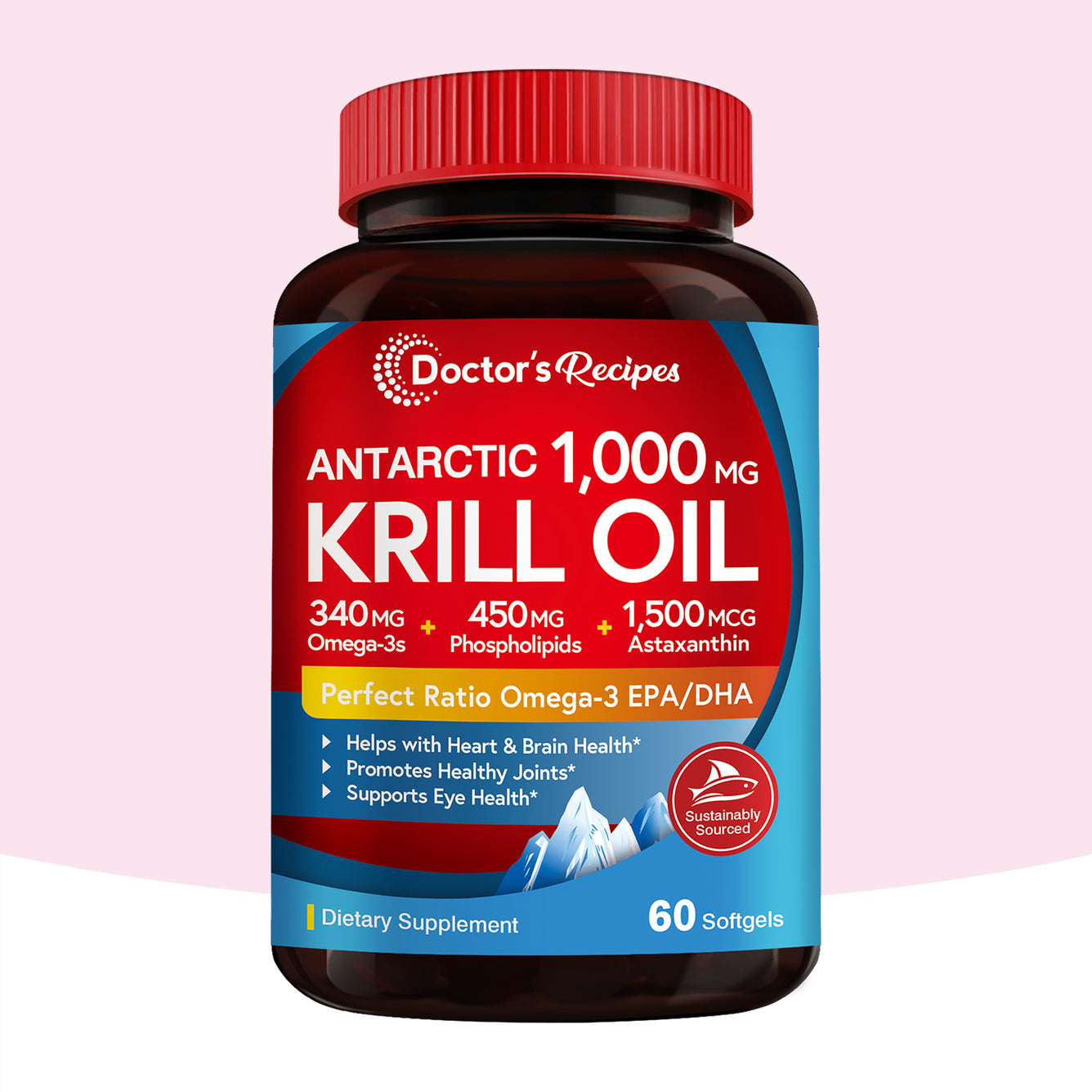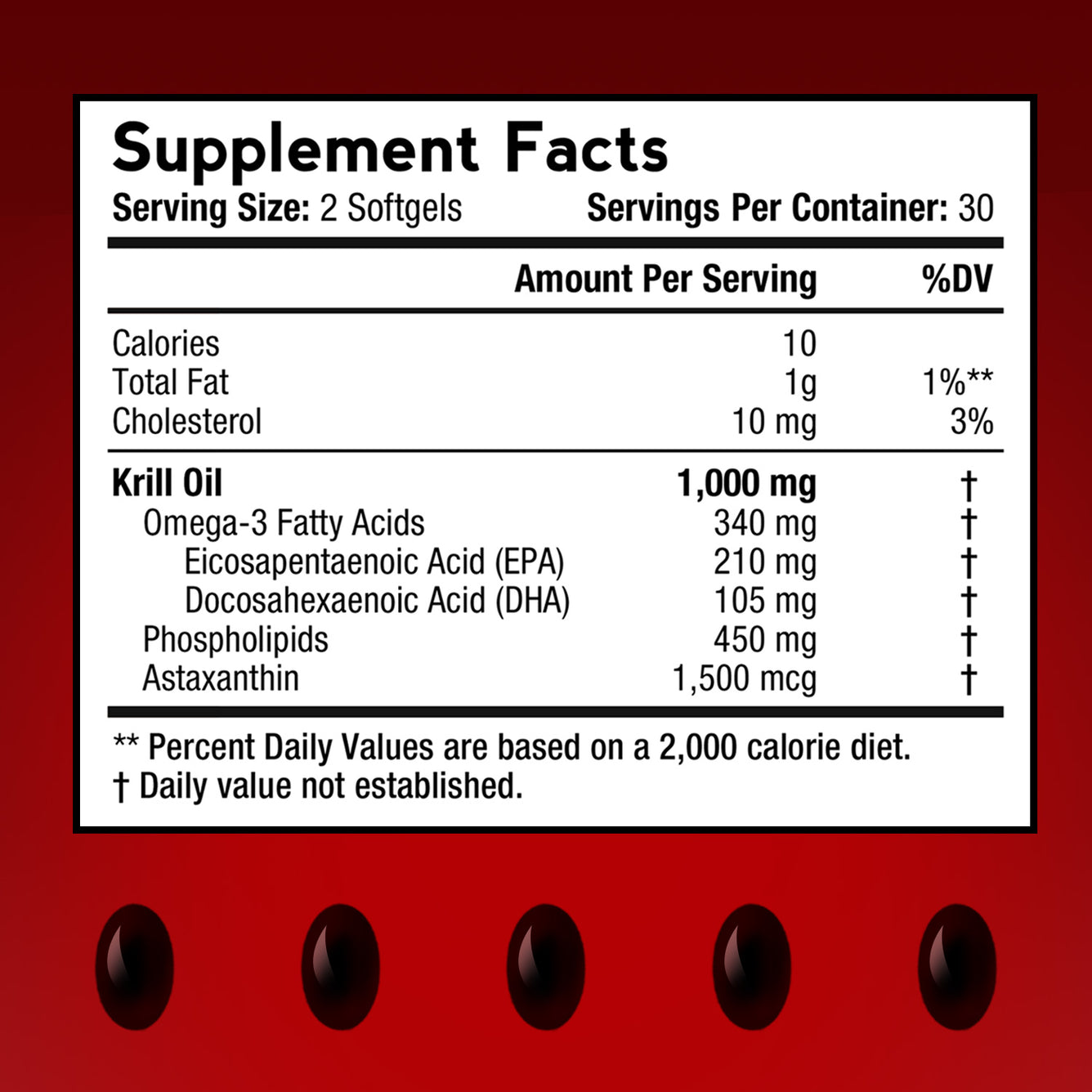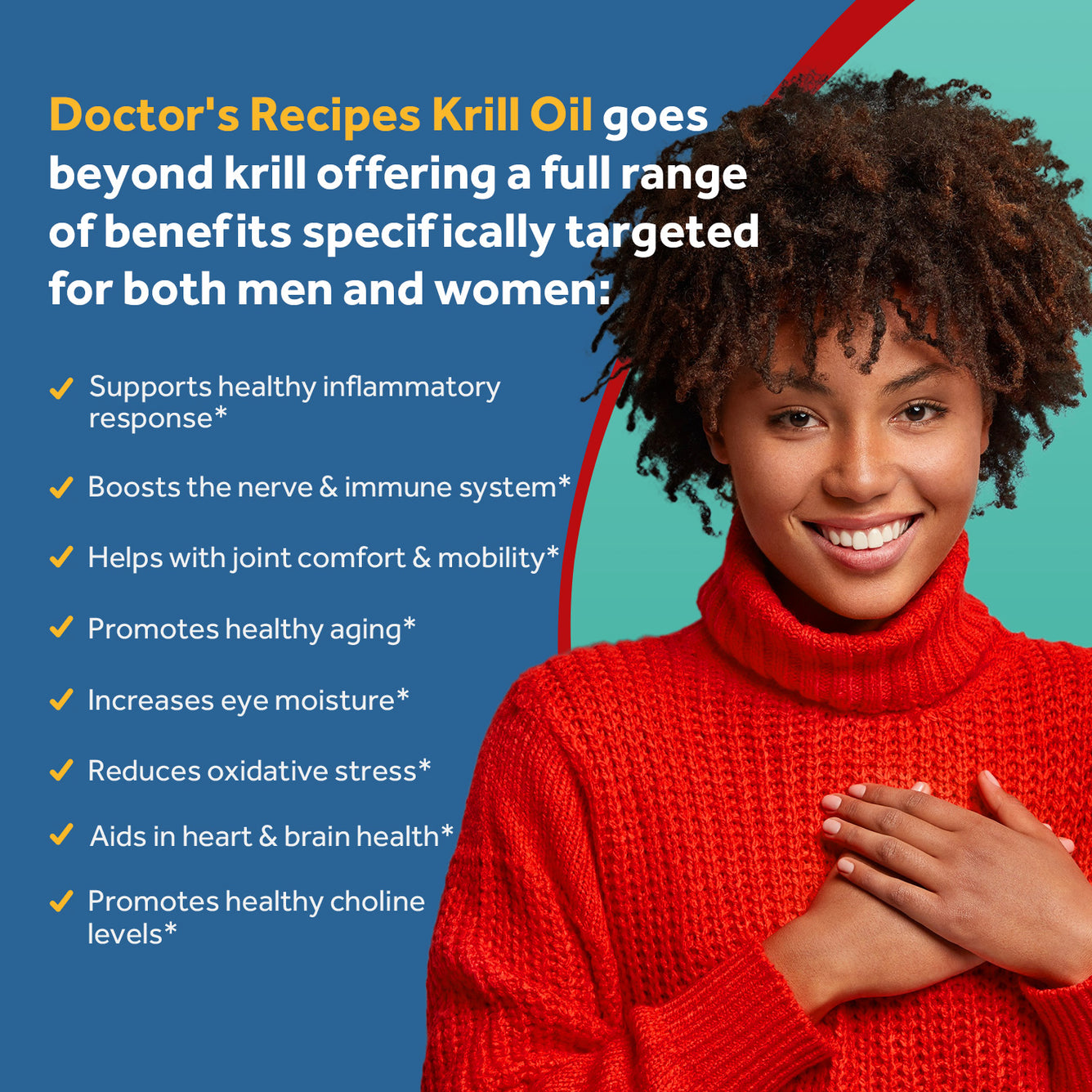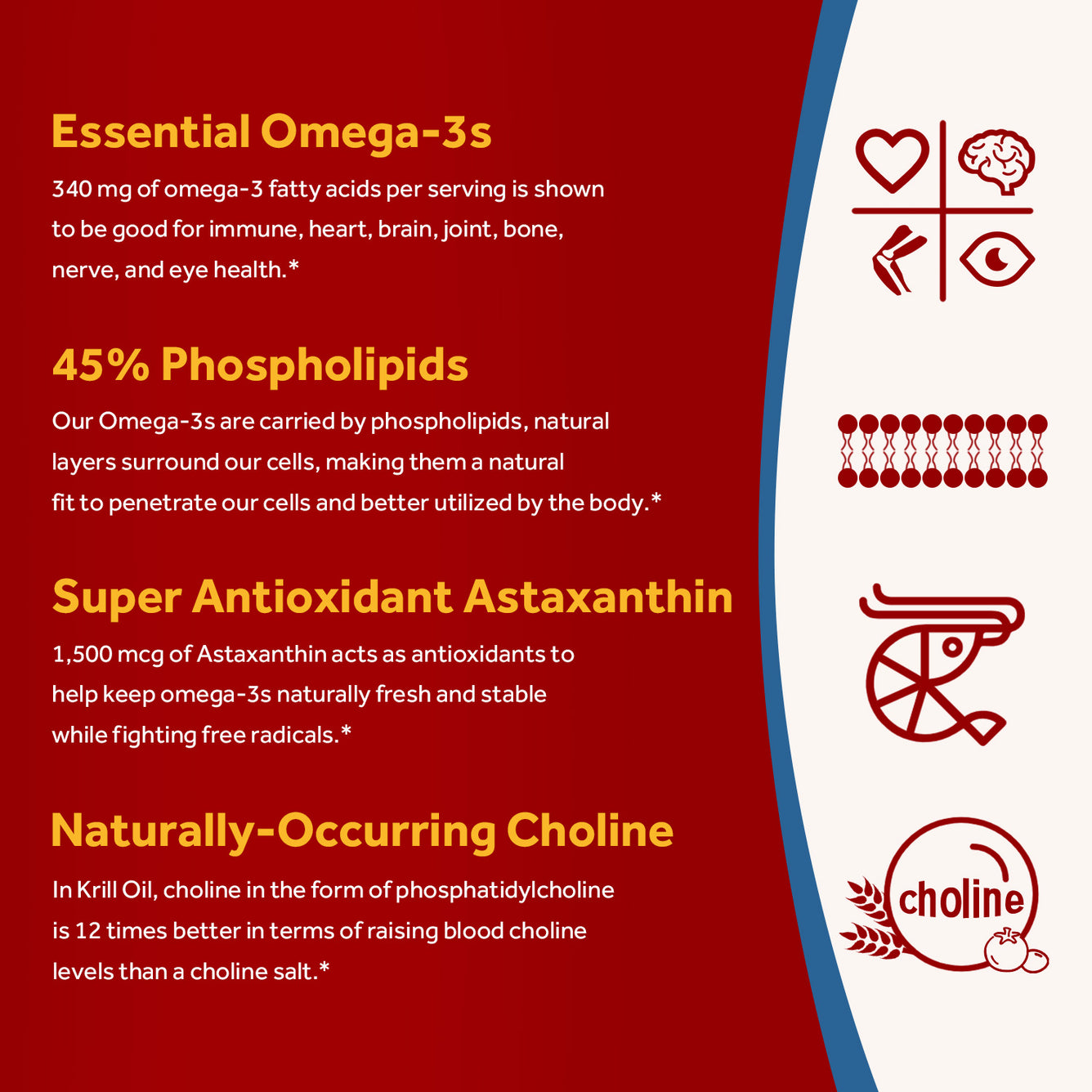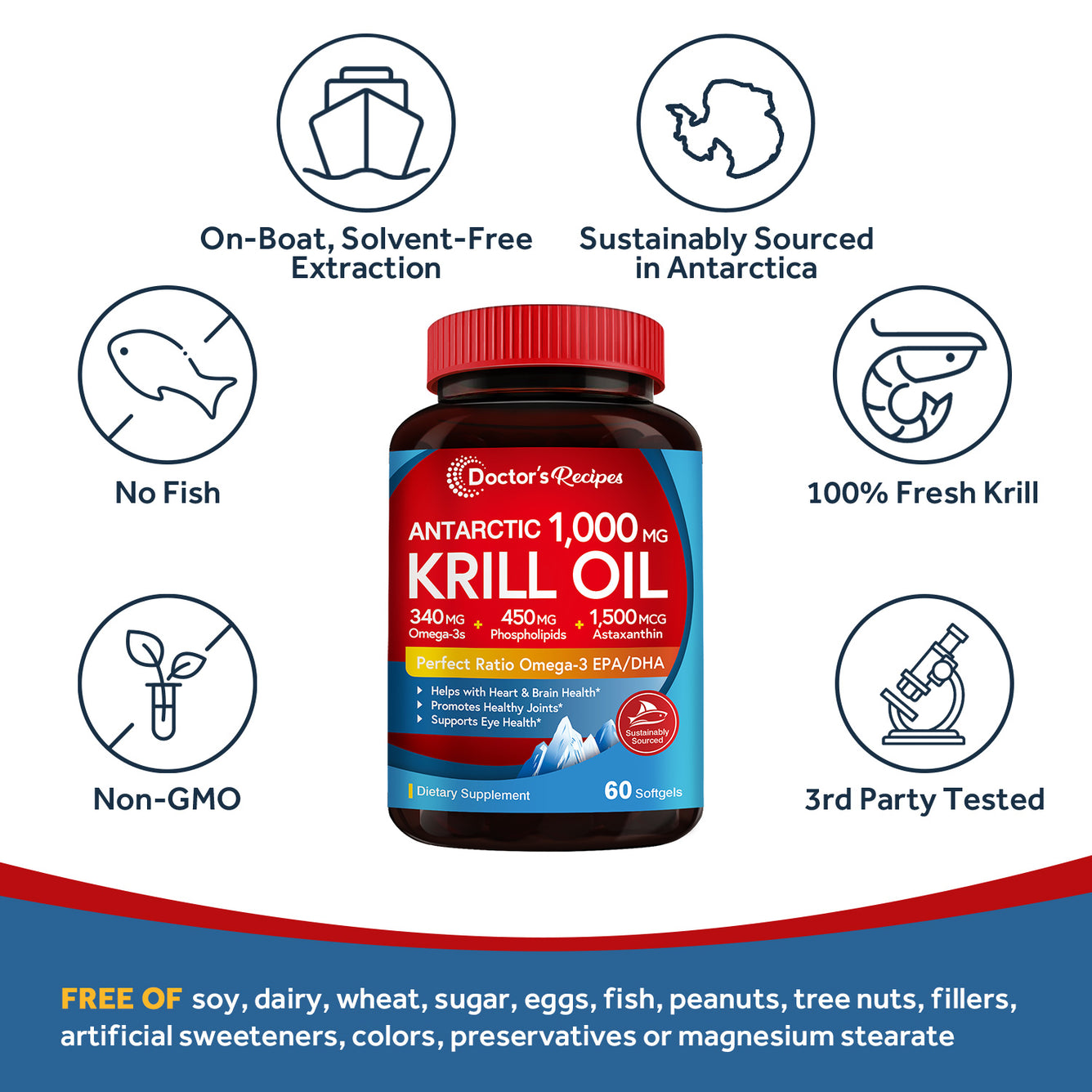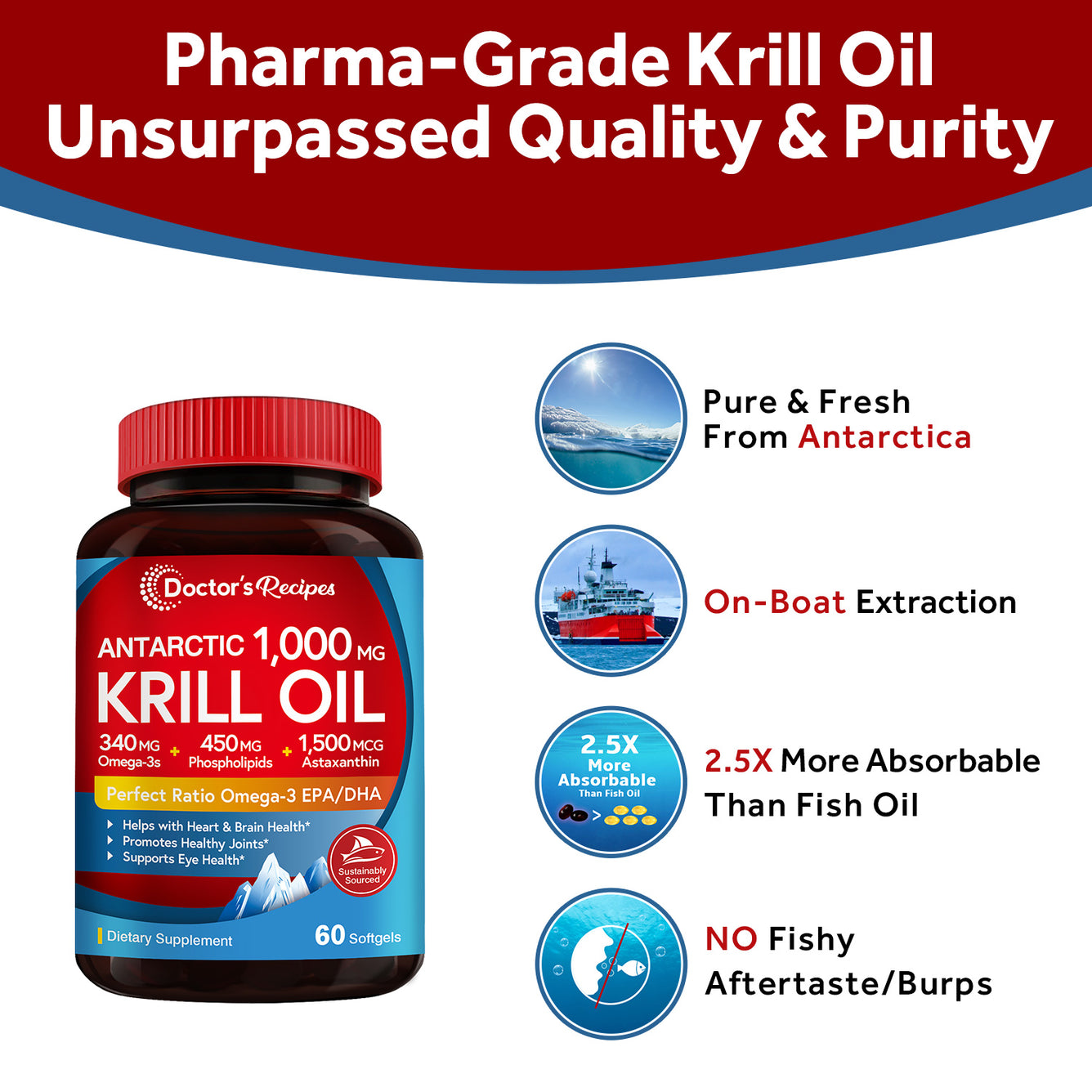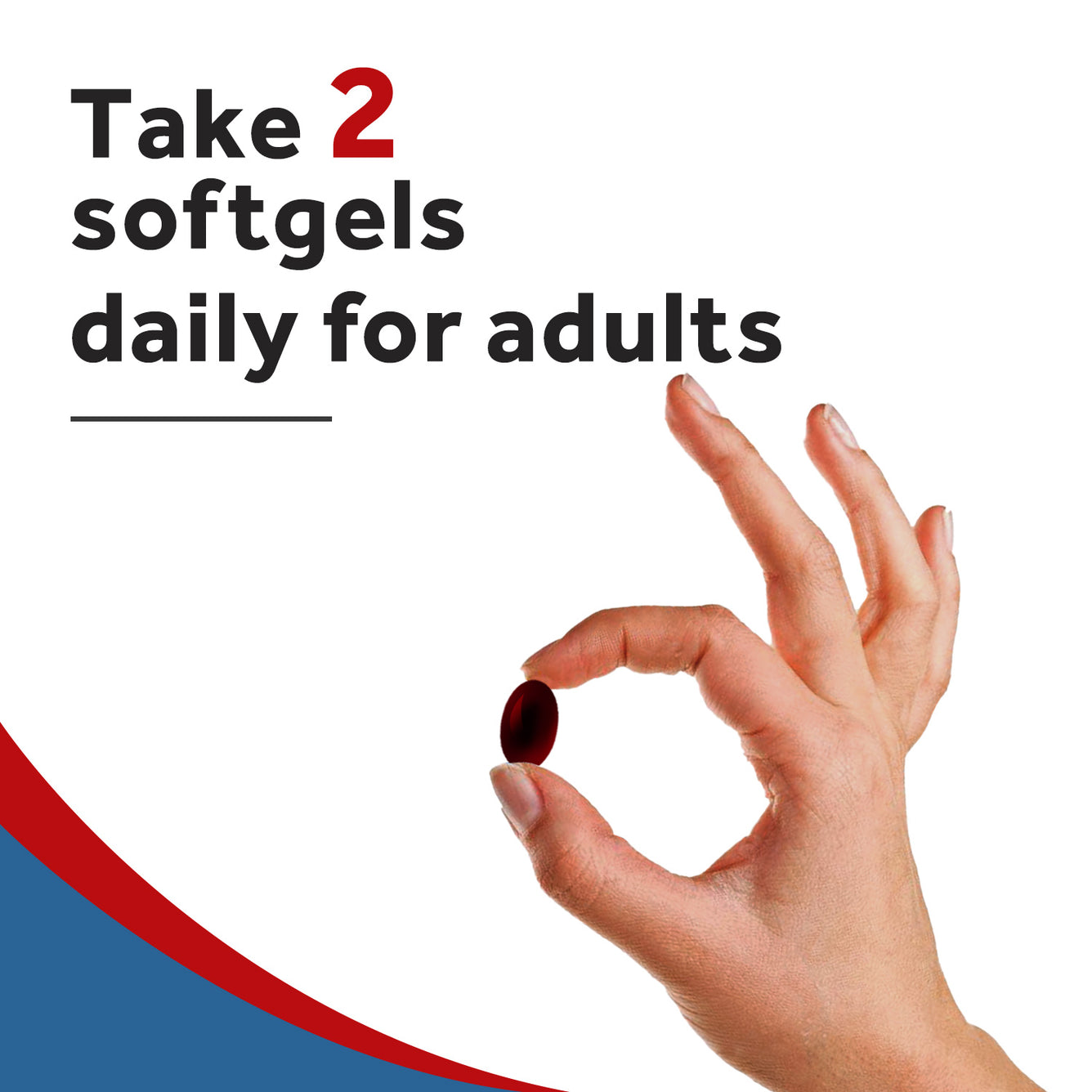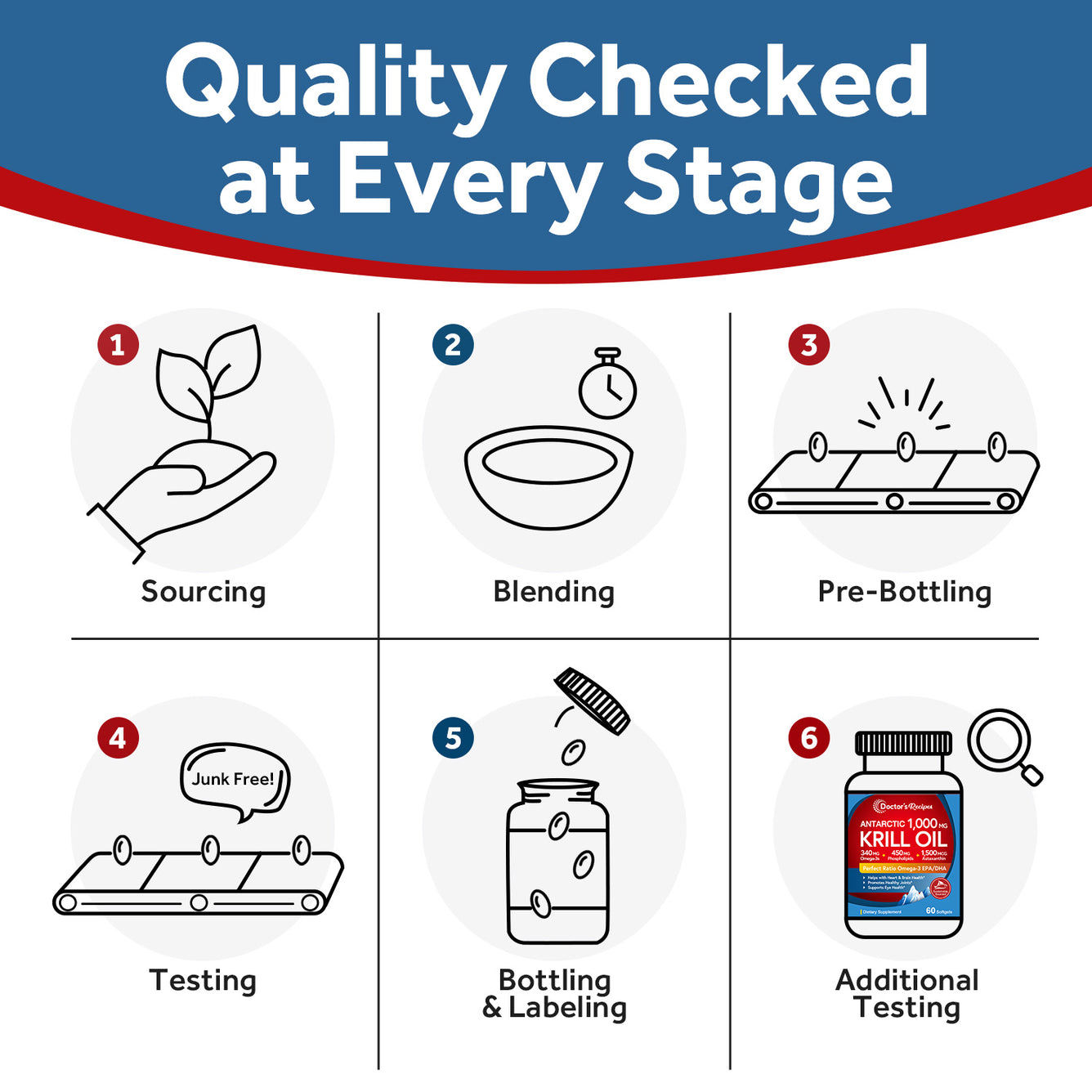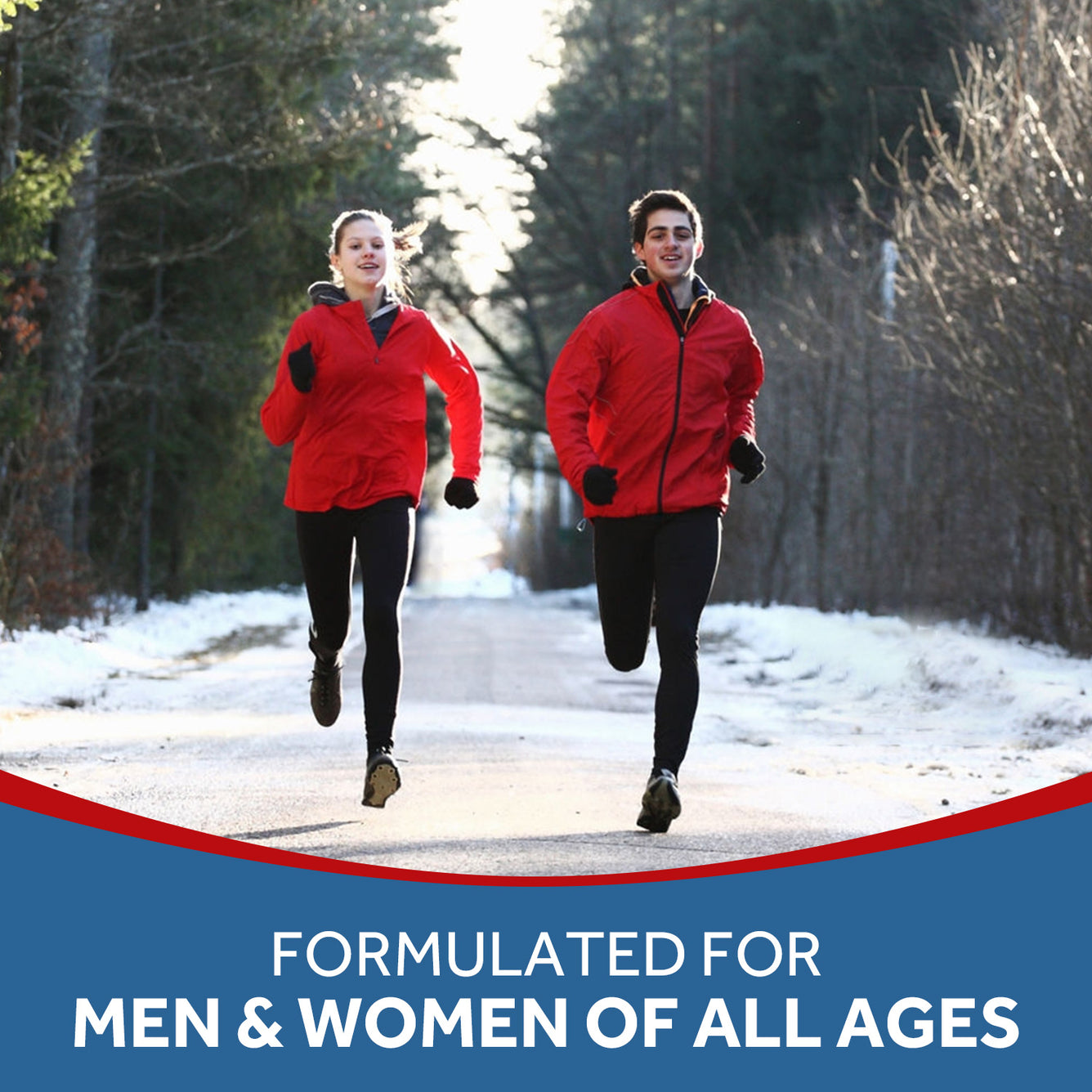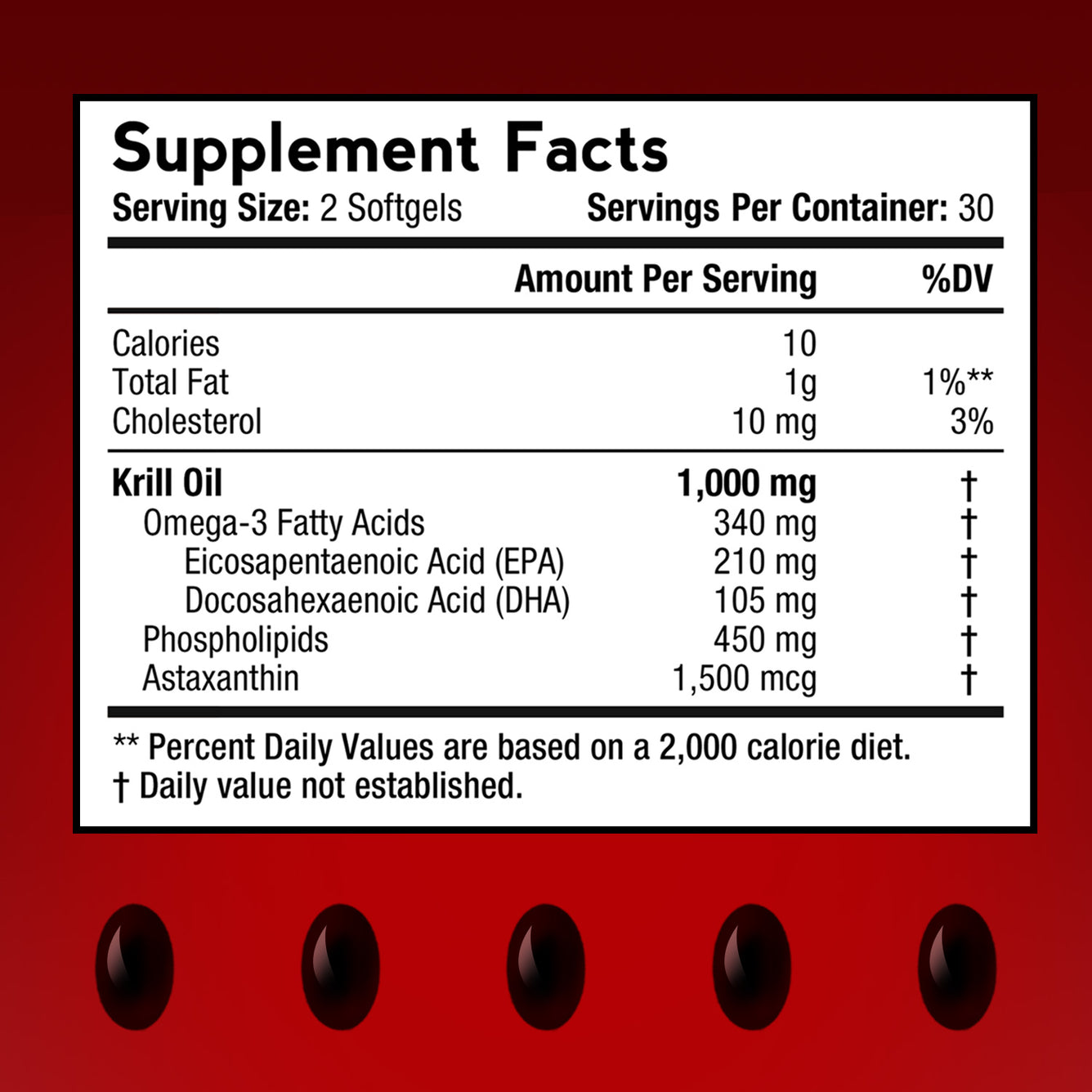 Antarctic Krill Oil
Doctor's Recipes Antarctic Krill Oil, 60 Softgels 1000mg, DHA:EPA at 1:2 Perfect Ratio, 1.5mg Astaxanthin, Clean Extraction, No Fish Taste, Joint, Brain, Heart, Eye Health, Non-GMO, No Fish Gluten Soy
| INGREDIENT | AMOUNT | HELPS SUPPORT |
| --- | --- | --- |
| Krill Oil | 1,000 mg | Anti-Inflammation + Joint + Blood Pressure + Heart + Brain + Cognition + Memory + Eye + Wellness |
Environmentally Friendly
Make it a long-term approach to wellness

Fast and Secure Delivery
Free shipping on orders over $50

Superior Service
Accessible, approachable & responsive

Shop with Confidence
Money back guaranteed
pharma-grade, Omega-rich krill oil
Essential Omega-3s (DHA & EPA)
340 mg of Omega-3 fatty acids per serving has been clinically shown to be good for immune, heart, brain, joint, bone, nerve, and eye health.*
45% Phospholipids
Our Omega-3s are carried by phospholipids - natural layers surround our cells, making them a natural fit to penetrate our cells and better utilized by the body.
Super Antioxidant Astaxanthin
1,500 mcg of Astaxanthin acts as antioxidants to help keep its Omega-3s naturally fresh and stable, while fighting free radicals.*
Naturally-Occurring Choline
In Krill Oil, choline in the form of phosphatidylcholine has been shown to be 12 times better in terms of raising blood choline levels than a choline salt.
Personal Choices
Most Americans (up to 70%) are deficient in essential Omega-3s because they do not eat enough fish. Supplementing extra Omega-3s is of great significance for both cognitive and cardiovascular functions.* Krill oil is unquestionably the greater source of Omega-3s since it contains fewer impurities and is 2.5x more absorbable than fish oil.
High concentration of 340 mg Omega-3s brings great anti-inflammatory power to your achy, crunching knees, hips & shoulders. Carried in phospholipids, our EPA/DHA at a perfect ratio 2:1 is easily utilized by your body, helping keep joints well-lubricated, reduce joint pain, encourage healthy cholesterol levels & blood pressure & promote sharper cognitive ability & better memory.
Professional Solutions
Our Difference
Best Krill Oil Supplement
1,000

MG Pure, Fresh, Sustainable Krill Oil per Serving

Clinically Proven

to Raise Omega-3 Index
105 MG DHA & 210 MG EPA at

Perfect 1:2 Ratio

2.5

X More Absorbable with Phospholipids

1,500

MCG Astaxanthin & Nutrient Choline

On-Boat

,

Solvent-Free

Extraction

NO

Fishy Aftertaste,

NO

Fishy Burps
Michael M.
Verified Purchase
Advised by my dr. Helps with my arthritis pain!

I used to take fish oil for my arthritis pain, but at the advice of my rheumatologist, switched to krill. The omega 3 in Doctor's Recipes krill oil, is really potent - 340 mg omega 3s per serving. And the Astaxanthin is really high too 1.5g! Can you imagine that? Maybe it's because of its potency, it really has reduced the inflammation in my joints, which has reduced my arthritis pain. The krill oil doesn't repeat on you at all, an issue I had with fish oil. It's also coated well, which makes it easy to swallow.
Katherin G.
Verified Purchase
Better than fish oil. More bioefficient. More effective
I like the Krill better personally. I find that they agree with me more and I have a better time digesting them with no "fish burps" or "fish aftertaste". Also, after a recent visit to the DR my blood work came back better after taking the Krill as opposed to when I was on Fish Oil.
Juana R.
Verified Purchase
Recommended by my heart doctor instead of more meds
I am not saying it is better for everyone to start taking Krill Oil or any other over the counter med instead of prescription, but it may not hurt to ask your doctors advice. On a recent visit to my heart doctor, he suggested that I might want to start taking Krill Oil instead of one of the prescription medications I was taking. Krill oil helps prevent inflammation in the body and every single disease known to man begins with undetected inflammation.