Iron Plus
A strong iron complex rather than just iron by itself.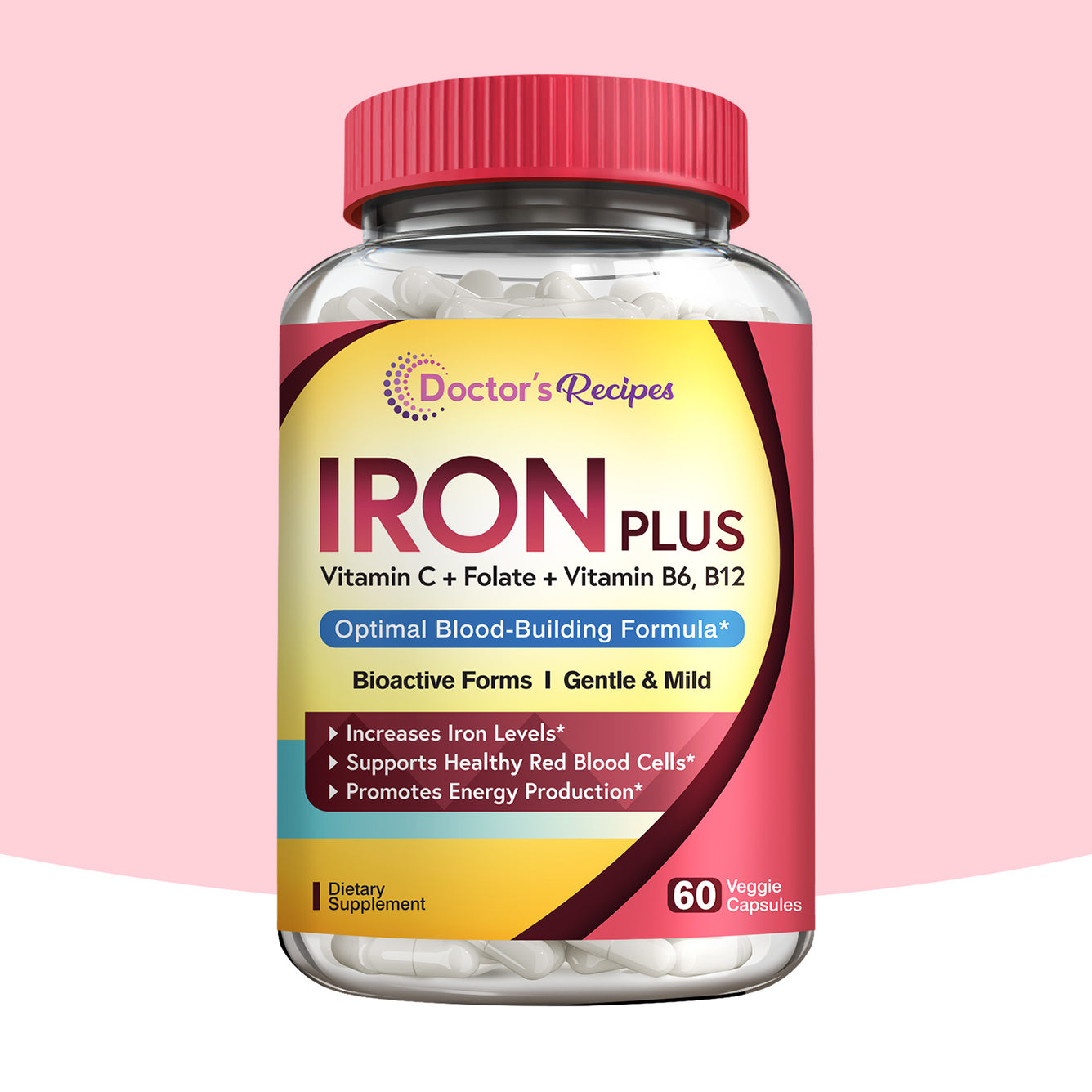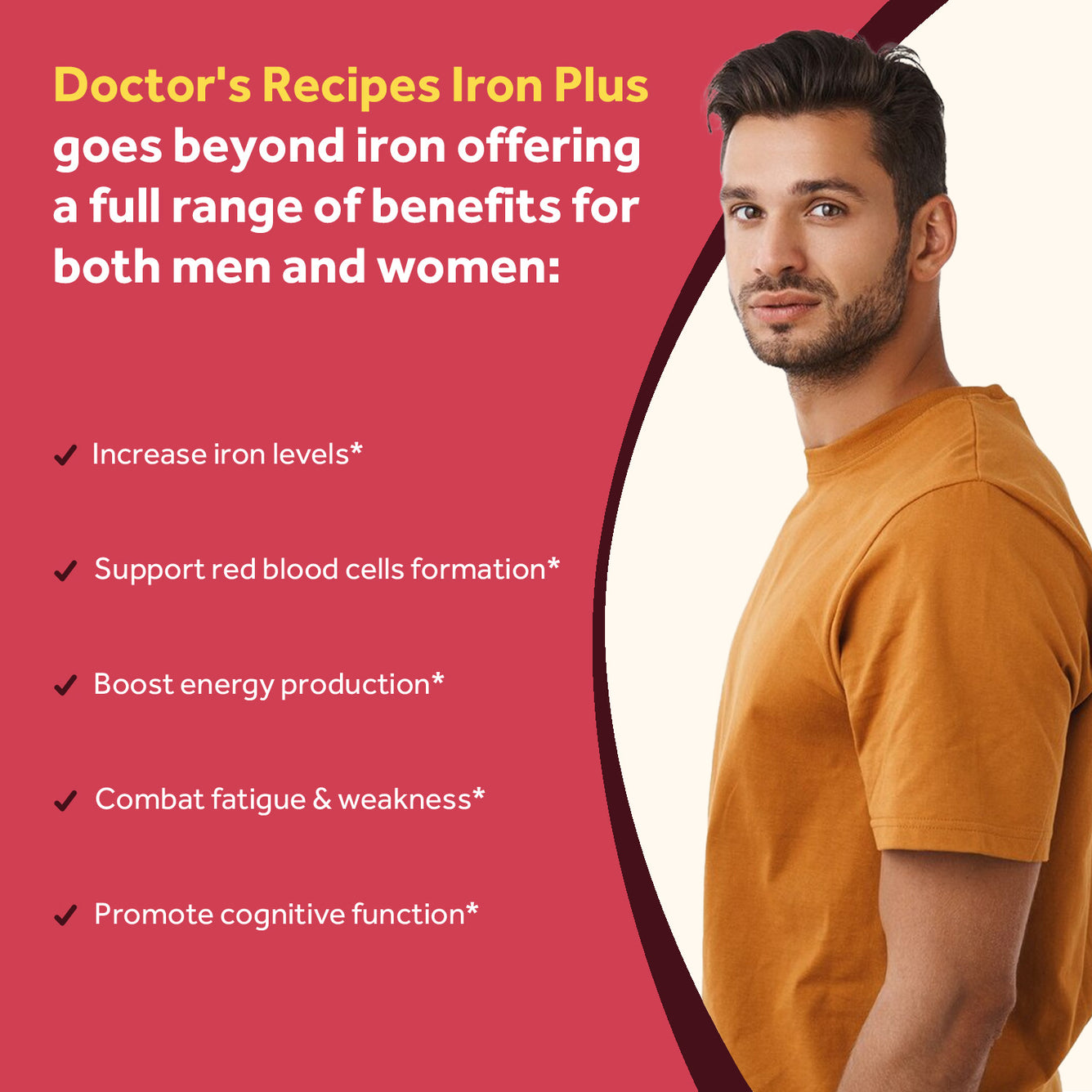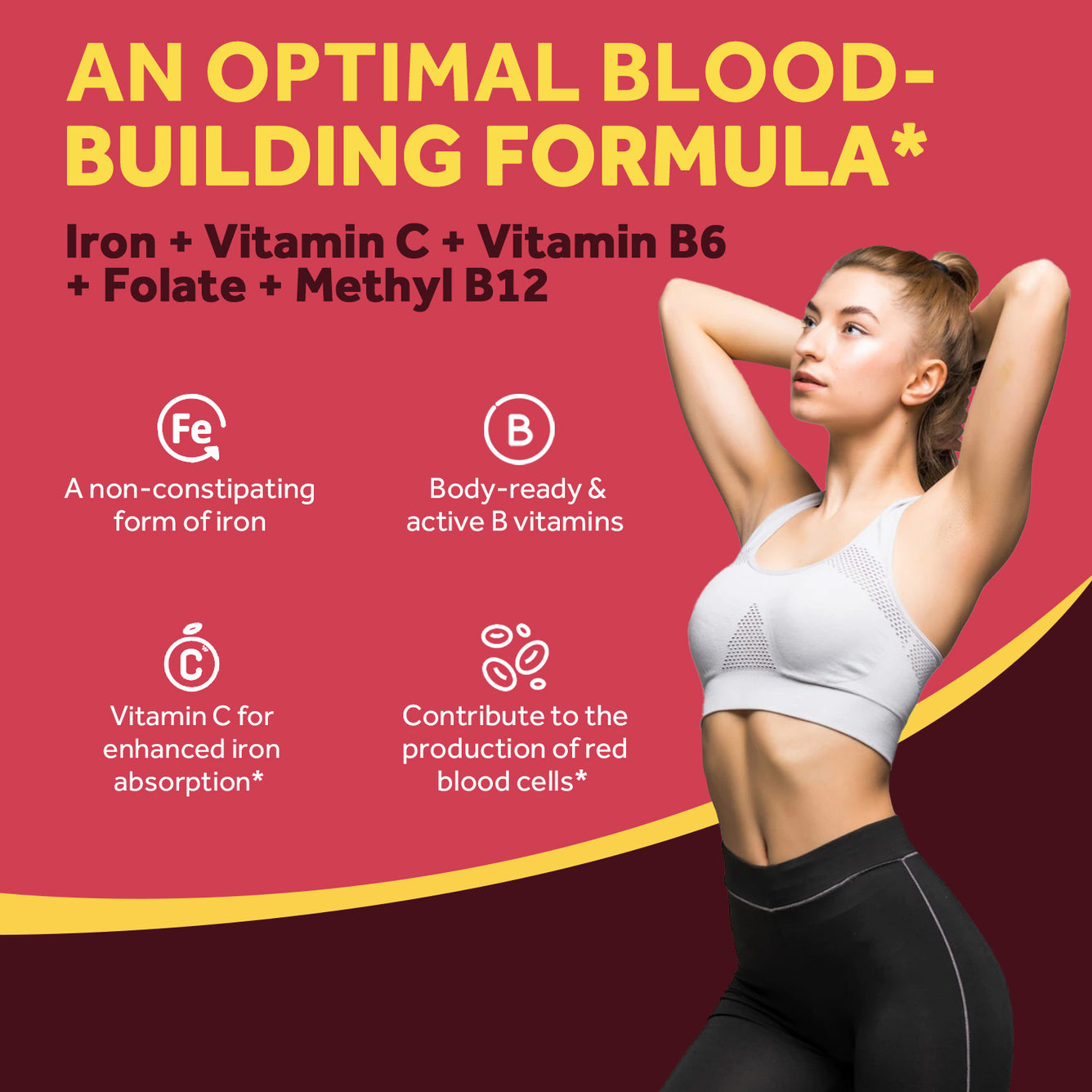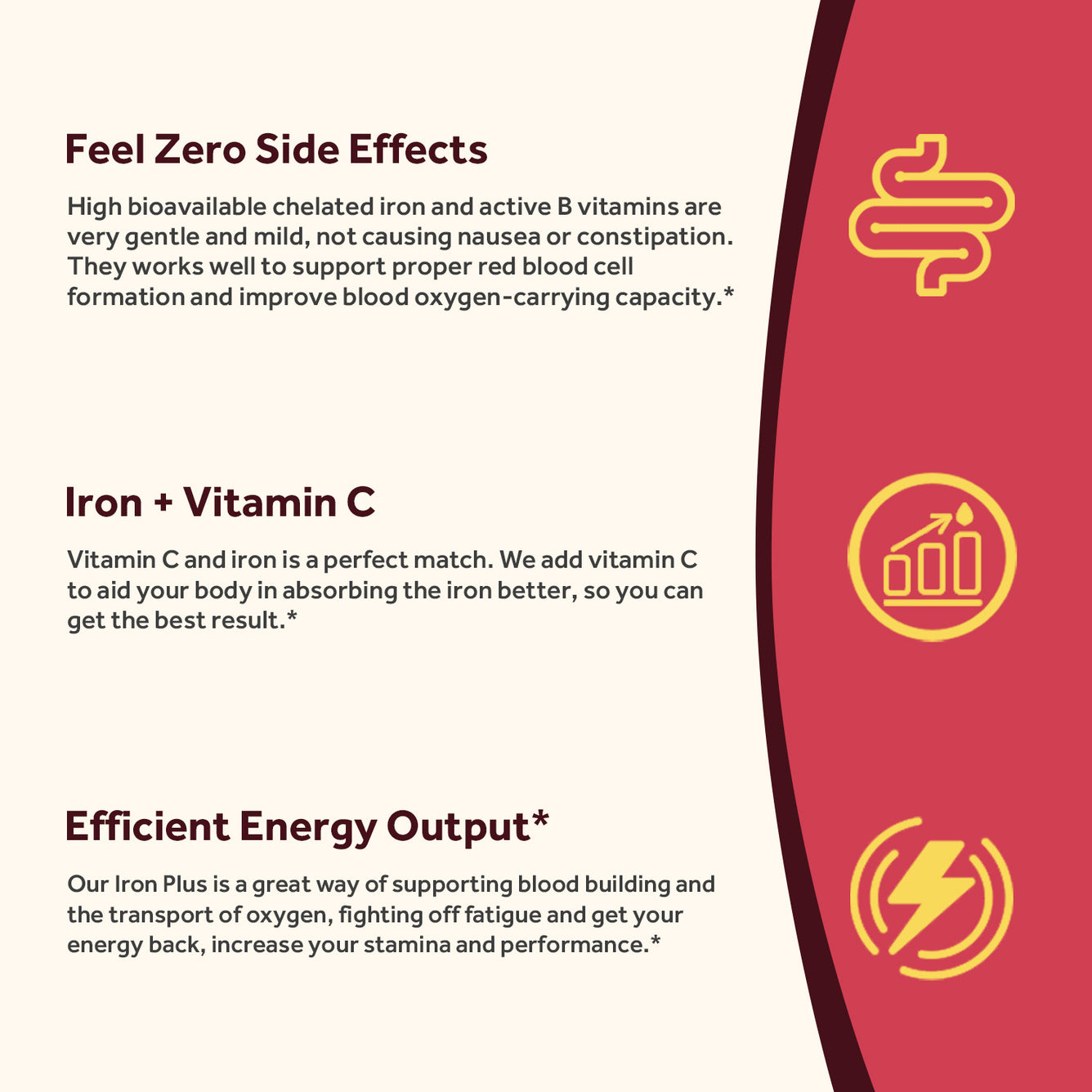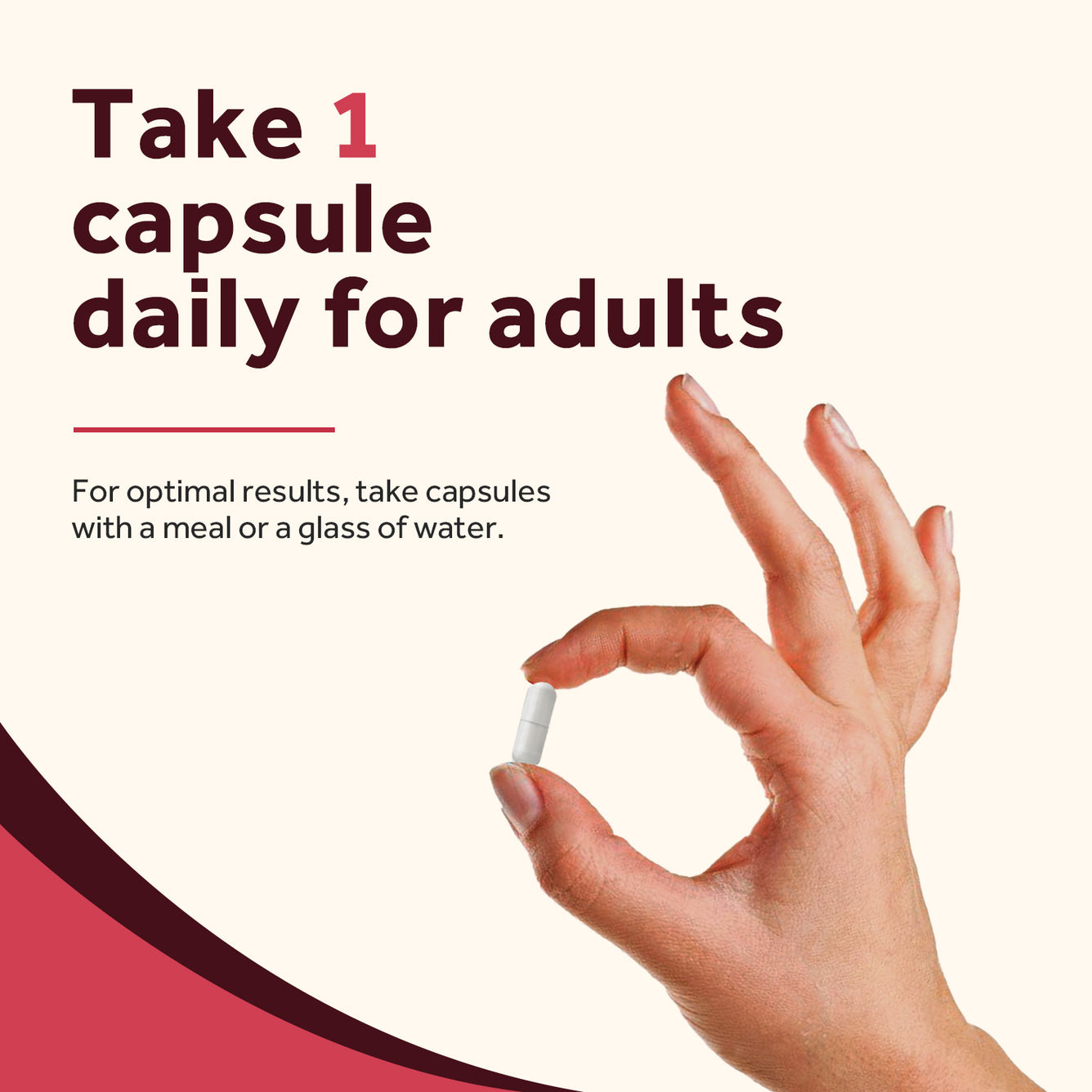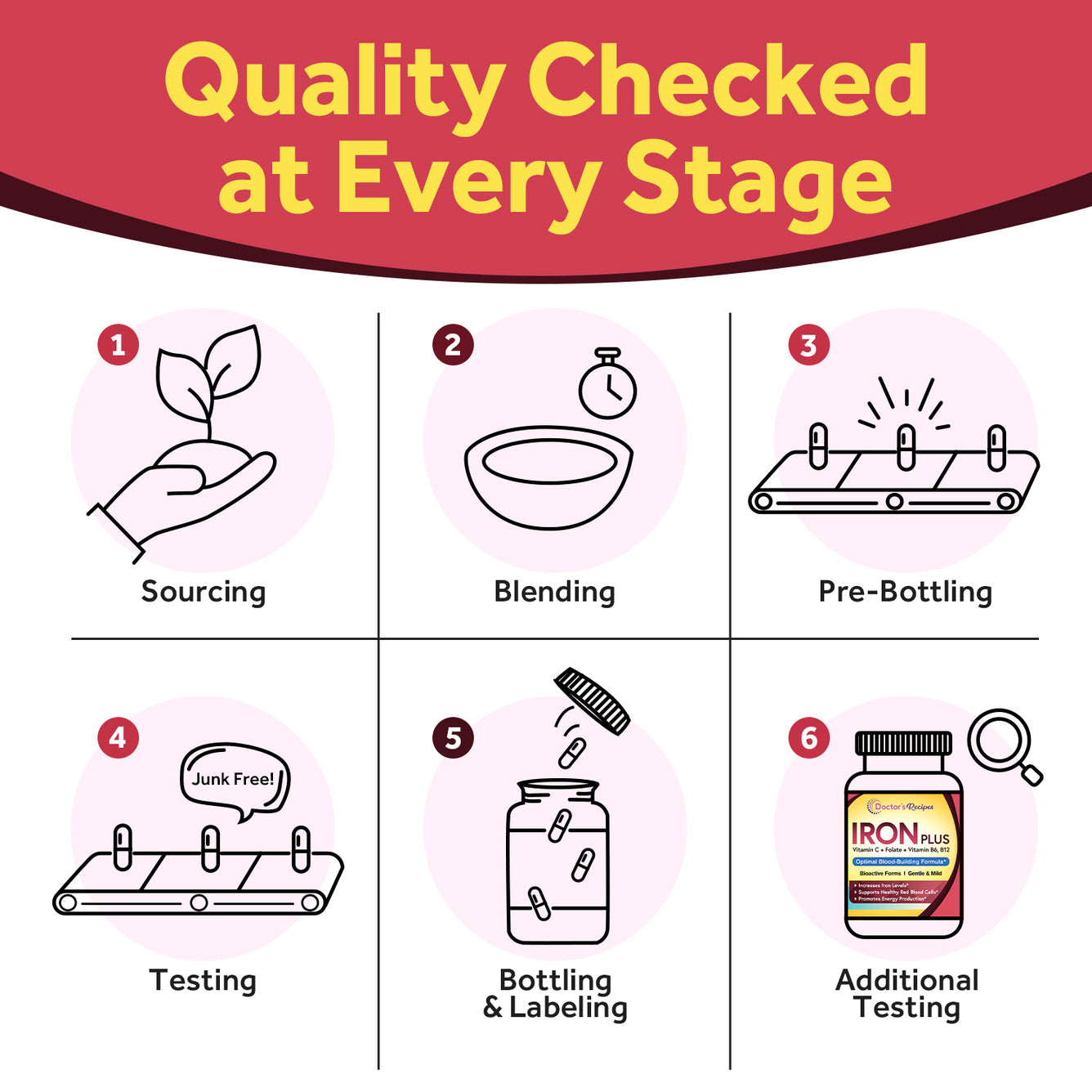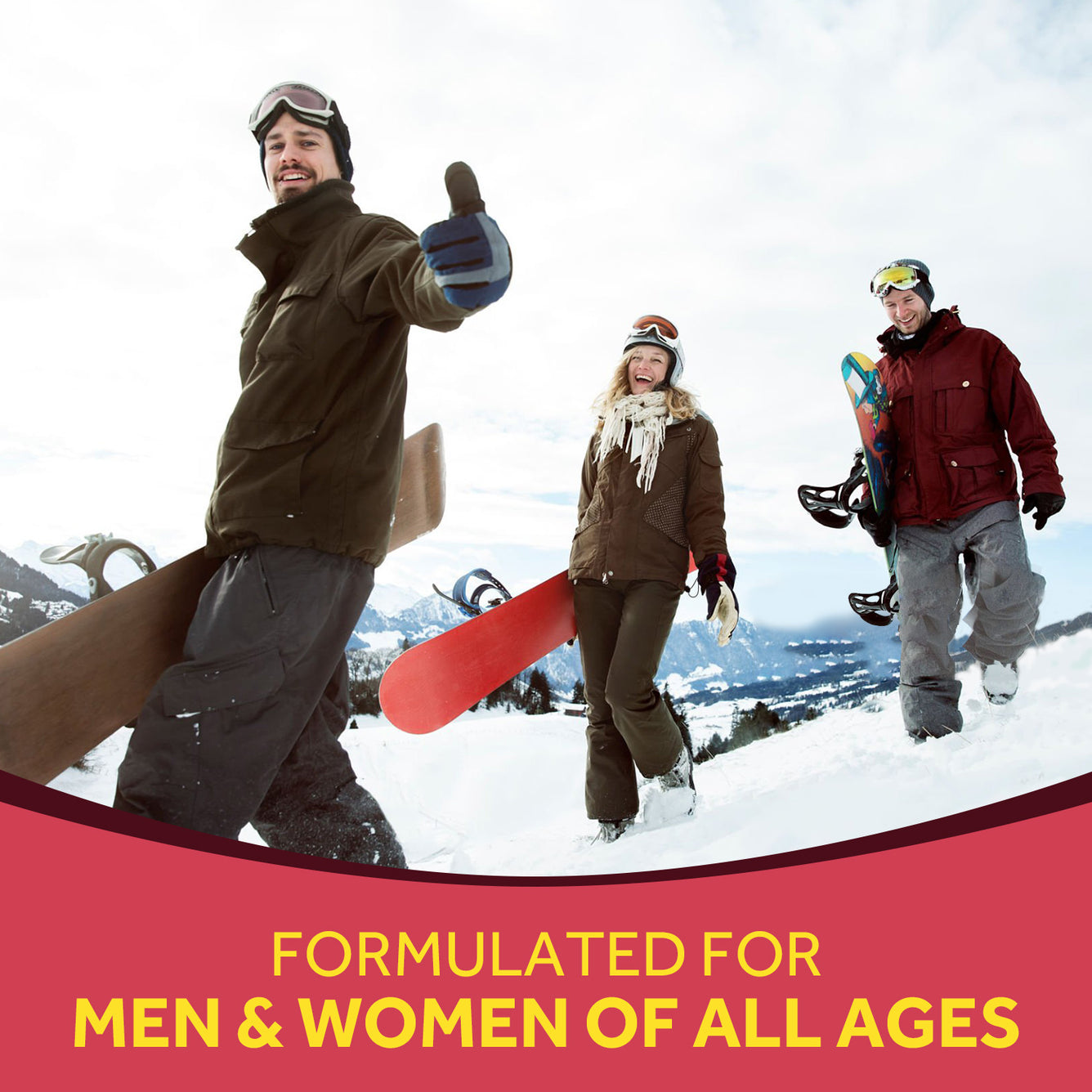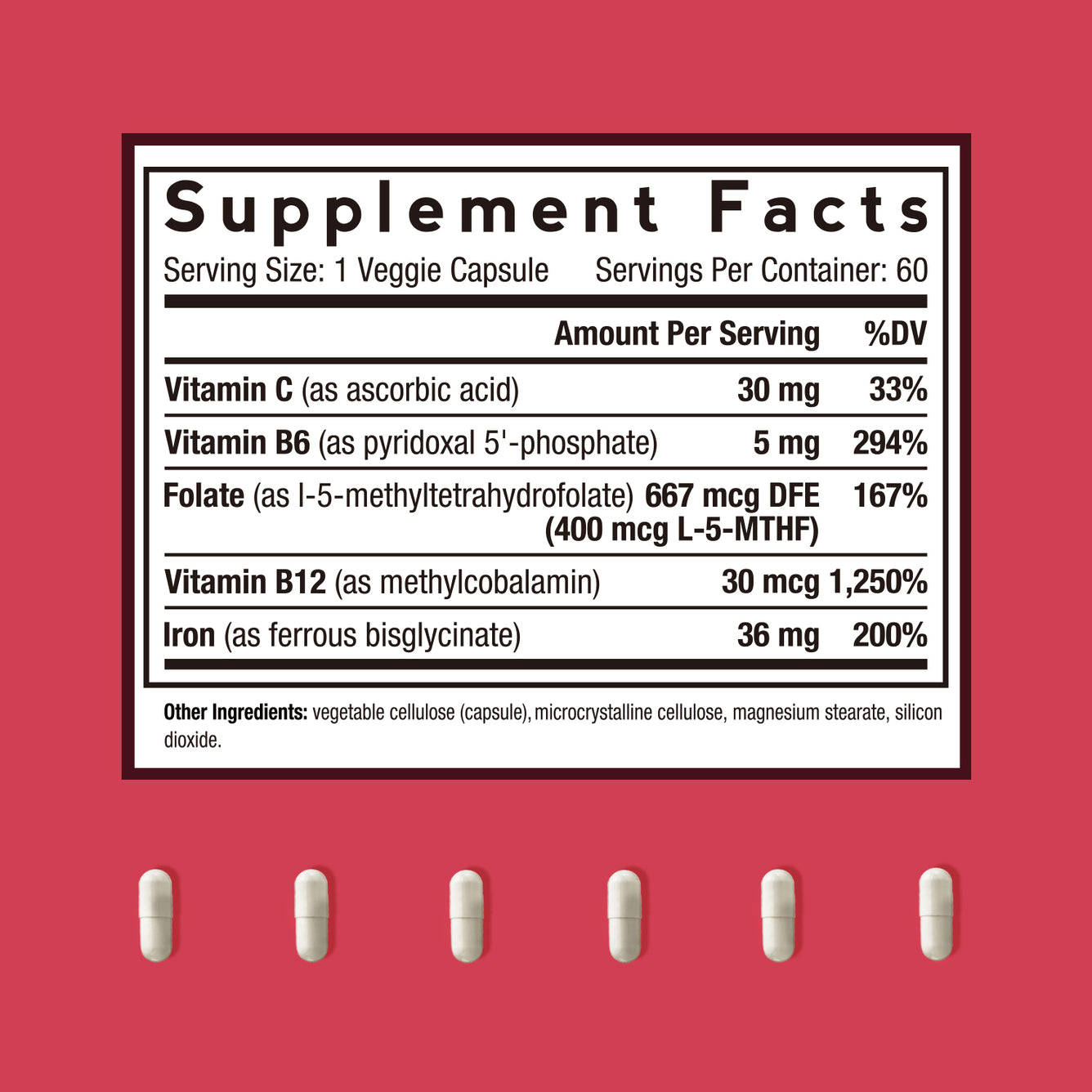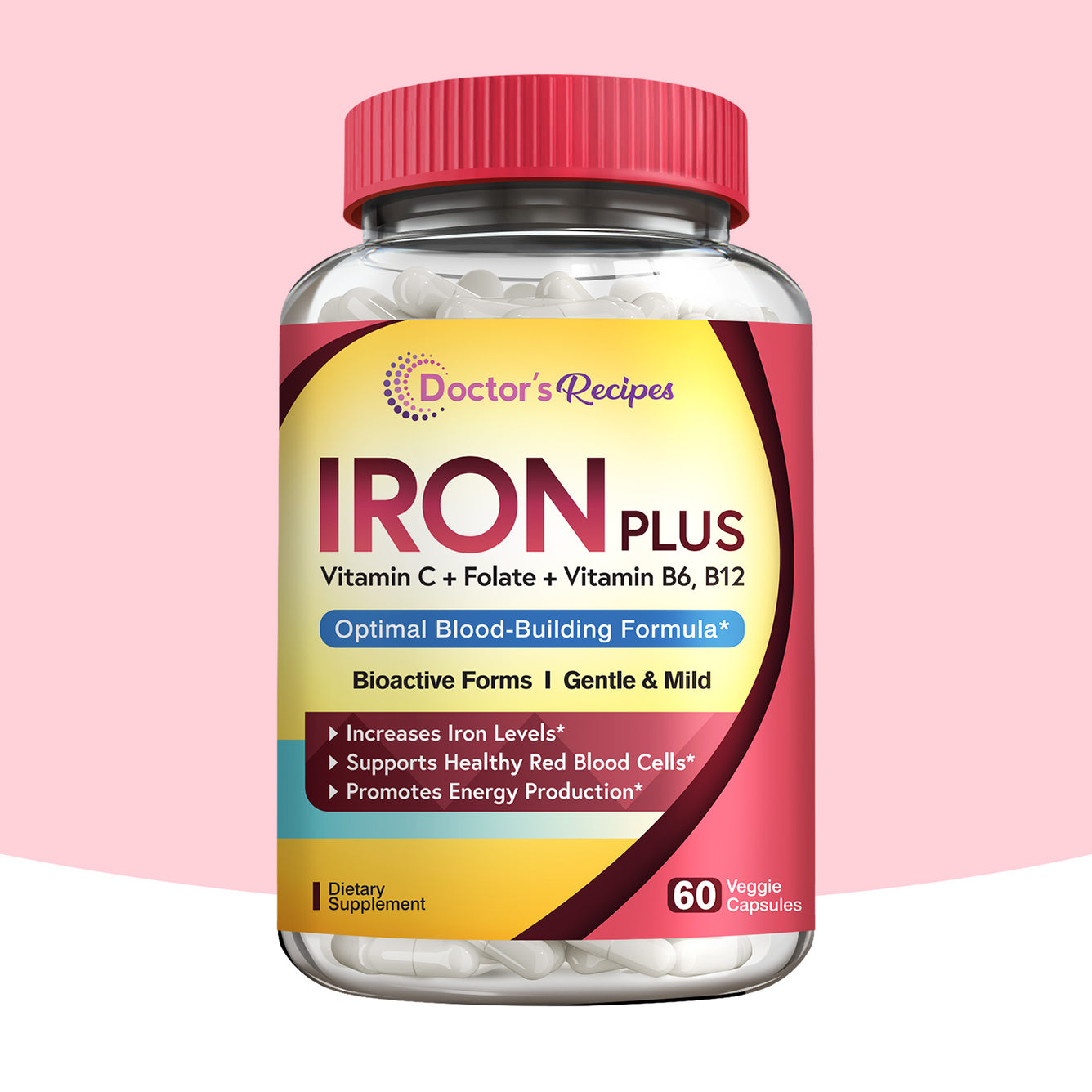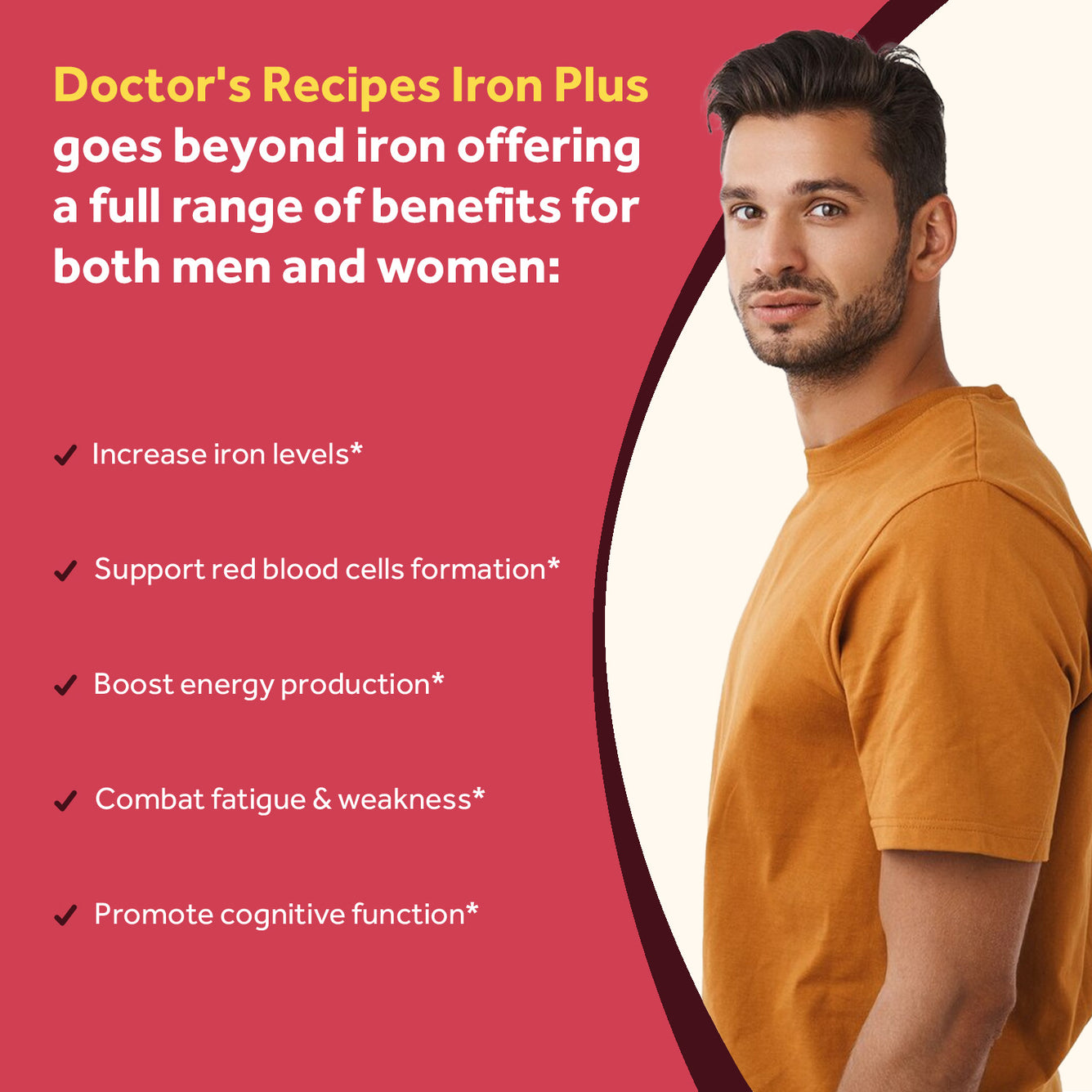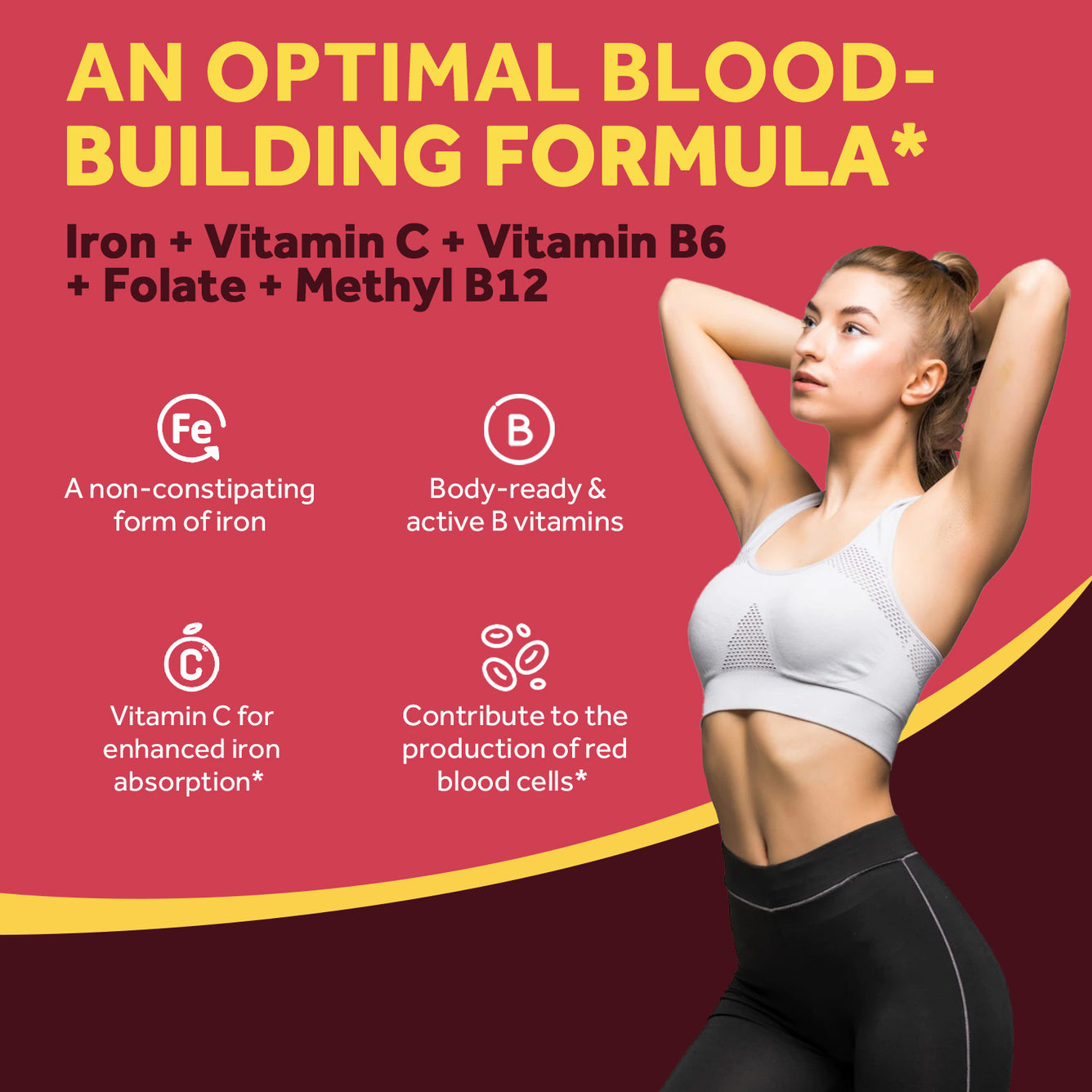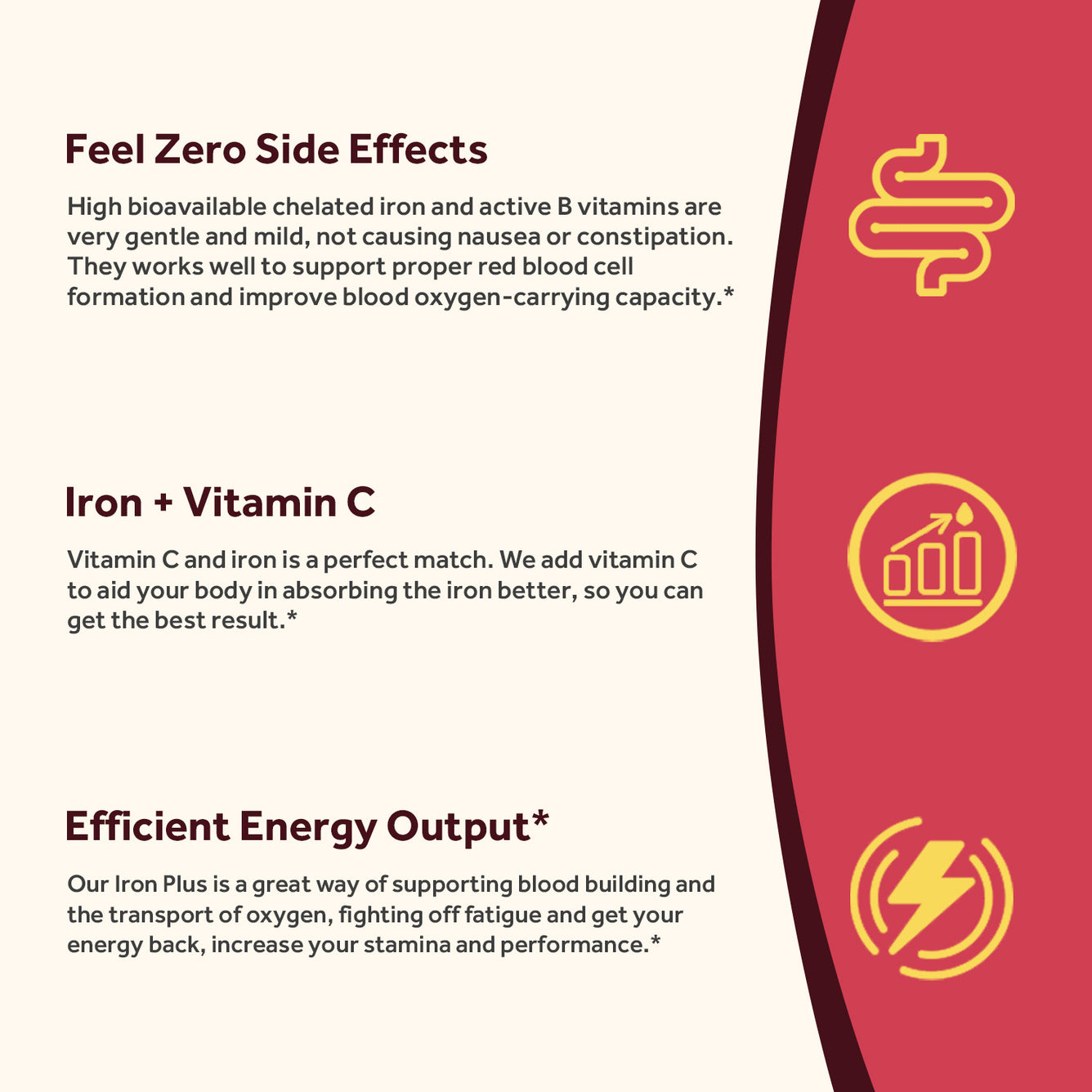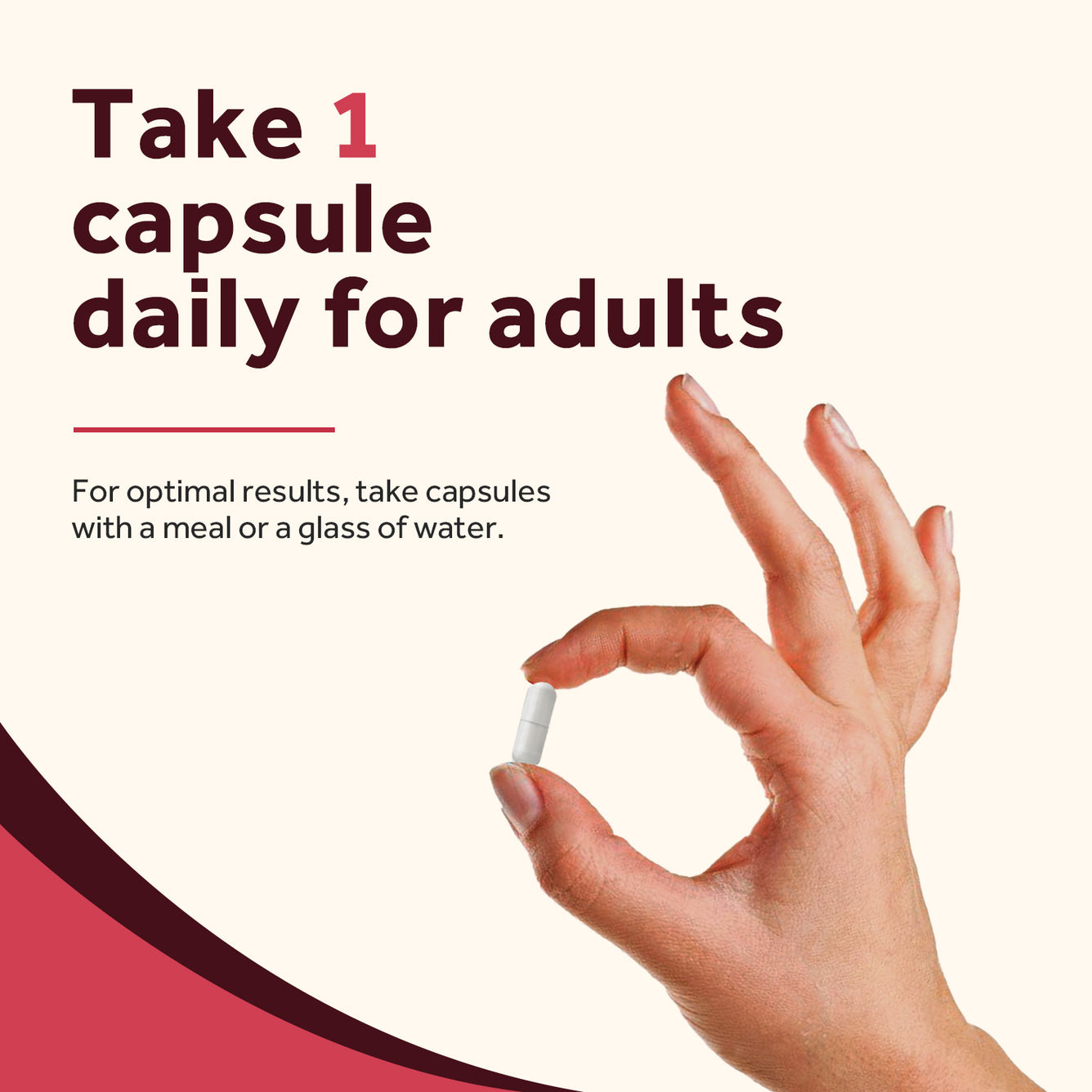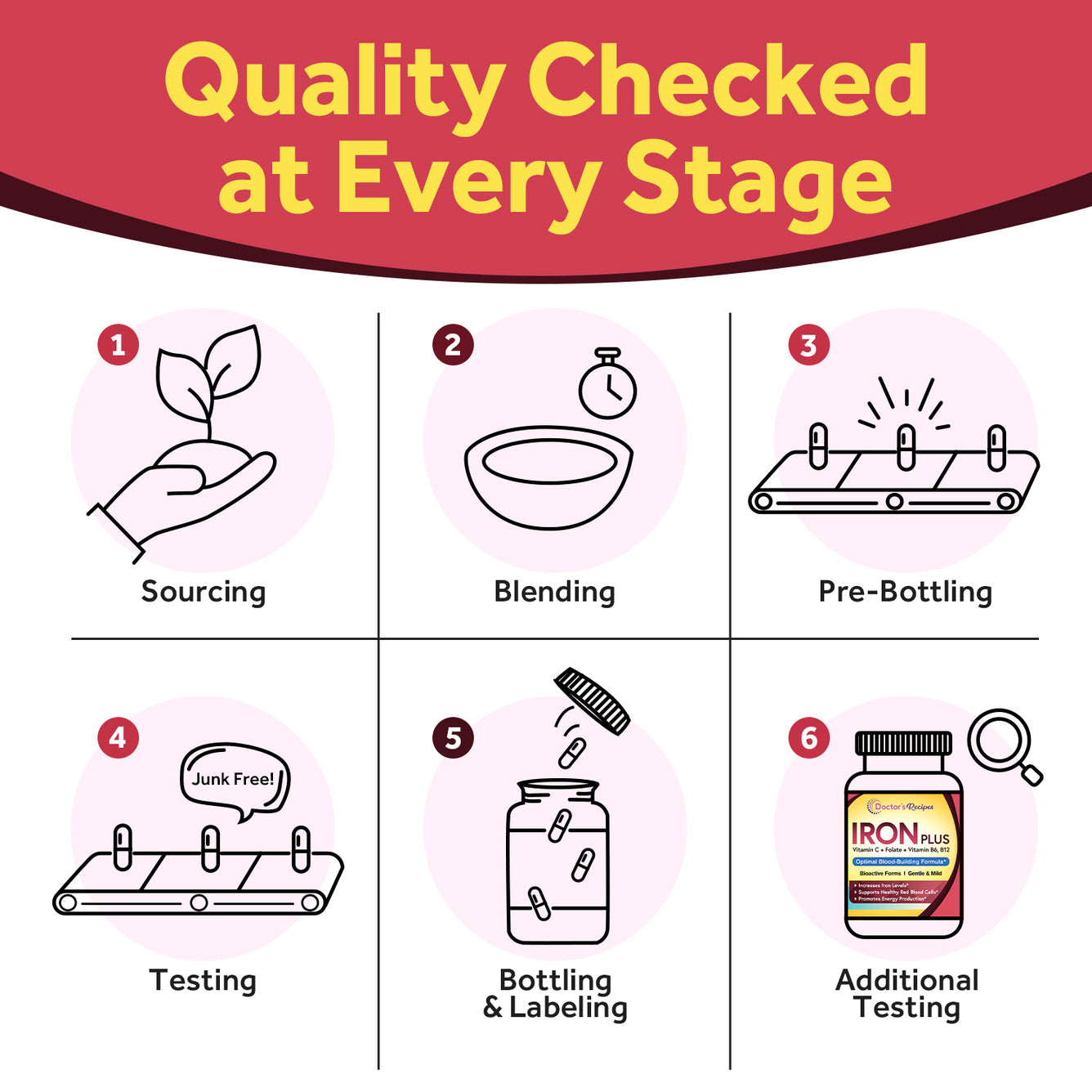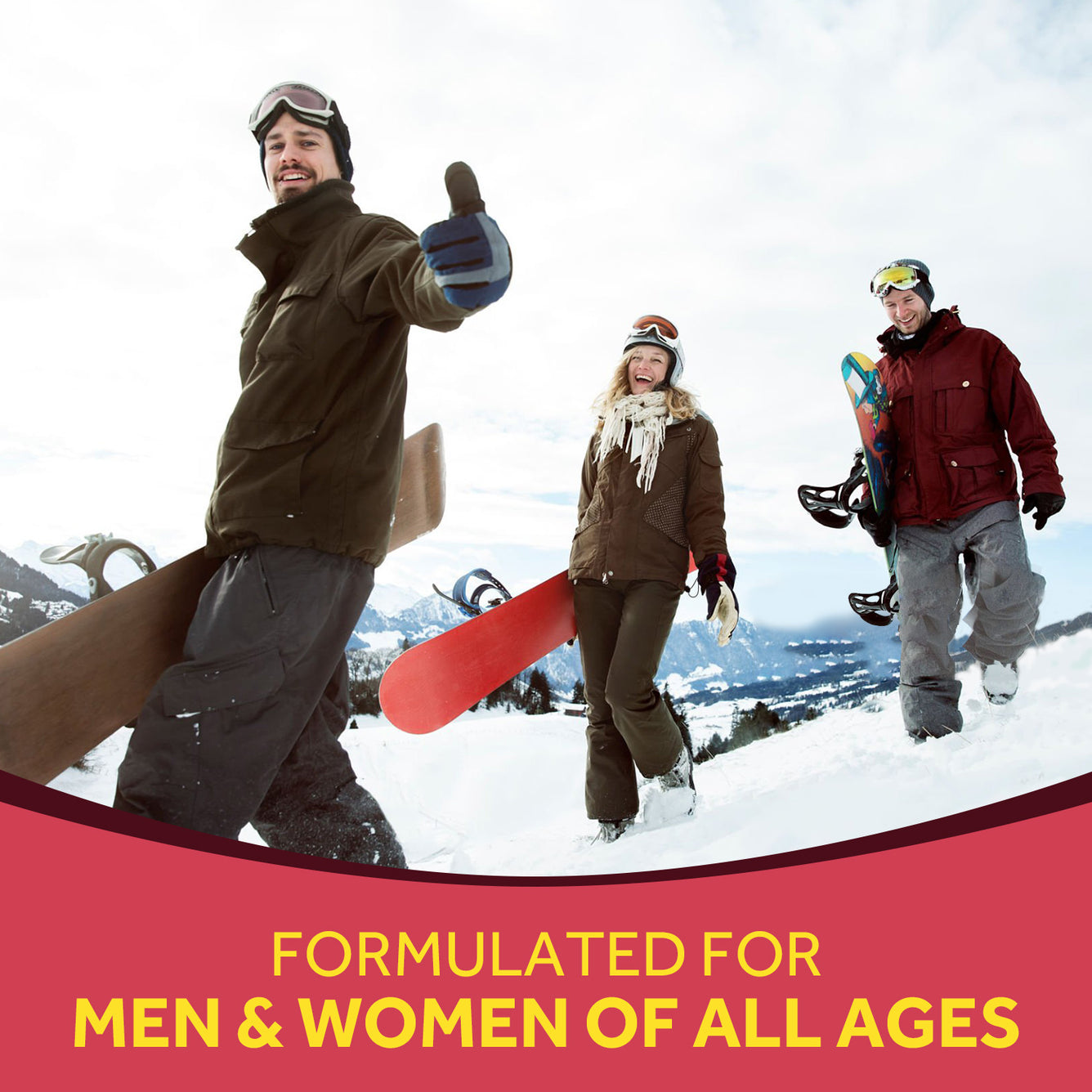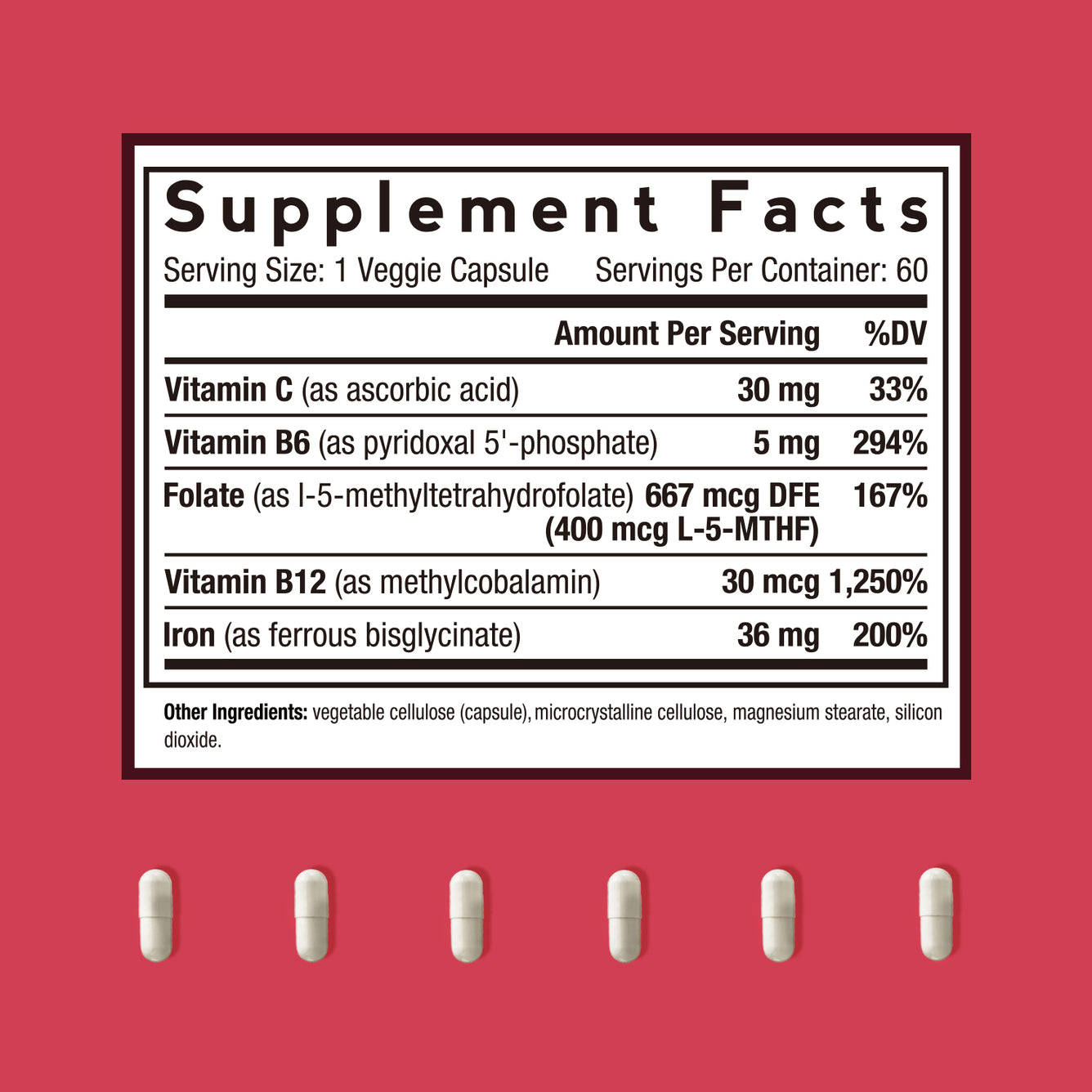 Iron Plus
Doctor's Recipes Blood-Supporting Iron Supplement, 36mg Elemental Iron (Ferrous Bisglycinate), No Constipation, Vitamin C for Enhanced Absorption, with Vitamin B6, Folate & B12, 60 Vegan Capsules
| INGREDIENT | AMOUNT | HELPS WITH |
| --- | --- | --- |
| Elemental Iron (as ferrous bisglycinate) | 36 mg | Replenish iron levels, boost energy & decrease fatigue |
| Vitamin C (as ascorbic acid) | 30 mg | Enhance iron absorption & immune system health |
| Vitamin B6 (as pyridoxal 5'-phosphate) | 5 mg | Contribute to the production of red blood cells |
| Folate (as l-5-methyltetrahydrofolate) | 667 mcg DFE | Contribute to the production of red blood cells |
| Vitamin B12 (as methylcobalamin) | 30 mcg | Contribute to the production of red blood cells |
Environmentally Friendly
Make it a long-term approach to wellness

Fast and Secure Delivery
Free shipping on orders over $50

Superior Service
Accessible, approachable & responsive

Shop with Confidence
Money back guaranteed
An Optimal Blood-Building Formula
A Non-Constipating Form of Iron
Each Capsule delivers 36 mg of elemental iron in a non-constipating form (ferrous bisglycinate), which is less likely to irritate your stomach than other iron forms.
Feel Zero Side Effects
High bioavailable chelated iron and active B vitamins are very gentle and mild, not causing nausea or constipation. They works well to support proper red blood cell formation and improve blood oxygen-carrying capacity.
Enhanced Absorption with Vitamin C
Vitamin C and iron is a perfect match. We add vitamin C to aid your body in absorbing the iron better, so you can get the best result.
Efficient Energy Output
Our Iron Plus is a great way of supporting blood building and the transport of oxygen, fighting off fatigue and get your energy back, increase your stamina and performance.
Personal Choices
Low iron levels are common nutritional deficiency in the U.S., and they can cause symptoms such as tiredness, poor concentration, and frequent bouts of illness. According to figures from the CDC (Centers for Disease Control and Prevention), about 10% of women are iron deficient.
Doctor's Recipes Iron Plus is a strong iron complex rather than just iron by itself. It is formulated to address different types of anemia caused by iron, folate or vitamin B12 deficiency. With iron plus vitamin C, vitamin B6, B9 & B12, this optimal combination is available in one easy-to-swallow veggie capsule — a convenient way to give you (especially menstruating girls, pregnant women, vegans and vegetarians, athletes) healthy blood support and efficient energy output.
Professional Solutions
OUR DIFFERENCE
An Optimal Iron Complex
1 Veggie Capsule = 36mg Iron + 30mg Vitamin C + 5mg Vitamin B6 + 667mcg DFE Folate + 30mcg Vitamin B12

A Non-Constipating Form of Iron

Body-Ready & Active B Vitamins

Contribute to the Production of Red Blood Cells

Vitamin C for Enhanced Iron Absorption

Easy-to-Swallow Vegetable Capsules

No Nausea & No Stomach Issues
Paul B.
Verified Purchase
I started taking these a few months ago and I went from having very little energy to finally feeling like a human being! My hemoglobin and iron levels are back to normal range. I start actually having the motivation and energy to workout now. This product deserves a thumbs up!
Tess G.
Verified Purchase
My bloodwork showed significant improvement after taking Doctor's Recipes Iron Plus for three months. It is in capsule form - not a pill. They are easy to swallow and don't cause stomach upset, nor constipation or diarrhea.
Annie M.
Verified Purchase
I have tried lots of different iron supplements, but they all gave me GI trouble. I have zero side effects with this one. I also like the inclusion of B vitamins in this product. Highly recommend, especially if you have experienced gastrointestinal issues with other products.