ONE A Day for Active Men
GENDER-SPECIFIC formula targeting men's health and wellness.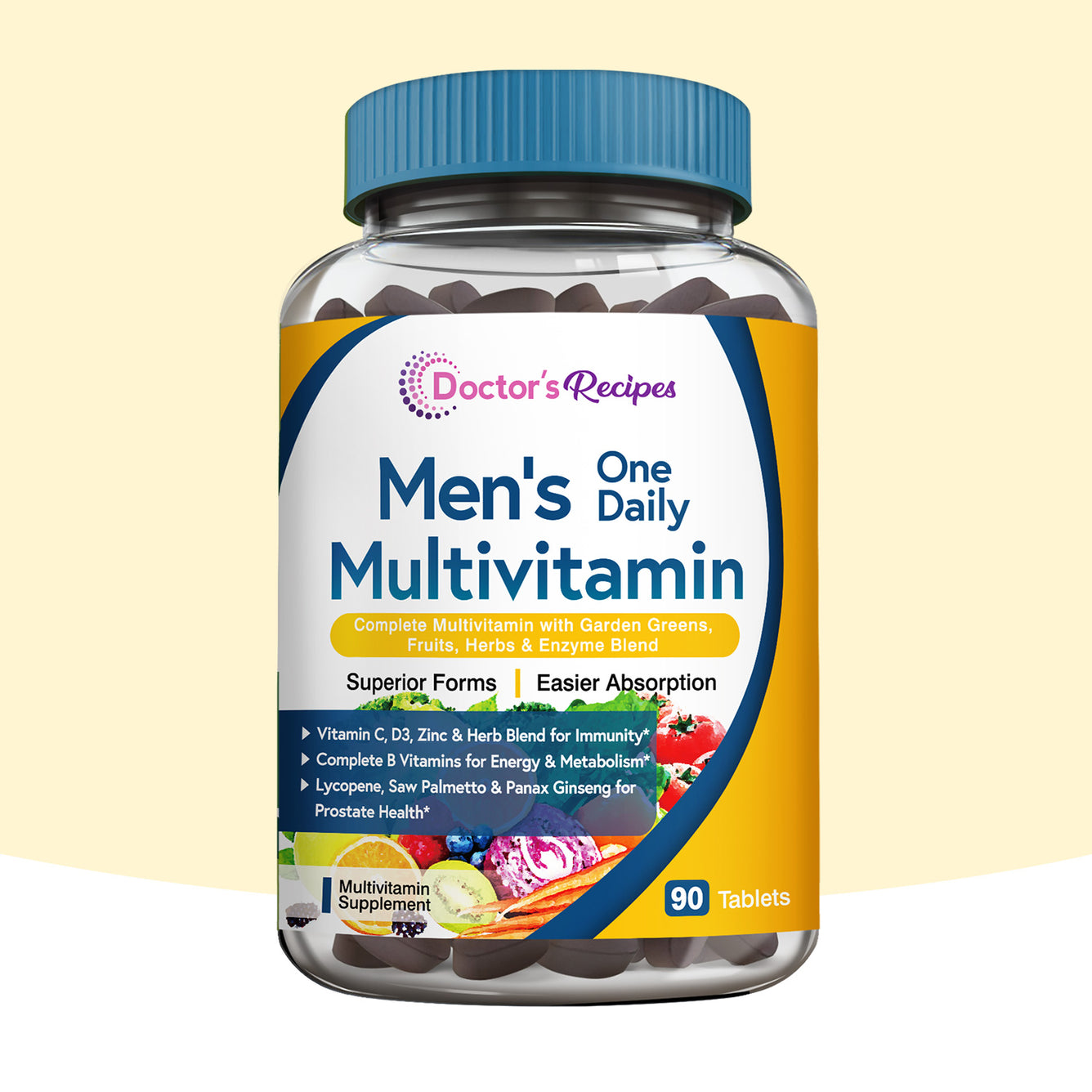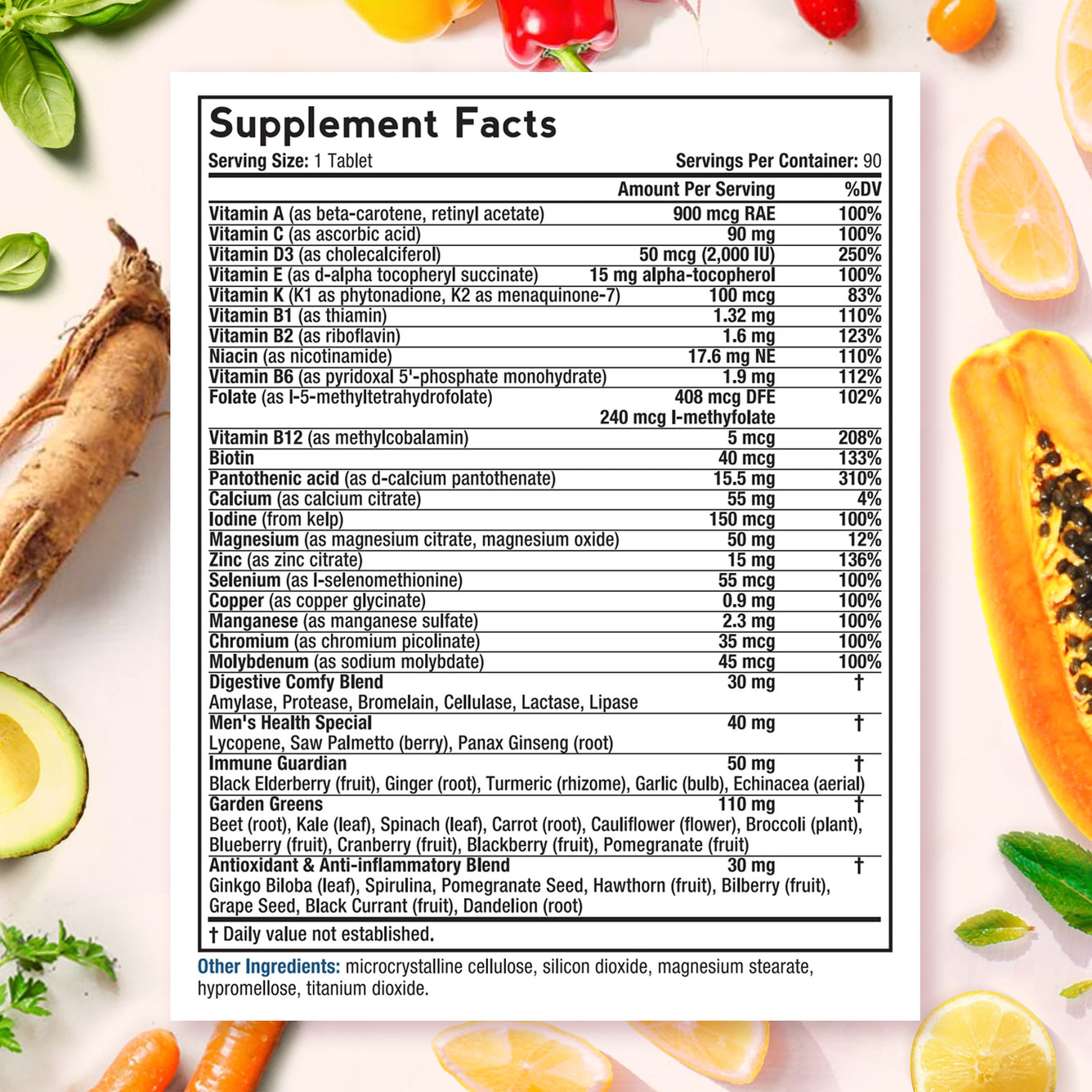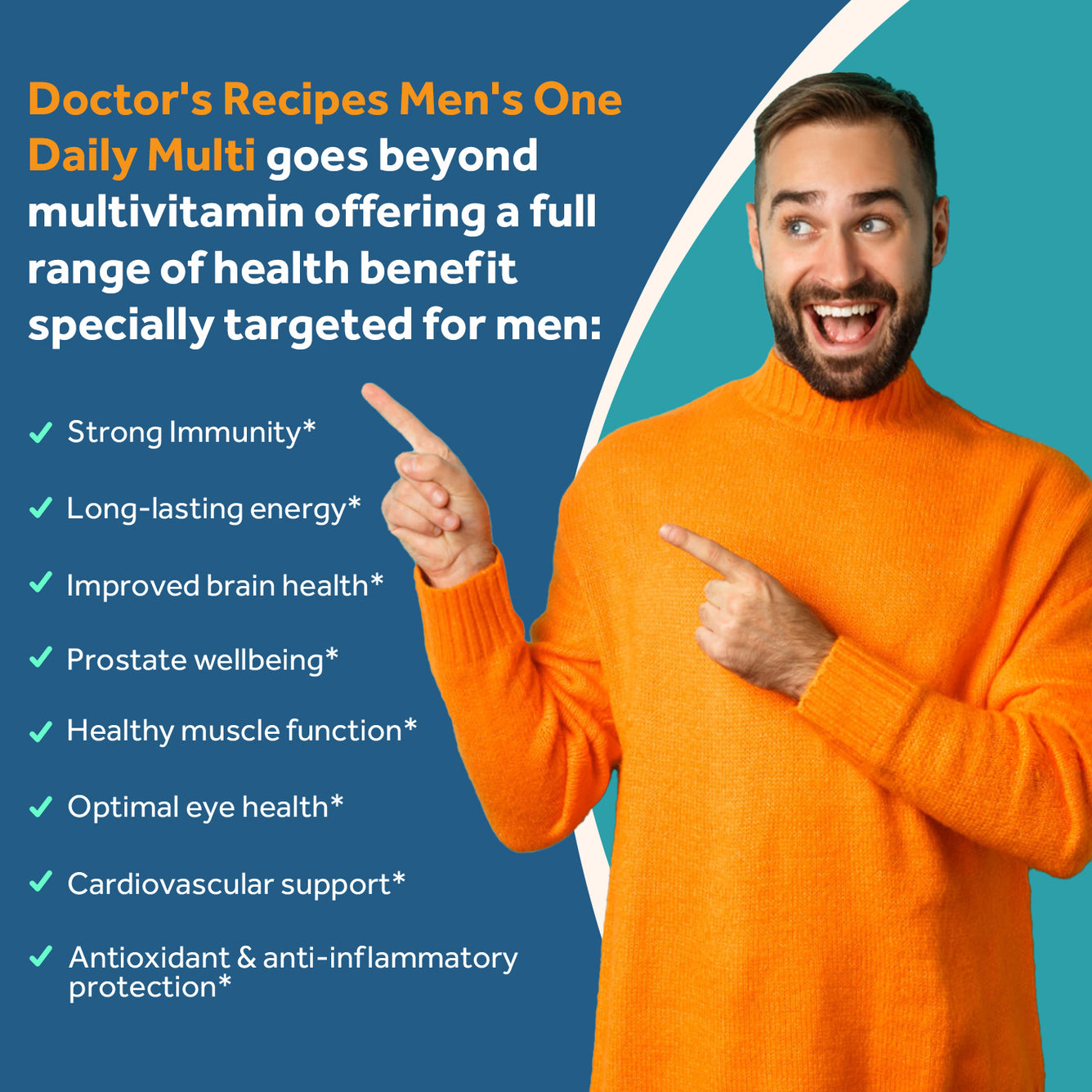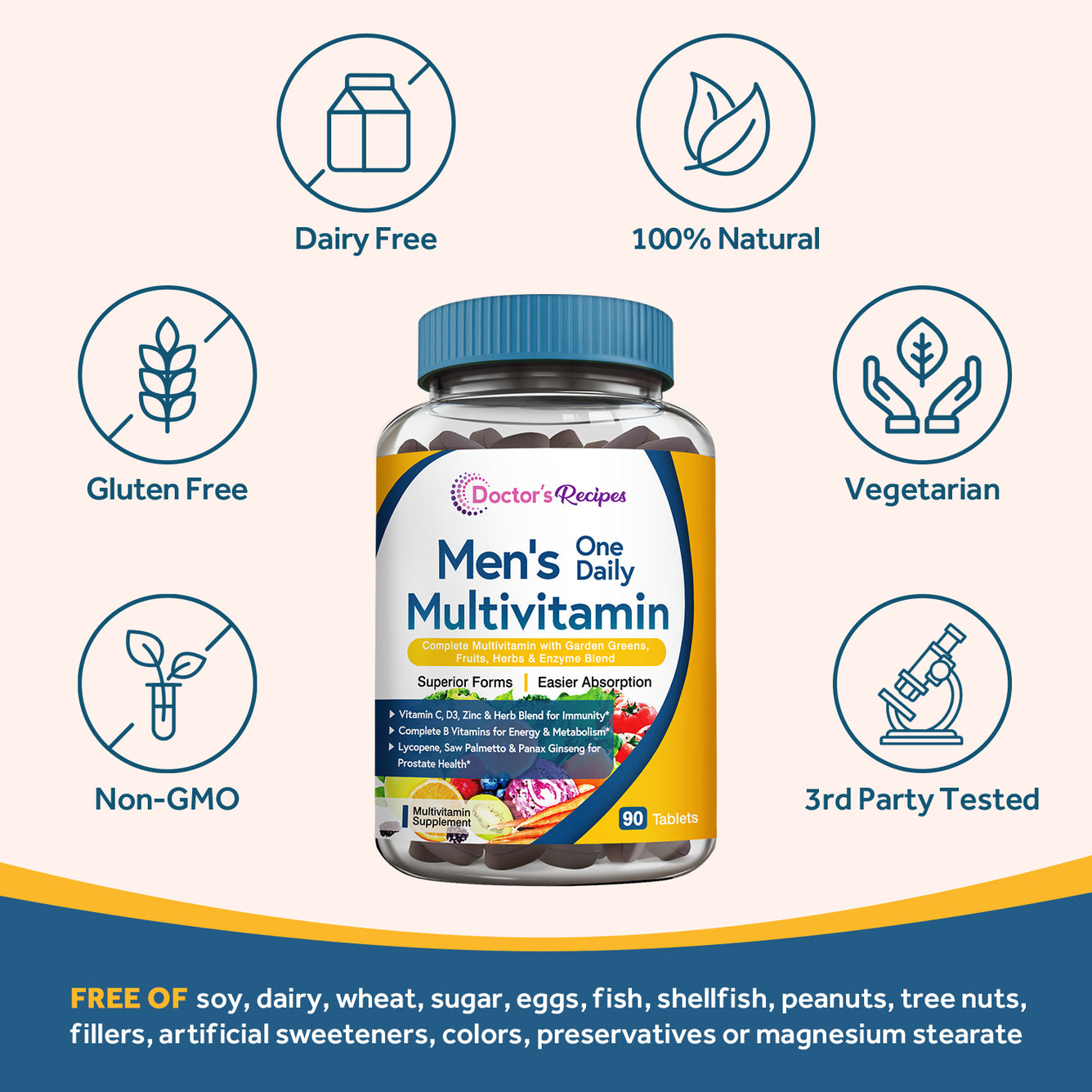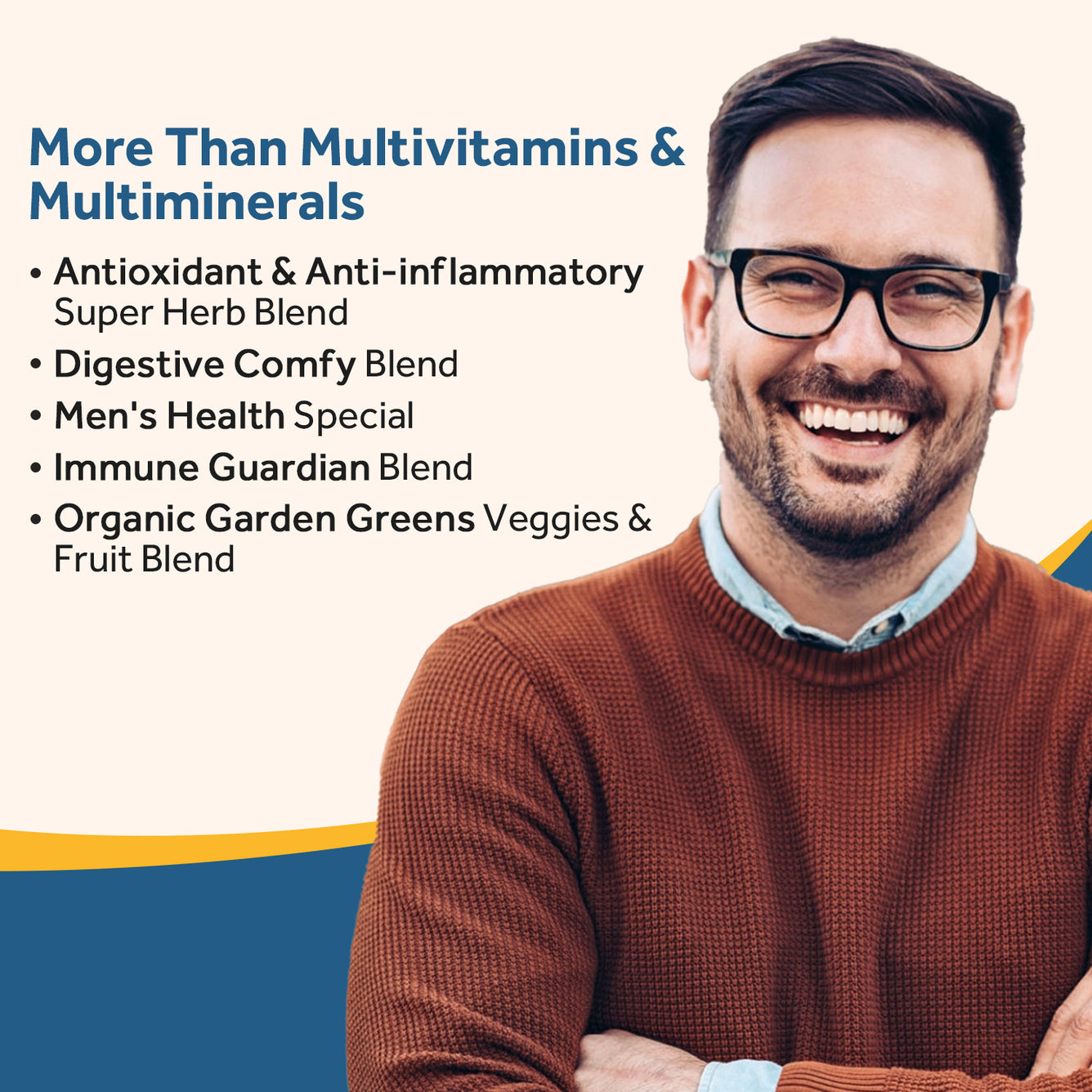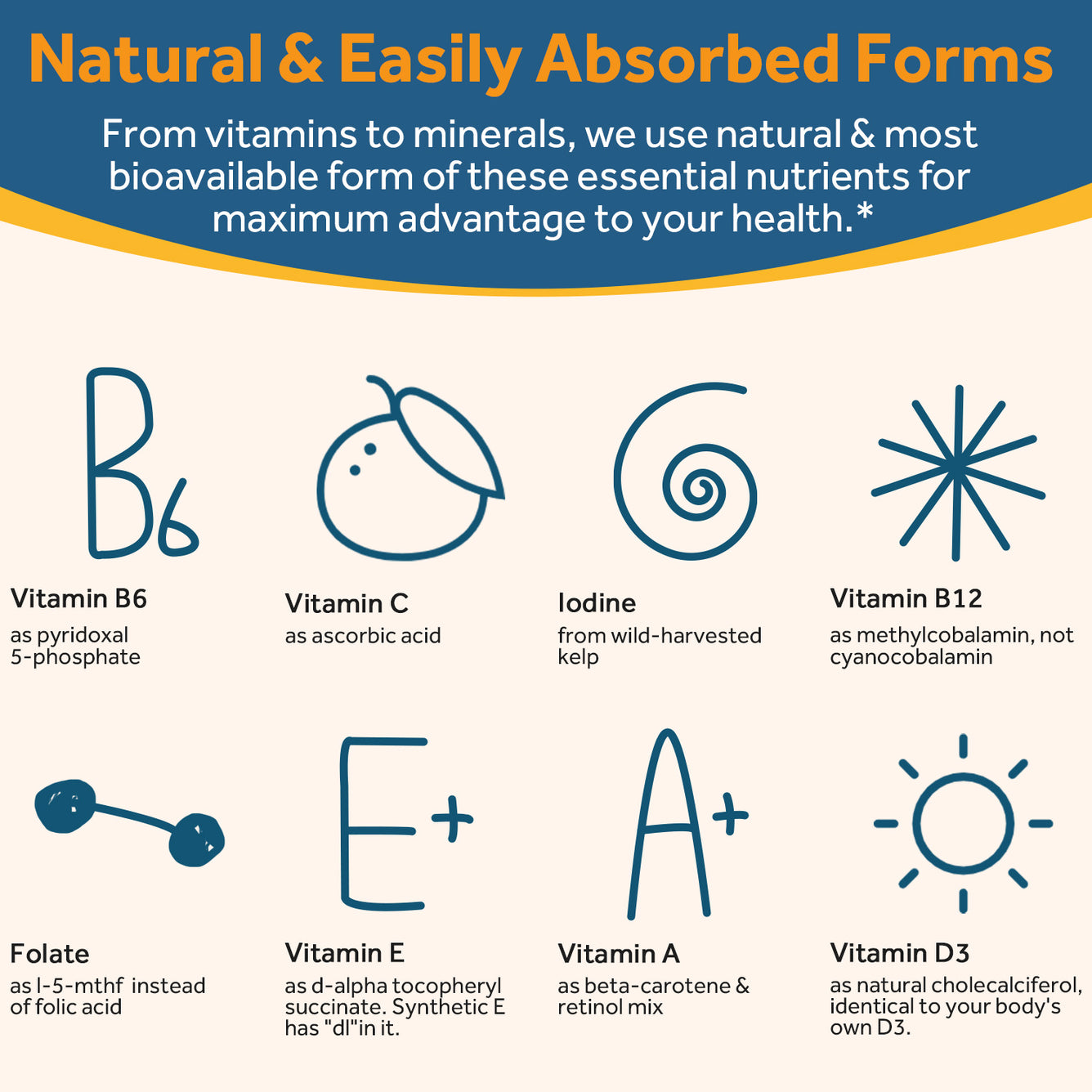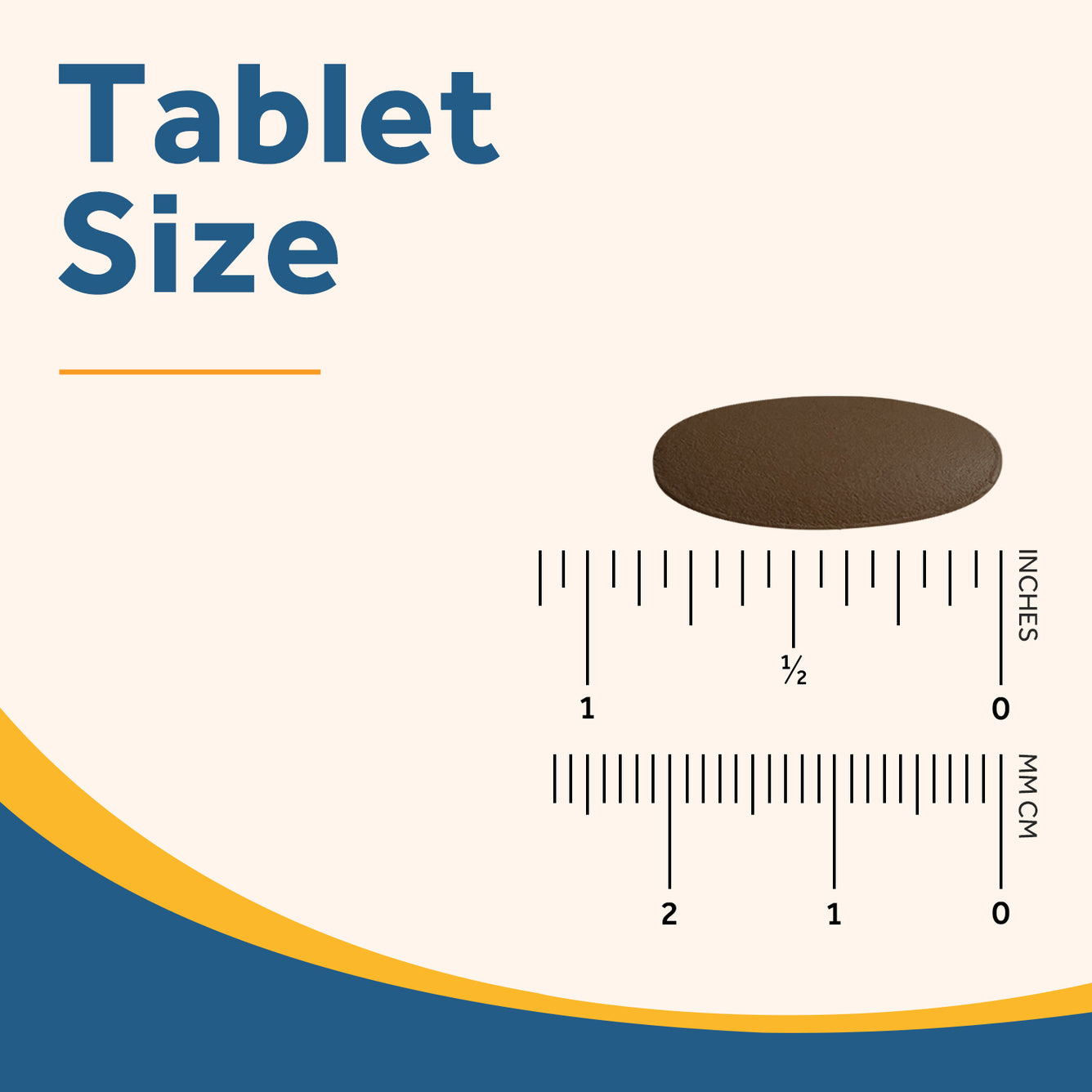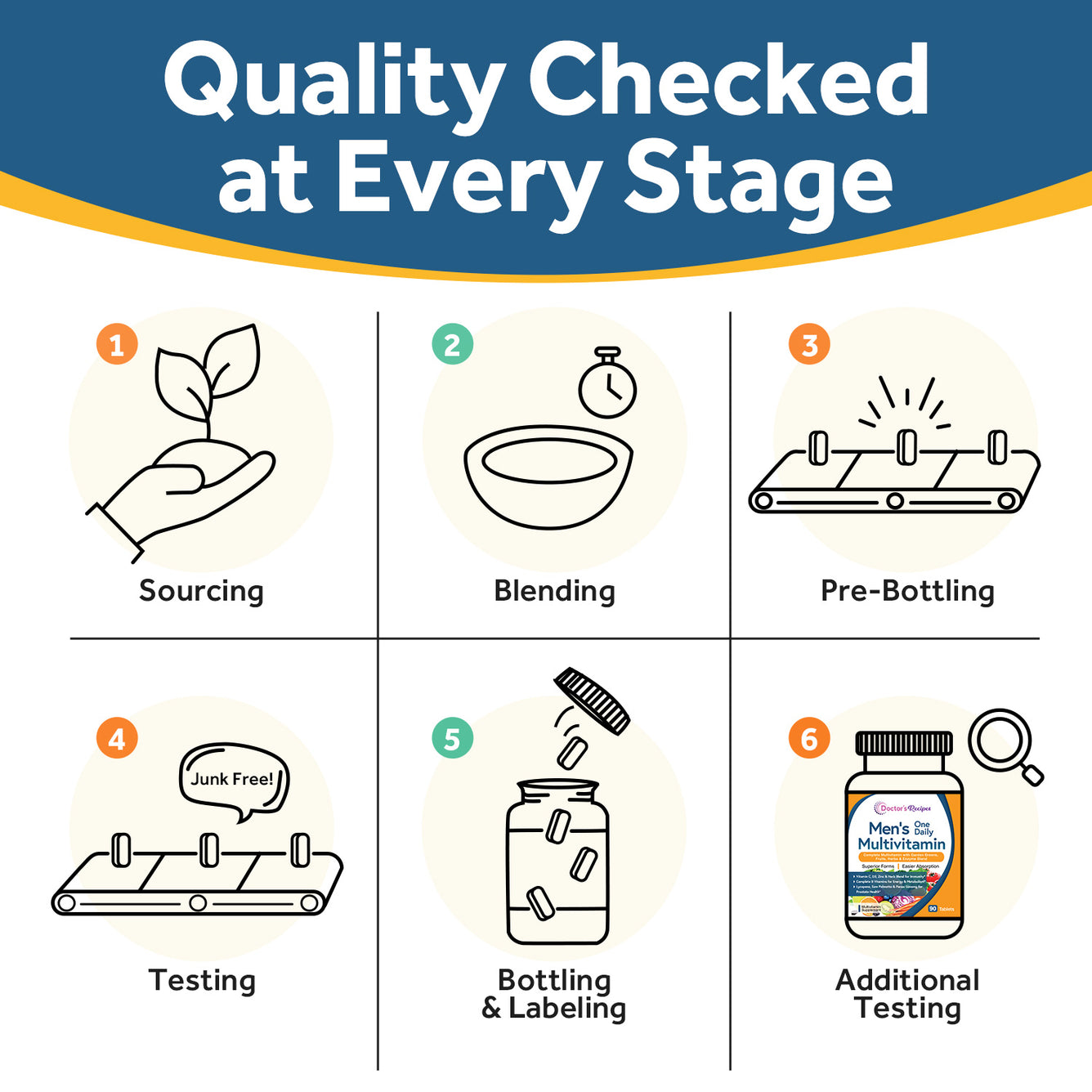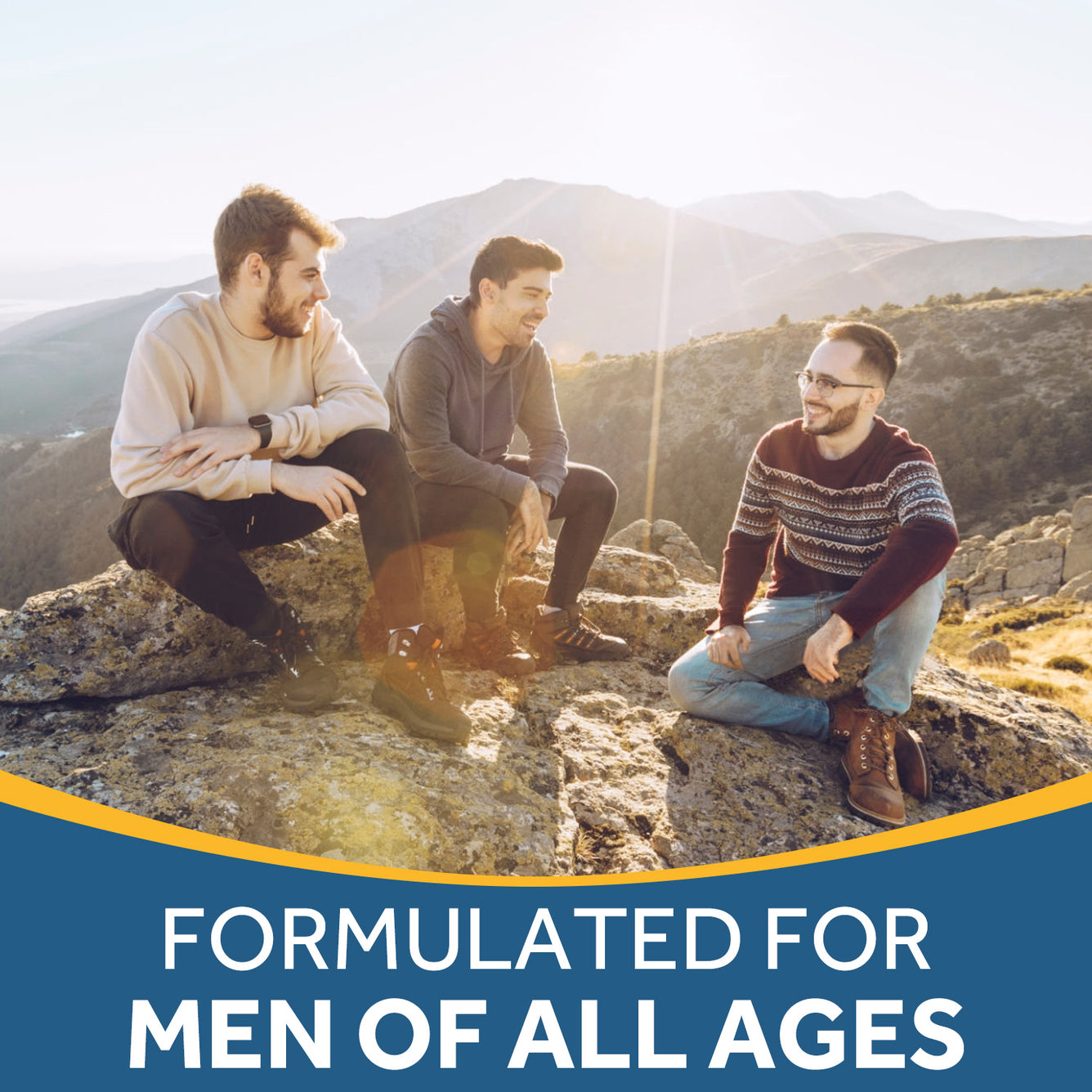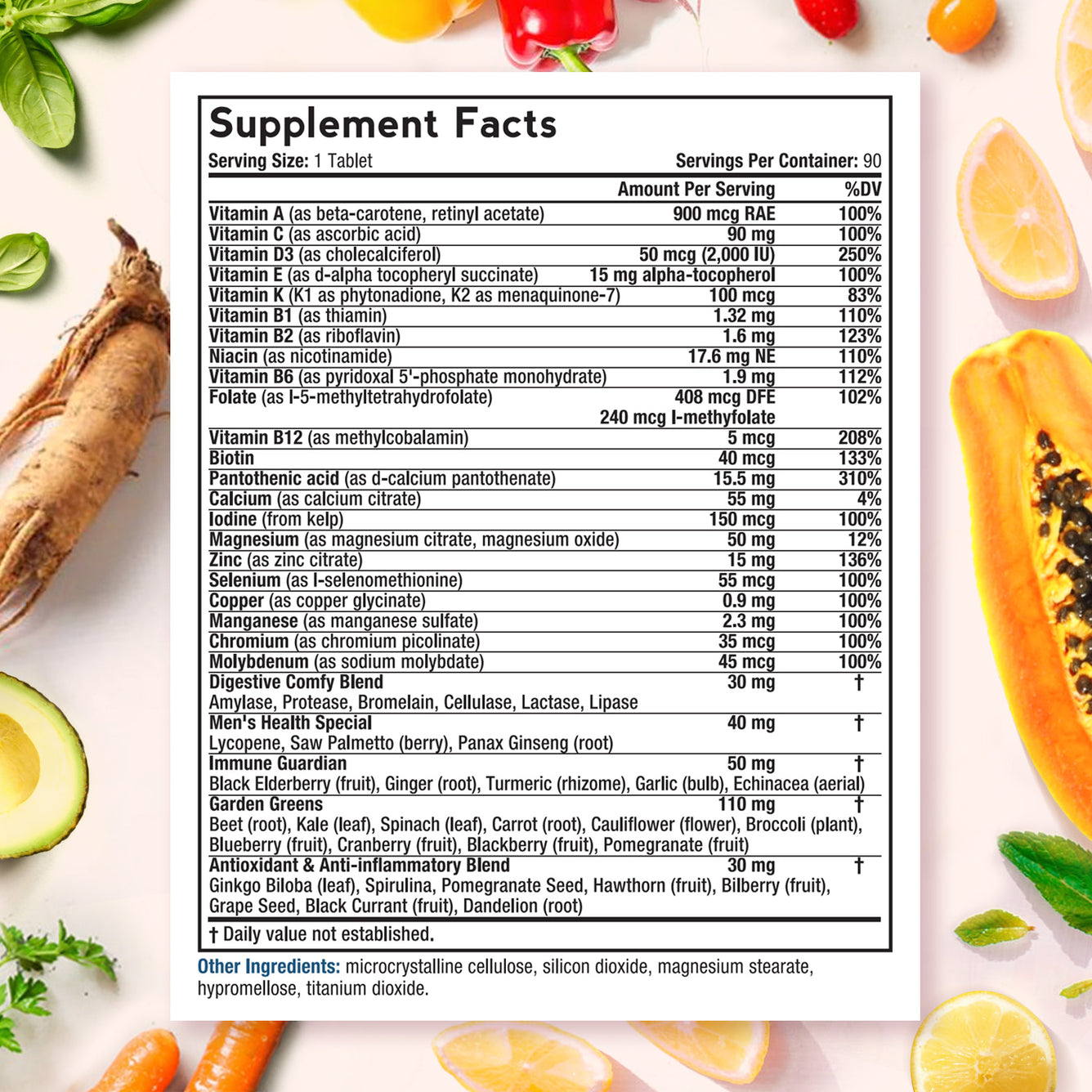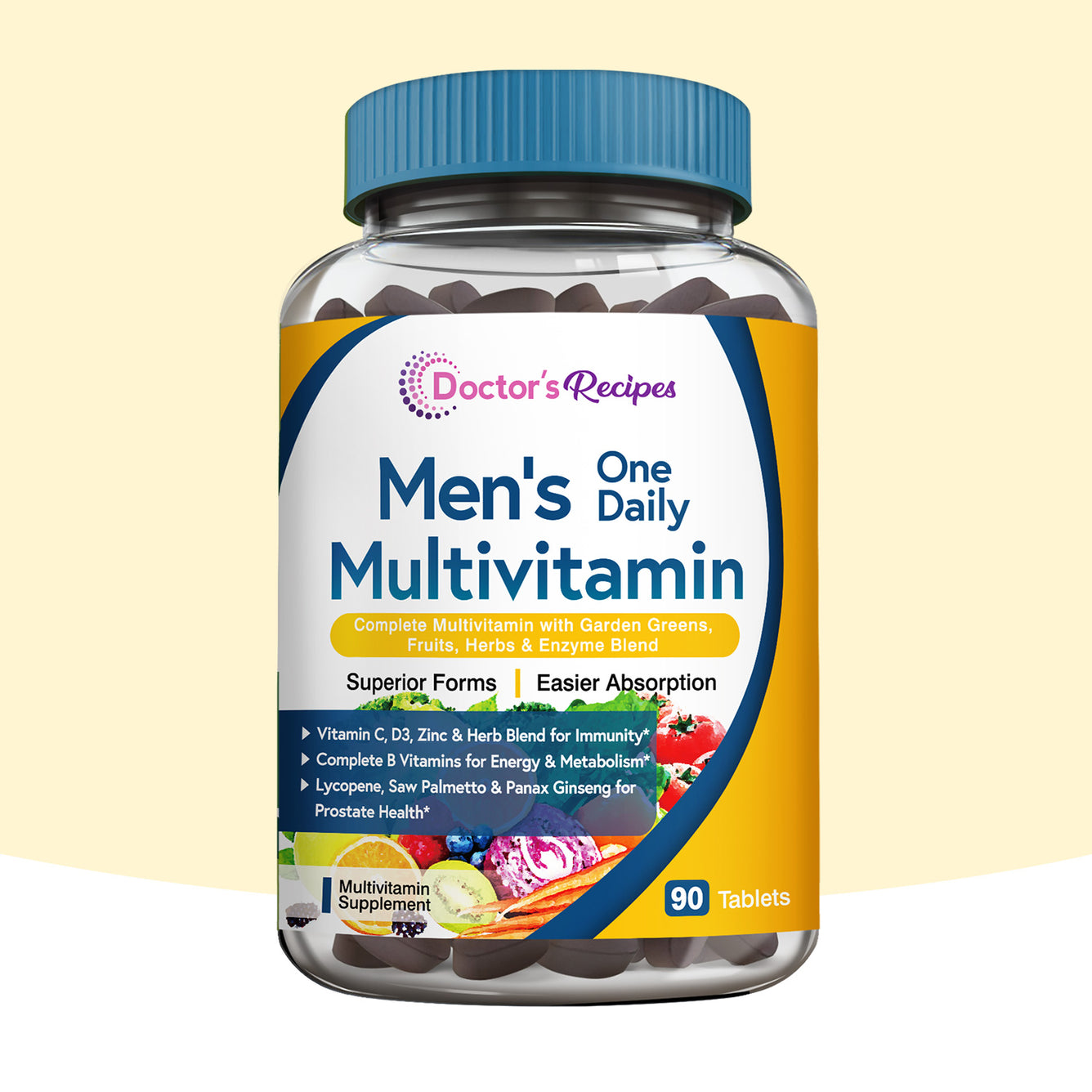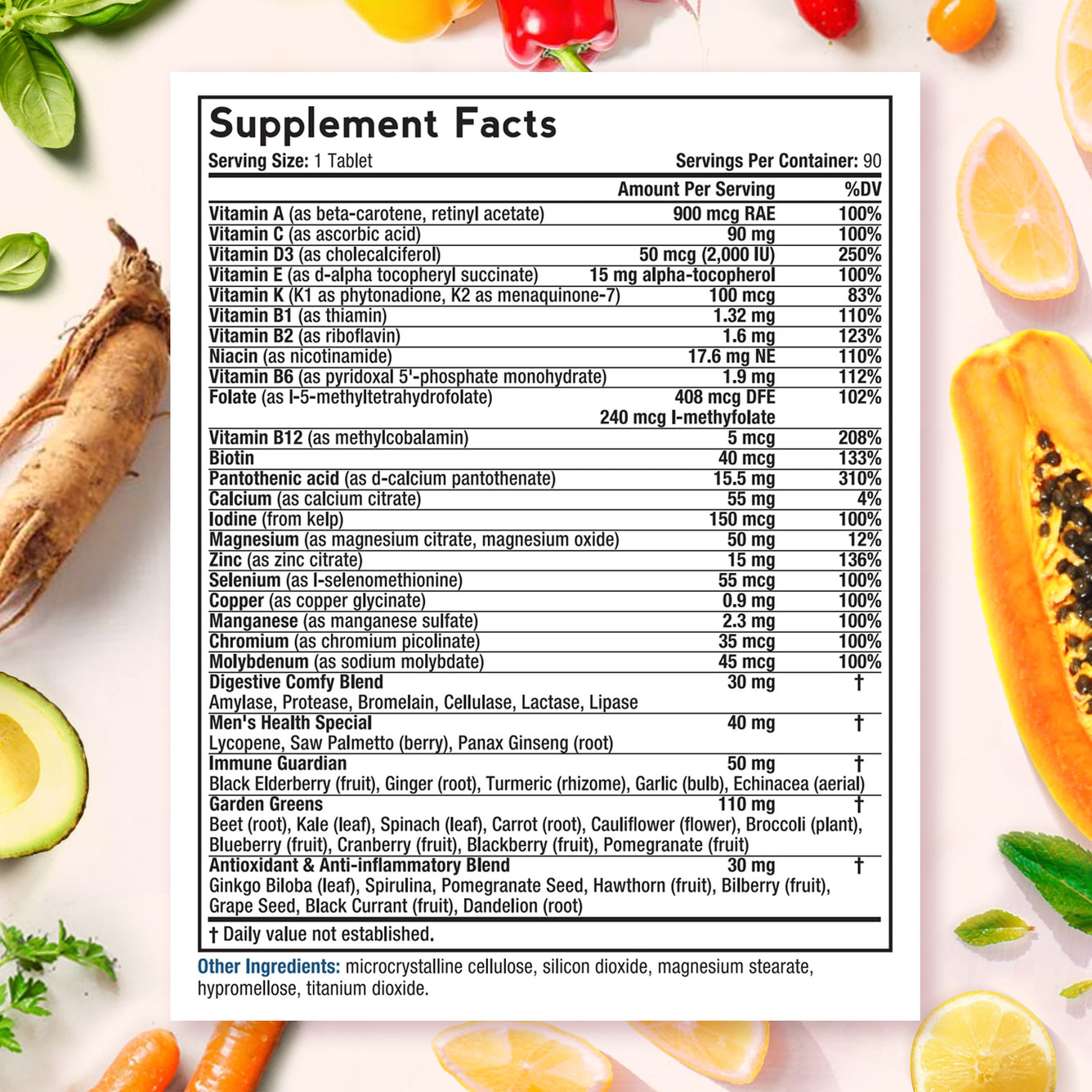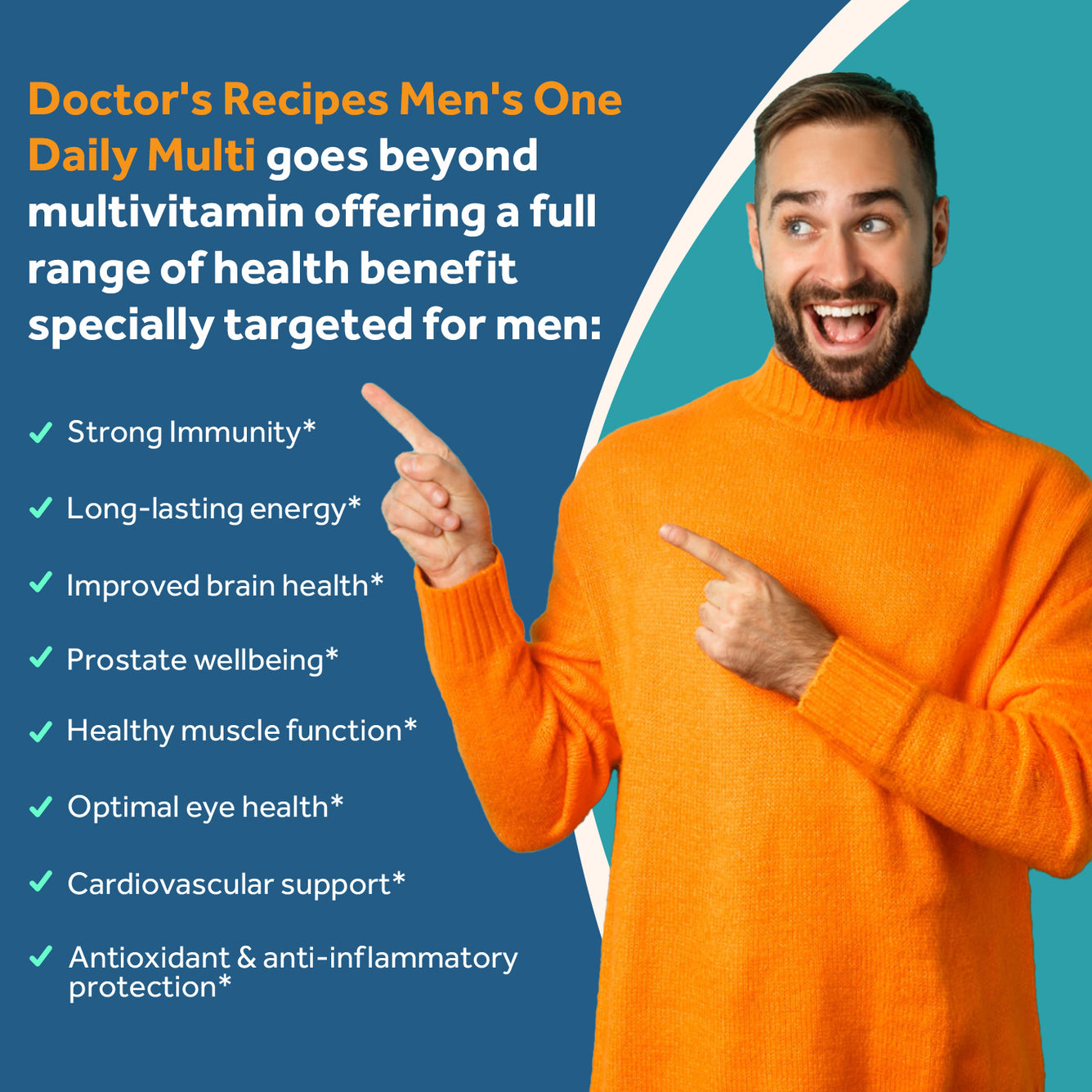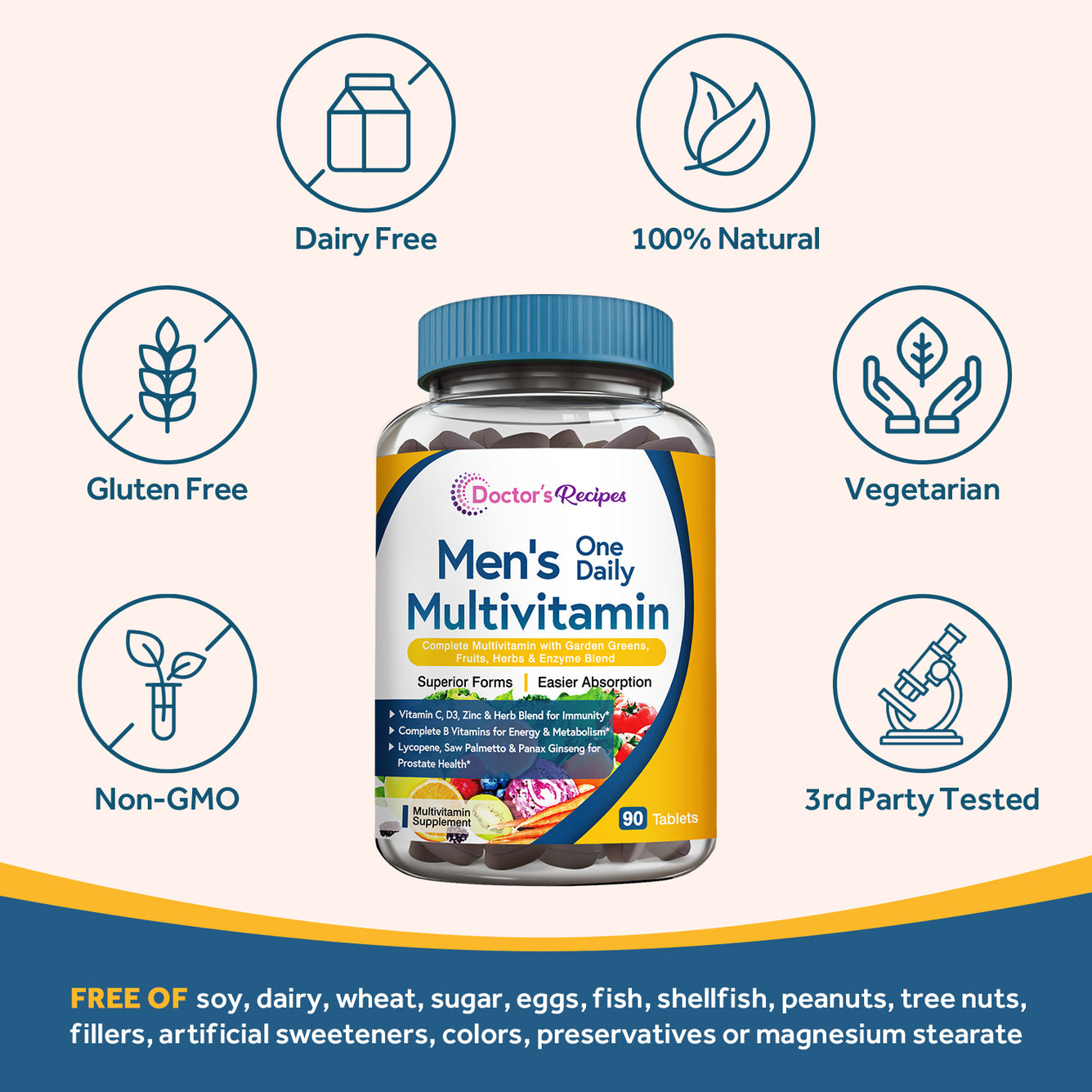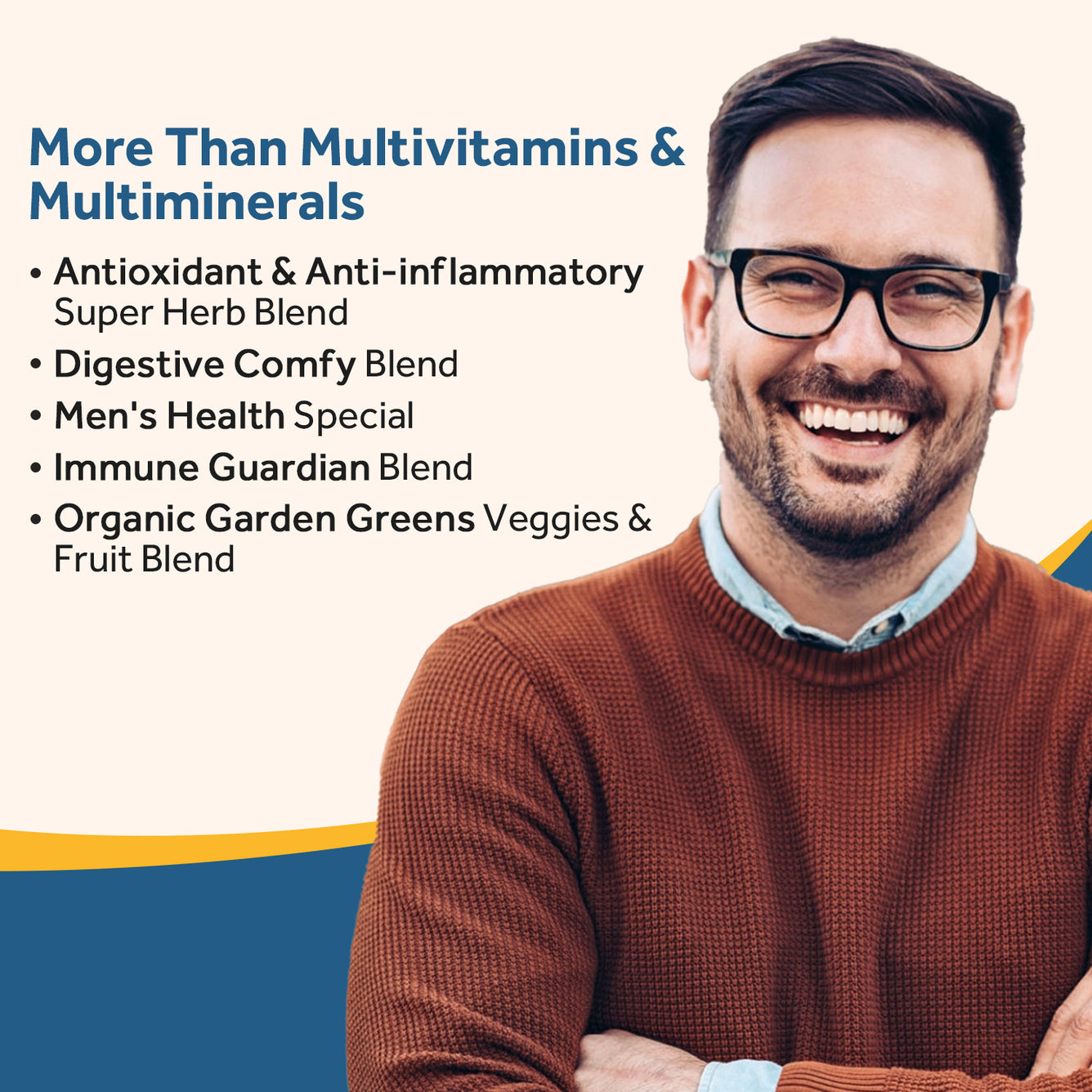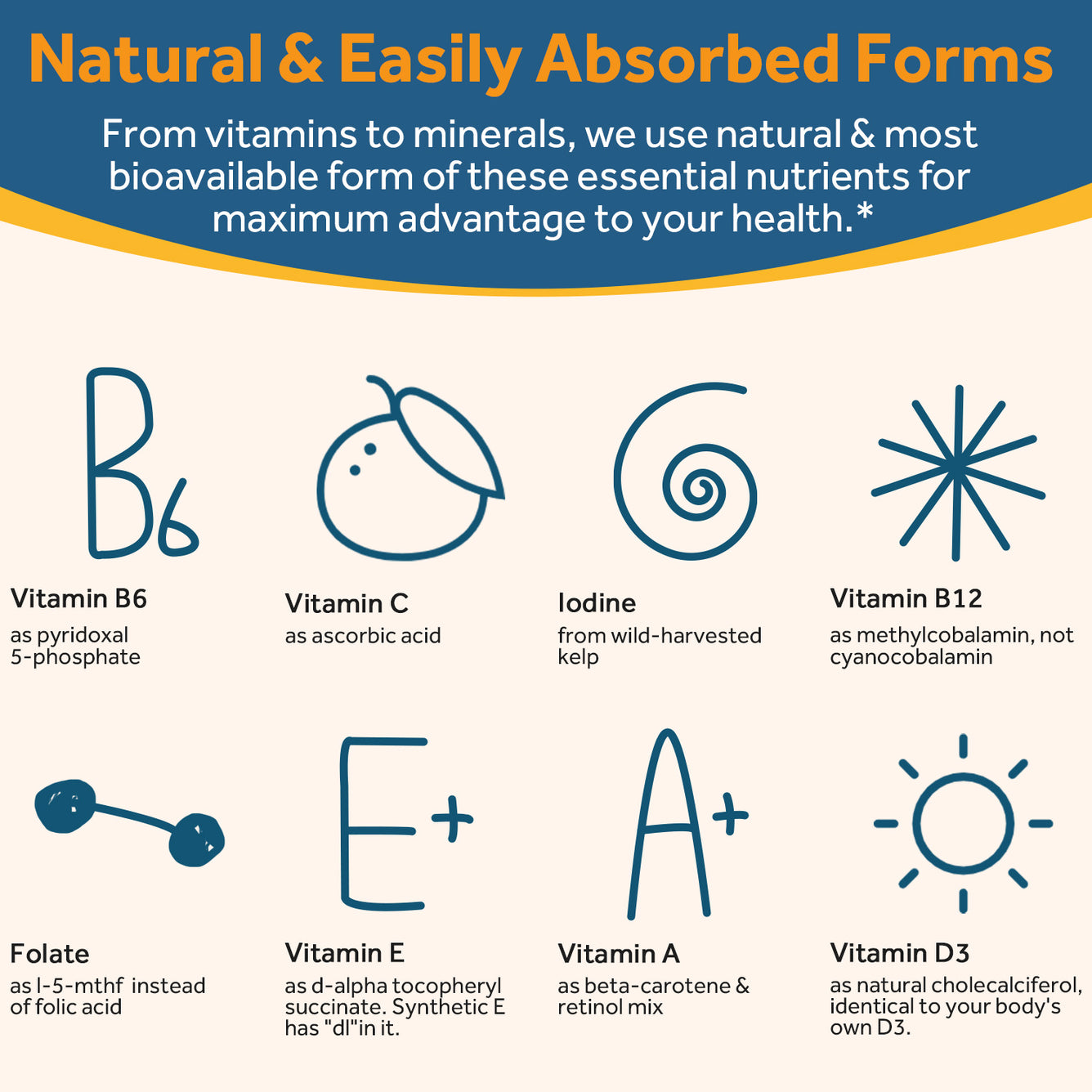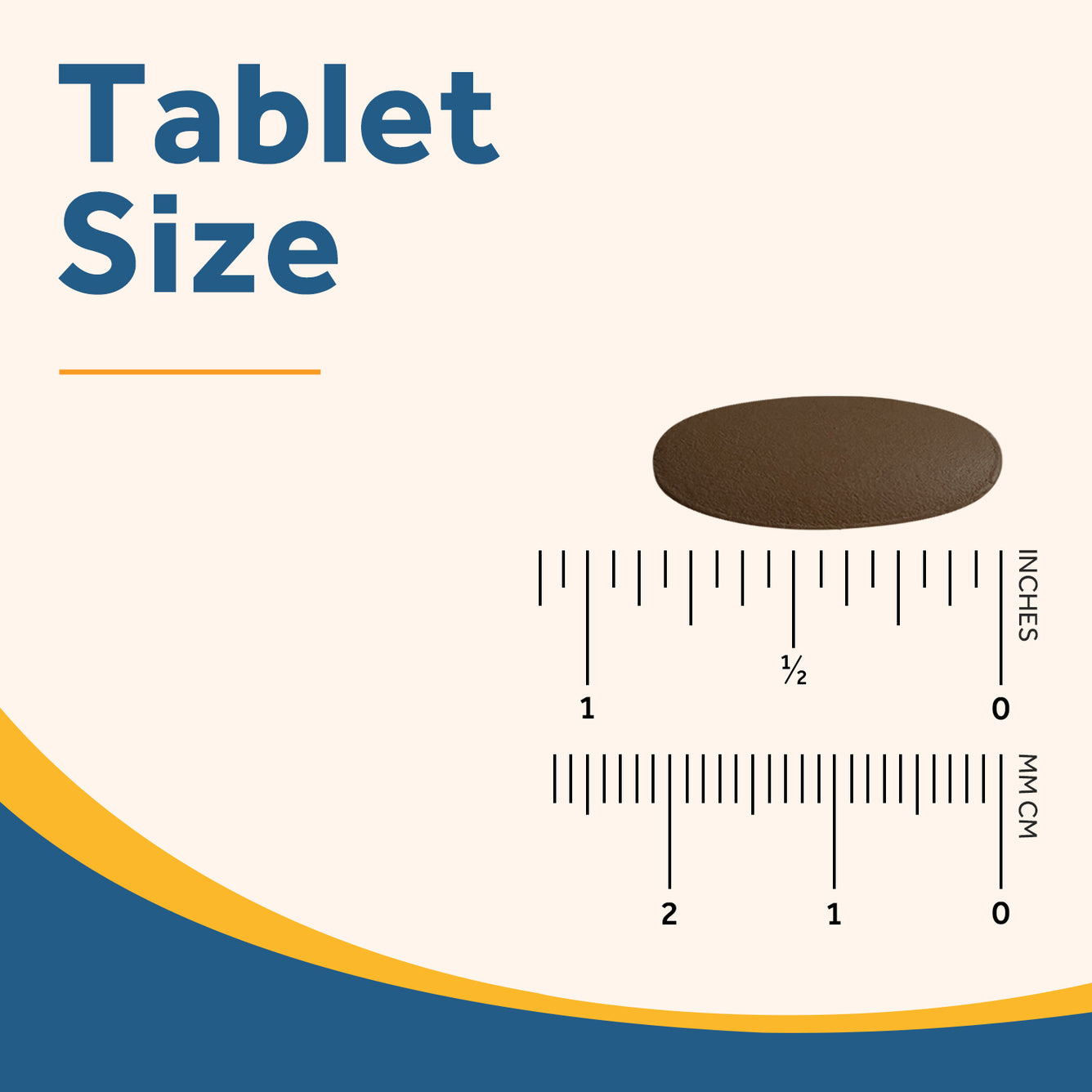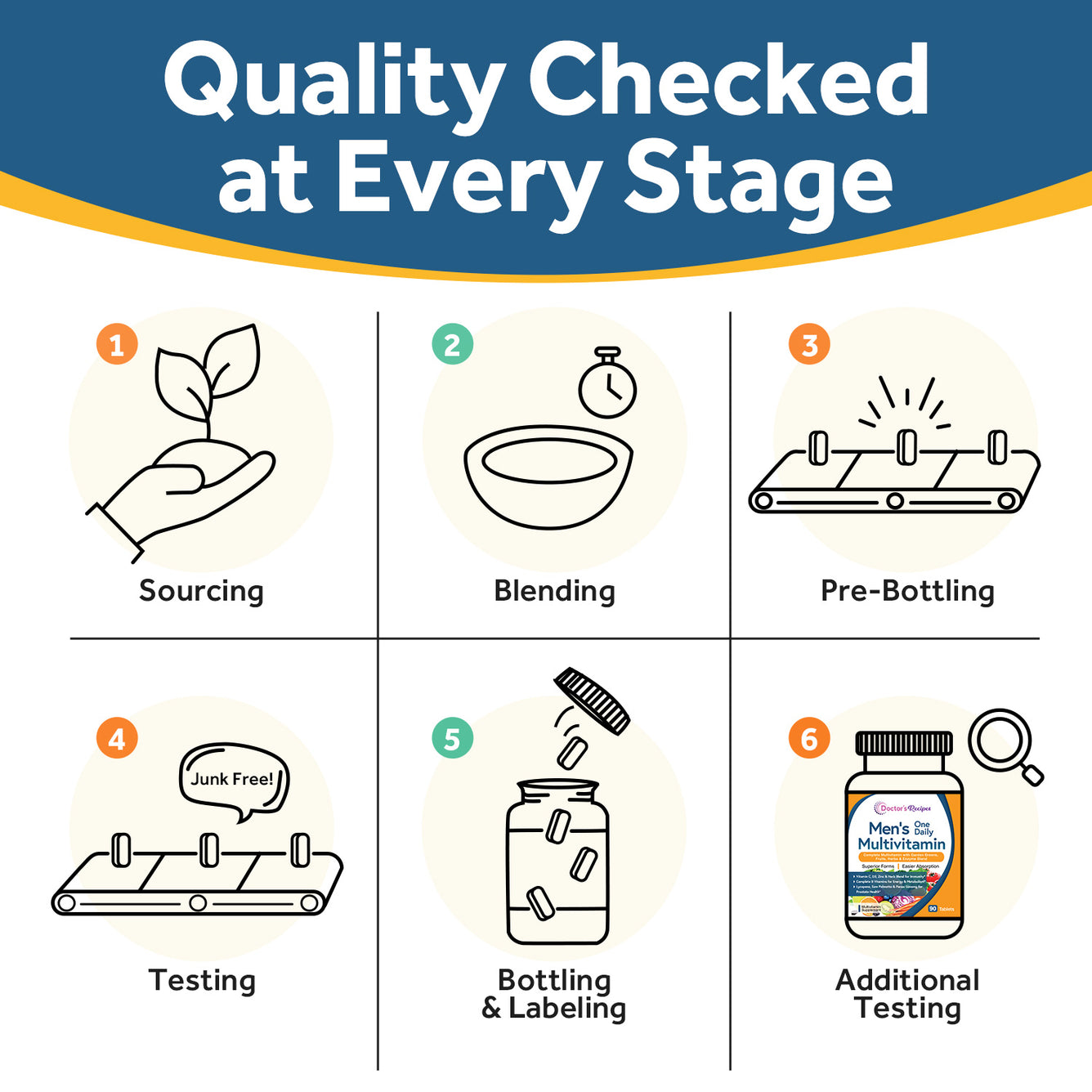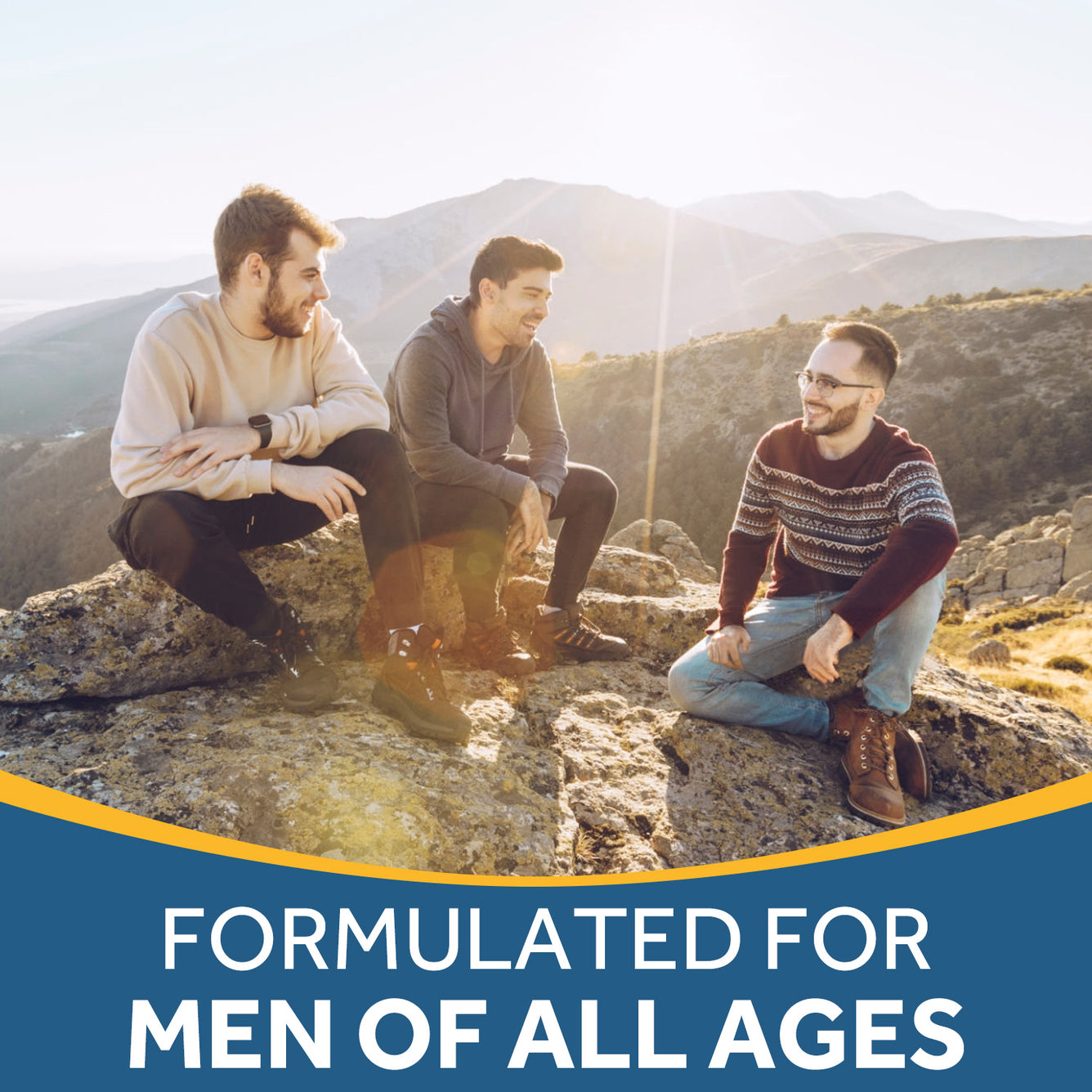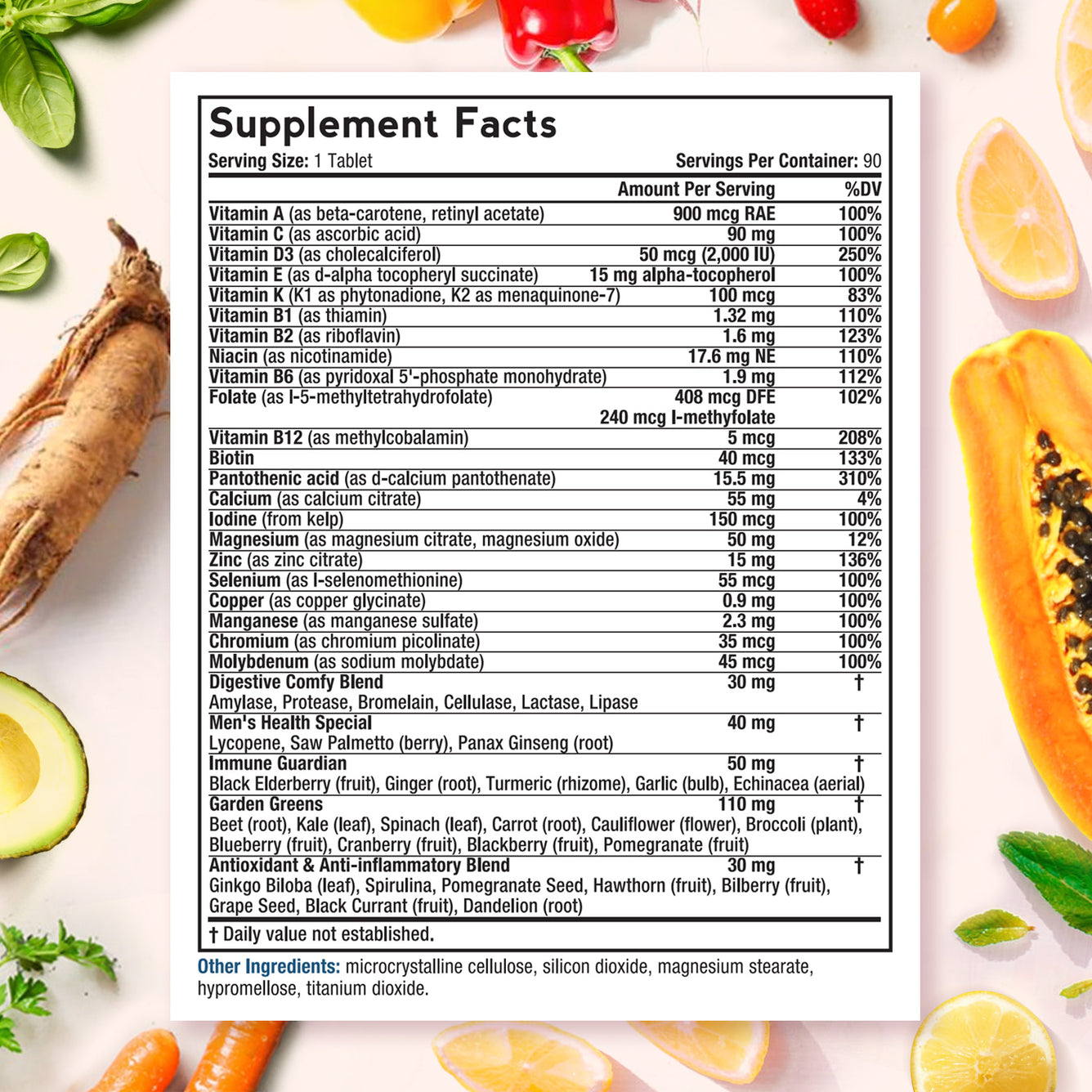 ONE Daily Men's Multivitamin
Doctor's Recipes Men's One Daily Multivitamin, Vitamin A C D3 E Methyl B12, with Veggie Fruit Herb Blend & Enzymes, Boost Immune Heart Energy Prostate Health, Non-GMO NO Gluten, Great Forms, 90 Tabs
INGREDIENT

AMOUNT

HELPS WITH

Vitamin A

900 mcg RAE

vision & cellular growth

Vitamin C


90 mg

immunity & wound healing

Vitamin D3


50 mcg (2000 IU)

bone, muscle & immunity

Vitamin E


15 mg alpha-tocopherol

in the form of natural d-alpha-tocopherol not synthetic dl-alpha-tocopherol

Vitamin K 

100 mcg

blood clotting & bone metabolism

Vitamin B1

1.32 mg

growth, development & function of cells

Vitamin B2

1.6 mg

energy & metabolism

Niacin

17.6 mg NE

in the flush-free form

Vitamin B6

1.9 mg

as pyridoxal 5'-phosphate (P5P) for nervous system, mood & immunity

Folate 

408 mcg DFE

as L-5-MTHF for heart, cell growth & function

Vitamin B12

5 mcg

as methylcobalamin for energy, mood & stress

Biotin

40 mcg

hair, nail & skin

Pantothenic Acid

15.5 mg

energy metabolism

Calcium

55 mg

build & maintain strong bones

Iodine

150 mcg

proper thyroid function

Magnesium

50 mg


cardiovascular, muscle, sleep & stress

Zinc

15 mg

metabolism, immunity & prostate health

...

Digestive Comfy Blend

30 mg

facilitate digestion of key nutrients

Men's Health Special

40 mg

prostate & fertility 

Immune Guardian

50 mg

strong immune defense

Garden Greens

110 mg

power men with much-needed fruits & veggies

Antioxidant & Anti-inflammatory 
Blend


30 mg

antioxidant, immune & overall wellness
Environmentally Friendly
Make it a long-term approach to wellness

Fast and Secure Delivery
Free shipping on orders over $50

Superior Service
Accessible, approachable & responsive

Shop with Confidence
Money back guaranteed
Full Spectrum Vitamins & Minerals
Our formula combines the power of full-spectrum essential vitamins & minerals to deliver a GENDER-SPECIFIC formula targeting men's wellness. Every tablet provides all the nutrients you need at 100% DV or higher that goes beyond addressing deficiency, but aiming at optimum health and active lifestyles.
260 mg Superfood Ingredients in 5 Performance Blends
260 mg of 30+ superfoods delivered in 5 blends to further boost men's overall health and performance. Organic garden greens for daily nutritional needs; lycopene, saw palmetto & Panax ginseng specially targeted at men's health; immune supported, antioxidant & anti-inflammatory herbs for immune & overall wellness; last but not least, plant-based digestive enzymes to facilitate your digestion of these key nutrients.
Easier Absorption for Best Multi System Support
Doctor's Recipes is expertly formulated with premium, active nutrition forms your body prefers and can be better absorbed for max advantages to your health. Featuring the active forms of vitamin A C D E and natural forms of B vitamins including folate B9 and Methyl B12, this blend of 20+ vitamins and minerals supports energy and metabolism, immunity, brain, heart and muscle health.
One A Day
With your convenience in mind, we adopt the latest manufacturing technology to pack our advanced expert-recommended complete men's multivitamin in an easy-to-swallow tablet.
Personal Choices
Vitamin A: Beta-carotene/ retinol mix to support better eye health.

Vitamin D3: As natural cholecalciferol, identical to your body's own D3.

Vitamin E: As d-alpha tocopheryl succinate. Synthetic E has "dl"in it.

Vitamin B6: As pyridoxal 5-phosphate.

Folate: We use the active form of L-methylfolate instead of folic acid, which cannot be absorbed by people with the MHTFR gene mutation.

Vitamin B12: As methylcobalamin, not cyanocobalamin.
★ Vitamin C + D3 + Zinc + Immune Guardian Blend = Strong immunity for all seasons
★ B Vitamins = Long-lasting energy
★ B6 + B12 + Choline = Improved brain health
★ Lycopene + Saw Palmetto + Panax Ginseng = Men's health & best performance
★ Vitamin D + Folate + Magnesium + Potassium & More = Optimal heart health & balanced blood pressure
★ Vitamin E + Antioxidant & Anti-inflammatory Superfood Blend = Antioxidant & anti-inflammatory properties
Professional Solutions
Our Difference
One Daily Complete Multivitamin for Men
Full-Spectrum Vitamins & Minerals Taking Care of Men's Daily
Nutritional Needs

100% DV or More Boosting the Best of Health & Performance of Active
Men

Contains Natural & Easily Absorbed Forms of Vitamins & Minerals




260 MG of Superfood Ingredients Delivered in 5 Performance Blends



Matthew W.
Verified Purchase
Gentle on the stomach & no issues after taking, this multivitamin is the best value for your $. If you never have taken any vitamins before, you'll know the difference right away. They make me feel great and well rested when I wake up and full of energy during the day. I really don't think that's a coincidence. Thanks Doctor's Recipes for such a wonderful product.
Kevin C.
Verified Purchase
These magic pills give me everything I need and nothing I don't. Every nutrients are just measured to the daily balance. And there is no iron, which is good because men do not need to supplement iron unless they have anemia. One month into taking I am now physically and mentally well. I would recommend this.
Jonathan W.
Verified Purchase
I've always known that I should eat more fruits and veggies everyday. I mean don't we all? But as a busy med student there are plenty of times, actually almost all the time when I am unable to keep a healthy and balanced diet. That's why I am so glad that this product contains more than just vitamins and minerals, but 5 powerful blend including fruit and veg blend to help with my daily nutrient needs.