Healthier days with L-Arginine
Fuel your hardest workouts and fire on all cylinders.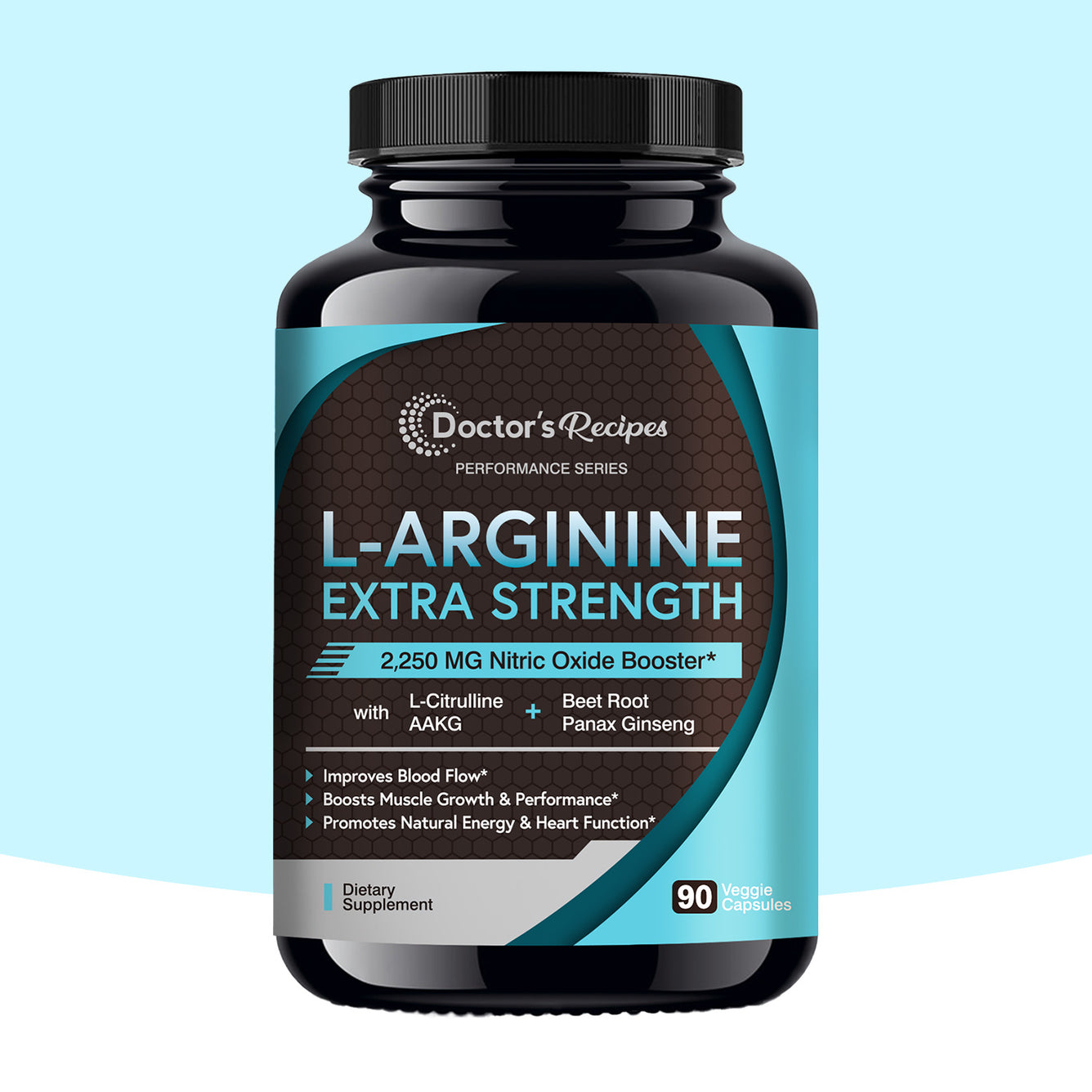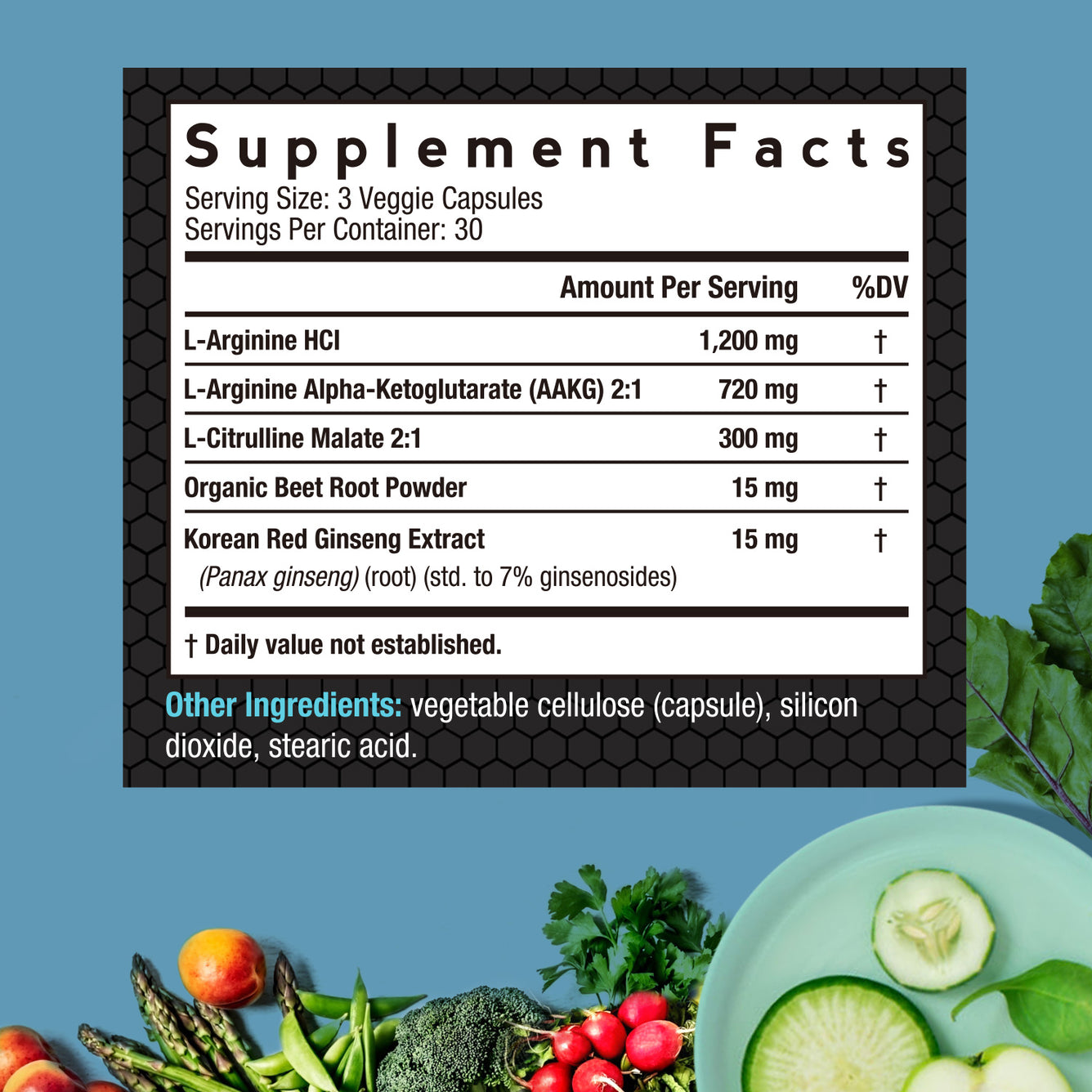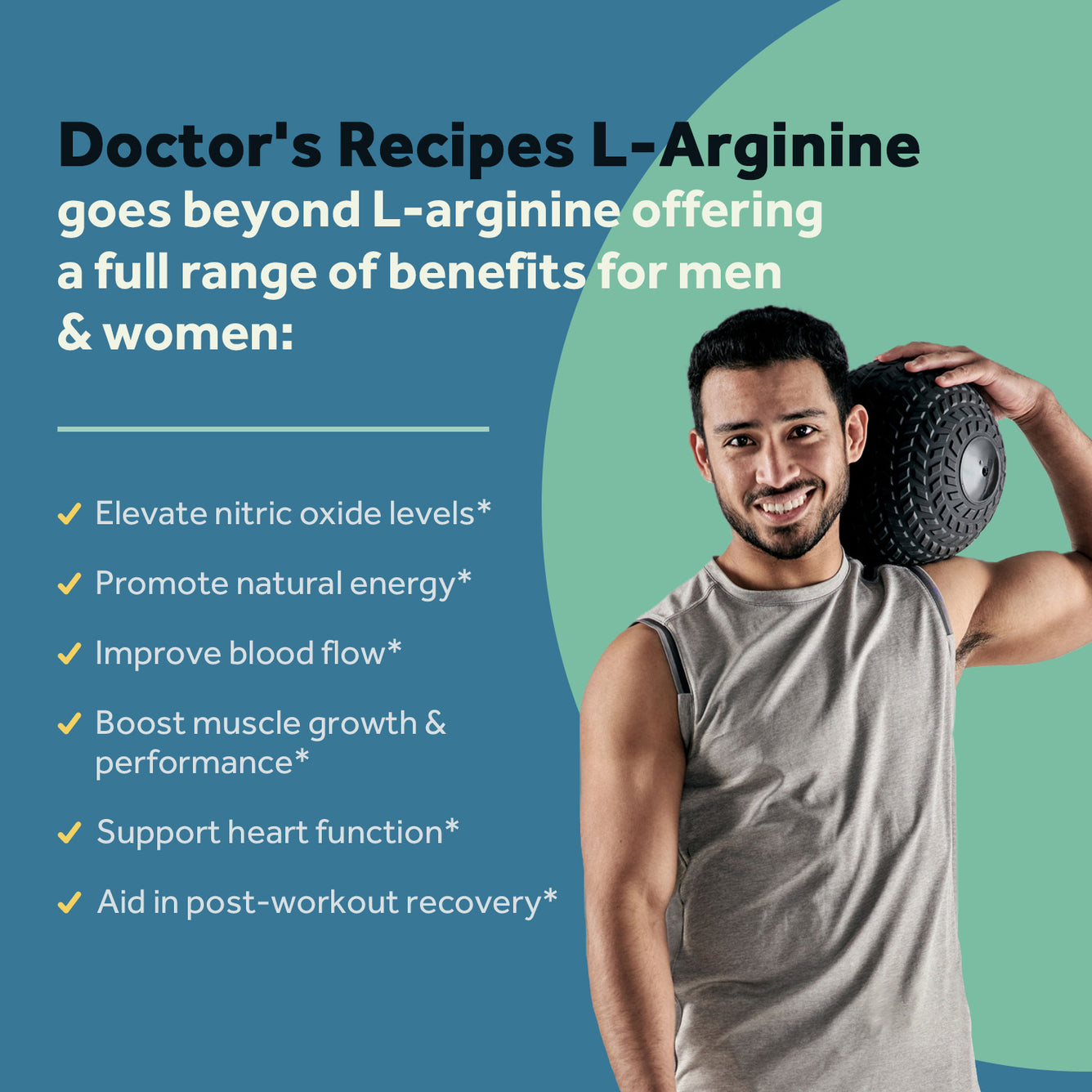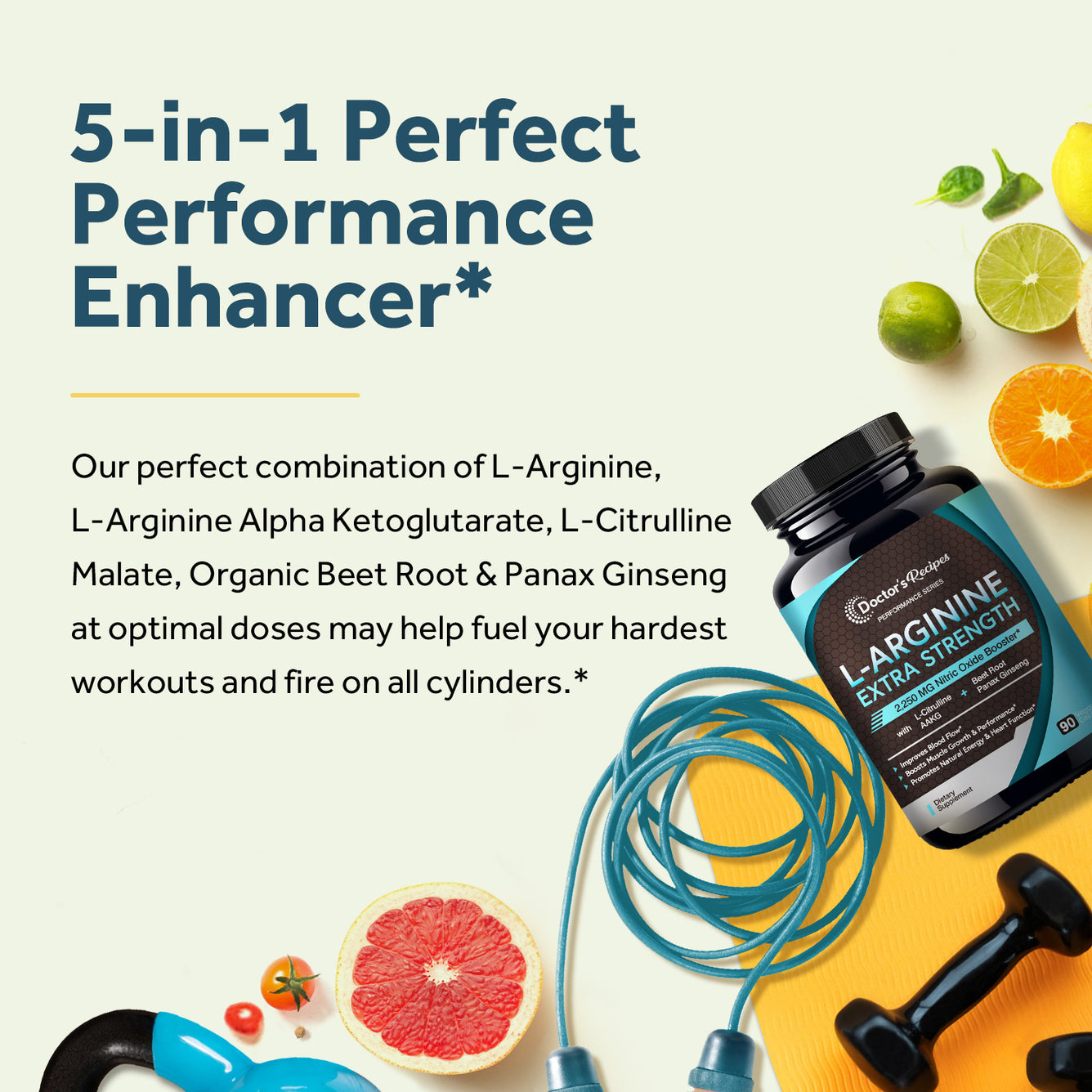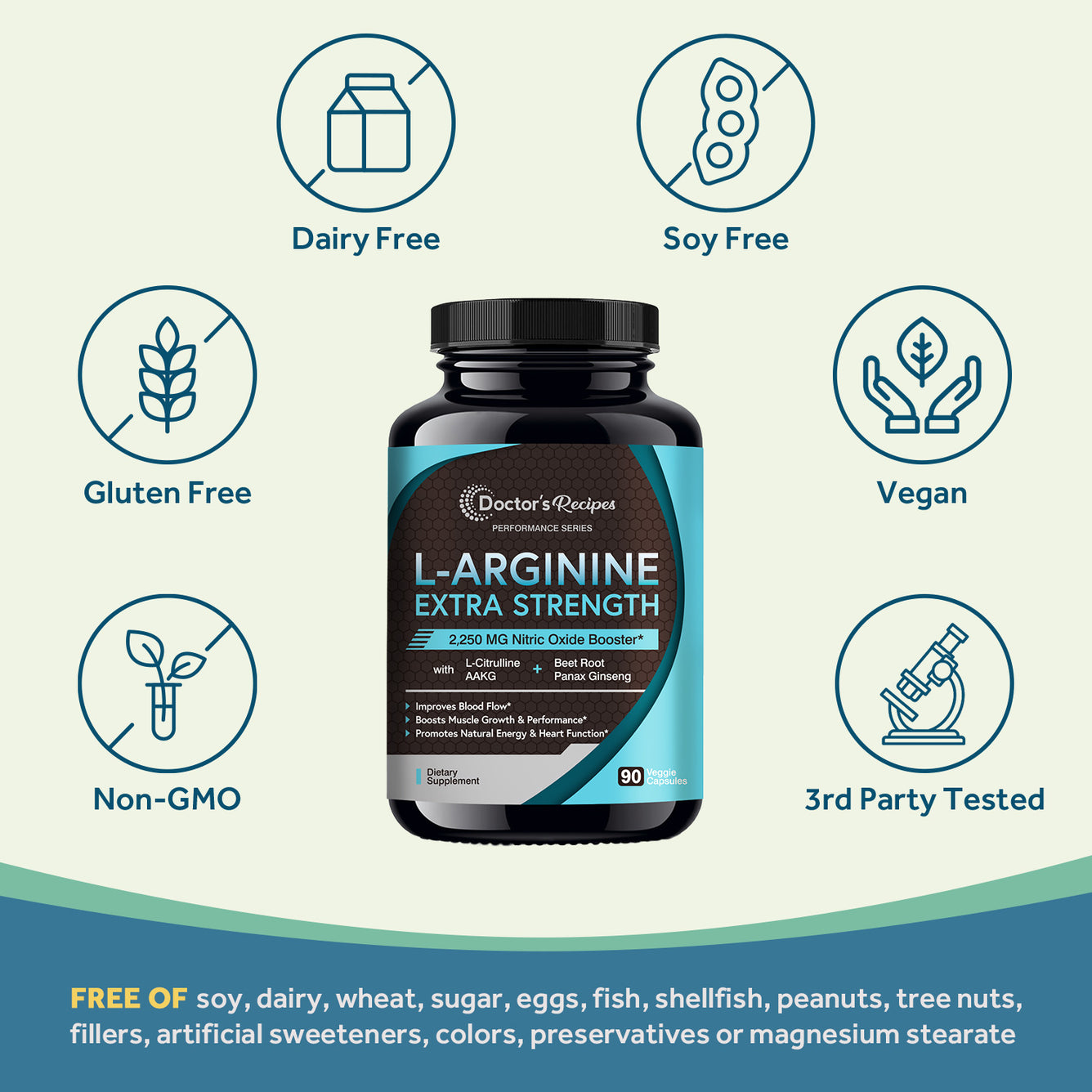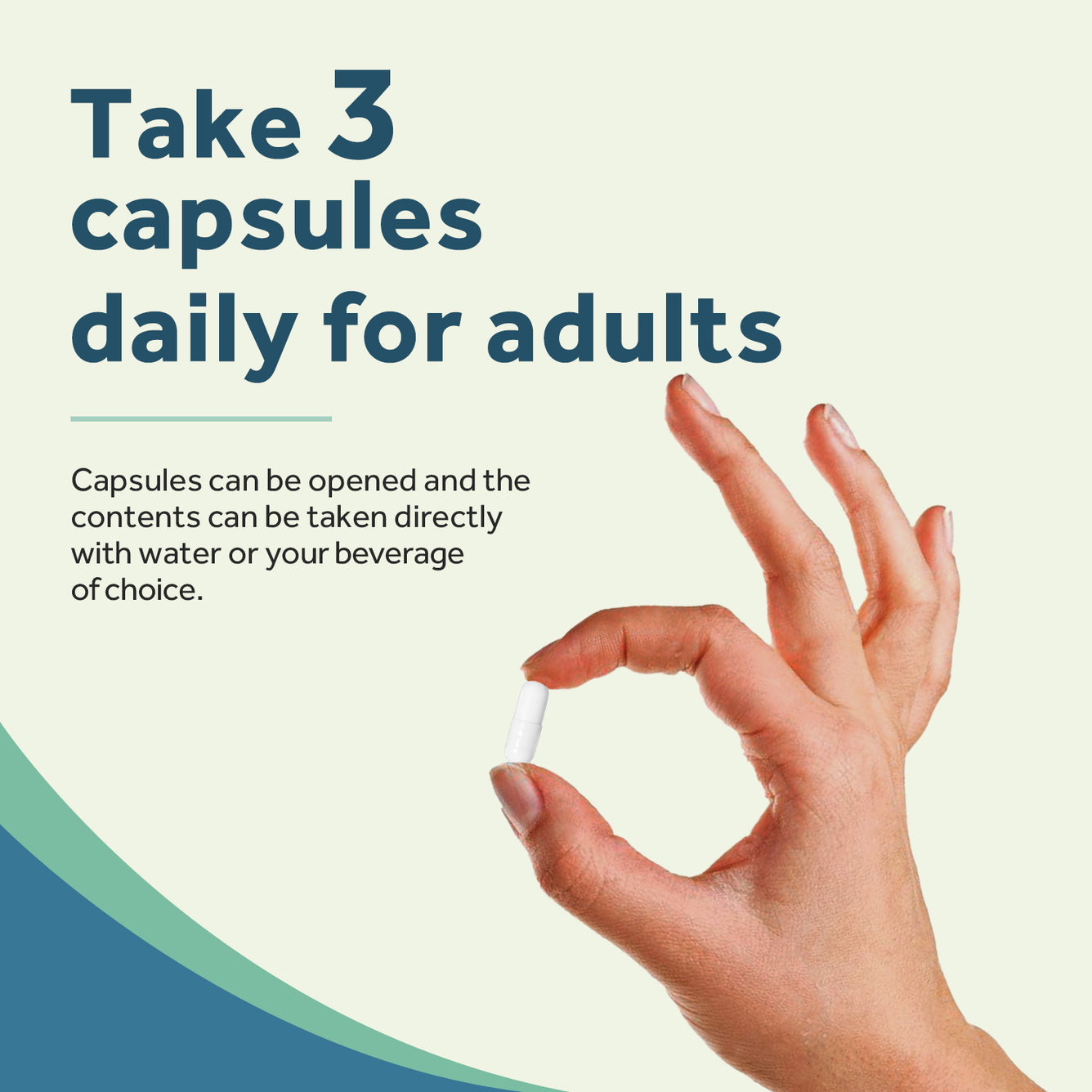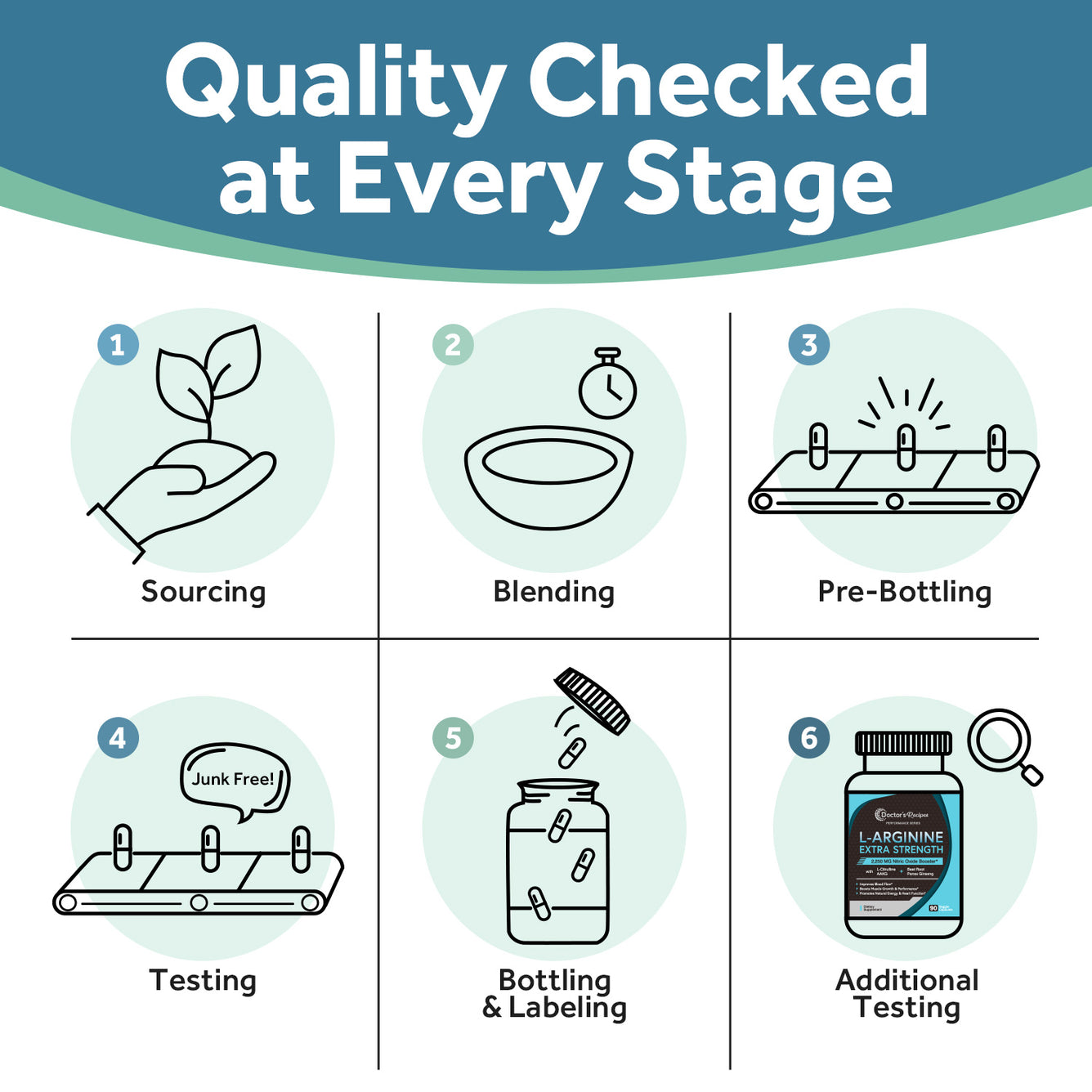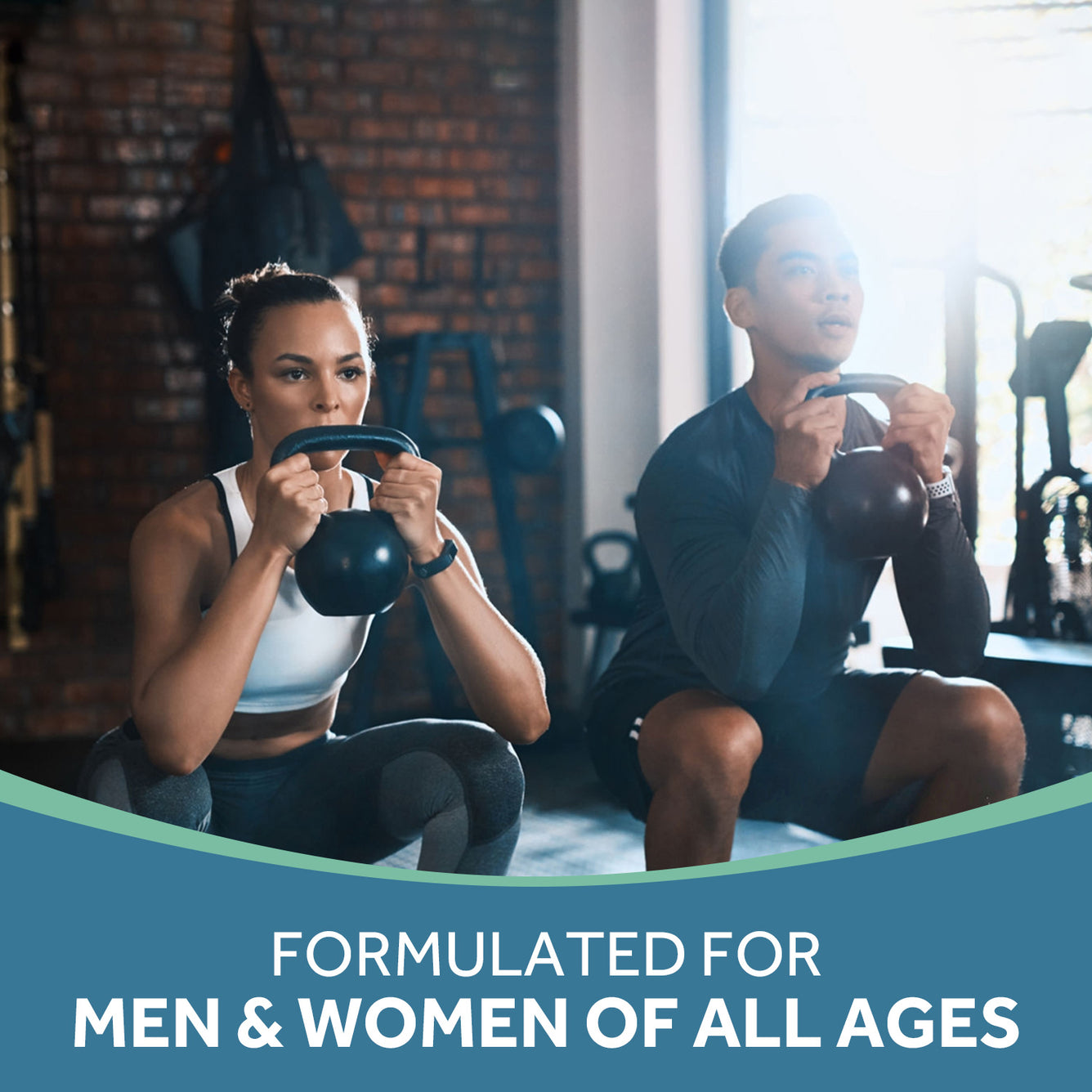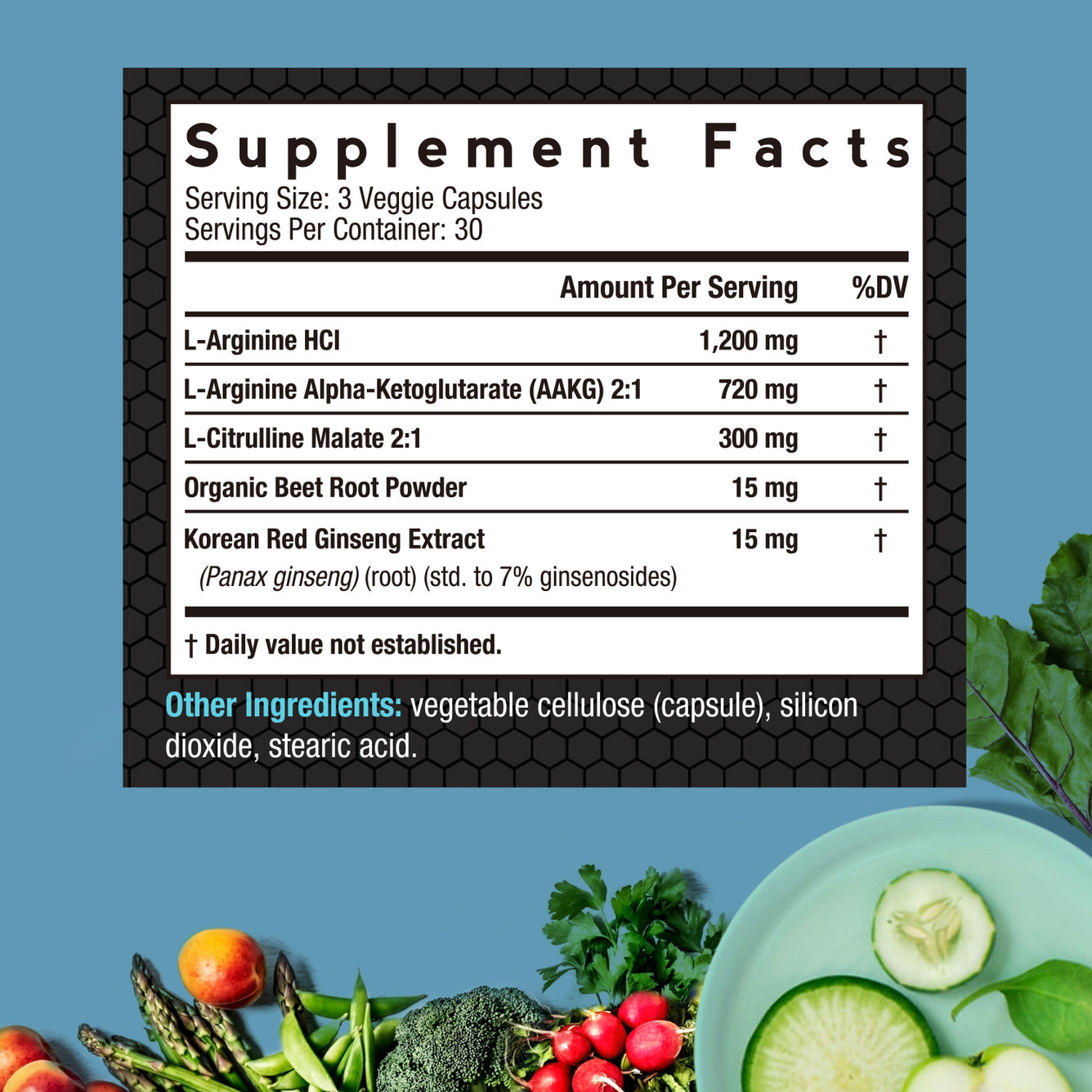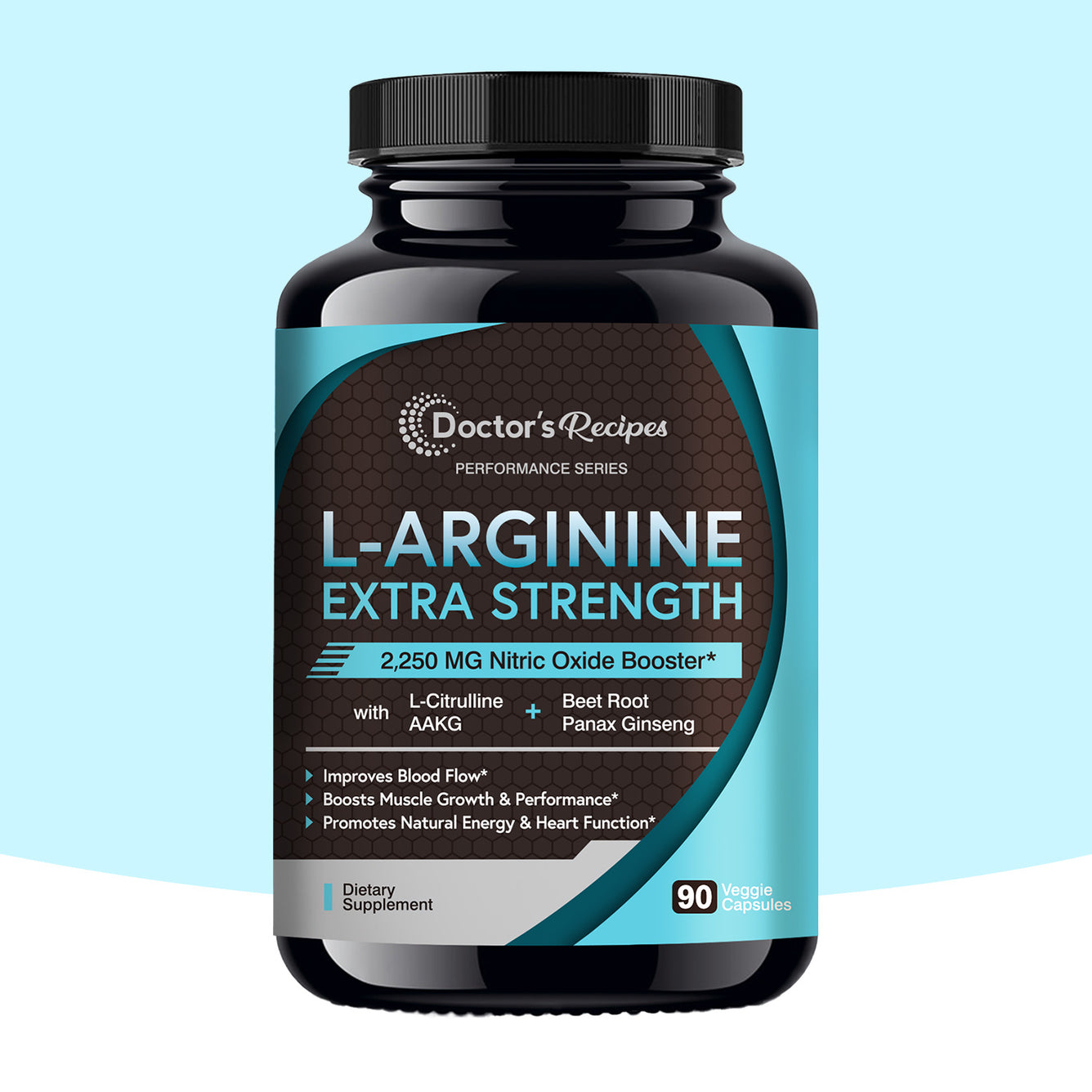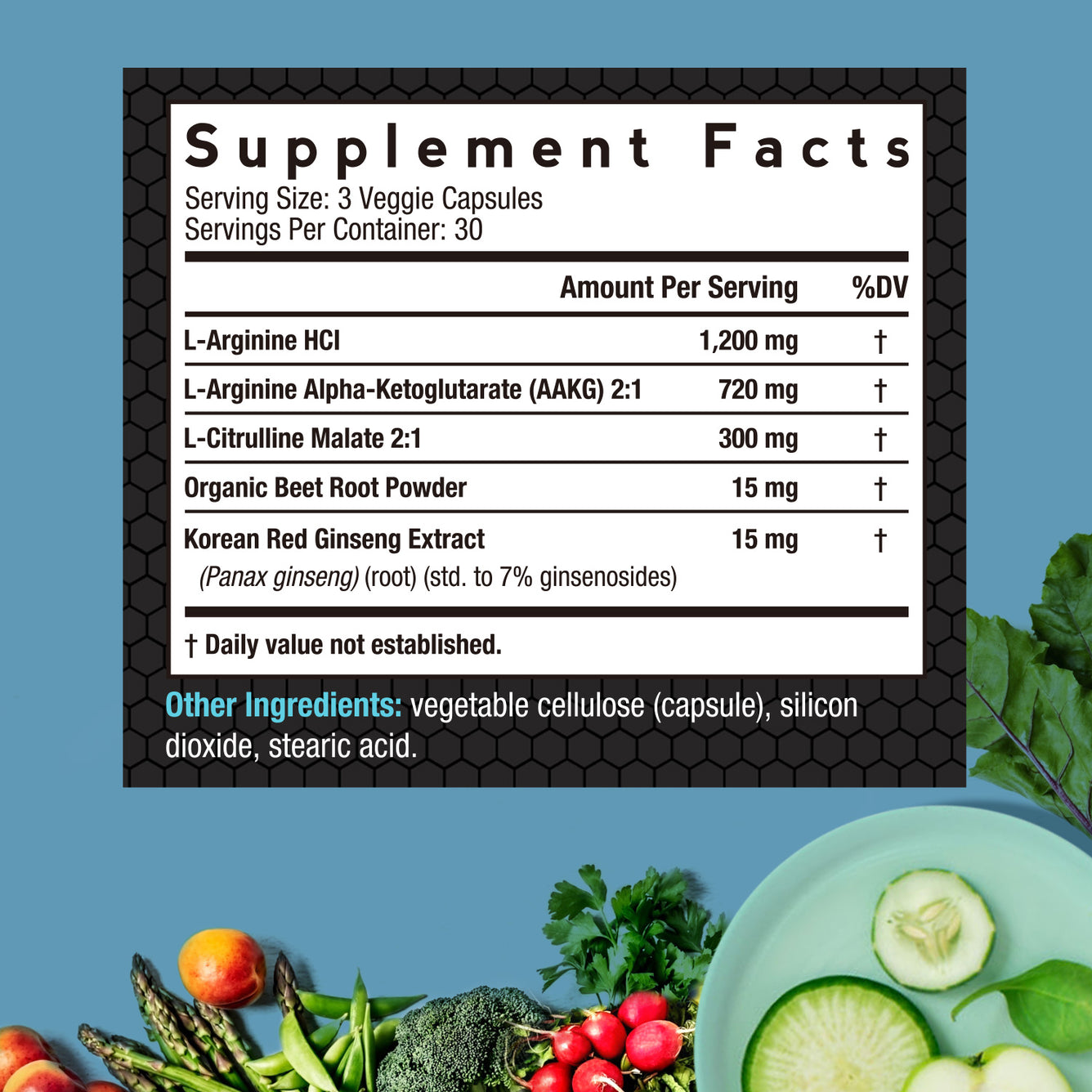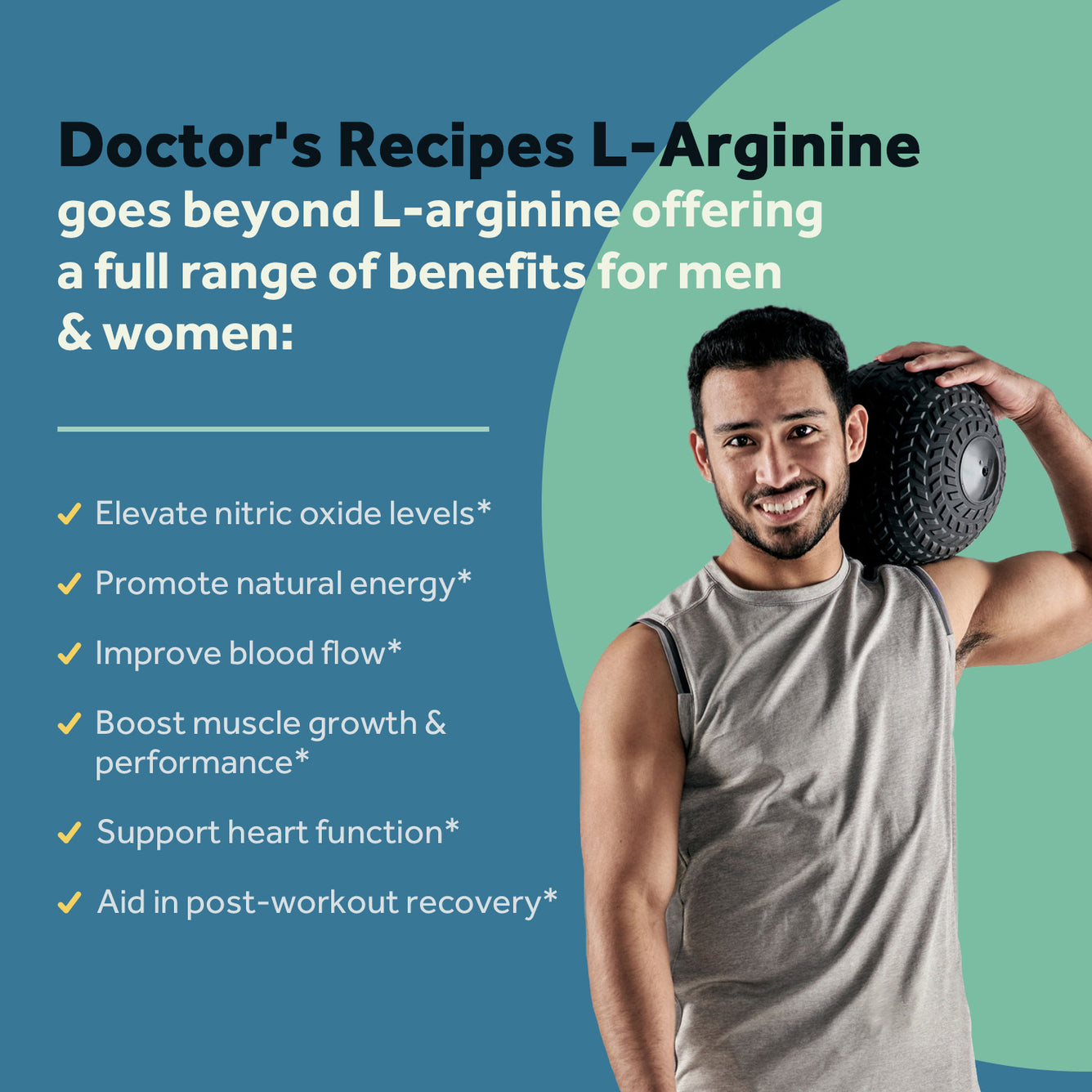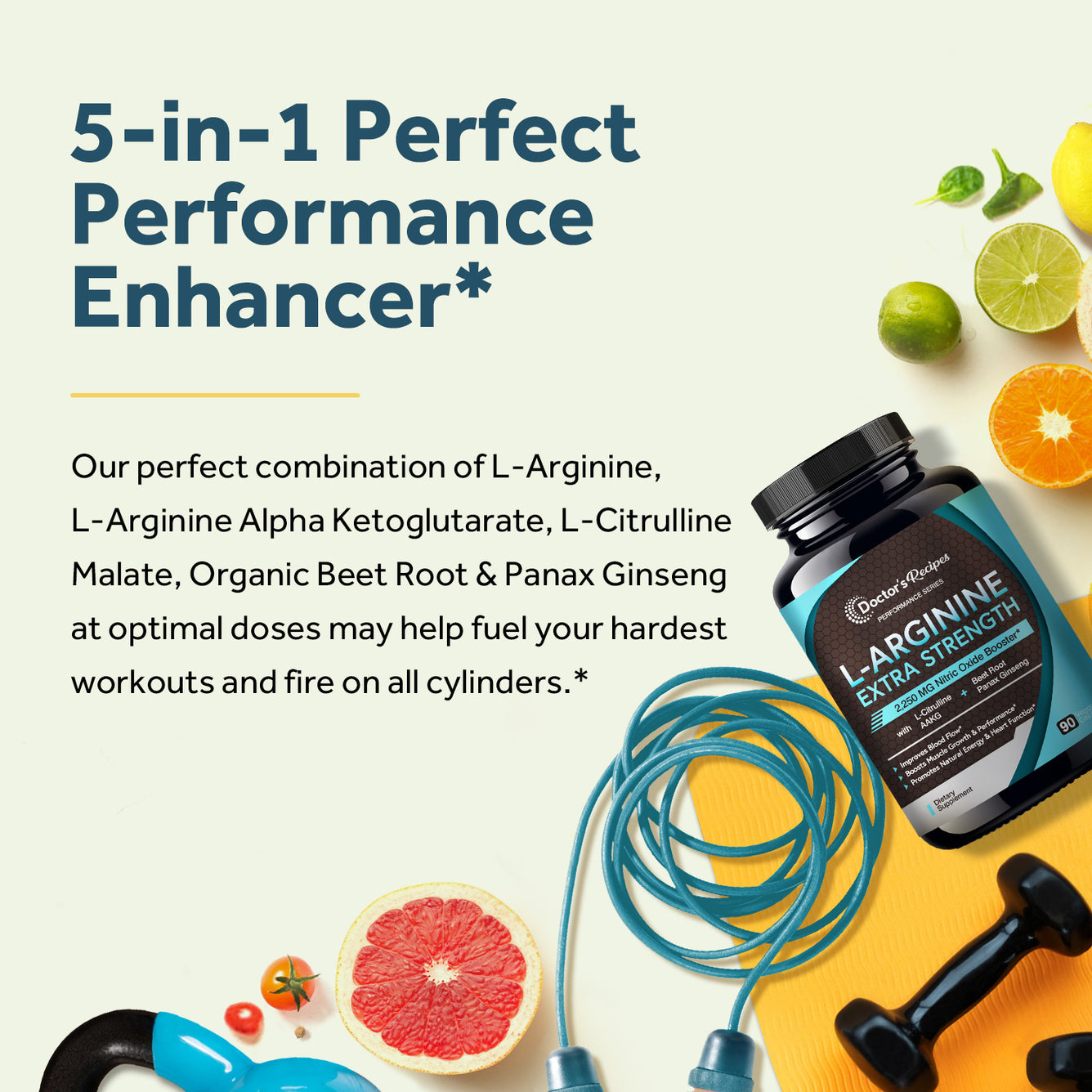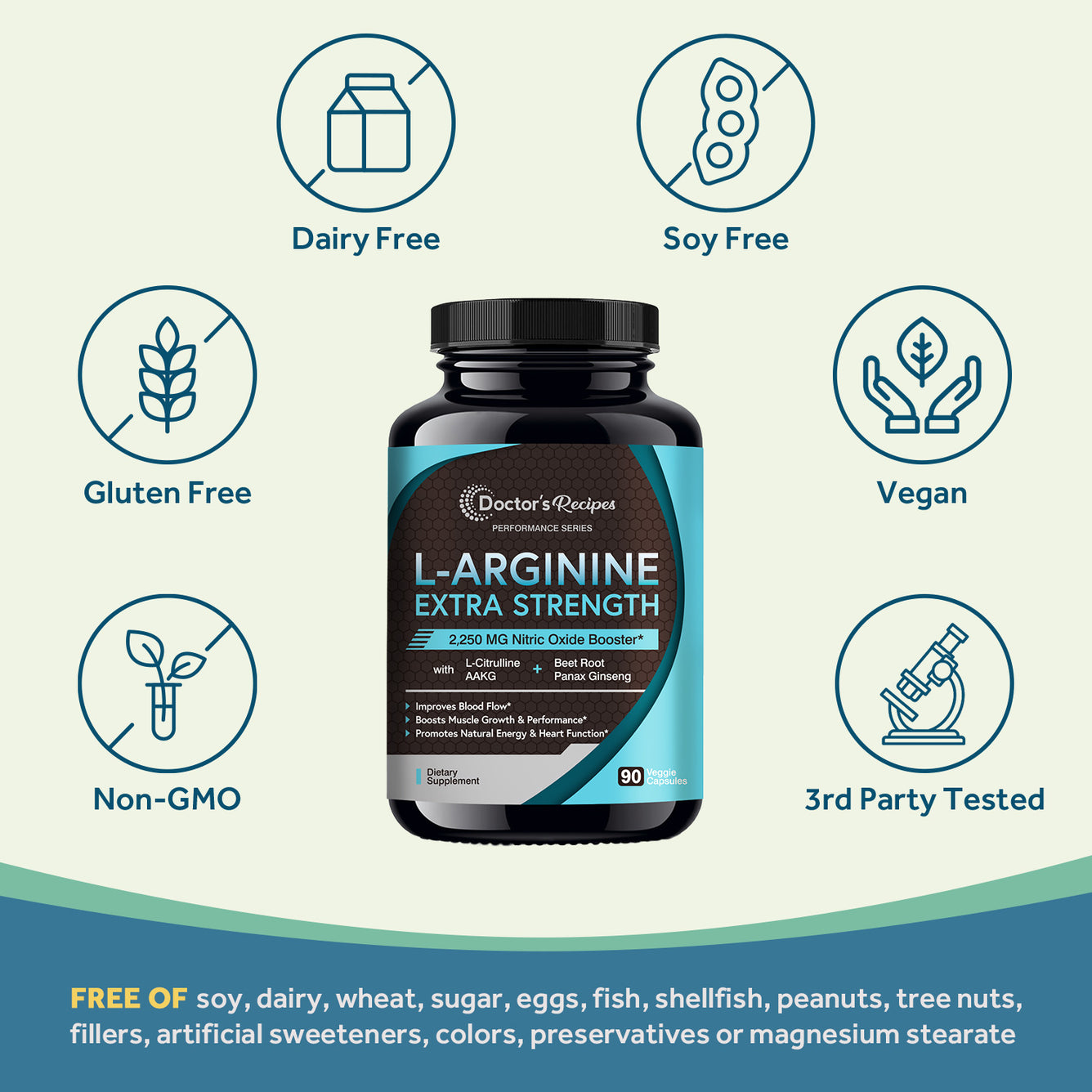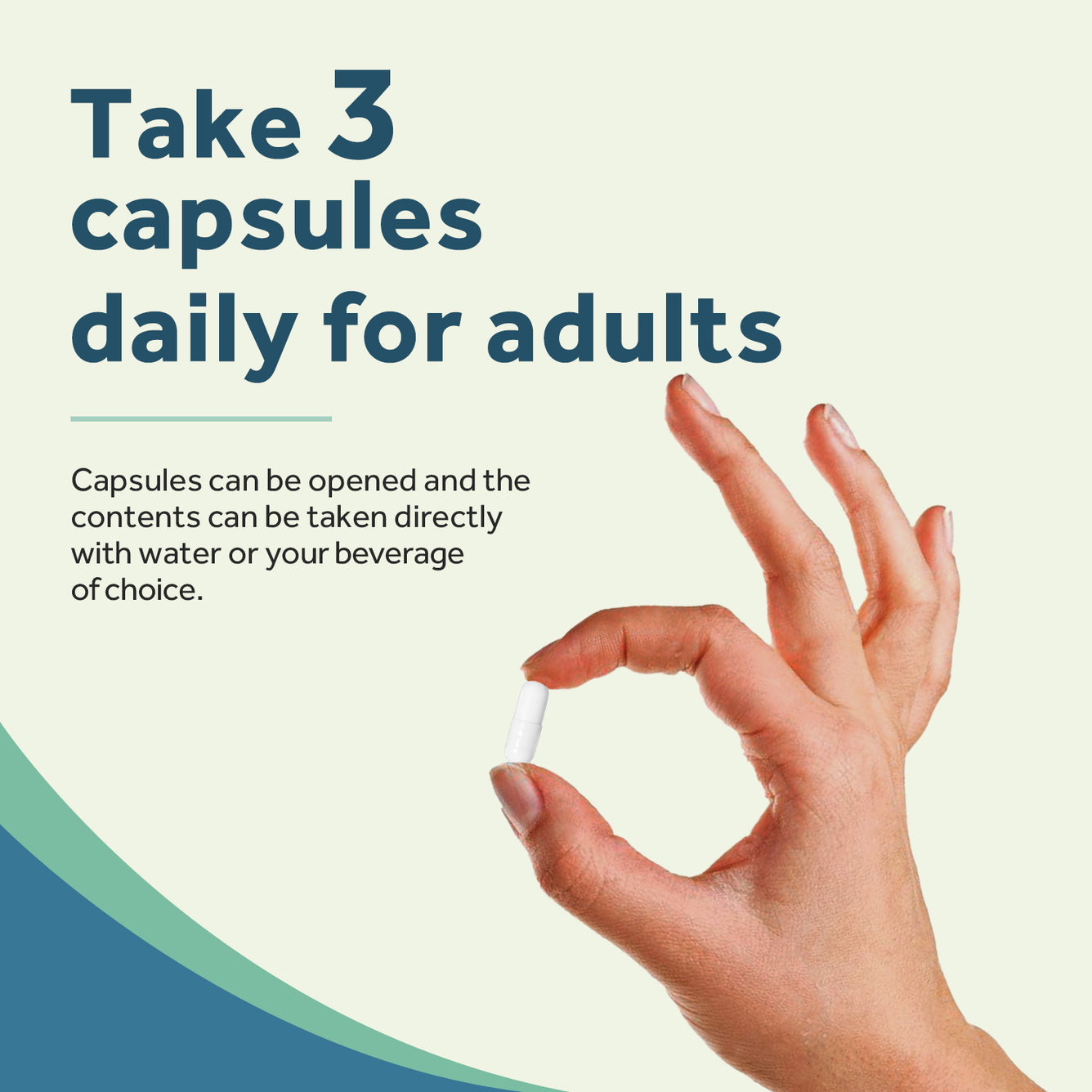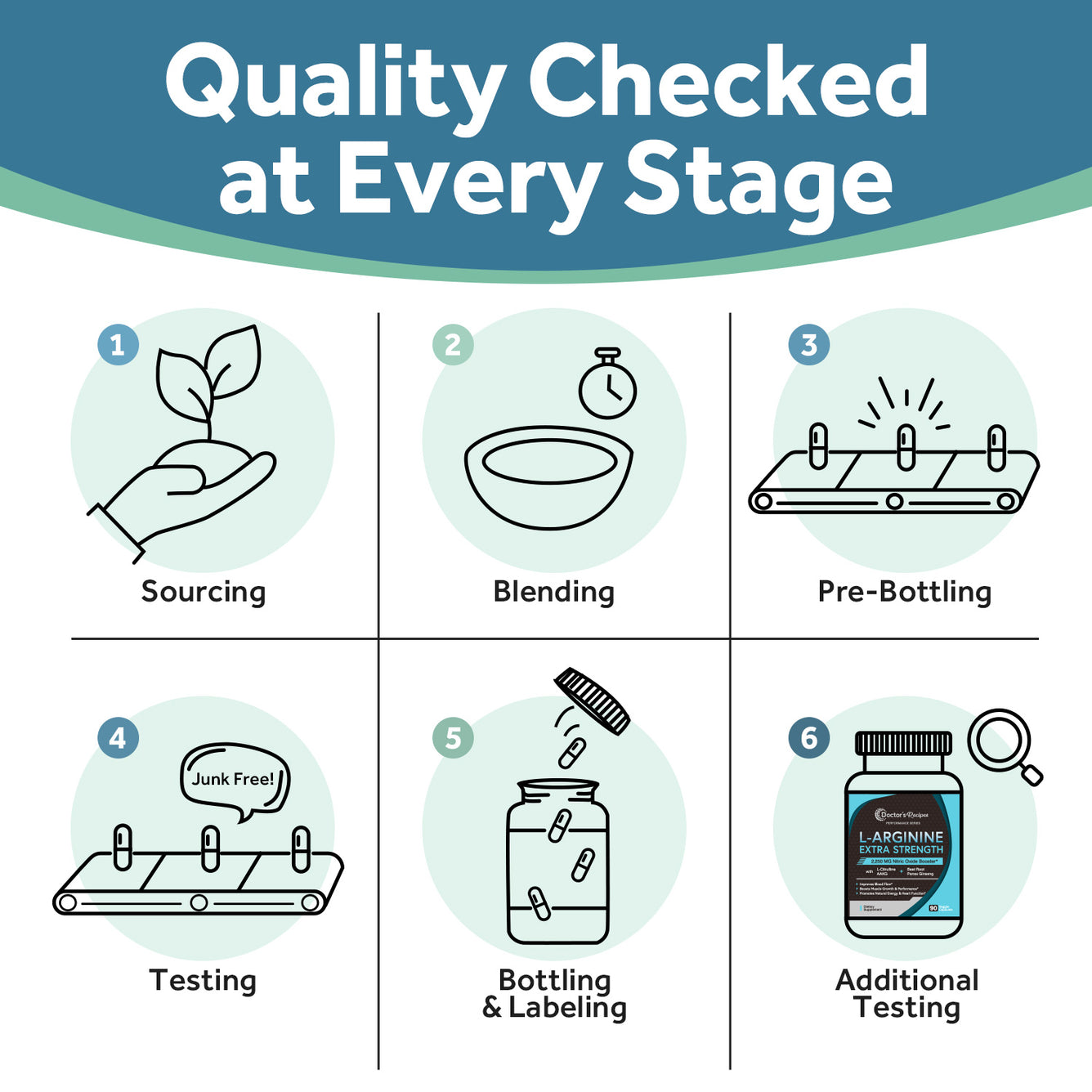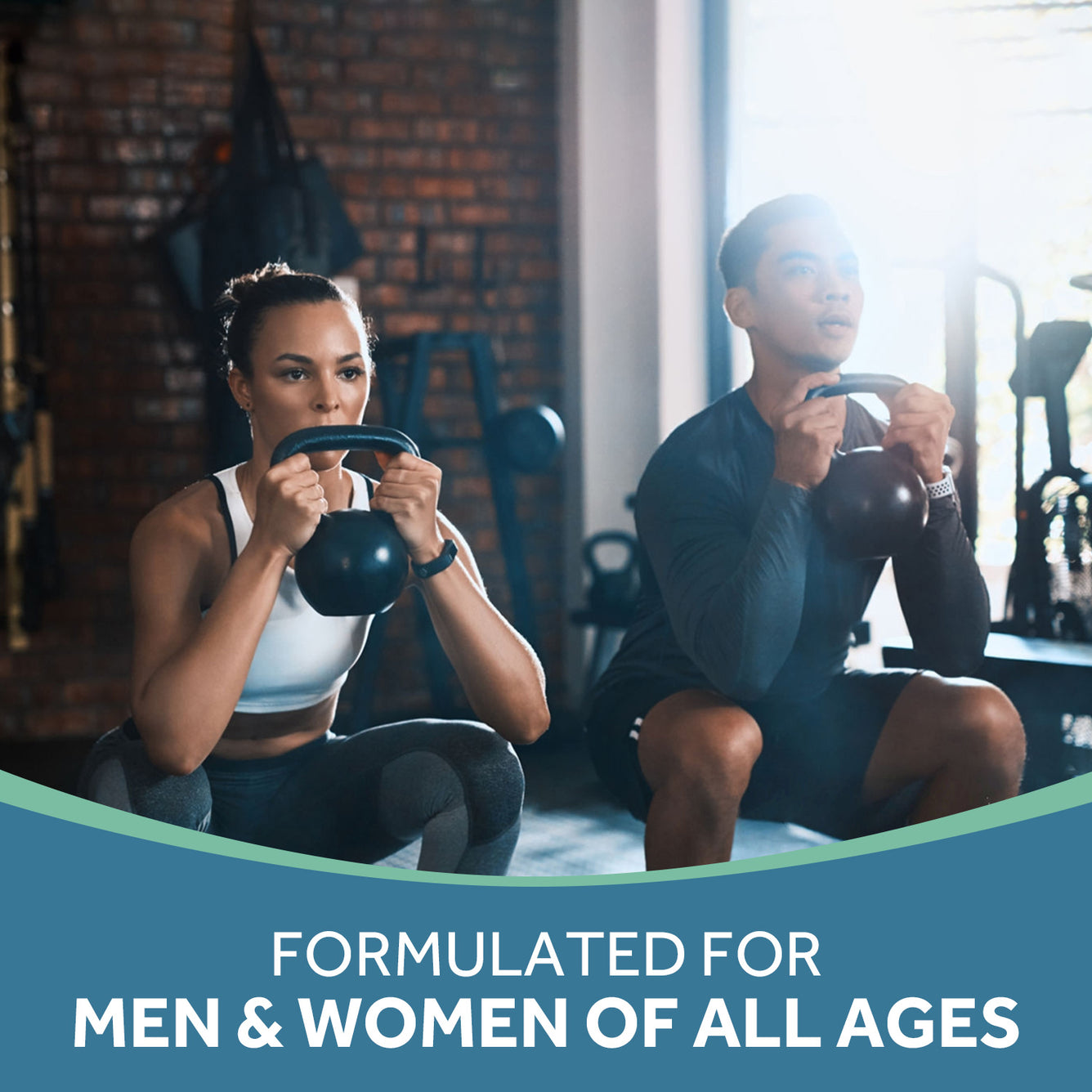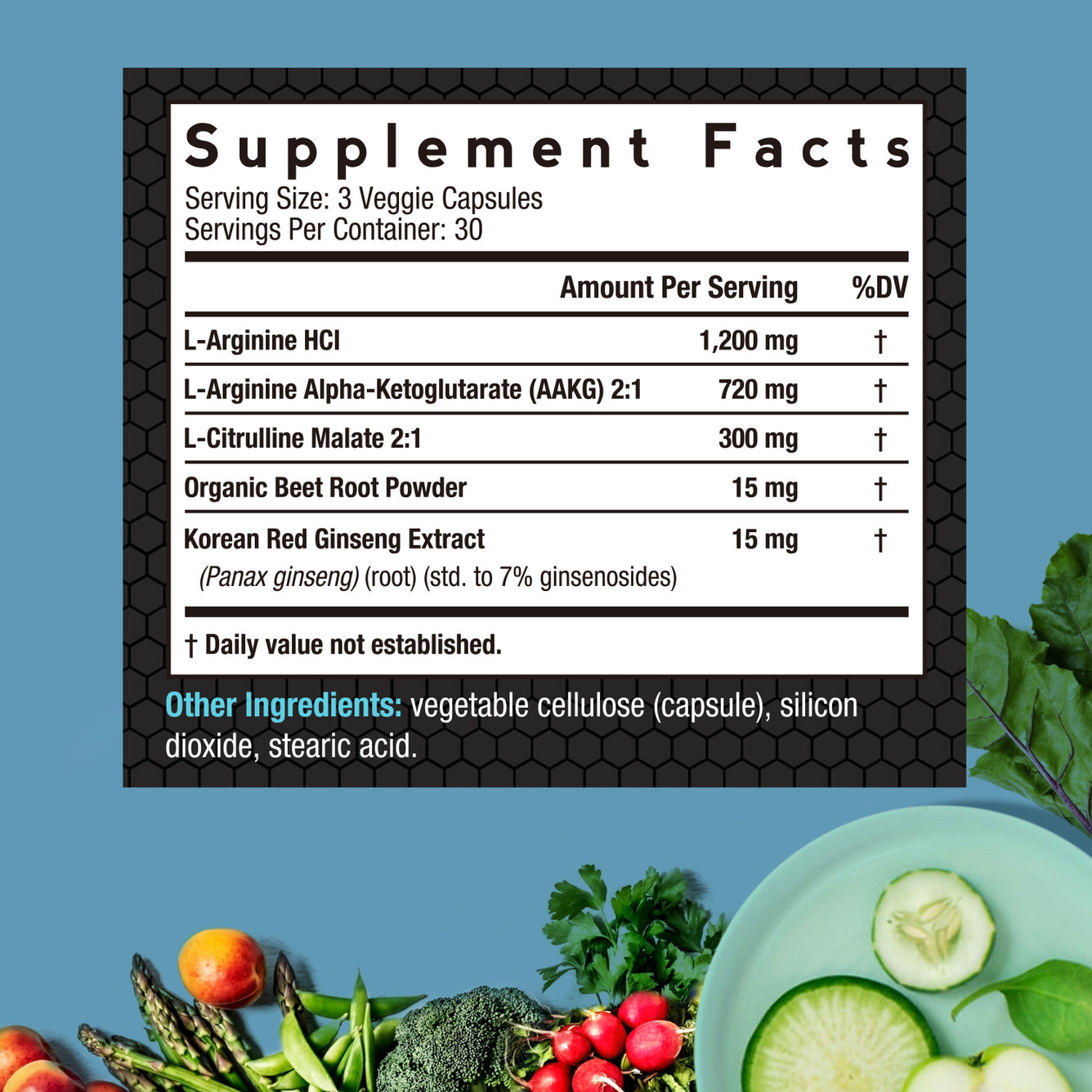 L-Arginine
Doctor's Recipes L-Arginine for Men & Women 90 Caps, AAKG, L-Citrulline, Beet Root & Panax Ginseng, 2250 mg High Dose NO Booster for Muscle, Vascularity, Performance, Energy & Heart Health, Non-GMO
| INGREDIENT | AMOUNT | HELPS WITH |
| --- | --- | --- |
| L-Arginine HCl | 1200 mg | Elevate Nitric Oxide Levels & Enhance Performance |
| L-Arginine Alpha-Ketoglutarate (AAKG) | 720 mg | Salt Source of L-Arginine |
| L-Citrulline Malate | 300 mg | Convert to L-Arginine in the Body Once Absorbed |
| Organic Beet Root Powder | 15 mg | Enhance Performance & Muscle Gain |
| Korean Panax Ginseng Extract | 15 mg | Support Energy, Athletic Performance, Mental Focus & Immunity |
Environmentally Friendly
Make it a long-term approach to wellness

Fast and Secure Delivery
Free shipping on orders over $50

Superior Service
Accessible, approachable & responsive

Shop with Confidence
Money back guaranteed
5-in-1 Perfect Performance Enhancer
L-Arginine + AAKG
L-arginine works primarily through elevating nitric oxide (NO) levels, playing an important role in enhancing exercise performance and regulating body composition.
AAKG combines a salt of L-arginine with alpha ketoglutarate acid that is naturally found in the human body and a preferred performance enhancer for bodybuilders.

Organic Beet Root

Beet root is loaded with a high nitrate content that contributes to enhance performance and muscle gain.

L-Citrulline Malate
L-Citrulline Malate combines L-citrulline (arginine precursor) with malic acid, both of which are important for enhanced performance and energy levels.

Panax Ginseng

Our Panax ginseng is naturally sourced from 100% authentic Korean red ginseng root yielding a high potency of 7% ginsenosides to support energy, athletic performance, mental focus, and immune health.

Personal Choices
You're sweating in the gym. You've been putting in the time and hard work to ditch fat and sculpt your muscles and pumps. But things are moving a little slower than you expected. You're losing motivation, doubting your efforts, and struggling to stay positive.
Our perfect combination of L-Arginine, Arginine AKG, L-Citrulline Malate, Organic Beet Root & Panax ginseng at optimal doses may help fuel your hardest workouts and fire on all cylinders.
Professional Solutions
Our Difference
Fuel For Your Hardest Workout
High Potency Blend

(per serving)
1200 mg L-Arginine 720 mg
AAKG 300 mg
L-citrulline Malate 15 mg
Organic Beet Root 15 mg
Korean Red Ginseng Extract (7% ginsenosides)


Performance Enhancer + NO Booster

Vegetarian-Friendly + Perfect for Bodybuilders



Caffeine Free

Matthew. R
Verified Purchase
Awesome on so many levels!
I'm pretty impressed with this NO booster. I'm on my 3rd bottle now and get a MUCH better work out every time! This product is legit. I will say this, if you have not taken L-Arginine in the past, give it a little more time to build in your system, then you'll truly feel the benefits. As far as I can tell, Doctor's Recipes has good-quality products and their customer service is top notch.
James. B
Verified Purchase
I suffered from ed and not anymore. Helped me out in the bedroom area. Wife couldn't be more happier (I'm 66). Also, L-Arginine gives me more energy in mid-day.

Jessica. W
Verified Purchase
This product is perfect for those who wants more energy. I'm a mom of 3 boys and sometimes it's exhausting. I take my health seriously and take the things I choose to put into my body very seriously. Having said that, this is a good product. I've used other L-Arginine products, and, they worked fairly well. But, I wanted a better quality and more potent product so I tried this. Love the extra beet root and panax ginseng extract. Other products do not have this combination. The capsules are small and easy to swallow. Will keep using!